Welcome to the 767th Tablescape Thursday! The last few days have been crazy busy with workmen here almost every day. I've been working on those last bits and pieces that I need to get done in the garage and basement before moving on to focusing on bathroom renovations. Also, I finally got up the nerve to get the roof washed/cleaned. Looking forward to sharing some of the updates that have been taking place the last few days!
With workmen here almost all day the past two days and getting estimates for other work in between, I didn't have an opportunity to set a new table. But I do have some pretty table-related goodies to share–one I really want but made myself walk away from–at least for now.
Recently, Old Time Pottery was mentioned in a comment and I realized it has been ages since I last visited the OTP that's near my home. I had an errand to run in that direction a few days ago, so decided to stop by. I was hoping they were still in business since over the years I've found some of my absolute favorite tabletop items in Old Time Pottery–like these turkey tureens you've seen me use in many Thanksgiving table settings.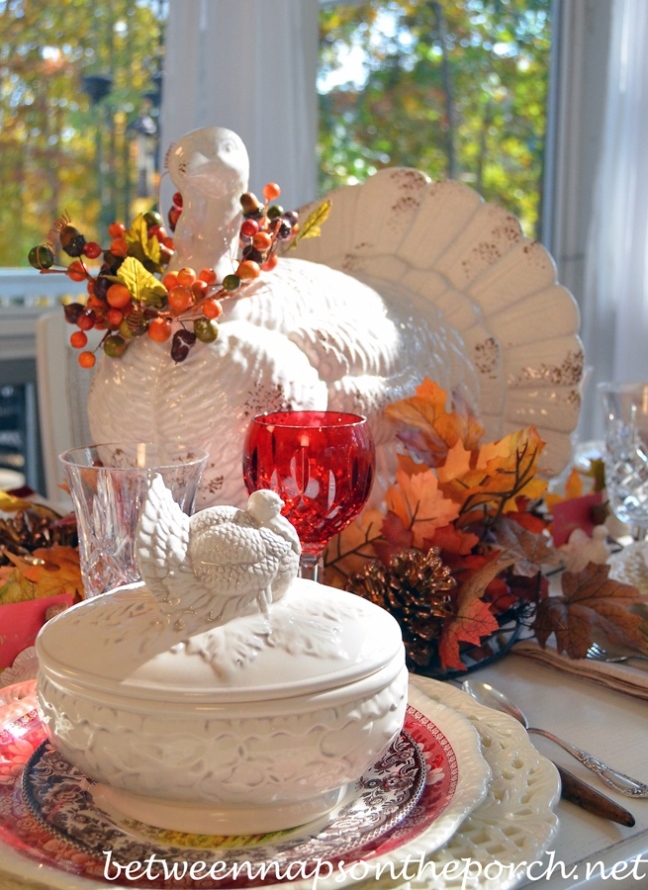 I was dismayed to see that a lot of the shelves in the store were empty–made me worried they were going out of business the way so many businesses have done in the last few years. While checking out with these Jimmy Buffett-themed glasses, the cashier mentioned that the company was sold a while back. She didn't seem to think they were closing, though. I also learned that the OTP near my home is the only location that's left in Georgia.
I headed to some of my favorite areas of the store where I used to find cute tabletop goodies. They had some really cute round placemats for summer. These were almost gone…
…but they still had plenty of these. I love the colors in these so much!
These were cute and would go great in a bee-themed table setting.
They would give a completely different look to the bee table I set recently, wouldn't they? I just purchased black and white plaid check napkins a week or two ago. Ummm, this has my wheels turning.
Old Time Pottery has always had the cutest lanterns and candle holders! I love these! I may have to go back for that lantern on the right.
I've purchased quite a few lanterns from them in the past and they were definitely well-stocked in the lantern department.
I did notice the prices have gone up a good bit, though.
I came very close to purchasing a few of these glass votive holders. They looked/felt super delicate. Since the votive goes in the top, I think they would be a little top-heavy and pretty easy to knock over. The main reason I didn't purchase any is they were priced a bit higher than I wanted to spend at $20 each. If I purchased them to use in a table, I would want to buy at least 5, maybe 6. So that would add up pretty quickly. I may check back in a week or so to see if the price has come down, although they may be gone by then. That's the way it is with OTP, things tend to go quickly.
I ventured over to the outdoor area and came across some beautiful garden seats. The blue one was metal but the yellow and orange seats were a really nice heavy ceramic. Again, the pricing seemed a bit high for OTP…more along the lines of what I normally see in other stores like HomeGoods. But then, everything has gone up everywhere.
I really love this design! It was priced at $59.99
Wouldn't this lighthouse garden stool be perfect on the deck or porch of a beach house? Or, maybe in the garden of a beach cottage?
If I still had a cat, one of these baskets would definitely have gone into my cart. Love the ears! lol They were marked $39.99
A Wee-bit of Yeti Drama: Not exactly tablescape-related but definitely party/entertaining related, thought I'd share one of the other distractions I've had going on this week. I got a bee in my bustle recently and decided that I really wanted to purchase a Yeti Tundra Haul Cooler. I fell in love with those after buying one for my son a year or two back and seeing how much he and my daughter-in-love use it during the summer months.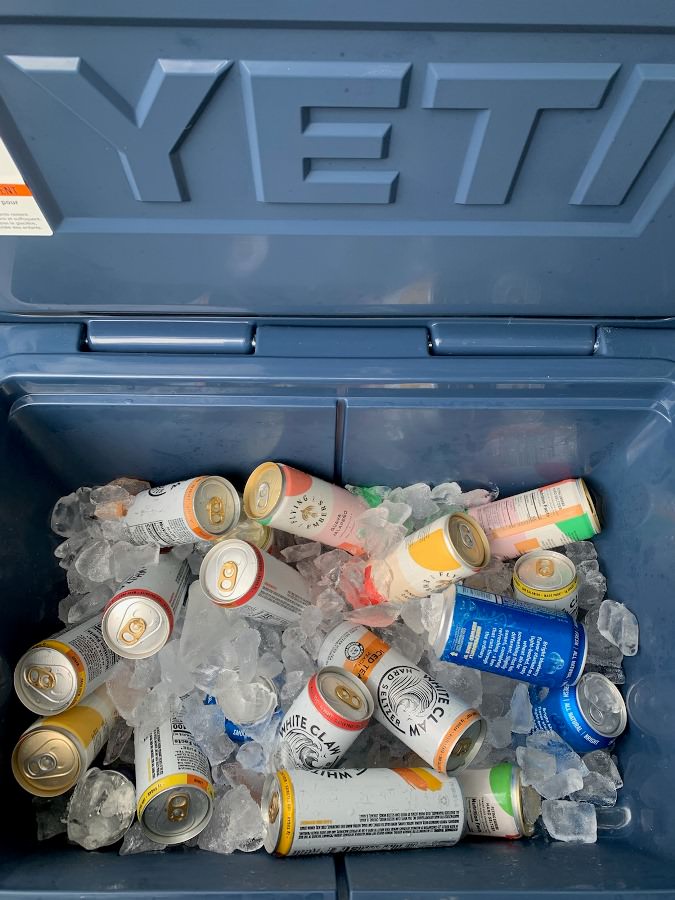 After doing a bit of research into their coolers, I learned that Yeti produces their wares in 4 new colors each year. Typically two new colors are introduced for spring/summer and two additional colors for fall/winter. I think they'll be announcing their new autumn colors sometime soon, well at least that's the vibe I've gotten from perusing the Yeti threads on Reddit. Did you know that there's an entire community of serious Yeti enthusiasts and collectors out there? I was pretty excited to discover that since I'm a pretty big Yeti fan myself. I really love their tumblers! After scoping out the colors that are currently available this season, for my first-ever Yeti cooler I decided to go with a red color that just came out a few months ago called, Rescue Red. In the photos online, it appeared to be a bold Georgia Bulldog red.
I ordered a Tundra Haul in Rescue Red, and the moment it arrived, I knew I wouldn't be keeping it. The color just didn't look the same as it had online. Wondering if it was just me or if anyone else was less than thrilled with the color, I did an online search and that's how I discovered a whole community of Yeti enthusiasts on Reddit. Many were describing Rescue Red as being more of a "Rescue Pink" or a Raspberry Red color. I had to agree. (Thread can be found here: Yeti Thread.)
I returned the RR cooler and began the search, again. I came across another great color but as is often my luck, it was a color that hasn't been produced since 2019! Argggh! The color is Reef Blue and apparently, it's extremely popular. I was watching an auction for one on eBay and when it reached the $700+ range with several days left in the auction, I knew I would not be bidding. It sold yesterday afternoon for a final bid of $850, after 36 bids! See what I mean–there's an avid Yeti following out there and they ain't kiddin' around! I hope Yeti brings Reef Blue back one day, but I'm not sure if they ever repeat colors. Hey Yeti, if you see this, bring Reef Blue back, please!
While I was watching the Reef Blue auction just for fun, I decided to order another recently released color that I thought I would love since my favorite color is green. The color is called Canopy Green, but I just wasn't sure if it was going to be the "right" green after my experience with ordering Rescue Red. As soon as it arrived and I opened the box, I was pretty sure it was a keeper. I really do like the color a lot! I get the impression that Yeti pulls a lot of their color choices from the environment. Canopy Green was inspired by the tropical rainforests in South America, at least that's the impression I got from THIS video.
The 3rd and final cabinet for the basement is being delivered today, so you know what I'll be doing later tonight or tomorrow!
My Landscape Irrigation guy is coming by this afternoon to install a new Irrigation Controller Unit. I rarely use my irrigation system, maybe a handful of times each year, but I do want to keep it updated and functioning so it's time to retire this 31-year-old controller. Looking forward to sharing some of the other updates I've been working on this week for Metamorphosis Monday!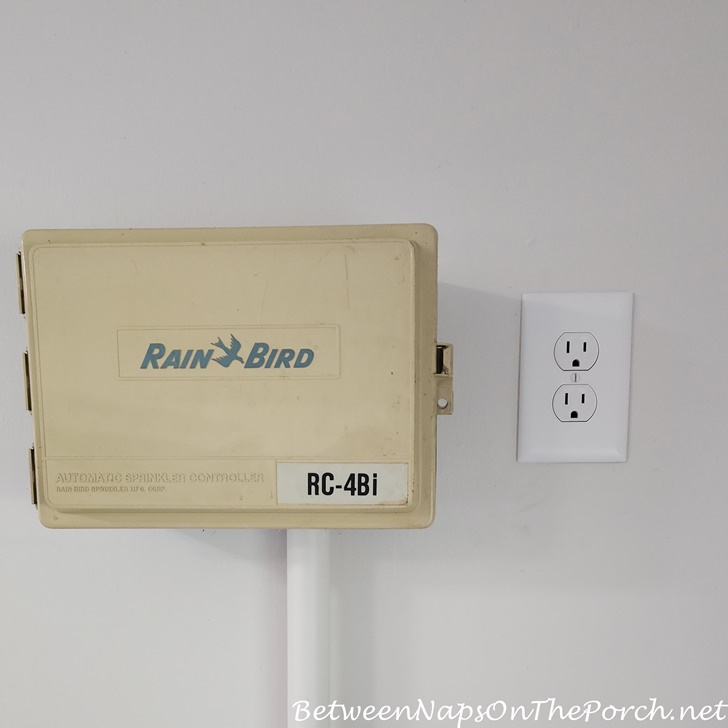 Looking forward to the beautiful tables linked for this week's Tablescape Thursday! (If you enjoyed this post, subscribe for email updates when a new post is up here: Subscribe for post updates.)
Tablescape Thursday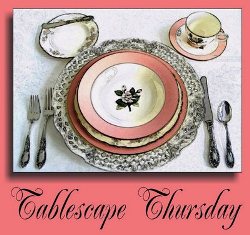 If you are participating in Tablescape Thursday, please be sure to add your permalink below, and not your general blog address. To get your permalink, click on your post name, then copy and paste the address showing in the address bar, into the "url" box when you link up. You'll need to include a link in your post back to the party to link up and participate. That's so visitors to your blog will be able to find the party and the other Tablescape Thursday participants. Please link up table-setting-related posts only for Tablescape Thursday. Please link up table-setting-related posts only for Tablescape Thursday.
You are invited to the Inlinkz link party!
*If a post is sponsored or a product was provided at no charge, it will be stated in post. Some links may be affiliate links and as an Amazon Associate, I may earn from qualifying purchases. *