Last September, after a summer spent reclaiming my front yard from the overgrown jungle it had become, I consulted the services of a local garden nursery and had a landscape plan created. I thought you might enjoy seeing it so I'm sharing it in today's post.
To get a closer look, press CTRL + a few times on your keyboard. Once you're done viewing the plan, press CTRL 0 (zero) to return to normal.
When the plan was created last fall, the designer asked for my input just like an interior designer does before creating a plan for a room. I shared some of the ideas I had with her including the plants I love, but my main goal was an evergreen landscape for the front yard. Right now I have several shrubs in front that lose their leaves in the fall and become "clumps of sticks" for the winter. See those bushes on the right in the photo below…that area becomes completely bare in winter.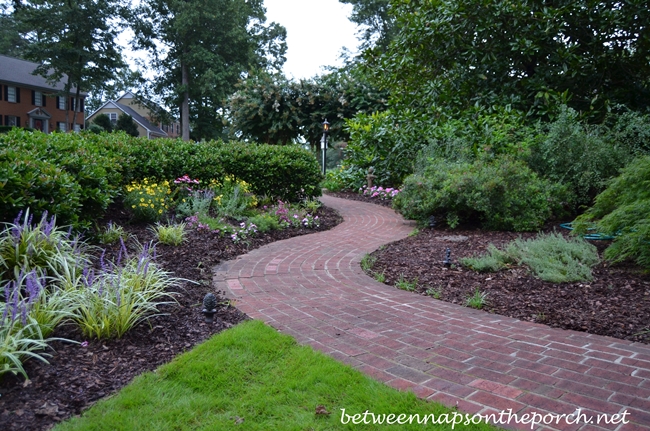 The plan the designer created left lots of wiggle room so I could choose from several plant options. In the past I've made some really poor choices for my front landscape so I'm taking this nice and slow in an effort to make sure I know exactly how everything is going to look in the end. It's a little scary because buying trees and plants is expensive and planting them is a lot of work. I want to make sure there will be no regrets when I'm done this time.
So Many Choices!
There are so many plants and so many options available, I'm finding it a bit overwhelming. In the back of my mind I am always thinking, is there another plant out there that I just don't know about that would be better, or hardier, or longer-blooming or prettier, or, or, or… Do you ever do that?
Then there's the issue of availability. I'm discovering that after I finally decide which plant I'm going with, it isn't always available or if it is, it's only available in very small sizes like 3 gallon.
In case it's helpful to get a perspective on where things are, the area you see on the plan that's marked "porch" with two square thingies in front is my front porch with the Green Mountain Boxwood topiaries (Buxus x 'Green Mountain') I planted back in September of last year. (See that post here: Boxwood Topiaries For A Traditional Landscape)
The liriope you see in the plan is already there, not something being added. The landscape designer liked how it looked so we're leaving it. You'll see the existing "Southern Magnolia Grandiflora" (magnolia tree) off to the left. Where it says "existing" on the other side of the walkway are some existing holly bushes that snake along the front island. Some of those are visible in the picture above.
Ignore the little stars beside some of the plants, those were plants I was leaning toward using last summer but I've changed my mind on some of those based on new information I've learned about the plants and/or availability.
Availability
All along I have planned on purchasing fairly large shrubs because I am eager to get an established look as soon as possible. I was surprised to learn that it's much harder now to get large plants. Apparently, the drought and economy of recent years has taken a big toll and there are a lot fewer growers than there once was.
Twenty-five+ years ago when I redid the foundation plants at my previous home, I purchased 4 HUGE English Boxwoods from Home Depot. Remember when they used to have Landscape Centers, gigantic gardening stores where they sold nothing but plants and gardening things? I've forgotten now what those centers were called but I loved visiting the one near my home and walking the isles. They had everything! I miss those days!
So the nurseries I've talked to are telling me they can't always get some plants and those they can get, may only be available in 3 gallon or 7 gallon sizes which is pretty small. They don't know until they make the calls to check availability.
I spent yesterday afternoon visiting two nurseries, one a small privately owned nursery and the other a large nursery with several locations in the metro area. I so wish the nurseries had at least one of every plant recommended in the plan, that way I could see first hand how they look. But they don't.
I have found looking up plants online is not a great way to decide either. Sometimes a plant will look one way online and very different in person when I see it at the nursery. So, I'm approaching this the way that feels least stressful for me and that's making the decisions I can, the ones I'm comfortable with, while taking my time on the others.
So Far
So where does that leave things? So far I've purchased 4 Savannah Holly trees as seen in Monday's post. Three were planted in the side yard on the right (not visible in the plan) and one was installed where you see the "A" on the right side of the plan. I hope to be purchasing some Encore azaleas to go around the Savannah Holly trees in the side yard soon. I'm pretty sure I know which ones I want for that area now.
Yesterday I made a decision about what I wanted to plant in front of the Savannah Holly, which is "A" on the plan. I went with "Double Mint Gardenias" shown as "F" on the plan.
Here's a typical scenario of how this process is unfolding. The smaller nursery I visited today didn't have the "Heaven Scent Gardenias" recommended on the plan. They didn't have the "Mardi Gras Abelia" either. The larger nursery I visited didn't have the Heaven Scent Gardenias or the Mardi Gras Abelia, either. They did have an Abelia named Kaleidoscope and the smaller/newer plants were pretty. But the older ones looked pretty scraggly so that steered me toward using gardenias.
Looking at the gardenias, they had Frost Proof Gardenias, Daisy Gardenias, Radican Gardenias and Double Mint Gardenias. They still had one Savannah Holly left (I had purchased all the others) so we took each of the gardenias they had in stock over to the Savannah Holly so I could see how the holly leaves looked with the foliage on each of the gardenias.
Landscaping is a lot like decorating, scale and color matters. Just as you wouldn't put a lot of small patterned fabrics all together in one room, it's nice to create some contrast in leaf shape/size when landscaping your yard or garden. I needed to see how the leaves on the holly looked with the different leaf shapes/colors of the various gardenias.
To make matters even more complicated, sometimes the colors of the foliage change once you get them home and plant them in your yard. The soil in your yard can be different from the soil where the plants were grown. I can't control all the variables but at least I could see how they look together in their present state.
I liked the Daisy Gardenia leaf shape and color but the flower seemed so plain compared to the double flowers of Frost Proof, Radican and Double Mint. I didn't care for the shape and color of the Frost Proof Gardenia leaves with the Savannah Holly. That left the Radican Gardenia and Double Mint.
The Radicans only get 1 to 2 feet in height which was a little too short to be in front of the Savannah Holly. I settled on Double Mint for several reasons. I liked its leaf shape and color with the Savannah Holly. It grows to be 2-1/2 to 3 feet tall which should be perfect in front of the Savannah Holly. And it blooms more than once during the summer season. It's a rebloomer! Gotta love that!
I asked what the difference was between all the gardenias they had and the "Heaven Scent" recommended on my plan. I wondered if "Heaven Scent" really did have a heavenly scent and was worth waiting for, which could end up being a long, long wait. The landscaper at the nursery wasn't that familiar with Heaven Scent and couldn't answer that question. I purchased 5 Double Mint Gardenias and was relieved to find when I got home and Googled, Double Mint is known for its wonderful scent.
One decision down, 500 more to go.
Let's Talk Limelight!
Notice "D" on the plan…with all the smaller "B"s surrounding it. It's way over there on the left by the magnolia. Once the "stick" shrubs are removed (that should happen tomorrow) that area can be planted, although I may hold off until I find some of the other plants I'll be using.
When we originally talked about that area, the Limelight Hydrangea was going to be a shrub. It would vanish during the winter, hidden by all the "B" shrubs surrounding it. Yesterday the designer who created the plan for me mentioned a tree form for that area and I loved that idea. I don't mind having a naked tree in the garden during the winter, just not crazy about a bunch of naked shrubs.
Of course they didn't have a tree form Limelight Hydrangea in and I was told that they are extremely hard to come by right now. ~~~BIG SIGH~~~You have to laugh at this, ya know. It's the only way to keep your sanity!
I called on my cell before heading over to the larger garden center and was delighted to discover they had one. They held it for me and I drove straight there and purchased Miss Limelight. Isn't she lovely! ♥♥♥
Two decisions down, 499 to go. 😉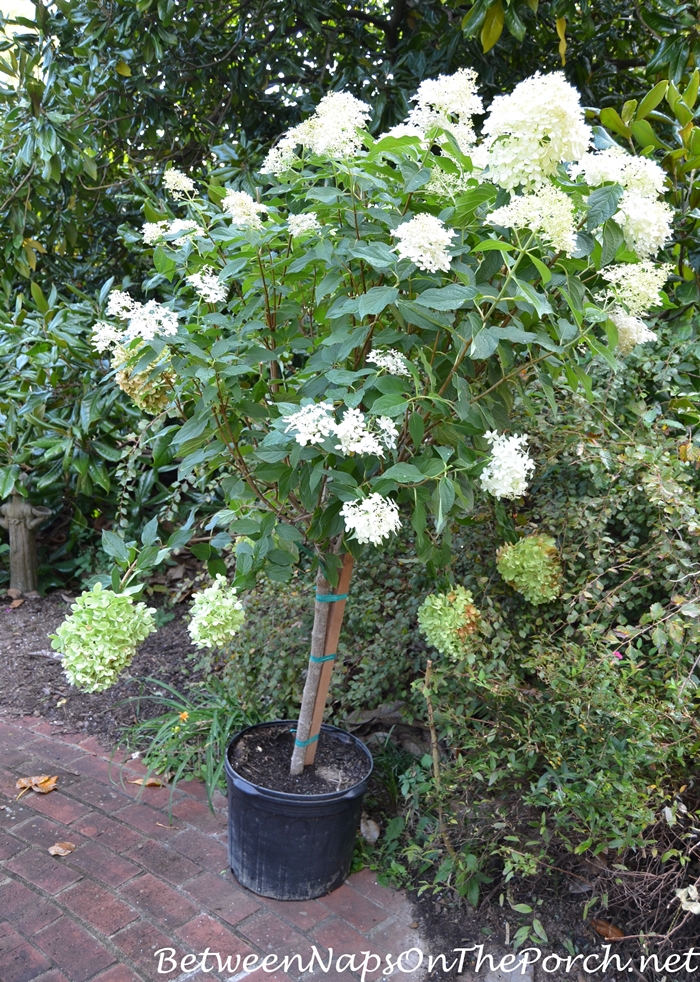 I'm not sure yet if I'll put gardenias or boxwoods around Miss Limelight. If I go with gardenias, it may be a shorter gardenia like the Radican that only gets 1-2 feet high. Double Mint gets 2-1/2 to 3 foot high which is great for the Savannah Holly tree but probably too tall for Miss Limelight.
That whirring sound you hear…that would be my head spinning!
There's a lot more I could share about "The Plan" but this post is getting to be too long. I promise to share more as things develop. As always, I love your suggestions and thoughts!
If you're new to reading BNOTP, check out this previous post to see where I started last summer. Front Yard Landscape Makeover. There's a house in there somewhere!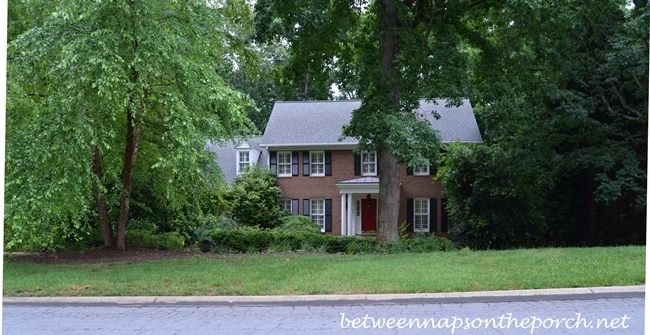 *If a post is sponsored or a product was provided at no charge, it will be stated in post. Some links may be affiliate links and as an Amazon Associate, I may earn from qualifying purchases. *