Late last summer, a friend and I went for a nice walk in some of the historic towns here in Georgia, one of my fav things to do on a sunny day. You may recognize a couple of these homes from the candlelight Christmas tour I took you on a few weeks ago…now you'll get to see those by daylight, along with lots of new homes I've never shared before. Hope you enjoy this little "walkabout!" (Click on any pic to enlarge it.)
This house was renovated a few years ago and I've been to several Christmas parties here. The sun room you see on the right side is my favorite room in this home. You can just see on the left side of the pic that the porch ceiling is painted blue? We call that "haint blue" here in the south. Folklore has it, if you paint the ceiling of your front porch haint blue, it will keep any evil spirits or haints from entering into your home. Also, it's supposed to help keep annoying insects away. Why? Because they will think it's the sky and not land on it, silly.
Don't you just love the south with it's quirky superstitions. I found some interesting information about the haint blue tradition at Squidoo.com.
What exactly IS Haint Blue?
"Haint Blue is a spiritual and cultural based color especially in the southern United States. Back in the day, Haint Blue was mixed as milk paint formulas using lime and whatever local pigments were available. The color was mixed in pits dug on the properties where the painters were working. Hand-crafted Haint Blue translates into a range of colors, not any one specific color."

"What does Haint Blue do?
Haint Blue is meant to look like water and keep the Haints out of your house making you safe from their influence. Speculation has it that the tints, tones, and shades from the blue-green to blue-violet part of the visible spectrum fools the Haints. Haints can not cross water. Using Haint Blue on doors, shutters, window trim, ceilings, the whole darn structure, can fool Haints and discourage them from "crossing" into your house."
It's believed that Haint Blue can fake out insects and birds as well. Using Haint Blue on exteriors supposedly looks like endless sky to the little critters and deters them from making themselves at home. No one can say for sure, but personally I think the key ingredient of lime in the milk paint formulas is what deterred the insects and birds, not the color itself. Modern paint formulas do not contain lime, so I'm not so sure painting your porch ceiling blue is going to help shoo the bugs and birds, but it certainly can be an attractive exterior color treatment.
This home looks well maintained. I just see the edge of a Magnolia tree…so many of the historic homes have magnolias in their front yards. I love that! The leaves are so awesome to use for decorating at Christmas time.

I used to drive by this home and wish someone would buy it and fix it up. The paint was badly peeling and it looked very neglected.

Well, apparently a business bought it and now it's a shining star! It sits facing directly into the back of another home which I always thought was a little odd. This makes me think that it once sat on a multi-acre plantation…just guessing.

Darling cottage…is there anything more wonderful than a picket fence? I've often thought of putting one around my front yard. Do you see the roses planted just in front? 🙂

Back around Halloween, I went on a ghost tour and this home was one of the stops on the tour. They showed us a neat old photo of the family who lived here…it was taken back around the turn of the century, as I recall…very old photo. Anyway, the large family gathering (must have been a reunion or something) was taken out on the side porch area and you could see the silhouette of a man inside the home looking out one of the windows. The guide told us he was thought to be a family member who had passed away, and he was looking out and watching the photo taking event.

I've always admired this home…would love to see the inside. I bet the round room upstairs is awesome! I adore the porch!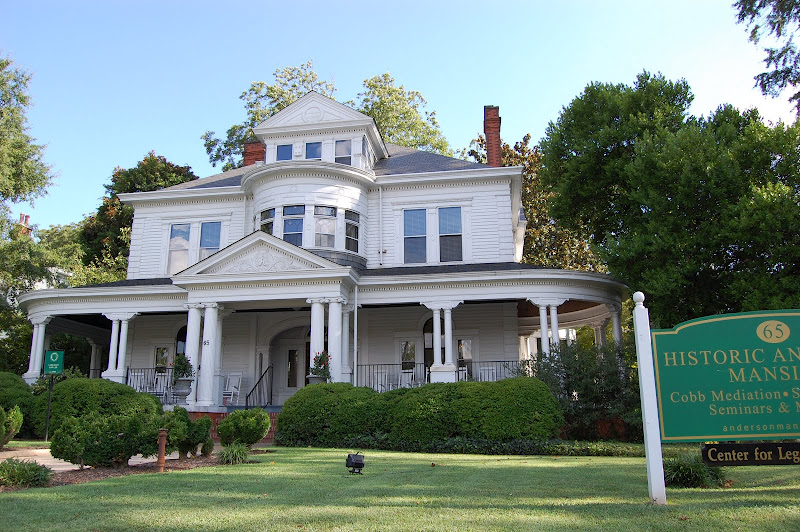 I'm pretty sure this home is a Bed and Breakfast…can't really tell if the porch ceiling is painted "haint blue." If it isn't, it should be! 😉

In the garden…awwww…

Another wonderful cottage…

Check out this awesome double porch! It must have been around Memorial Day when we did our little tour from the way this home is dressed.

Cute! Cute! Cute! Check out the garden in the next pic!

🙂

Yep, must have been around Memorial Day…almost all the homes in this post have their flags out. Takes me long enough to share pics with you guys, huh? These homes all look so "All American and Apple Pie" with their flags proudly displayed. If I lived here, I'd leave mine out year 'round! 🙂

I was in awe of this wonderful, old tree. After I took this pic, I walked further away and took another pic so you could see how big it is…

Isn't is magnificent?!

This little scene was on another tree on a different street. Look closely…notice the plant blooming beneath…do you see what it is? It's a big ole corn stalk. And just above is a feeder designed to hold the corn. Do you see him…the fellow enjoying the corn? Scroll down to the next pic…I enlarged it for you.

Do you see him now? Sorry this came out a bit dark. I thought this was so clever. Grow the corn right beneath the spot where you will be feeding it to the squirrels. This was in the front yard of this home and I thought it was fabulous! I already know if I met the folks who live here, I would like them…what a wonderfully, whimsical idea!

A wonderful fountain in the yard of another home…

I love how all the homes are so different…no cookie cutter neighborhood here!

Love the blue door! It makes this home feel "fairytale-like" to me.

Is this what they call a four-square? I think I've been in this home on another tour. If it's the one I toured, the area you see protruding out on the right is a wonderful entry/mudroom.

I never noticed it until just now, but the front porch of this house is similar to the one I added onto my home a few years ago. Look at those beautiful planter boxes out front.

How do you like the fancy paint job on this Victorian? Love all the flags! I count 4…one is hidden a little by the tree.

Another fabulous porch…

Just look at alllllll those windows down the side!!! That's one of my favorite, favorite features of historic homes…all those wonderful windows!

This house just says "home" to me. Doesn't it remind you a little of the home in Father of the Bride? It needs a white picket fence, though…to complete the "Father of the Bride" look. 🙂 That might be tricky to add with the wide brick walkway.

Another darling cottage! This one was on this past year's Christmas tour. Do you remember the swing that you can just barely see in this pic…it was decked out in Christmas lights for the tour.

I used to drool over this yellow Victorian every time I drove by. Then, one year, it was on the Christmas home tour. Yipee! I was finally able to see the interior and it was beautiful! It's been fully renovated…has a fabulous kitchen. I remember the bedrooms upstairs were delightful!

A view from the other side…don't you LOVE the wrap around porch?!

How did we ever get away from having porches across the front of our homes. Ok…I know we have air conditioning now…but just look…this is what we lost! I say, bring back the front porches!

Another one of the homes on this past year's Christmas tour…

Another wonderful front porch…

Another white picket fence…this one's a bit taller for more privacy.

Love the red door!

I love the roof line of this house…sooooo interesting. I bet the rooms upstairs are loaded with charm with the dormer windows. Note the symmetry…one window is hidden by the tree.

Let's end the tour with a beautiful Greek Revival…

Gorgeous Corinthian columns! Thanks for coming along for the tour…see you Sunday night for Metamorphosis Monday!

*If a post is sponsored or a product was provided at no charge, it will be stated in post. Some links may be affiliate links and as an Amazon Associate, I may earn from qualifying purchases. *