Welcome to the 76th Tablescape Thursday!
Pssst, come over here a sec. Shhh, have to whisper, so your Valentine Sweetheart doesn't hear. Guess what I just found out?! It's the neatest thing! If you put all your Valentines in a big envelope and send them to the Postmaster in the tiny town of Valentine, Texas, she will stamp them all with a big RED stamp that says: VALENTINE, TEXAS! Imagine your Valentine's face when they see that special postmark…I just HEART this idea.


Okay…here's how it works. Put all your fully addressed and stamped Valentine's Day cards in one big envelope and send them to:
Valentine Post Office,
Valentine, Texas 79854-5400
You will probably want to mail the large envelope with all the valentines in it from your local post office so you will know that you've used the correct postage. The Valentine Post Office does this every year and they don't charge anything extra for the more than 10,000 Valentine's Day cards they postmark each year. Their postmaster, Ann Carrasco, calls their post office the "Love Station of Texas." 🙂 This is an especially neat thing to do if you're sending valentines overseas to love ones in Iraq and Afghanistan.

To make sure the red Valentine, Texas postmark shows up, it's best to NOT send your valentines in red envelopes. The post office recommends mailing your valentine in a pink, white, or lavender envelope. If you'd like more information, you may call: (432) 467-2912.
Click HERE to see the postmarks and addresses for several other post offices that also have special postmarks for Valentine's Day cards.
Tablescape Thursday:
How about a beautiful Valentine's Day tablescape to get you in the mood for this upcoming holiday. Bonnie sent me some wonderful pics of her Valentine's tablescape and I'm thrilled to share them with you this evening for Tablescape Thursday.
She used a gorgeous dove bowl with floating candles as her centerpiece for this romantic tablescape. Unfortunately, the store where Bonnie found this beautiful bowl is no longer in business. If anyone spots it somewhere for sale, let me know and I'll add it to this post.
Salad plates are by Fitz & Floyd, pattern is "Cherubini"
The putti plates are so sweet, perfect for a Valentine's Day dinner. Chargers are from TJ Maxx.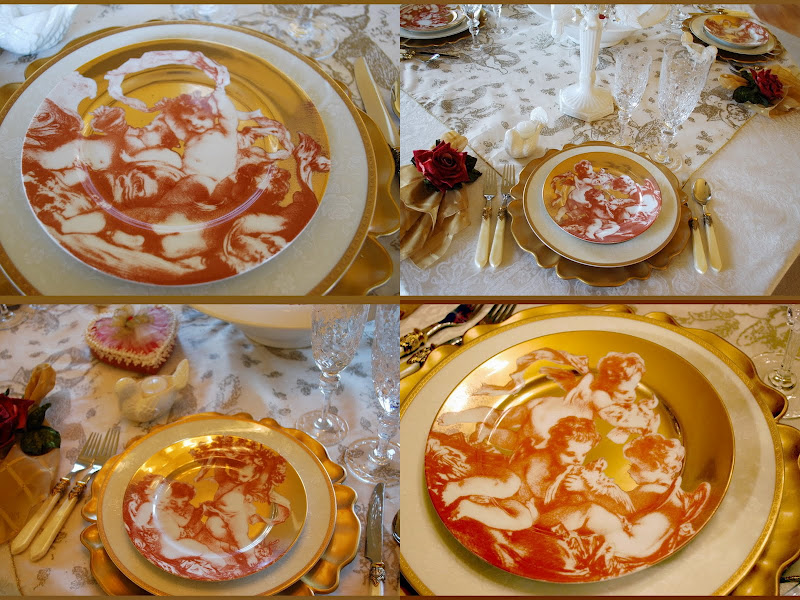 Rose napkin rings and darling dove votives…
Dinner plates are Mikasa…pattern is "Antique Lace"…
Beautiful crystal stemware is "Galia" by Rogaska…
Candlesticks are Lenox…pattern is "Butler's Pantry." These would really work well in many different types of tablescapes. I'm guessing Bonnie added the gorgeous crystals…lovely touch for Valentine's Day.
Soooo romantic ~~~sigh~~~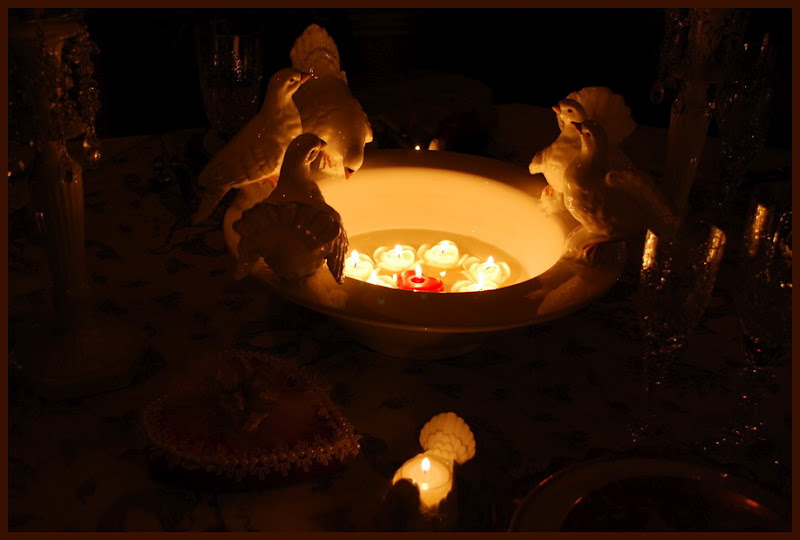 I always love to see how Bonnie will dress her sideboard for each holiday or season. 🙂

Bonnie, thanks so much for sharing this wonderful Valentine's Day tablescape! I know it's going to inspire a lot of tablescapes for this Valentine's Day!

Dinner plates – Mikasa "Antique Lace"
Salad plates – Fitz & Floyd "Cherubini" (eBay purchase)
Flatware – Ross
Chargers – TJ Maxx
Crystal – "Galia" by Rogaska
Linens – TJ Maxx
Candlesticks – "Butler's Pantry" ~ Lenox
Dove Votives – ? found online
Dove Bowl – Casa Casa (now closed)
Looking forward to seeing your beautiful tablescapes!
If you are participating in Tablescape Thursday, please be sure to add your permalink below, and not your general blog address.
Please copy and paste the Tablescape Thursday logo button to your computer. Then you can upload it to your side bar and use it in your tablescape post so your visitors will know you are participating.
Please link back to the host blog, Between Naps on the Porch. This is important because it helps those who are visiting your blog, find the other wonderful tablescapes posted for this Tablescape Thursday.
Please do not add your link below, until your tablescape post is actually published to your blog.
The following blogs have beautiful tablescapes awaiting your visit:
*If a post is sponsored or a product was provided at no charge, it will be stated in post. Some links may be affiliate links and as an Amazon Associate, I may earn from qualifying purchases. *