Welcome to the 544th Metamorphosis Monday!
Happy Monday! Hope your week is off to a great start! For this week's Metamorphosis Monday, I thought I'd tie up some loose ends–a few of the topics I recently shared in previous posts.
As you may recall, I've been trying to help my son/dil find a permanent solution to the prickly weed that's growing prolifically in their flowers beds. Thanks so much to everyone who left a comment on that previous post identifying that super thorny weed as Field Thistle and for also identifying another plant (Mugwort) that I thought was probably a weed, too.
You may remember I had already weeded out the thistle in two areas of the garden on the front of their 1920s home.
Still have a bit more weeding to do up front but at least the thistle is gone!
I shared these pics in my previous post of the area down along one side of their home that still needed a good weeding to get rid of the thistle and a few healthy stands of Mugwort.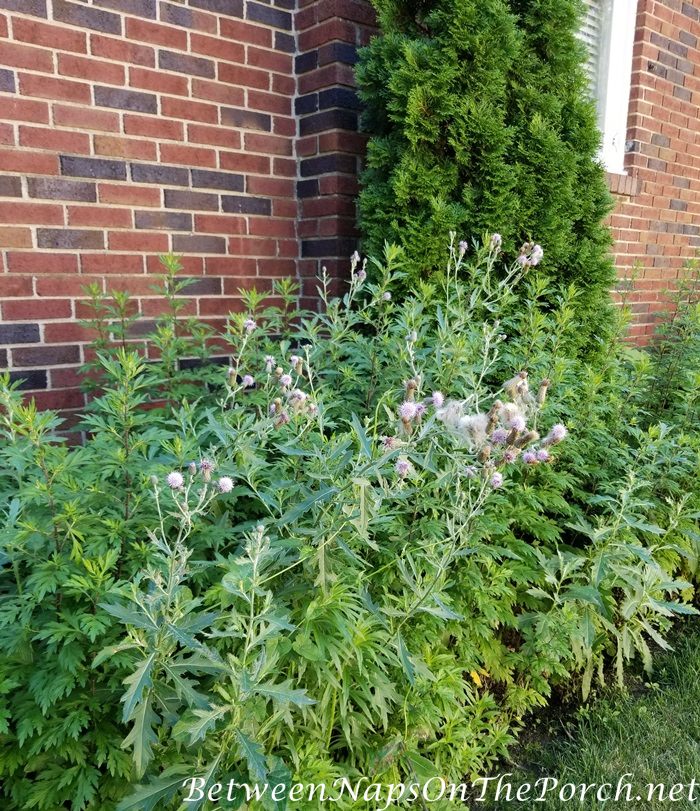 My daughter-in-law and I got busy on Sunday and finished the job of pulling out all the painfully, thorny thistle and stubborn mugwort. This is how the area above looks now. I cracked up this morning while going through my photos when I spotted something I hadn't noticed when I was taking them. Notice anything slightly creepy in this picture below? For a minute there I thought I had captured the ghost of a previous inhabitant 😉 but I don't think most ghosts wear Foo Fighters t-shirts.
We also weeded down in front of the garage area.
Someone asked about the rock wall that was visible in a previous post. Unfortunately, I couldn't find that comment again to reply directly, so I thought I'd reply here in hopes the lovely person who asked sees this post.
The rock wall is an original feature of the home and there's a matching one on the other side. I remember when my son/dil purchased their home, the real estate listing mentioned the home was built in the 1920s…I've forgotten the exact year, now. All the homes in this area were built during that period. Rock was used in several places on their home including the front and I love the look! Unfortunately, I don't have any other information about the rock that was used at that time.
From reading the suggestions in your comments and reading a bit online, I've decided to hit the weed situation with all I've got, hoping it will at least slow it down. I ordered Preen which I've used in the past in one of my flower beds at home. I purchased a large container online for a great price here: Preen. It has arrived so I'll be using it today in the beds.
I'm going to use some of the landscape fabric in a few choice areas in hopes it slows things down a bit. If we can get the thistle/mugwort under control, we can remove the landscaping fabric later on. From reading your comments and in forums online, I know we have a battle on our hands. If the world ever ends, from what I've read it appears the two things that will for sure survive are cockroaches and thistle! Hopefully, I can share an update down the road on how the Preen and landscaping fabric worked.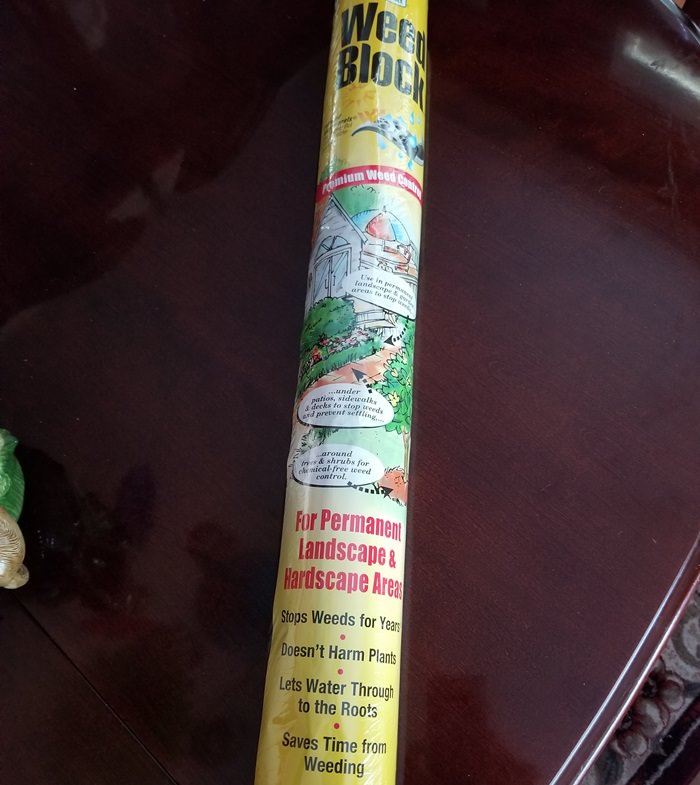 About That Tie…
Another loose end I wanted to tie up (no pun intended) is to let you know how I got an annoying "wave" out of the end of a silk tie I gave my son for his birthday. I added an "After" photo to that previous post but wanted to share it here in case it's helpful.
I think the wave happened when the tie slid down a bit in the box in which it was stored. It crumpled up a bit at the end of the box creating a bump/wave at the end of the tie.
I ended up using the steamer I ordered for my son/dil. I have this one at home and like it a lot. You'll find it available here: Steamer.
It worked in seconds, literally took about 3 seconds and the wave fell out. I steamed it from the back of the tie and the wave mostly came out after one pass. After another couple of light passes, it was completely gone. My son wore it to work the very next day.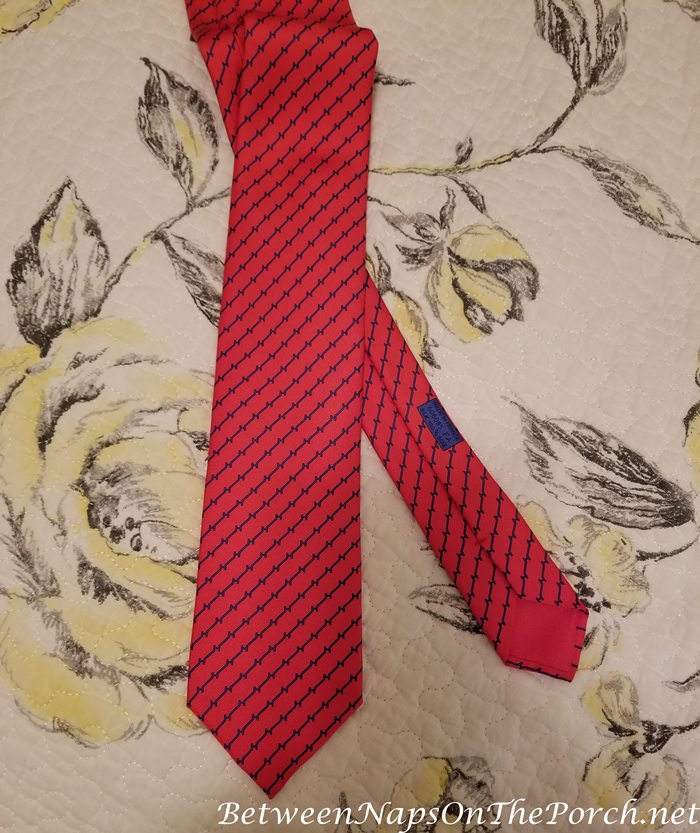 Thanks again for all your comments and suggestions left on my previous post about controlling thistle and mugwort in the garden. If you missed that post and are dealing with similar issues in your landscape, you'll find the post here: A Thorny Situation and Seeking a Permanent Solution. Be sure to check out the comments at the end of that post. There were so many helpful ideas and suggestions!
Looking forward to all the great Before and Afters for this week's Metamorphosis Monday!
Metamorphosis Monday
Metamorphosis Monday is a party that's all about Before and Afters. If you are participating in Met Monday, please link up using the "permalink" to your MM post and not your general blog address. To get your permalink, click on your post name, then just copy and paste the address that shows up in the address bar at the top of your blog, into the "url" box for InLinkz when prompted.
In order to link up, you'll need to include a link in your MM post back to the party so the other participants will have an opportunity to receive visits from your wonderful blog readers.
Feel free to link up Before and After posts that are home, gardening, decorating, crafting, painting, sewing, cooking, fashion, travel or DIY related. Please do not link up to the party if you're only doing so to promote/sell a product.
To those linking up, if you notice a shop or online store linking up to sell products (yes, unfortunately, that happens) please let me know so I can remove their link and block them from participating in future parties.
This party has ended, click button below for the links to all who participated.
*If a post is sponsored or a product was provided at no charge, it will be stated in post. Some links may be affiliate links and as an Amazon Associate, I may earn from qualifying purchases. *