A few weeks ago I shared some cute, white leather sandals I had purchased for around $45. They were so comfortable, I ended up buying them in a neutral/natural color, also.
I brought the neutral-colored pair along on my trip to Ohio and my daughter-in-law liked them so much, she ordered a pair, as well. She convinced me to also order the brown pair since I just recently purchased a bag in that color. I ended up also ordering a black pair since those should look great with black jeggings.
These sandals are super comfortable and have (for me) the perfect heel height. The price is great for a leather sandal and the studded design feels very Louboutin/Valentino. If you're in need of a cute, comfy, summer sandal, you'll find these here: Summer Sandal.
For everyday wear around the house and long-distance walking when I travel, these are still my absolute favorite. They go with me on every trip and will definitely accompany me when I head off to England in a few weeks. They were so comfortable and cool in the desert in Egypt.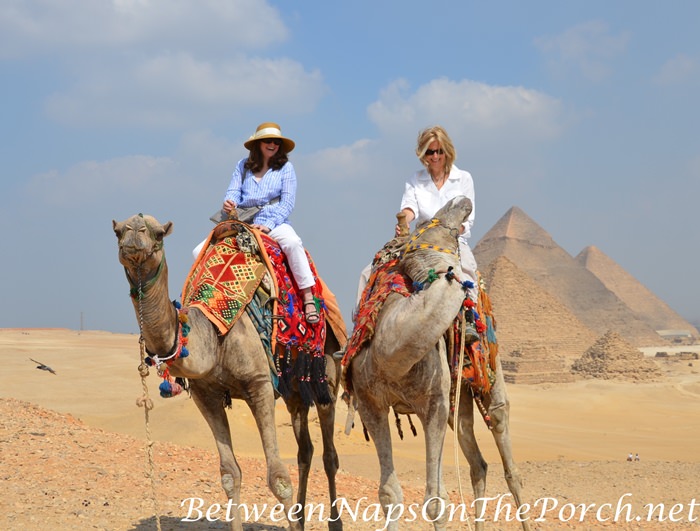 They are the most comfortable sandals I own and are great for those of us with difficult-to-fit feet since they are so adjustable and so supportive. These are THE sandals I wear when I know I'll be on my feet all day cooking, cleaning or walking. (You'll find them available here: Sandals.)
It has been super hot here with temps in the 90's. That hasn't stopped my grandsons from wanting to play outside so I decided to order this adorable Rainbow Waterfall to help keep them cool. My youngest grandson (shown below) tried it out first and it was a big hit. They both loved it and ran back and forth, back and forth for about half an hour before tiring out. Bedtime was super easy that night, they were both worn out! HA!
(Rainbow waterfall is available here: Rainbow Waterfall.)
The rainbow was such a big hit, I ordered this Dinosaur Pool for some more backyard fun. It arrived a couple of days ago and we'll be setting it up in the backyard tomorrow for a 4th of July cookout. In addition to the slide, the boys can play ring toss with the rings and toss the colorful balls that came with the pool into the hoop held by the dinosaur.
(Dinosaur Pool is available here: Dinosaur Pool.)
I ordered a few additional play balls…
…since there are a lot of things they can do with the balls while playing in the pool. (Colorful balls are available here: Colorful Playballs)
I didn't want to have to blow up the pool manually so I purchased an electric air pump like the one below at a local store. This one has great reviews and is actually a better price than the one I purchased. This type of pump is also great for blowing up air mattresses. Sooo much easier and way faster! (Pump is available here: Electric Air Pump.)
No More Mosquitos!
Recently, I was shopping in the local Dorothy Lane Market and was looking at the insect repellent. A customer nearby highly recommended this product so I decided to give it a try since it's all natural. We have really enjoyed using it for the last couple of weeks. It has a light, pleasant smell and it works!
We have all liked it so well, I purchased the larger bottle to have on hand for the rest of the summer. I purchased the small 2-oz size so my son/dil would have something to take along when they go on walks or hiking. They do a lot of hiking during the spring, summer and fall.
If you would like all natural Mosquito/insect repellent that actually works, I can definitely recommend this one. You'll find it available here: Mosquito Repellent.
By the way, Lowe's has their bark mulch on sale for just $2 a bag. I put out 10 bags yesterday and I'm off to buy a few more today to finish up the landscaping project I've started.
Happy 4th of July to you!
*If a post is sponsored or a product was provided at no charge, it will be stated in post. Some links may be affiliate links and as an Amazon Associate, I may earn from qualifying purchases. *