Welcome to the 670th Tablescape Thursday!
Yesterday I stopped by HomeGoods to see if they had a particular book I would like to find at a discounted price. They didn't but I enjoyed checking out the dinnerware and flatware they had in stock. I haven't shopped inside a HomeGoods in a long, long time because I noticed a few years ago, they seemed to be carrying fewer dinnerware sets.
I took some photos to share in case you would like to see some of the dinnerware they are currently stocking, at least in the stores here in our area. Again, I didn't see a lot of dishware sets, but there were two flatware sets that I found very tempting.
This Iridescent flatware was kinda mesmerizing. I could not think of a setting where I really would want to use it, so I decided to pass it up. It was priced very reasonably at $19.99 for a 16 piece set. I wish they would include a salad fork as opposed to a soup spoon in sets like this. If you're interested in Iridescent flatware, you'll find a lot of sets to choose from here: Iridescent Flatware.
I think if I ever buy this type of flatware, I'll go with this set: Iridescent Flatware. I like that set because each place setting includes 5 pieces: Fork, Salad Fork, Soup Spoon, Teaspoon, and Knife. What do you think? Do I need some Iridescent Flatware in my life for future table settings?
The other set of flatware that I found very, very tempting was this pretty Tortoise colored flatware by Mikasa. I could definitely seeing using this in fall/autumn table settings. If you love the look of this tortoise-style flatware, you'll find it available for around the same price it was in HomeGoods, here: Tortoise Handle Flatware.
The Halloween goodies were already out on the shelves throughout the store. I liked some of the Halloween tablecloths.
Did you know that Royal Stafford has Halloween dinnerware? I was so surprised to see these Skeleton Plates were Royal Stafford, Made in England!
I saw these Mickey Mouse plates in HG years ago and they had them again today.
Adorable Winnie the Pooh mugs! Sooo cute!
Pretty lemon plates…so summery! Lemon dinnerware always makes me think of Capri!
There were a lot of lemon-themed serving pieces, too.
This Bee dinnerware was definitely the most unusual dinnerware I saw during my HomeGoods shopping trip! Notice the bees–how they look tannish in color.
This bee pattern constantly changes as you look at it. At some angles, it looks like all the bees are tan-colored.
I couldn't exactly capture that with my camera, but at some angles, all you saw were lots of tan bees.
But when you picked up a plate and held it directly in front of you, the bees all looked navy blue in color. Sooo strange! Can you imagine setting a table with both the bee china and the iridescent flatware? Guests would probably wonder what was wrong with their eyes and if they'd had a bit too much wine to drink! lol
Hope you enjoyed this little Home Goods excursion! I left empty-handed this trip, but I will definitely stop in again sometime in the future.
Looking forward to all the wonderful table settings linked for this week's Tablescape Thursday!
Did you know Between Naps On The Porch is on Instagram? You'll find me on Instagram here: Between Naps On The Porch.
Like to know when a new blog post is up and available to read? Subscribe for email updates, it's free and your email will never be shared. Subscribe for free post updates via email here: Subscribe for Post Updates.
Tablescape Thursday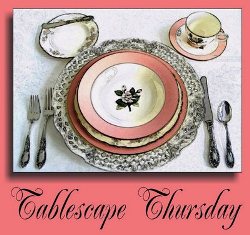 If you are participating in Tablescape Thursday, please be sure to add your permalink below, and not your general blog address. To get your permalink, click on your post name, then copy and paste the address showing in the address bar, into the "url" box when you link up.
You'll need to include a link in your post back to the party to link up and participate. That's so visitors to your blog will be able to find the party and the other Tablescape Thursday participants. Please, don't add your post name/blog name ALL IN CAPS…it tends to create big spaces between the rows of links.
This party has ended, click button below for the links to all who participated.
*If a post is sponsored or a product was provided at no charge, it will be stated in post. Some links may be affiliate links and as an Amazon Associate, I may earn from qualifying purchases. *