Welcome to the 393rd Metamorphosis Monday!
Recently I shared this summer table setting for Tablescape Thursday. Thanks so much for all the lovely comments you left on that post–appreciated those so much!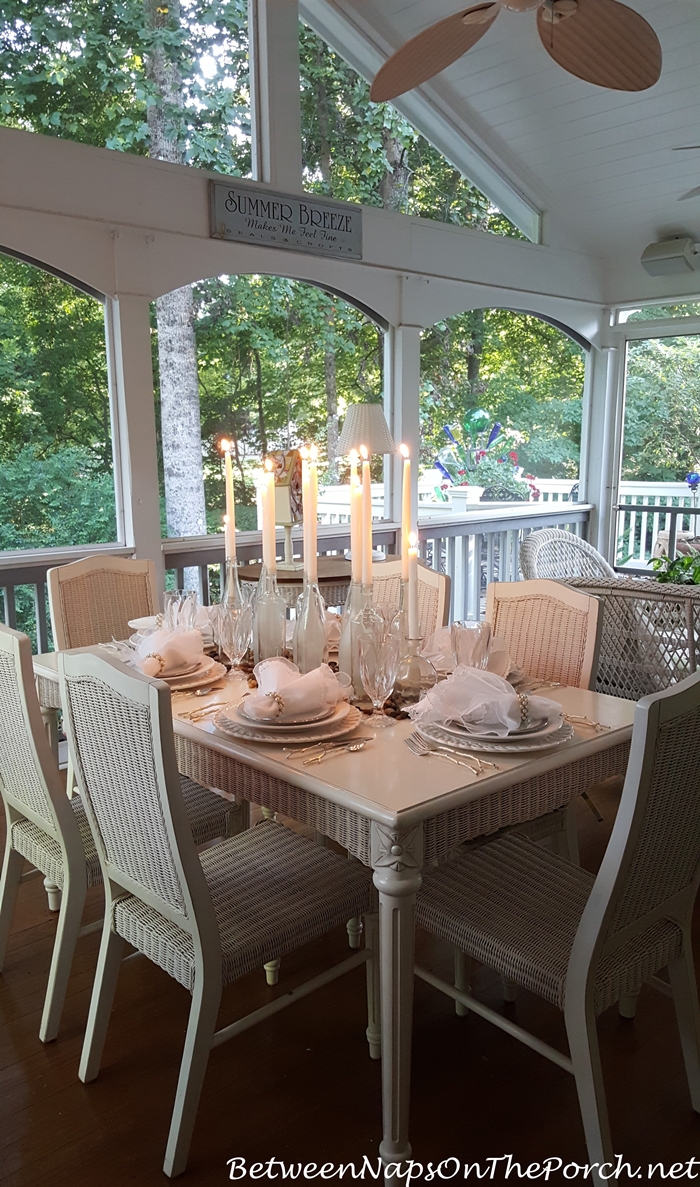 The centerpiece for that table was all about candles, lots and lots of candles. (Tablescape can be viewed here: Romantic Candlelight Dinner on the Porch)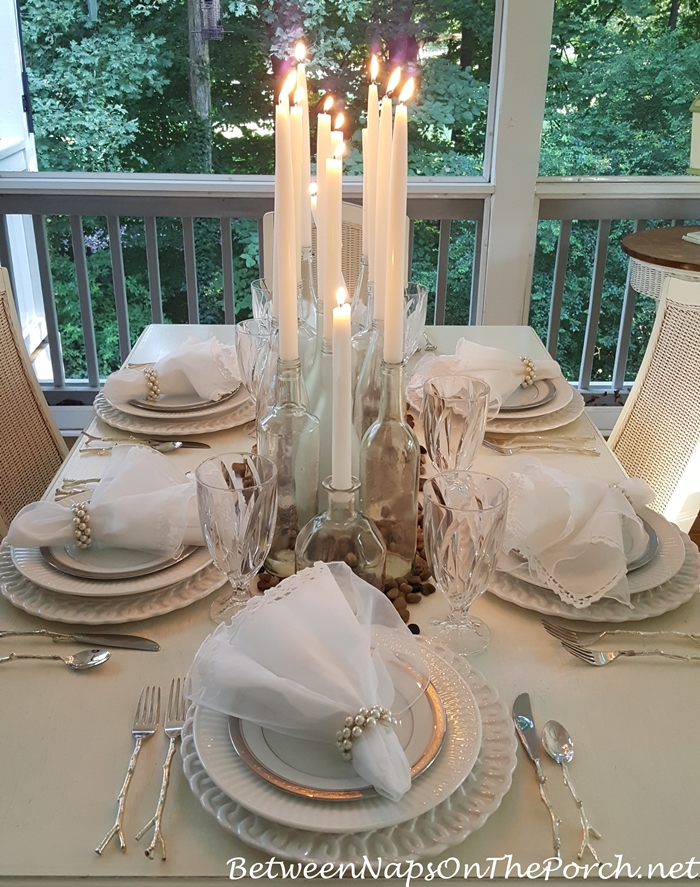 In that post I mentioned how I had used a knife to carve down the bottom of each candle so it would fit tightly down inside each bottle. Afterwards, a very smart reader of BNOTP told me about something called a Taper Tipper. Have you ever heard of a Taper Tipper? I never had but I can tell you, they are awesome! If you ever use taper style candles in your home, you need a Taper Tipper!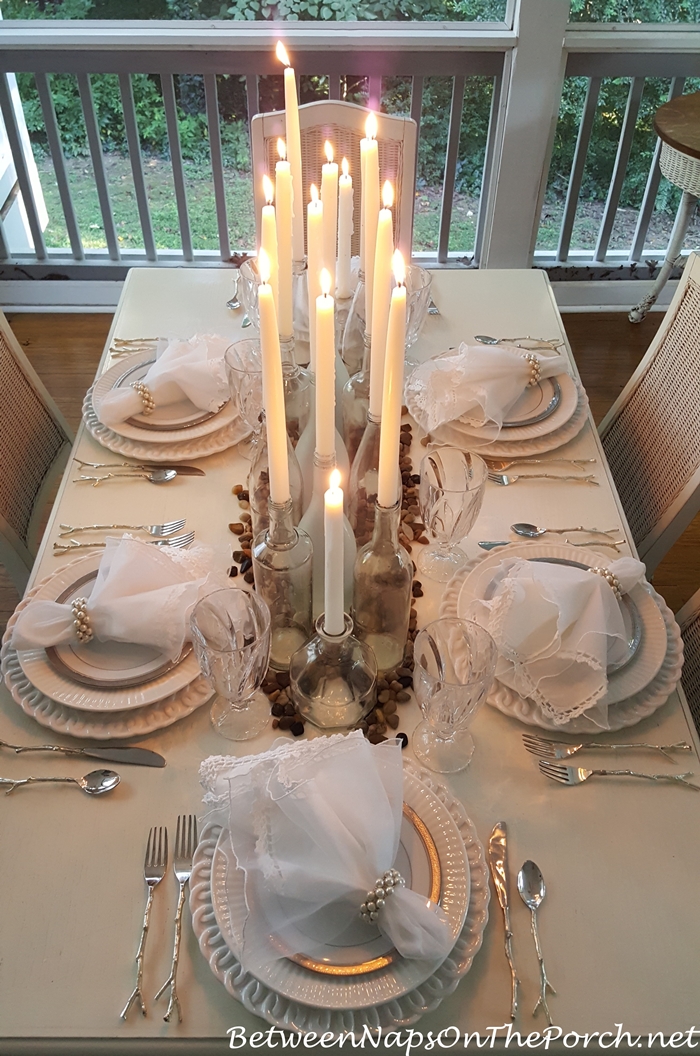 As far as I can tell, there is only one company, Wilton Armetale, that made Taper Tippers. According to the Wilton Armetale website, Armetale products are made from a mixture of over 10 different metals, with the primary metal being aluminum. I don't think they are currently making them because I didn't see any available for purchase on their website.
So how does it work? See the candles on the left? Those are candles I carved down with a kitchen knife to use in the bottles for the centerpiece seen earlier in this post.
The candle on the right was whittled down with the Taper Tipper that's laying next to it. The base on that candle looks much nicer than the other two, doesn't it?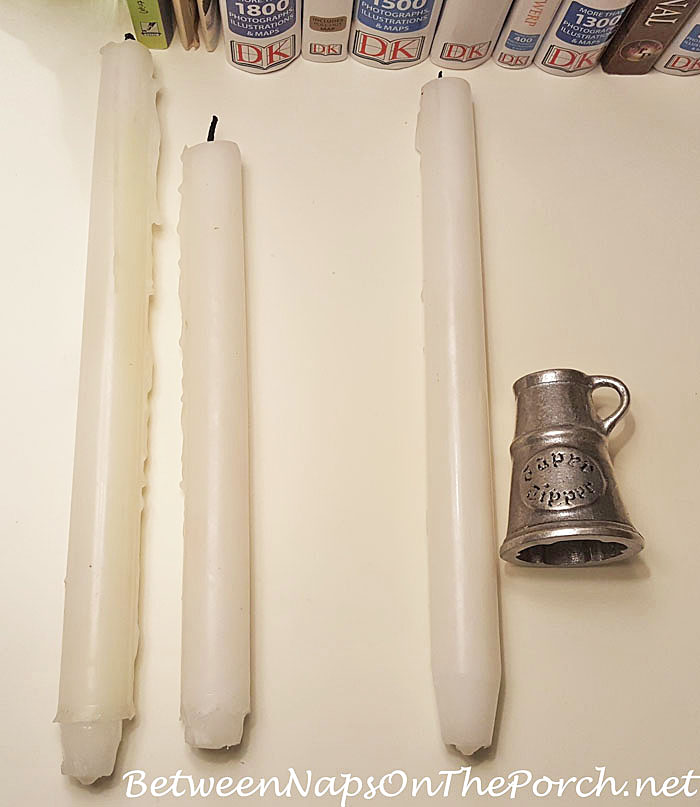 I was curious to see if it would also work for candles with bases like the one you see below on the left. I gave it a try and it worked great. It was a bit bumpier to use since that type candle has a lot of grooves/ridges around the base, but it definitely worked as seen on the candle on the right.
My Taper Tipper didn't come with any instructions, but it's so easy to use, you really don't need any. The candle only fits into the Taper Tipper one way.
To pare down the base of a candle, you put the candle into the Taper Tipper as shown below. Next, while holding the Taper Tipper steady in one hand, you simply twist/rotate the candle around and around in the other. It's a lot like sharping a pencil, only you're whittling down a candle instead of the point of a pencil.
Here's how the inside of a Taper Tipper looks. I'm not sure if anyone currently sells them but you can find them on eBay and on Etsy.
Update: Sandra just found something similar here: Taper Candle Shaper. Here's another one that catches the wax pieces as you're turning the candle: Candle Shaper
From searching online for additional information, it appears that only one company ever made them: Wilton Armetale. I think Wilton Armetale may be located in Columbia, PA, or at least that's what the eBay seller I purchased mine from said in her listing. The cost for the one I bought was $9.75 including shipping. Definitely worth that and more!
Have you ever used a Taper Tipper? I wish I'd had one years ago because they are definitely a time saver. A lot safer than a knife, too!
Looking forward to all the wonderful Before and Afters linked for this week's Metamorphosis Monday!
Metamorphosis Monday
Metamorphosis Monday is a party that's all about Before and Afters. If you are participating in Met Monday, please link up using the "permalink" to your MM post and not your general blog address.
To get your permalink, click on your post name, then just copy and paste the address that shows up in the address bar at the top of your blog, into the "url" box for InLinkz.
In order to link up, you'll need to include a link in your MM post back to the party so the other participants will have an opportunity to receive visits from your wonderful blog readers.
Please observe these few rules:
Only link up Before and After posts that are home, gardening, crafting, painting, sewing, cooking or DIY related.
Do not link up to the party if you're doing so to promote a website or sell a product.
Do not link up a post that was just linked up last week since readers would have already seen that post.

*If a post is sponsored or a product was provided at no charge, it will be stated in post. Some links may be affiliate links and as an Amazon Associate, I may earn from qualifying purchases. *