Welcome to the 526th Tablescape Thursday! We've had a lot of early mornings on this trip across Egypt and tomorrow will be another one as I'll be rising at 4:30 AM for a trip to Abu Simbel. The WiFi on our boat is the pitts. If you use more than a certain amount, it logs you out and you have to request a new password at the front desk to continue. I've lost count of how many new passwords I've had to request in order to download photos from my phone, but it's been a lot!
Between the time crunch and the nightmare WiFi, I can't really prepare a proper Tablescape Thursday post because it would require getting a million more passwords to finally get the photos I need to create the post. So for this week's Tablescape Thursday, I'm sharing my absolute favorite spot to dine on our boat: the Sundeck. Actually, it's my favorite spot on the whole boat no matter what I'm doing. I love it up here and the breezes are wonderful!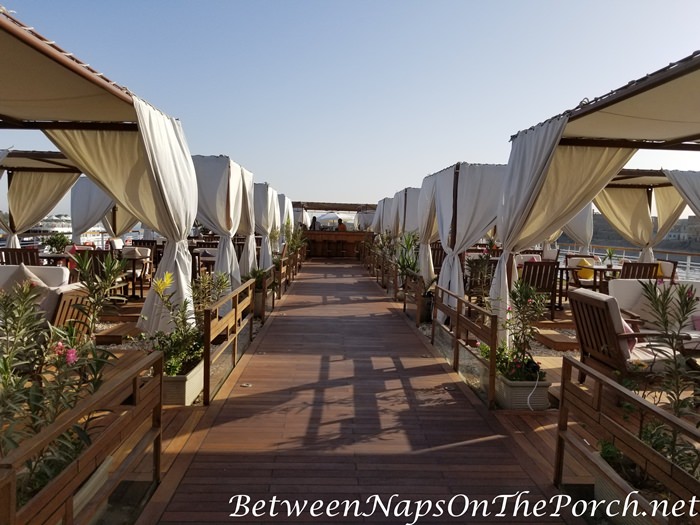 The individual table areas are so cozy, like you're in your own special room away from the rest of the world. When the sun begins to set and starts moving around, one or more curtains can be dropped to block its glaring rays.
This is my favorite spot for sipping a cool, fruity drink while reading a good book.
As we sail along, there are so many interesting sights to see! We've passed a lot of small villages.
Evening time is when the sundeck truly becomes magical. It's a candlelit paradise where you're just a little bit closer to the stars brightly shining in a navy-blue, midnight sky.
The full moon made me feel like I was in a Nancy Drew or Agatha Christie novel. I'm off to bed now. I can't wait until I'm able to go through all the photos I've taken and share more of Egypt with you. In the meantime, you'll find more photos on Instagram where I'm posting as often as I can. Nite, nite!
Looking forward to the beautiful tables linked for this week's Tablescape Thursday! Pssst: I post almost daily to Instagram. Follow Between Naps on the Porch on Instagram here: Between Naps On The Porch. If you enjoyed this post, subscribe for free email updates when a new post is up here: Subscribe for post updates.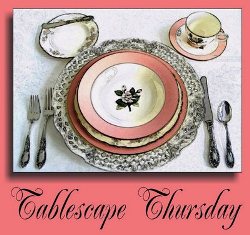 Tablescape Thursday
If you are participating in Tablescape Thursday, please be sure to add your permalink below, and not your general blog address. To get your permalink, click on your post name, then copy and paste the address showing in the address bar, into the "url" box when you link up.
You'll need to include a link in your post back to the party to link up and participate. That's so visitors to your blog will be able to find the party and the other Tablescape Thursday participants. Requiring a link back also prevents businesses and scammers from linking up to sell their products. (Yup, that really happens, unfortunately.)
*If a post is sponsored or a product was provided at no charge, it will be stated in post. Some links may be affiliate links and as an Amazon Associate, I may earn from qualifying purchases. *