Welcome to the 523rd Metamorphosis Monday!
I'm dreaming of spring and some porch time.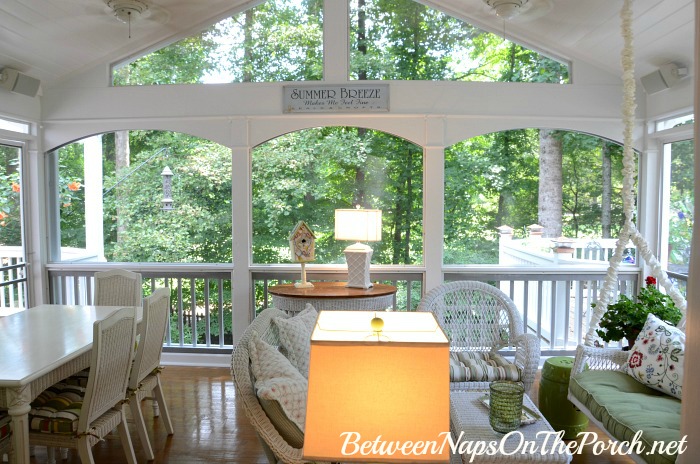 But before spring arrives, I'll need to fix this thanks to a very bad mouse. Either a mouse or rat, not sure which, decided to chew his way in through one of the screened porch doors. In an effort to stop the intruder from getting onto the porch and decks again, my pest control guy blocked the hole. He also set up traps to catch the intruder.
We later discovered the critter was apparently trying to set up camp inside the grill on my deck.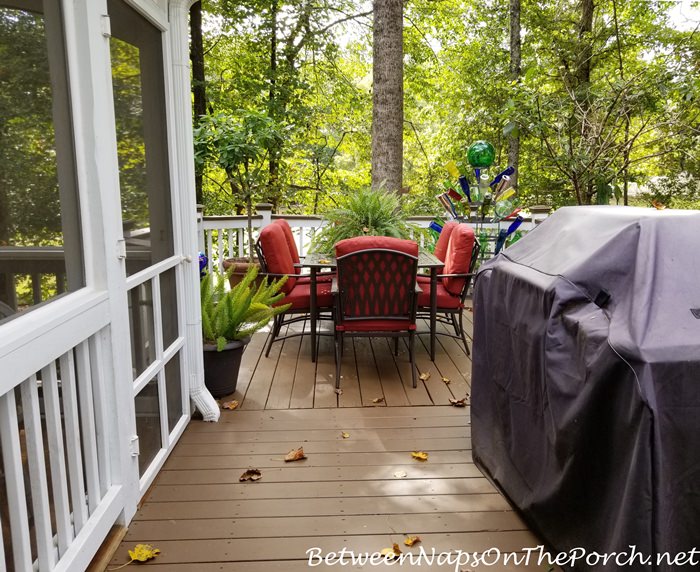 In the meantime, the rat or mouse came back and cut a brand new hole in the door. Actually, he cut a hole in both of my screened doors leading from the decks into the porch.
And just for fun, he went around and cut holes in all the lower screens around the porch. Allll of them! 🙁
I gave the grill away since I almost never used it. Hopefully, that will deter any future critters coming along and trying to make it their home again. Now it's time to fix all the damage that was done. I'll need to replace both screened doors and have all the lower screens re-screened this spring.
Ever have a mouse chew his way onto your porch? In the eleven years I've had a screened porch, this is the first time I've had anything chew through the screens like this, well except for a squirrel who once tried to get to a birdfeeder I foolishly left out on the porch. Thankfully, he only chewed a hole in one screen, not all of them!
What spring repairs will you be working on in the next few months? Hopefully, it won't be critter damage.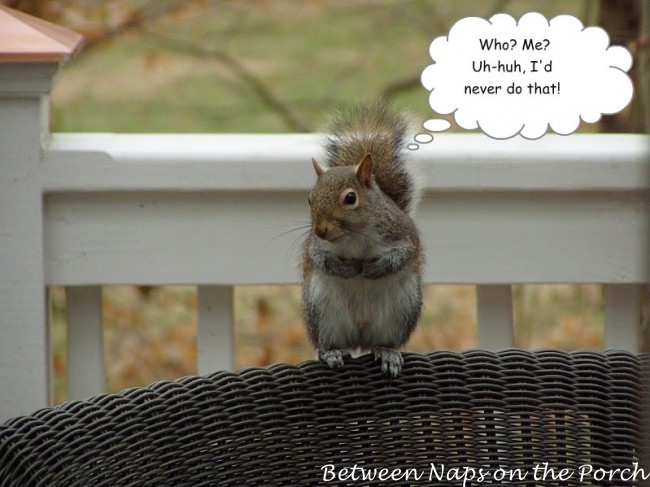 Looking forward to all the fabulous Before and Afters linked for this week's Metamorphosis Monday!
Pssst: Follow Between Naps on the Porch on Instagram here: Between Naps On The Porch.
If you enjoyed this post, subscribe for free email updates when a new post is up here: Subscribe for post updates.
Tip: If possible, please do not use a Hotmail e-mail address to subscribe. Hotmail's servers are notorious for filtering out perfectly good emails. Also, it will help if you add my e-mail address, [email protected] , to your "contacts." That will help emails get through to your Inbox and not be filtered out by your email service provider.
Metamorphosis Monday
Metamorphosis Monday is a party that's all about Before and Afters. If you are participating in Met Monday, please link up using the "permalink" to your MM post and not your general blog address. To get your permalink, click on your post name, then just copy and paste the address that shows up in the address bar at the top of your blog, into the "url" box for InLinkz when prompted.
In order to link up, you'll need to include a link in your MM post back to the party so the other participants will have an opportunity to receive visits from your wonderful blog readers.
Feel free to link up Before and After posts that are home, gardening, decorating, crafting, painting, sewing, cooking, fashion, travel or DIY related. Please do not link up to the party if you're only doing so to promote/sell a product.
To those linking up, if you notice a shop or online store linking up to sell products (yes, unfortunately, that happens) please let me know so I can remove their link and block them from participating in future parties. No one wants to visit a link expecting a Before and After, only to find a spam link to an online business/store.

*If a post is sponsored or a product was provided at no charge, it will be stated in post. Some links may be affiliate links and as an Amazon Associate, I may earn from qualifying purchases. *