Recently, I received an "End of Season" Ballard Designs catalog in the mail. Excuse me, but would someone please tell Ballard Designs to not rush my summer. It's just mid July and here in the south summer lasts at least until the end of September, sometimes well into October.
Max and I curled up in the green and white chair here in the office and had fun oohing and ahhing from one page to the next. So many pretties! These caught my eye. In the catalog, they are called "Southern Living Beverage Tags." The little blurb inside the catalog says Ballard Designs has "teamed up with the entertaining experts at Southern Living to create an exclusive new line of serving accessories designed to serve up classic Southern style with an extra helping of can-do-versatility." The beverage tags pictured below (next 2 photos are from Ballard Designs online) are part of their new line of serving accessories.
The tags were $15 in the catalog for a set of six. I filed this little project away in my head, making a mental note to look for some small wood tags next time I was in Michaels.
Recently, I purchased these Chocolate Fudge bars. After eating one, a little light bulb went off. The wood stick inside the icecream looked like it just might work for beverage tags. So, for you, I sacrificed and forced myself to eat several more. The research that ensued was extensive, requiring the purchase of at least one more box, but I persevered for your sake. 😉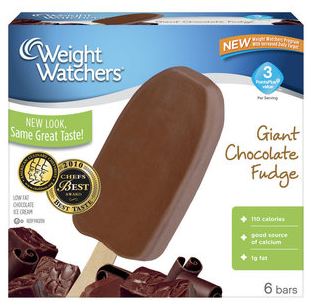 I made several beverage tags and couldn't resist giving one of the tags a touch of Halloween, just to see how they might look with a bit of added whimsy.
Tutorial: Make Your Own Beverage Tags: A Ballard Designs Knock-off:
Here are the supplies you'll need to make your own beverage tags. I already had everything but the paint marker which was just $1.97 at Walmart. You'll need: ice cream sticks, spray polyurethane, hair spray, a sharpie pen or paint marker, jute yarn and a drill.
To start with, drill a tiny hole in the end of your icecream stick. I used a 1/8 inch drill bit and I rigged up this little drilling station by using the cut-out section of this old plastic cutting board. It worked well for drilling the holes and not my kitchen counter. 🙂
Here they are with a tiny hole drilled in one end. I later used an ice pick to widen the hole a bit for the jute yarn…it worked great.
To prevent marker bleed:
Next, and this is very important, give your ice cream sticks a good coating (on both sides) with hair spray. I didn't do this at first and the markers/paint pens I tried to write with, bled like crazy on the raw wood. Also, drill the little hole before spraying the sticks with hair spray. I didn't do that on a couple and they seemed harder to drill at first. It could have just been those sticks and not the spray, though.
In my experimenting around stage, I tried lightly staining a couple of the tags with a "neutral" stain, just to give them a bit more umph. Bad move. The stain just added to the "moisture" content of the wood and the marker bled even more. You could try staining them, letting them dry for several days and then using hairspray to seal them. I was too impatient to do that, just wanted to get 'em made.
Once your tags are nice and dry, you're ready to write on them. I wrote on the tags in cursive, copying the Ballard Designs tag, but it was kind of tricky to write fluidly on these rough tags. You may find it a bit easier to "print" on the rough wood tags since you can lift the pen occasionally when printing. Or, you could try sanding the little sticks a bit before you spray them with hairspray to see if that would make writing on them a little easier. I didn't try that but it might help. You may be able to find wood tags in your local craft store, but where's the fun in that? It was more fun "having" to eat ice cream! 😉
To get the actual Ballard Designs look, tie your new tag around a pitcher using jute yarn/thread.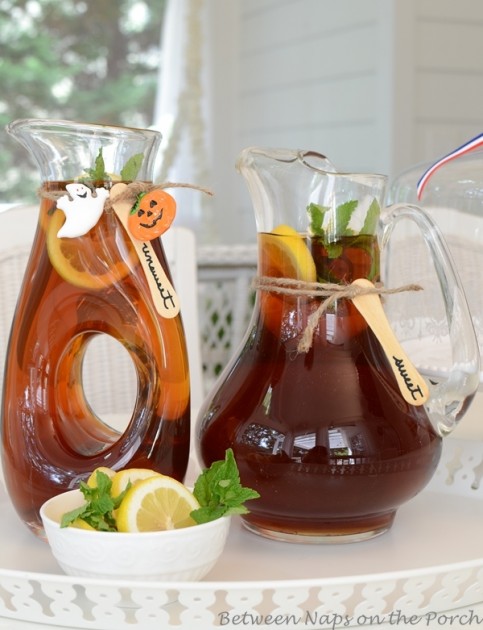 Oh, one thing I didn't mention, once I was finished writing on my beverage tags, I gave them a good spraying with Minwax's Fast Drying Polyurethane. That helps keep them protected from splashes and moisture.
Just for fun, I wrote "Hummingbird Cake" on one tag and tied it to the handle of one of my cake pedestals. I used red, white and blue ribbon, imagining how the tag would look if it was being used for a 4th of July celebration. You see that huge yummy cake under the dome there, right? 😉 Sorry, no time for baking yesterday. Paula Deen has a great recipe for Hummingbird Cake. I'll have to make one and share the recipe here sometime. It's one of my faves.
I have lots of cute holiday motif necklaces from years ago when I worked as a Media Parapro in my son's elementary school. I took apart one of the Halloween necklaces to see how a tag would look decorated for a Halloween gathering or party. You could add a little decoration for any event or holiday…whatever suits your fancy. You could even draw/paint on the end of the stick or decorate it with glitter or beads. The possibilities are truly endless.
The tag for the pitcher on the right says "sweet" while the tag on the left says, unsweet.
Have fun making beverage tags for your next gathering!
*If a post is sponsored or a product was provided at no charge, it will be stated in post. Some links may be affiliate links and as an Amazon Associate, I may earn from qualifying purchases. *