Happy weekend! It's sooo pretty here and finally, the weather has warmed up. Hope you are seeing blue skies and sunshine today!
Last month, for my Monthly favorites, I did a switcheroo and shared all my daughter-in-law's favorites. If you missed that post, you'll find it here: Nancy's April Favorite and the Ones I'm Buying for Myself.
This month I'm again sharing my favorites, a few items I've purchased and have really enjoyed, including one I caught on sale that's even less now than what I paid!
If you've been reading BNOTP for very long, you know I'm super cold-natured. At home, I have several white sweaters that I throw over sleeveless tops and dresses when I'm headed out to the grocery store (where I'm ALWAYS cold) or out to a restaurant for dinner. Since I have several white sweaters already, I didn't want to spend a lot on a new one, but I needed one now to wear here in Ohio.
I love cotton and linen for summer, so normally that's all I buy for summer, but this sweater had such great reviews, was so affordable (under $20) plus, I could get it quickly, I decided to give it a try. I've ended up liking it so much, I just ordered a second one so I'll always have one to wear when one is in the wash.
It comes in a lot of colors, but so far I've only purchased it in white. You'll find it available here in many colors: White Sweater for Summer.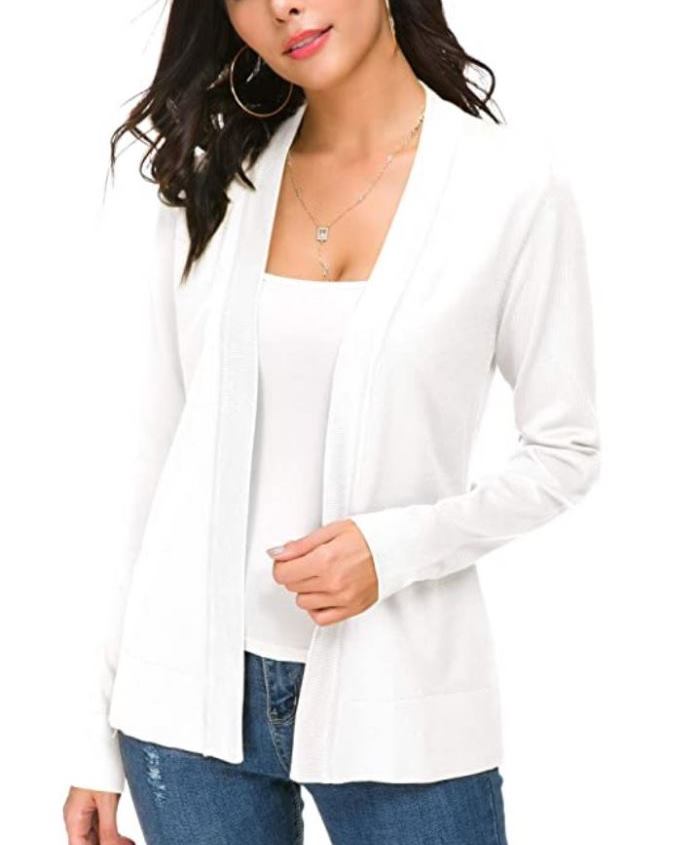 While I've been here helping with my grandsons, I've been using this to wash my favorite shirts and dresses. I always wash my clothes by hand or in my handwash basket at home and this is the detergent I use. It's very gentle on clothes so I trust it with my favorite shirts and dresses. If you wash your clothes in a machine, you could use it for that, as well. You'll find it available here: The Laundress Signature Detergent.
I brought along one pair of sandals when I packed for this visit, but they are a 1/2 size too large. The reason they are a tad large is because they are the sandals I wear around the house with thick winter socks. What? Sandals with socks?!!! Don't worry, I promise I don't wear sandals out in public with socks! Ha! But I love my Ecco sandals so much for the arch support they offer, I often wear them inside during the winter when I'm on my feet a lot cooking or cleaning. It makes such a difference in how tired I am and how I feel by the end of the day when I'm wearing these sandals!
I didn't have any of my normal size summer sandals here since I didn't realize I would be here this long, so last month I purchased the pair you see below. These are so cute with casual summer dresses! I don't have any of my dressier sandals with me, but I plan to head back home very soon. I may be coming back again before summer is over since the summer activities and camps my grandsons were supposed to attend have all been canceled.
Anyway, if you are like me and love a sandal that is super comfortable with amazing arch support, I very much recommend these. These are excellent for hiking, too. I've worn them on some of our outdoor hiking trips and they worked great. You'll find them available here: Sandals with Great Arch Support.
I'm still over the moon happy with these adorable shirts I ordered for summer. They are very light and breezy, perfect for summer! I love that they are V-neck and not round neck…find that so much more flattering on!
They come in 18 different patterns/colors. I currently have it in three designs and have one more on the way, it should arrive today.
This shirt is so flattering on, it comes down a bit longer in the back so it offers a lot of coverage. Love that! I really hope they continue to carry it and add new patterns each year. It's now my go-to summer shirt when I'm wearing jeans or shorts.
You'll find it available here: Summer Shirt.
My friend, Susan, was recently telling me about some really cute summer dresses she had ordered. They were all on sale so I decided to check them out. I ordered several and this one was my fave. I just love it! I haven't ironed it yet so it's just as it was out of the package, so excuse the wrinkles.
When I ordered this dress, it was on sale for around $38. The sale has gotten even better and now it's just $22.95!
I love all the little details. Here's a closeup of the pretty bell sleeves.
This pretty open cutwork/lace design goes all the way around the bottom, as well. Love that!
You'll find this beautiful dress for a steal of a price here: Paisley Dress.
Remember the pink and white gingham dress I ordered recently? I've been wearing it a lot and love how comfortable it is. I know from the comments you've left that several of you have also ordered it and love it as much as I do.
Since I've enjoyed wearing it so much, I went ahead and ordered it in the blue and white version. I love blue and white so I can't wait to wear it this summer. You'll find this dress in both colors available here: Pink Gingham Dress and here: Pink Gingham Dress.
This was another item I tried during the month of May and really liked. It's a fast way to remove annoying coffee/soda stains and brighten your smile. Both my son and I have been using them. You'll find them available here: Teeth Whitening Pens.
I've been searching for bras that are more comfortable than regular bras. I ordered these and have really enjoyed them. They have a small pad that's removable for washing. They wash well, are very comfortable and flattering on, so I feel comfortable recommending them. You'll find them available here: Soft Comfortable Bras.
My oldest grandson, age 6, often asks to borrow my brush. He's just now really getting into styling his hair. 🙂 I recently purchased this dinosaur brush/comb combo for each of my grandsons and they love it! They are super well-made, very sturdy. I think they are about the cutest thing I've seen in a while! They would make really cute stocking stuffers at Christmastime for the dinosaur lover. You'll find them available here: Dinosaur Brush/Comb.
I'm a huge fan of the designer, James Farmer. I have several of his books and love them all! I especially love this one, A Place to Call Home. You'll find it available here: A Place to Call Home.
He has a new book coming out and I can't wait until it's here! As I've said before, James Farmer is one of the very few designers I could completely turn loose in my home with little to no input, and I know I would love everything he did! I can only think of one or two other designers with whom I would feel comfortable doing that. His work is sooo beautiful and at the same time, very livable! Love his designs!
You'll find his latest book, Arriving Home, available for pre-order here: Arriving Home by James T. Farmer.
Hope you found these May favorites inspiring and helpful! Happy spring (almost summer) to you!
*If a post is sponsored or a product was provided at no charge, it will be stated in post. Some links may be affiliate links and as an Amazon Associate, I may earn from qualifying purchases. *