What goes through your mind when you pass by a driveway like this? Does your heart yearn to know where it leads, if there's an amazing house at the other end?
Well, today you get to find out because we are traveling down this beautiful driveway and what we'll find on the other end does not disappoint!
See what I mean…Oh. My. gosh!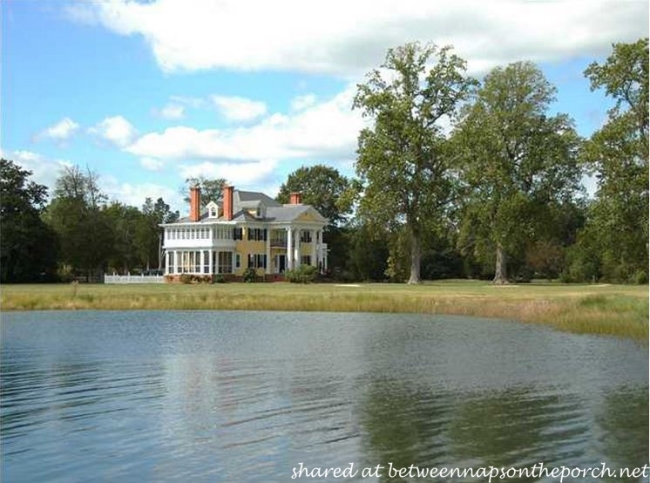 Historic Oak Hall was built in 1918. This beautiful home sits on 52 acres alongside the North River in Gloucester, Virginia. It's tucked away from the rest of world with amazing views no matter which way you look.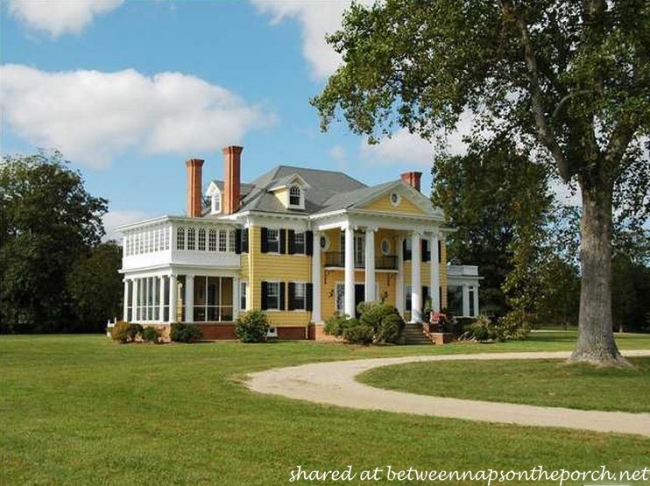 Did you notice it has a screened-in porch? Look at those sidelights! I've never seen such large, beautiful sidelights on either side of a door. Notice all the chimneys…going to be a lot of fabulous fireplaces inside this home!
I love homes painted yellow but I guess you knew that from my blog banner. The first two homes I owned, I painted English Ivory, an old Benjamin Moore color that's a really pretty yellow. A yellow home with white trim just makes my heart sing. This house totally proves that yellow isn't just a color for cute cottages.
The home is currently available for purchase and I'm so hoping the new owners don't change the color.
Let's go inside!
Beautiful entry! Love the chest-0n-chest, such a versatile piece great for bedrooms, dining rooms, living rooms, even an entrance foyer.
As you turn around and look back, this is the view out the front door. Wow!
I'm not sure if this is the main living room or just a sitting room. Since this home has over 5,372 square feet of finished space, I'm thinking this may just be a sitting room and not the main family or living room. It also has 1,740 square footage of unfinished space. Wonder if that's in a basement or in the attic, or both?
The kitchen fireplace is amazing! Wonder what they cooked in there, back in the day? Do you think that's a pizza oven below? Anyone know?
Dining Room with a view to the porch…love the bold yellow they chose for the walls.
Beautiful bedroom…love the color of the walls here, too. Look at those wonderful cathedral windows! One of my favorite features in older homes is how the rooms have so many windows. There's even a little window seat…love that!
This country estate has 5 bedrooms, a large Master suite, 4.5 baths and a guest apartment above the garage. It has 10 fireplaces! Wish we could have seen more of the inside. I wonder if the room above the screened porch was a sleeping porch at one time. It has that look about it.
Imagine the lawn parties one could have living here! Wouldn't that be beautiful on moonlit nights! I see long, candlelit tables with white tablecloths fluttering in the breezes, string lights draped through the trees, wonderful music playing and the house all lit up, glowing from within.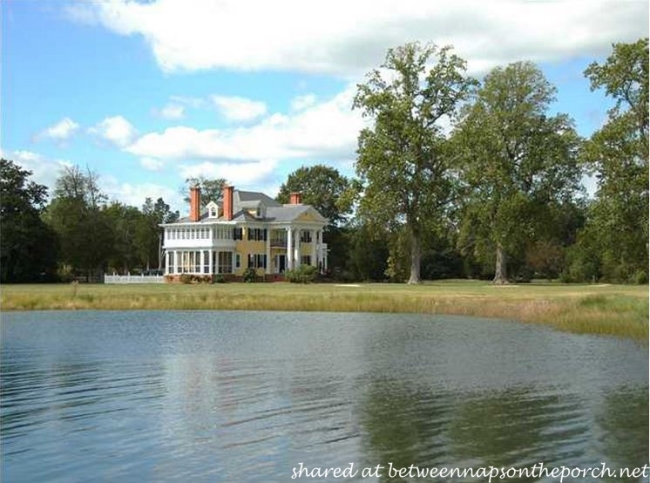 With all the dormer windows in the attic, wouldn't it be wonderful if those were additional bedrooms? I envision wonderfully cozy bedrooms with slanted ceilings, dormer windows and toile wallpaper. 🙂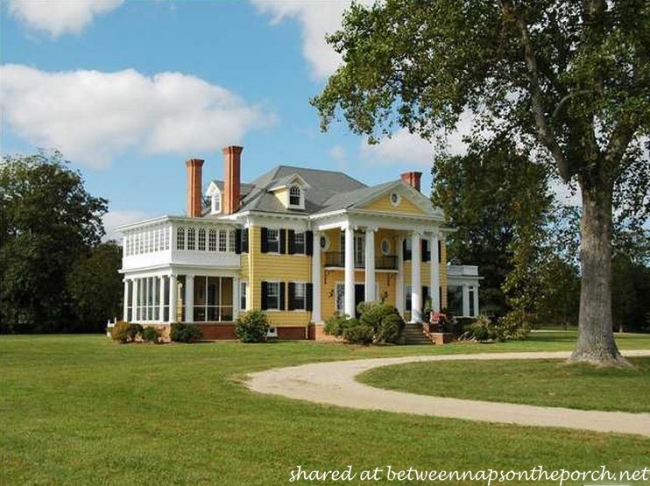 I love the red barn. I read in the listing that it was recently lost. I wonder what happened? That would have broken my heart for sure. I wonder if it was a tornado or a fire or what happened to it. I looked online but couldn't find anything about it. Maybe the person who buys it will have a replica constructed. Wouldn't be the same as the old one, would it?
Boat access and beautiful views…
Hope you enjoyed the tour!
*If a post is sponsored or a product was provided at no charge, it will be stated in post. Some links may be affiliate links and as an Amazon Associate, I may earn from qualifying purchases. *