Welcome to the 322nd Tablescape Thursday!
A couple of years ago I was in Marshall's and came across these cute, little individual milk bottles for $3 each. An idea instantly popped into my head. Wouldn't it be fun to use them in a breakfast table setting. I could fill each one with milk for cereal or with a preferred beverage then each person would feel extra spoiled having their own little milk bottle for refills during their meal.
There was just one problem, there were only three bottles. I purchased those three and then periodically checked on eBay hoping to find a few more. I eventually found one more on eBay, but I was really hoping to find enough for six place settings.
Earlier this summer I stopped by Marshalls and was surprised to find they had gotten three more in! Even though I just needed two to complete my six place settings, I purchased all three since it's always good to have a spare for breakage.
Come join me for breakfast here on the porch!
Do you remember Mr. Rooster? I purchased him a year or two ago and when he arrived, his tale was broken in several places. Unfortunately, the company where I purchased him didn't have anymore. They didn't want to pay to have Mr. Rooster shipped back. I hated to just toss him so I repaired his tale as best I could. You'll find that repair post here: Best Way To Repair A Broken Ceramic Piece
The Tall Centerpiece Question
I always get questions whenever I use a tall centerpiece in a table setting, so I'll go ahead and share what I've always done and what I've also read in design and table etiquette books. Basically, it goes like this: Use the biggest, hugest, tallest centerpiece in the whole wide world that you can possibly find, to your heart's content. Once you and your guests start to sit down for the meal, move the centerpiece to a nearby sideboard or wherever you wish IF it will interfere with the conversation or view.
Don't ever be afraid to set a beautiful table with a tall centerpiece. Your guests will love the impact and drama a tall centerpiece creates and it can always be moved if needed.
Without napkins…
The dishware for this table setting is "Fall Rooster" by Maxcera, another Marshall's find back in 2011 for just $2.00 a plate. They only had three of the rooster salad plates so I mixed in some of my sunflower plates, too. I love how they look with the dinner plate since it has sunflowers on it, as well.
The milk bottles needed a little autumn dressing. I hot glued a piece of burlap ribbon around them, layering a piece of plaid ribbon in fall colors on top. The ribbon isn't hot glued to the bottle, it's just hot glued to itself. I put a drop of glue under the top ribbon and tucked a faux fall leaf underneath. Wouldn't it be neat to tuck a real fall leaf in there if this table were actually being use…love that idea!
There are so many things one could do with these little milk bottles. Using chalkboard paint, a little area could be painted, then the name of each person could be written on the bottle at each meal. These would be so easy to dress up for any season or holiday by just tying a colorful ribbon around the top of the bottle.
Each place setting also has its own little maple leaf shaped bottle filled with maple syrup from Vermont. Yum! Since these little bottles are glass, it would be easy to wash them out once they are empty and refill them when a special breakfast is planned. I just realized I left off the napkins. Ha! It was starting to get dark even before I began taking pictures, so I guess I forgot in my rush. It gets dark so early now. I'll try to add some napkins to this table today, take a picture and add it to the post.
Okay, here's our fall breakfast table with napkins. Much better. I'm messy, I need napkins! 🙂
The rooster glasses are from Old Time Pottery, 3-4 years ago. Flatware is from Pier 1 a year or so ago.
A cheerful breakfast setting for a wonderful fall day!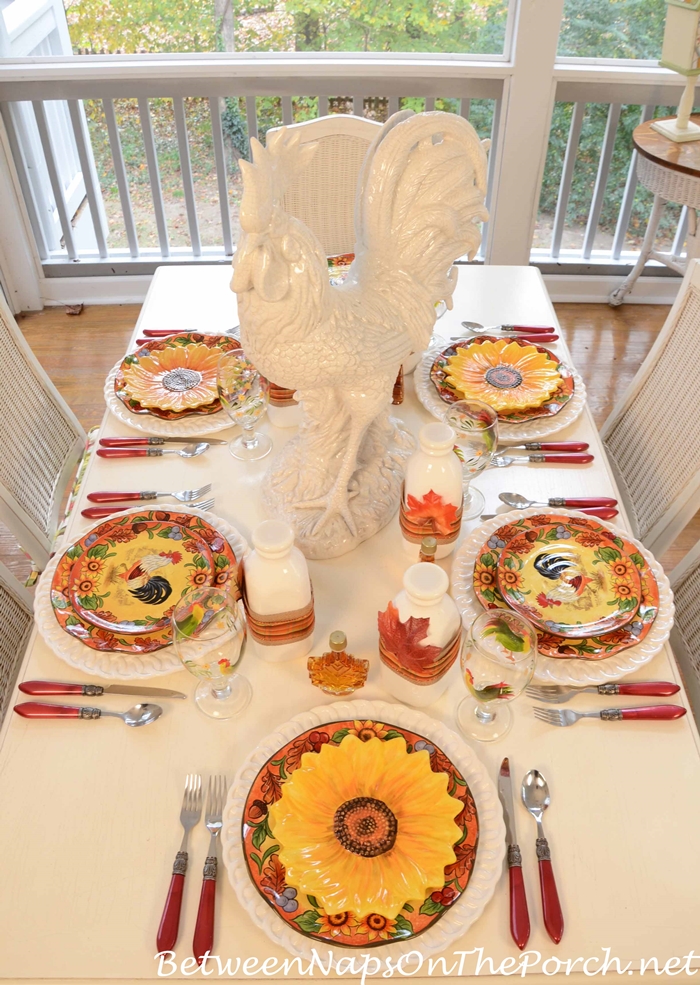 A view with napkins in place…
Hope you enjoyed this pancake breakfast! It was pretty lo-cal wasn't it? 😉
I've used the rooster plates in several tablescapes in the past. Here's a fun one with magnolia leaf chargers. A Colorful Autumn Table Setting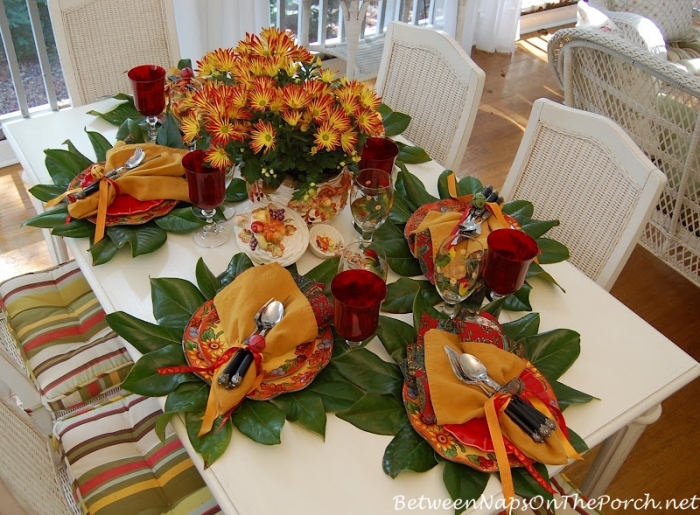 Looking forward to all the beautiful tablescapes posted for this week's Tablescape Thursday!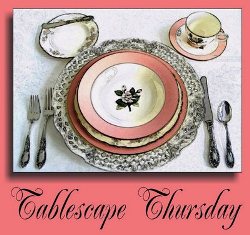 If you are participating in Tablescape Thursday, please be sure to add your permalink below, and not your general blog address. To get your permalink, click on your post name, then copy and paste the address showing in the address bar, into the "url" box when you link up.
You'll need to include a link in your post back to the party to link up and participate. That's so visitors to your blog will be able to find the party and the other Tablescape Thursday participants. Requiring a link back also prevents businesses from linking up to sell their products. (Yep, that really happens, unfortunately.)
If you would like to use the Tablescape Thursday logo button in your post, just copy and paste it to your computer and upload it to your post as you would any photo.
Please, don't add your post name/blog name ALL IN CAPS…it tends to create big spaces between the rows of links.

*If a post is sponsored or a product was provided at no charge, it will be stated in post. Some links may be affiliate links and as an Amazon Associate, I may earn from qualifying purchases. *