Easter is only a few weeks away and I'm so excited to share a beautiful Easter craft from my friend Jane who blogs at Cottage at the Crossroads. Here's Jane to explain just how she made these adorable Peat Pot Spring Baskets.
Tutorial from Jane, Cottage at the Crossroads:
Have you been noticing those pretty peat pots that people have been decorating? Well, I just had to make some, too, and I'm delighted that Susan asked me to share how I made them with you today. Let me introduce myself-I'm Jane from Cottage at the Crossroads.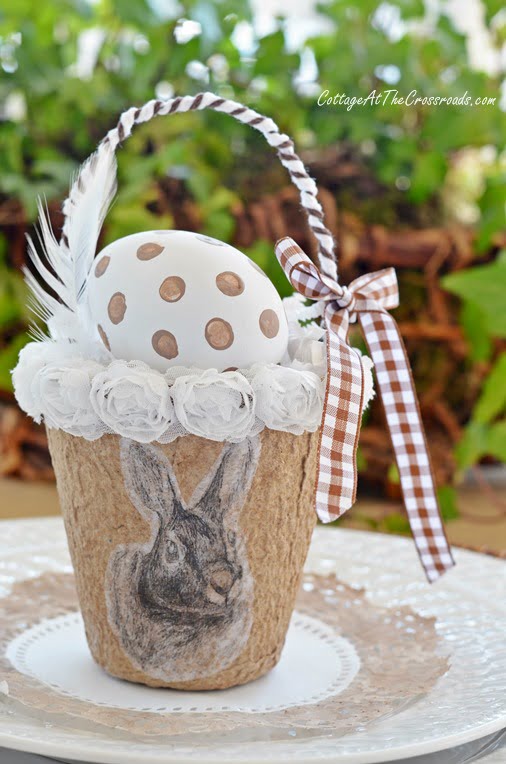 These little decorated peat pots are very easy to make and can be completed in one afternoon. They make adorable gift baskets or can be used in tablescapes as favors or place cards. They are a perfect way to showcase your favorite Easter eggs, too. I left mine their natural color because neutrals work best on my front porch where I plan to use them.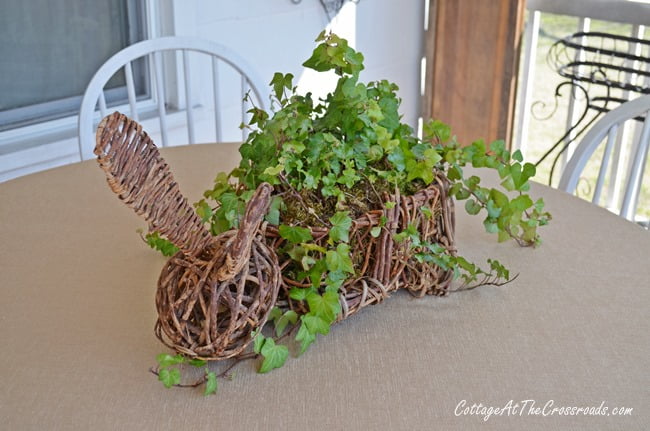 When I was thinking about making the peat pots, I knew that I was going to use bunnies on them. This bunny grapevine planter is residing on our front porch, and I'm planning to use it in creating a spring tablescape. And besides, bunnies are one of my favorite signs of spring.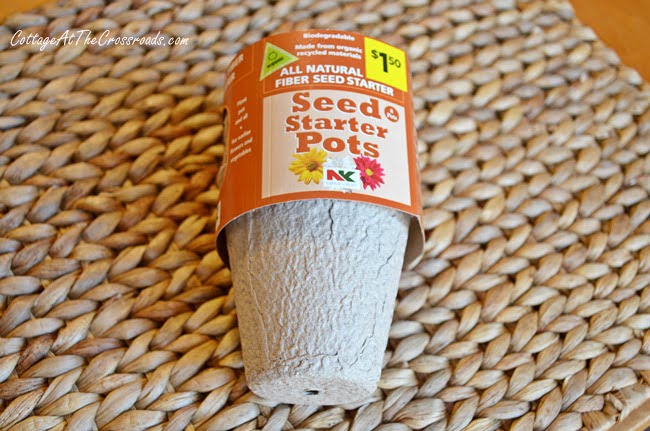 To get started, you're going to need some peat pots. I found these at Dollar General and there are 6 in a package. I bought 2 packs because I'm always starting seeds, anyway! The peat pots can be painted with acrylic craft paint or you can leave them natural. Next, you will need some graphics to use. If you want to use bunnies, there are plenty of free graphics available online. But since I'm taking a drawing class right now, I decided to create my own by hand sketching one.
You're welcome to use my bunnies. When you print them out, they are the right size for your peat pots. Just click HERE to download and print. Once you have the image you want to use, you are going to print it onto tissue paper.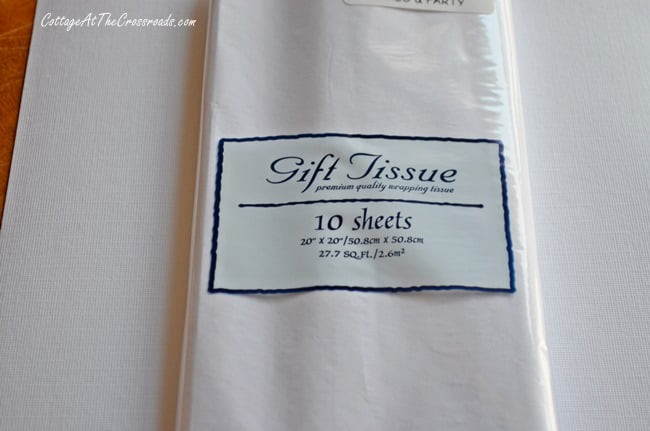 The easiest way to do this is to cut a piece of tissue paper slightly larger than a sheet of cardstock. Tape the edges of the tissue paper to the back of the sheet of cardstock and feed it through your printer.Carefully cut the tissue paper from the cardstock and trim closely around your image.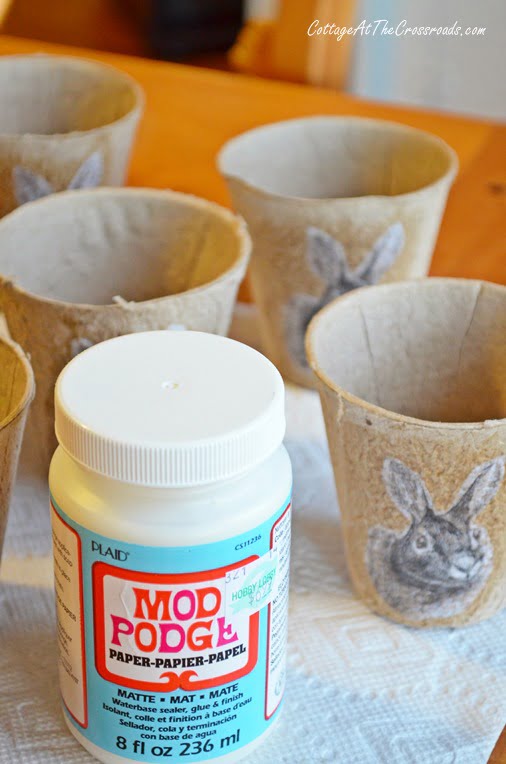 Apply Mod Podge (matte finish) to the side of the peat pot covering an area slightly larger than the tissue would cover. Using your hands, carefully apply your image, making sure it is smooth. After it dries, apply a 2nd coat of Mod Podge to seal the image. If you paint your peat pots, you will only need to apply the Mod Podge to your tissue image. But if you leave you pots natural, you will need to brush the Mod Podge on all sides because you can see where the Mod Podge has or has not been brushed on.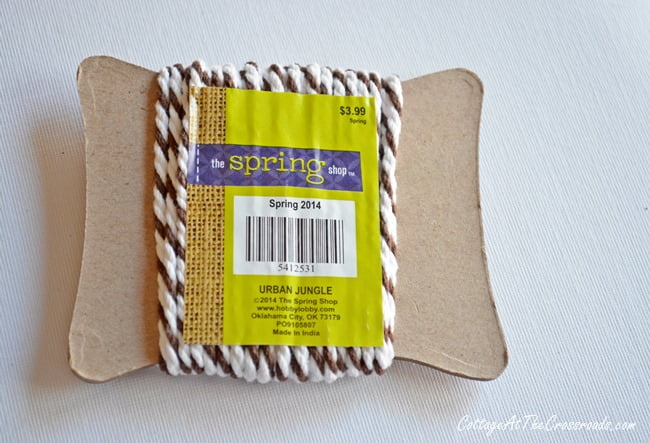 While you're waiting for the Mod Podge to dry, you can make the handles for the baskets. I found this thick brown and white twine at Hobby Lobby, and I wrapped it around some floral wire to create the handles.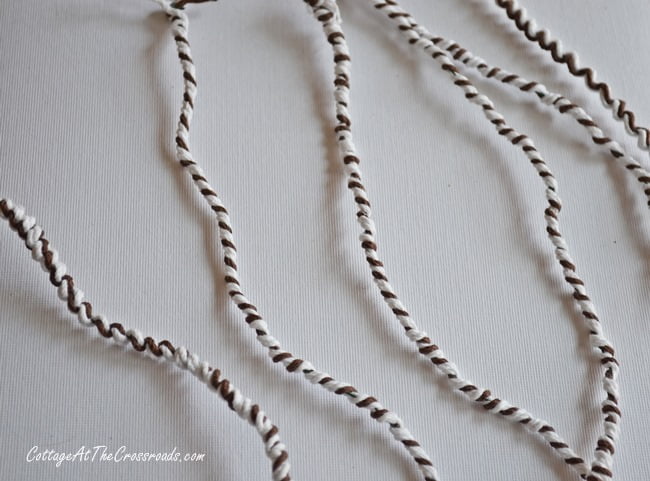 It didn't take long to make these and twisting the wire around each end keeps the twine secure on the floral wire.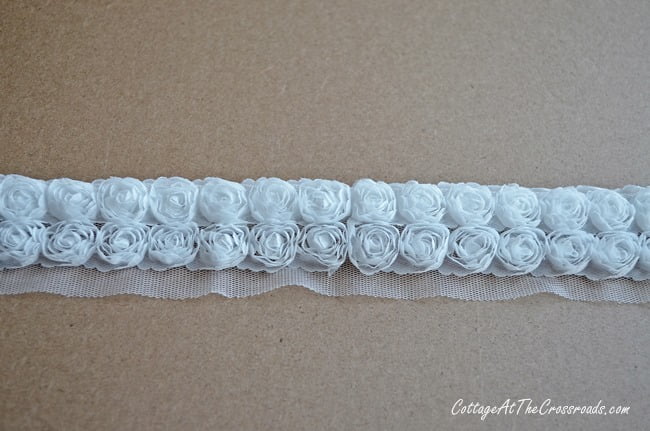 Decorating these peat pots is a good way to use up some ribbon and trim in your stash. I already had this rose trim (available at Hobby Lobby) that I thought would be pretty around the top of the pots.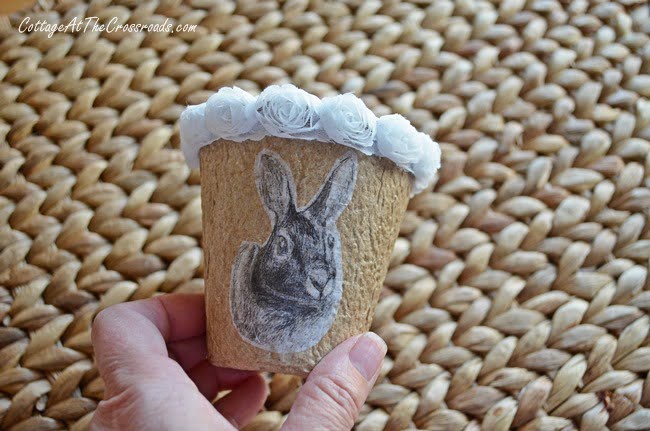 A little dab of glue is all that's needed to keep it in place. Now you're ready to attach the handles by hot gluing them down inside the pot.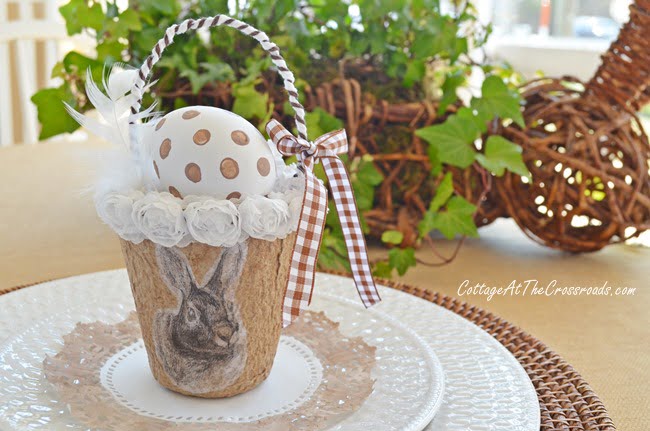 To hide how you've attached the handles, fill the pot with Easter grass or filler, and tie on a bow. So easy and cute. In this one, I've added an egg painted in neutral colors.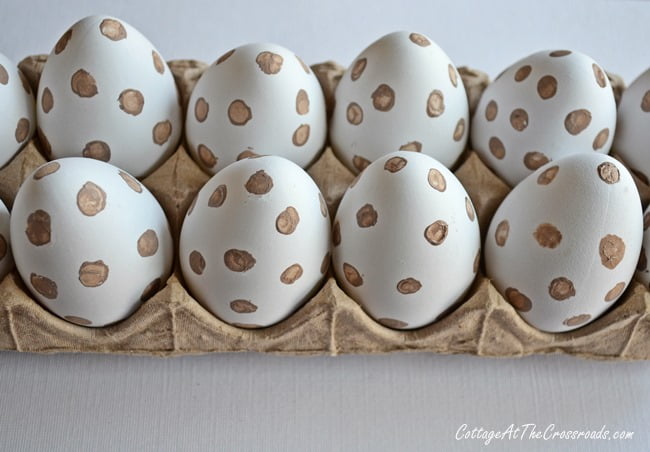 The very realistic white eggs were found at Walmart, and I just dabbed a pencil eraser in brown paint to create the polka dots. So easy!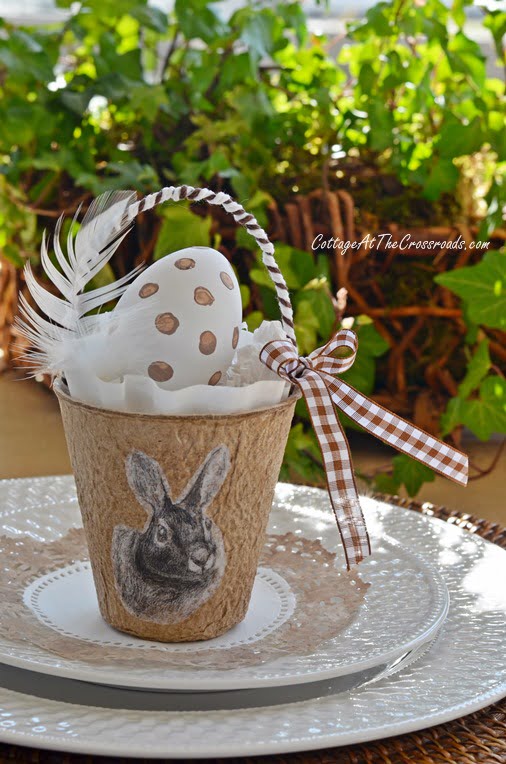 An even easier way to dress up your peat pot is to simply drop a coffee filter into it. I've even thought that you could use a paper doily as well.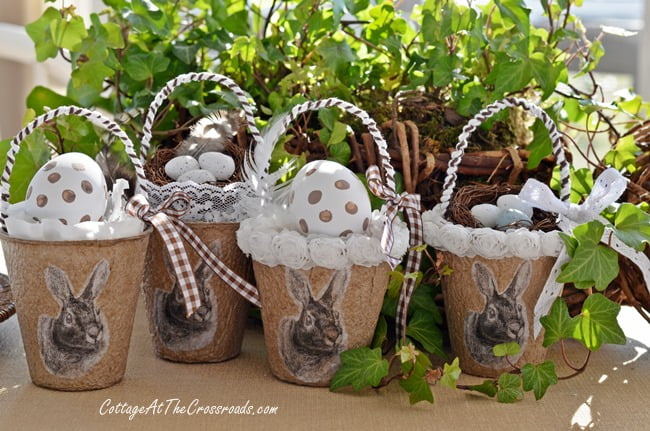 I ended up making 4 in all, each one slightly different. I put nests with small eggs in two of them, and I think the real feathers are a nice touch. As you can see, the decorating possibilities for these little peat pots are endless!
If you've enjoyed this post, I hope you stop by the Cottage at the Crossroads to visit. Or you can follow along on FACEBOOK, TWITTER, or PINTEREST.
Jane, thanks so much for sharing this wonderful tutorial! I know we'll be seeing these darling peat pots all over blogland after today!
*If a post is sponsored or a product was provided at no charge, it will be stated in post. Some links may be affiliate links and as an Amazon Associate, I may earn from qualifying purchases. *