Welcome to the 703rd Tablescape Thursday!
(Update: If you were interested in the Burberry Bag I shared that sold out so quickly on Tuesday, it's back in stock. I've added a link to it at the end of this post.)
Happy St. Patrick's Day! Do you have anything special planned for today? I was thinking of setting a St. Patrick's Day table to share, but since I just did that last week, I thought it would be fun to do something different for this week's Tablescape Thursday.
Many years back, I gave my kitchen a much-needed update. During that process, I had the kitchen cabinets painted to help brighten up the kitchen. I also had the center panel of each cabinet door cut out and replaced with glass. I love the look of glass cabinet doors and thought it would help the room feel more open.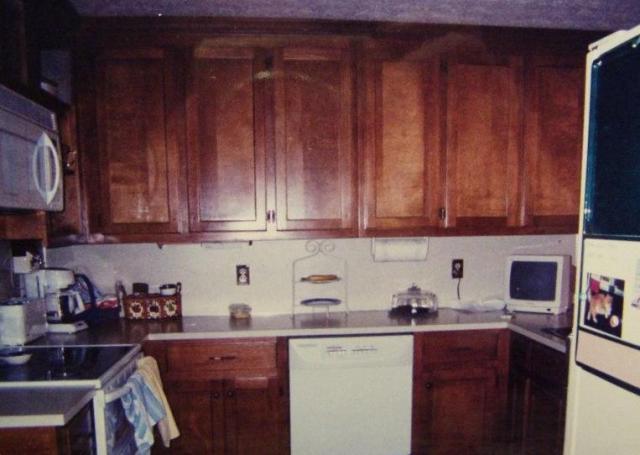 Before I had the center panel of the cabinet doors removed and glass installed, I spent an evening playing around with the dishes to get an idea of how they would look once the glass doors were in place. I was surprised and delighted to see how easy it was to arrange the dishes where they looked pretty but were also easy to access. That was important since they were going to be visible full-time once the glass panels were installed.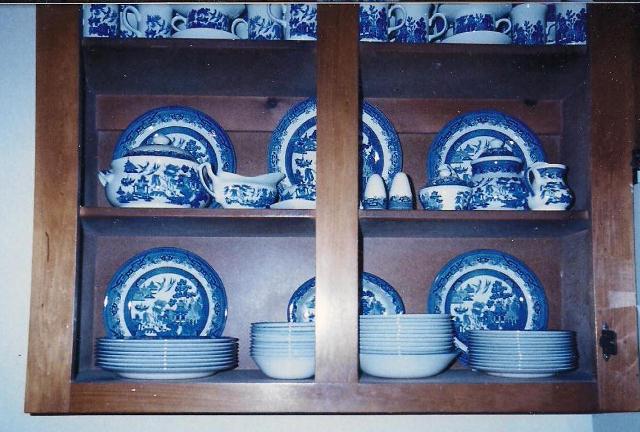 I loved how it turned out!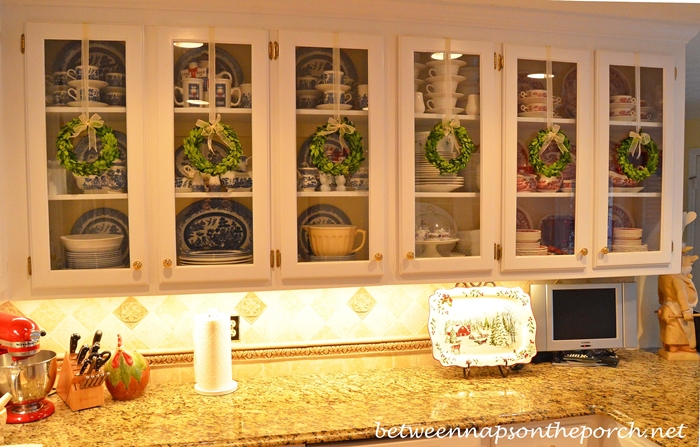 The kitchen felt so much more open and brighter. The glass doors made such a difference and viewing pretty dishes was much nicer than staring at a row of cabinet doors. For today's post, I thought I'd share a few close-ups of how I placed the dishes in case you've thought of changing some of your cabinet doors to glass-paneled doors.
This Blue Willow dinnerware is the set I use pretty much every day. The bowls, dinner plates, and salad plates are all easily accessible as you can see in the photo below. Since I have so many place settings, I decided to arrange some of the dinner plates across the back of the cabinets, along with some of the larger platters.
To keep the plates and platters upright and secured across the back of the cabinet so they don't fall, I cut small sections of felt strips–the kind that can be used on the bottom of furniture or chair legs to keep them from scratching the floor. The felt pads stuck down really well to the floor of the cabinet, and in all these years, I haven't had a single one pop up or come loose. The little felt strips aren't visible when the cabinet door is open since there's always at least one or two dishes in front hiding them from view. You can see the felt pads I used here: Felt Pads. I bet clear silicone-type pads would work just as well if you wanted an even more invisible option.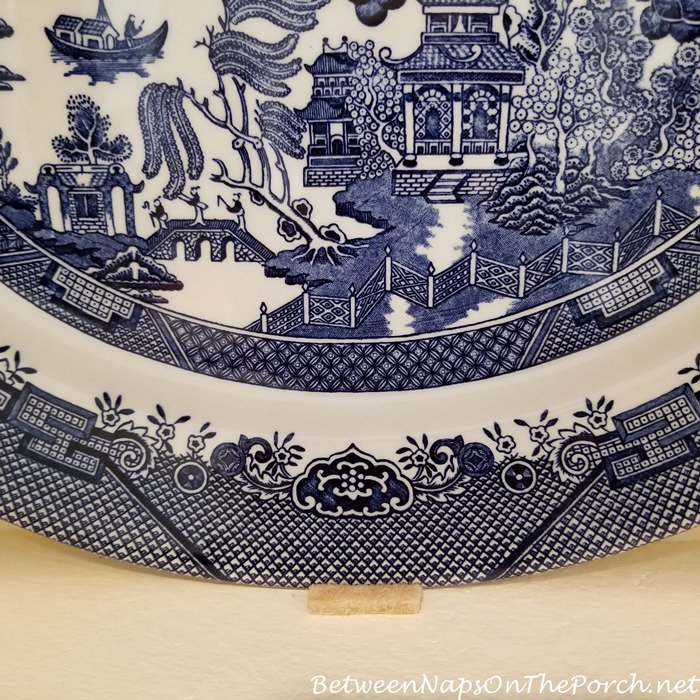 Skipping down to the far right end of the cabinets…
I have a vintage/antique set of Spode-Copeland Tower stored in these cabinets. I think this set dates back to the 1920s–it's the oldest china pattern that I own. I really love having it on display full-time since it's such a pretty pattern.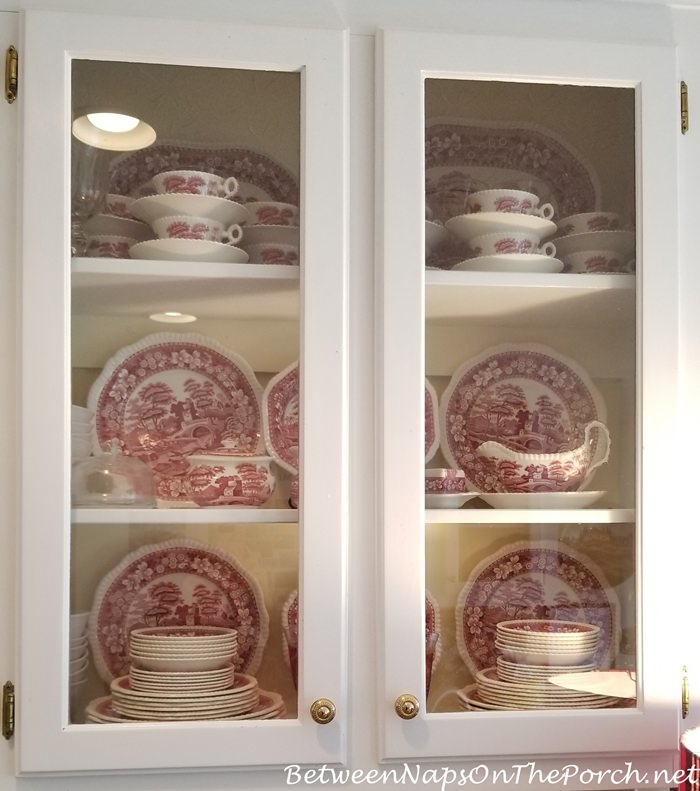 This set rarely gets used so I didn't mind stacking the plates and bowls together. The plates and platters across the back are again held in place with felt pads. A couple of the serving bowls are displayed on plate holders/racks.
Between the Blue Willow on the left and the Spode-Copeland Tower on the right, I had one cabinet left to fill.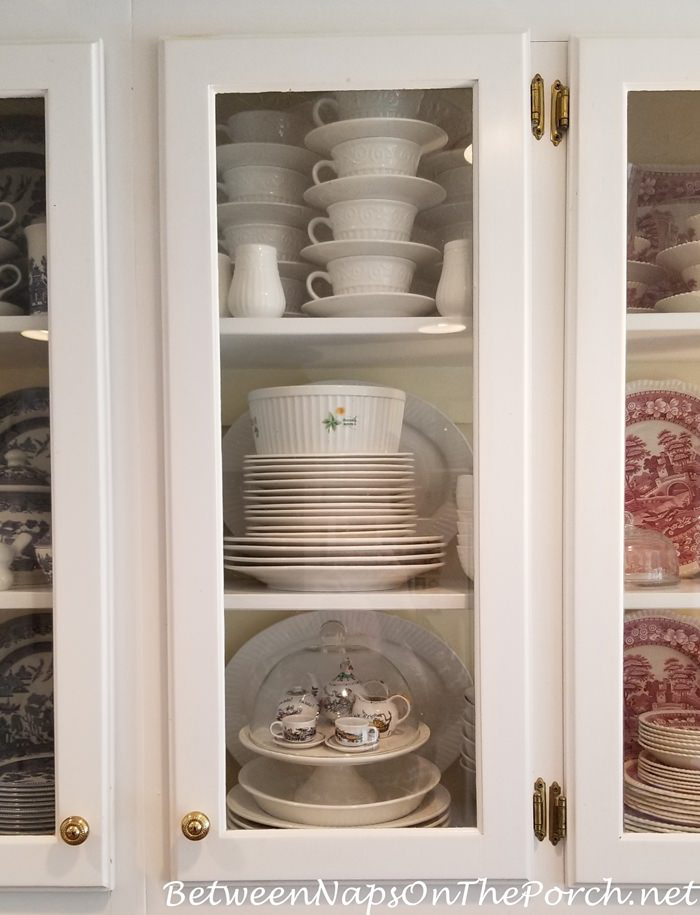 I filled it with the only set of white dinnerware that I own, an inexpensive set purchased from Big Lots. The white creates a nice separation between the two colorful patterns on either side. I had a few more dinner plates from this set than I could fit in this one cabinet so those ended up underneath the Blue Willow dinner plates.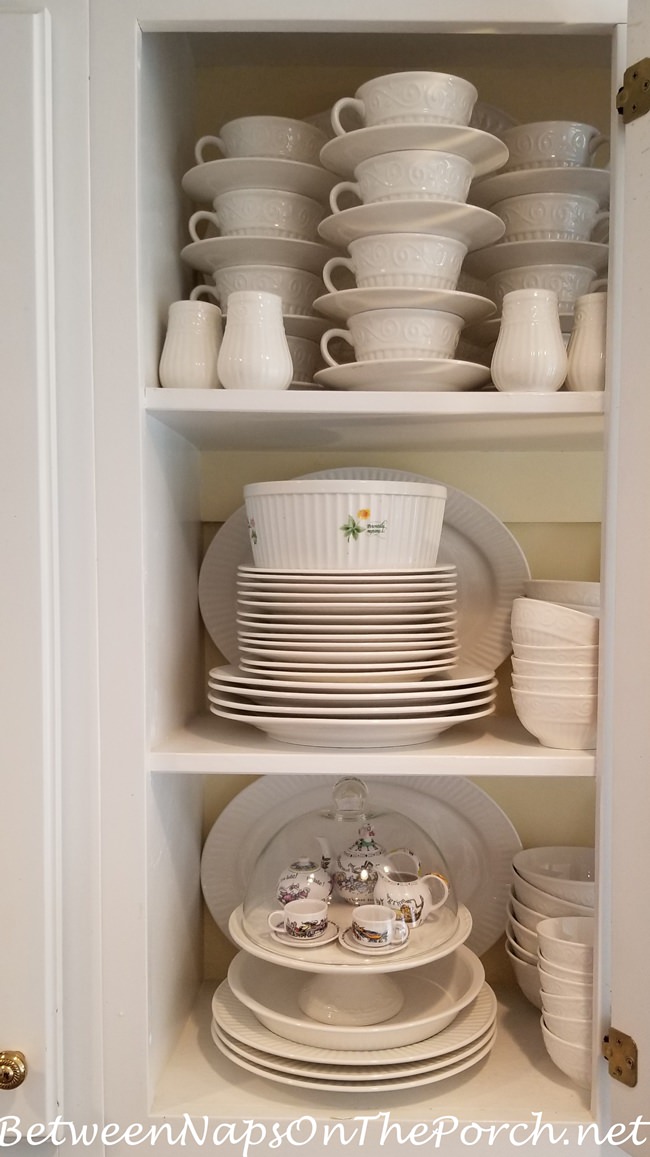 If you look closely, you can just barely see them under the Blue Willow dinner plates in this photo below.
Across on the other side of the kitchen, above the little built-in desk, I have one more set of cabinets with glass doors.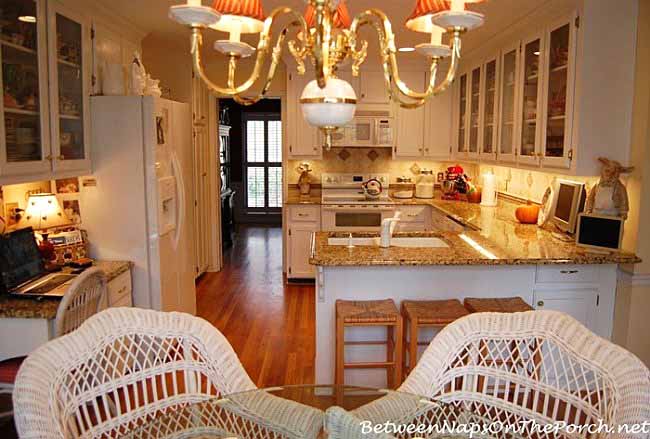 These cabinet doors were originally open with a dark, heavy wire mesh that caught dust and dirt. I was forever having to clean out this section of cabinets. I replaced the unattractive, heavy, wire mesh with glass to match the other cabinets. In this cabinet, I store a pattern that was my everyday dinnerware for around 15 years, Villeroy and Boch's Melina.
I still use this china from time to time. If I used it every day, I wouldn't have the bowls stacked on the plates, but this works fine since I don't use it that often. Again, the dinner plates across the back of the cabinet are supported with the felt pads shared earlier in this post.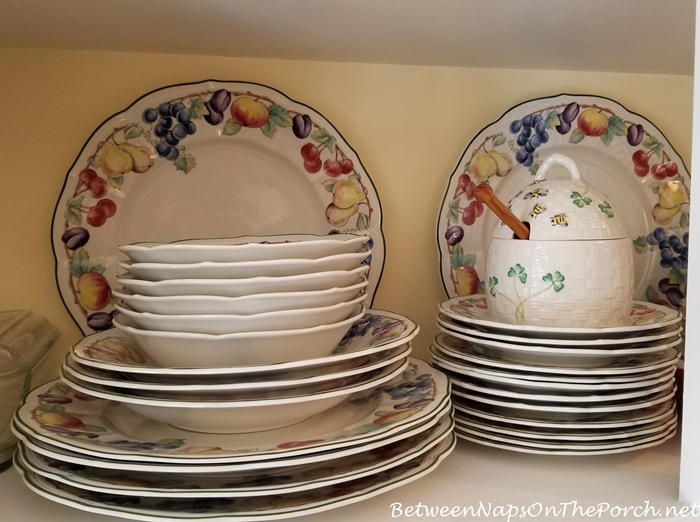 A few more close-ups…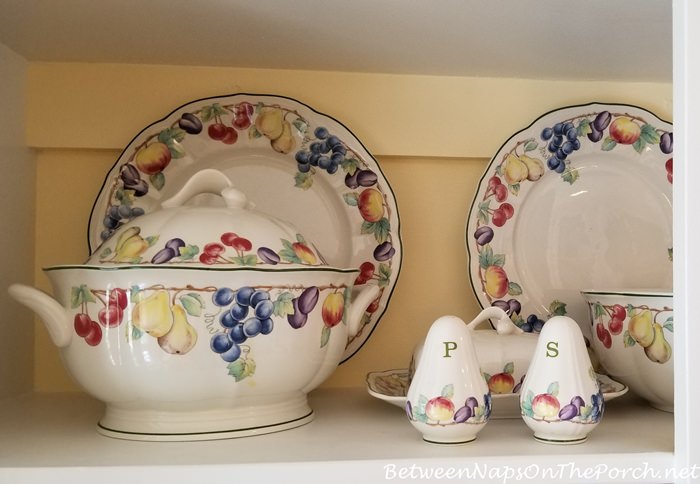 The small, white, clay candleholder was a gift my son made when he was 4 years old and in preschool. ♥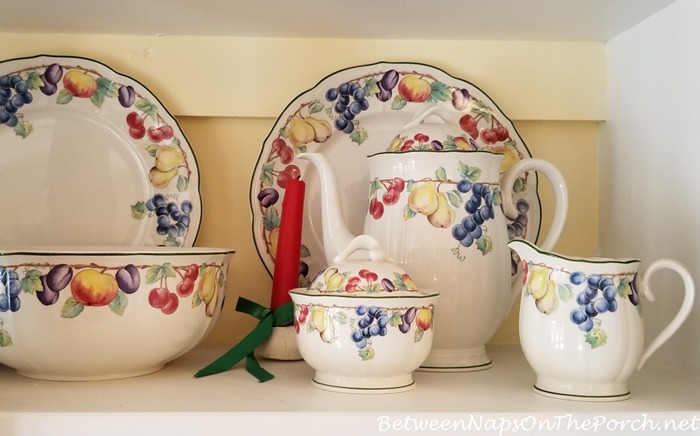 I still love this Villeroy & Boch pattern that I chose for our everyday dinnerware approximately 35 years ago. I love using it when my son, daughter-in-law, and grandsons are here because it reminds me of how it was our everyday china when my son was growing up.
On the top shelf, you can see how I like to store the cups and saucers. I don't drink hot coffee and when family is here, they normally use some larger mugs that I brought home from a ski trip many years ago to Breckenridge, Colorado. So storing them this way works fine since they are so rarely ever used, but they are accessible if I should need them.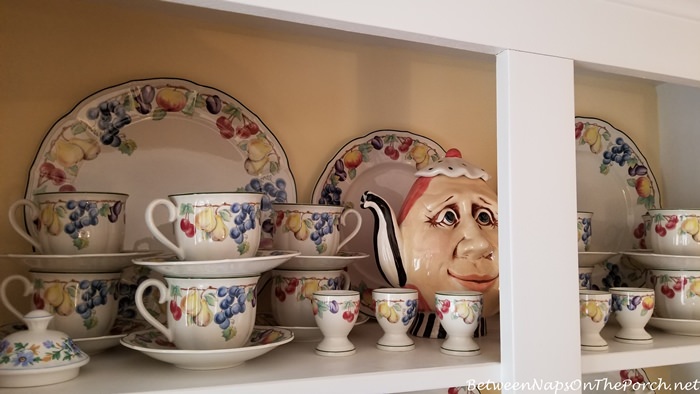 I need to create an Alice in Wonderland table setting and use this fun teapot in the centerpiece. Doesn't he look like he belongs in a whimsical AIW tablescape?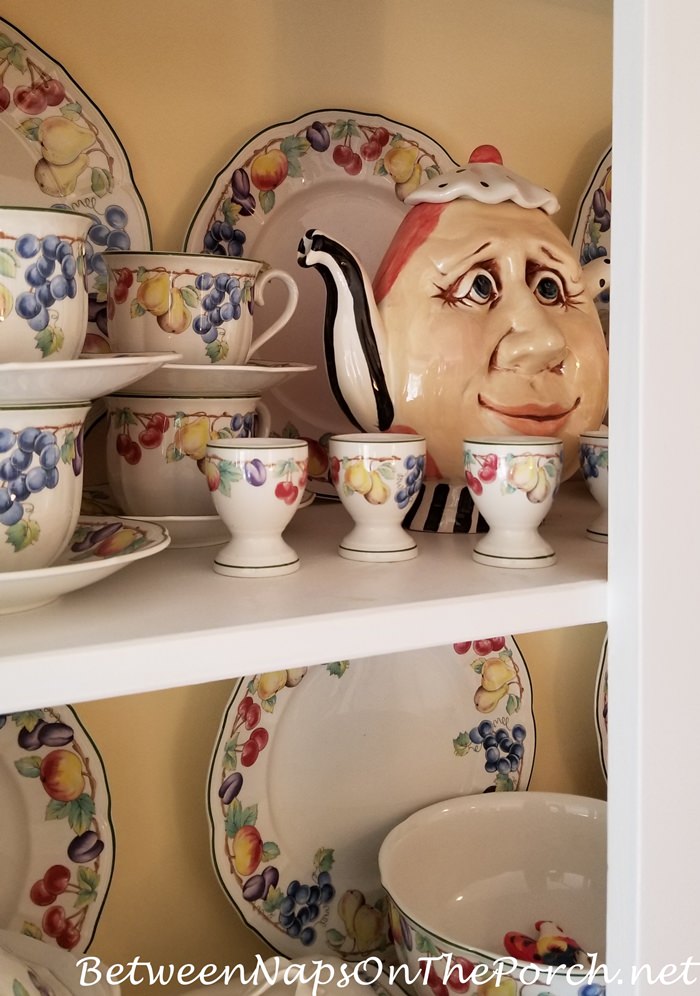 If you've ever thought of opening up your kitchen by adding glass-front cabinets, I hope this post is helpful for sparking some ideas on how to arrange all your favorite dinnerware and collectibles. It really is possible to create storage that's both functional and pretty for your kitchen.
Update: If you were interested in the Burberry Bumbag I shared on sale in Tuesday's post, it appears to be back in stock here: Burberry Bumbag.
Looking forward to all the beautiful table settings linked for this week's Tablescape Thursday!
Did you know Between Naps On The Porch is on Instagram? You'll find me on Instagram here: Between Naps On The Porch.
Like to know when a new blog post is up and available to read? Subscribe for email updates, it's free and your email will never be shared. Subscribe for free post updates via email here: Subscribe for Post Updates.
Tablescape Thursday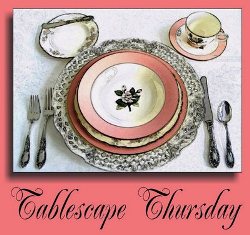 If you are participating in Tablescape Thursday, please be sure to add your permalink below, and not your general blog address. To get your permalink, click on your post name, then copy and paste the address showing in the address bar, into the "url" box when you link up. You'll need to include a link in your post back to the party to link up and participate.
That's so visitors to your blog will be able to find the party and the other Tablescape Thursday participants. Requiring a link back also prevents businesses and scammers from linking up to sell their products. (Yep, that really happens, unfortunately.) If you see a post that's not table-setting related, let me know and I'll remove it.
Please, don't add your post name/blog name ALL IN CAPS…it tends to create big spaces between the rows of links. Please link up table setting or table setting related posts only for Tablescape Thursday.
This party has ended, click button below for the links to all who participated.
*If a post is sponsored or a product was provided at no charge, it will be stated in post. Some links may be affiliate links and as an Amazon Associate, I may earn from qualifying purchases. *