Welcome to the 776th Tablescape Thursday! Last week for Tablescape Thursday, I shared a table with one of my most favorite dinnerware designs, Ma Maison by Tabletops Unlimited, designed by Dario Farrucci.
As mentioned in that previous post, I came across this beautiful dinnerware while shopping in HomeGoods many, many years ago. The HG stores only had a few pieces each. I loved this design so much, I ended up driving around to 3 or 4 HG stores that day in order to collect enough pieces to set a full table.
Here's how the dinner plate looks for the pieces I collected that day so many years ago. Keep this design in mind for a moment.
I was also able to collect these small, square plates. I thought they would be great for serving dessert. It wasn't until many years later that I discovered Tabletops Unlimited had actually produced dinner plates in this square design, as well!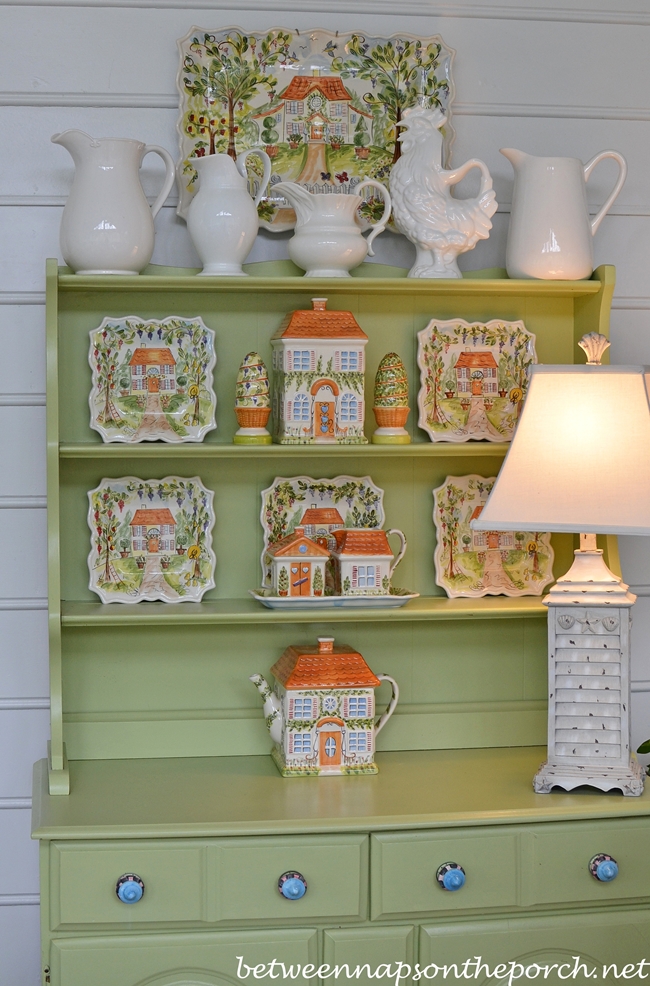 After I shared last week's table setting, out of curiosity I looked on eBay to see if any pieces from this pattern were showing available there. I was so surprised to find a bunch of the square-shaped dinner plates listed!
The seller had a couple of listings on eBay. One was for square dinner plates that had a fair amount of crazing, but one of his auctions was for square dinner plates without any crazing or chips. The seller had two sets (with four plates) available and I purchased both since I already have the square salad-size plates.
The next day, the seller contacted me to let me know that 2 of the 8 plates had some crazing, so he refunded back for those and shipped the undamaged plates to me. They arrived a couple of days ago and I couldn't wait to put a table together with the new dinner plates and my existing square salad/dessert plates.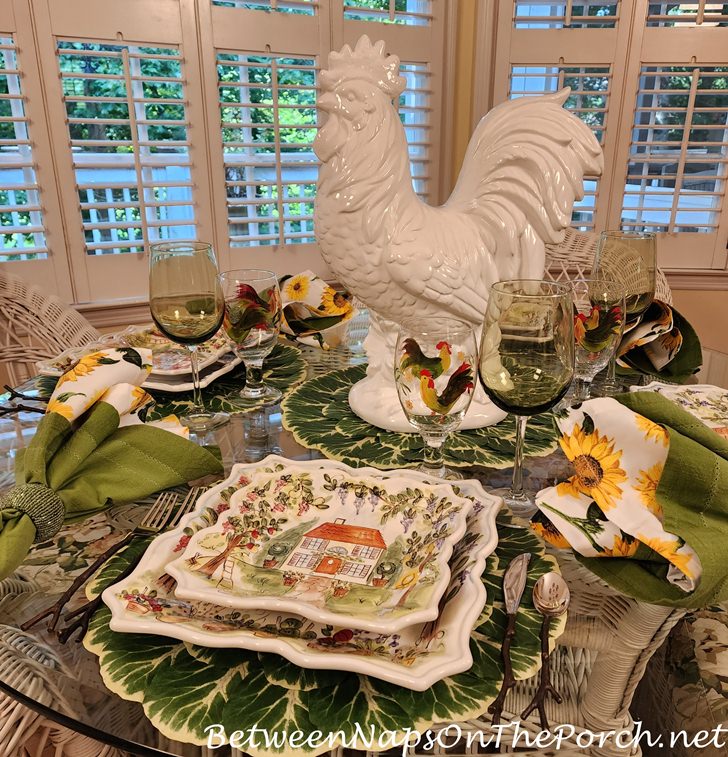 I have a set of rattan, square charger plates, you may remember when I purchased those to go with some square-shaped beach dinnerware. (Square chargers were found here: Square Charger Plates.) I liked how those looked with the dinnerware, but for today's table, I really wanted something that felt a bit lighter.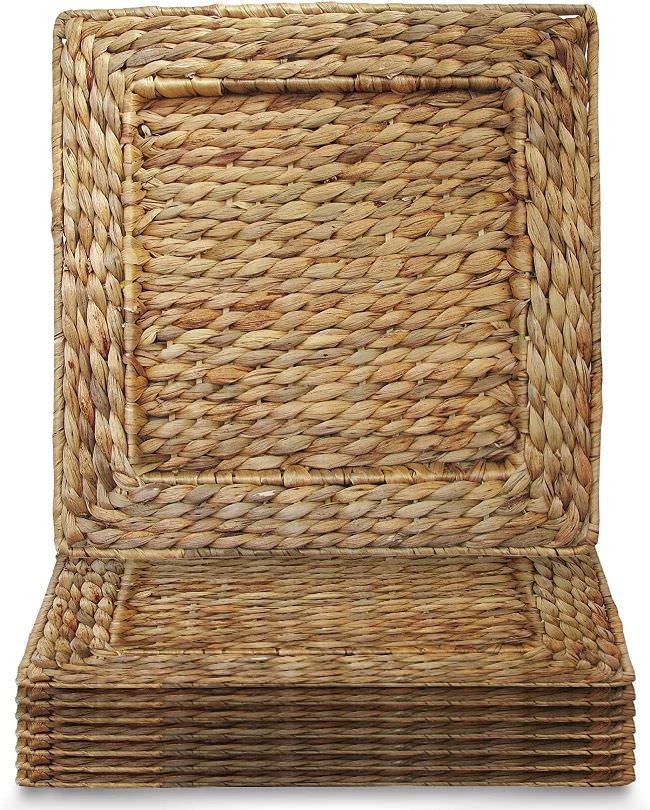 I pulled out these fun cabbage leaf placemats found in Pier 1 quite a few years back. Mr. Rooster was already in the center of my breakfast table and I could just envision a few chickens running around the outside of this adorable cottage, so I decided to let him remain as our centerpiece this week.
I don't think I've ever used round placemats with square-shaped plates, but I really like how this looks!
It's been ages since I pulled out this twig flatware, it felt like it added an earthy tone to this setting.
I had a tough time capturing the pretty design of this dinnerware because it has a really shiny, high-gloss finish that catches all the light.
This is the square dinner plate I ordered last week and it works beautifully with the square, salad/dessert-size plates I already had.
The design on the square dinner plates is very similar to the design they used on the round dinner plates. I think there are a few more pots of flowers since the plate itself is a bit larger.
Here's the round dinner plate.
And here's the square dinner plate. I really love them both, especially the scalloped border design they created for the edge.
Keeping with the garden theme of this pattern, I chose these cheerful, sunflower napkins. (Napkins are available here: Sunflower Napkins.)
The beaded napkin rings were a find in Old Time Pottery many, many years ago. I remember they were around $1.50 each and they've held up really well over the years. The twig flatware is from West Elm, again many years back. They often have unique dinnerware and flatware on their site.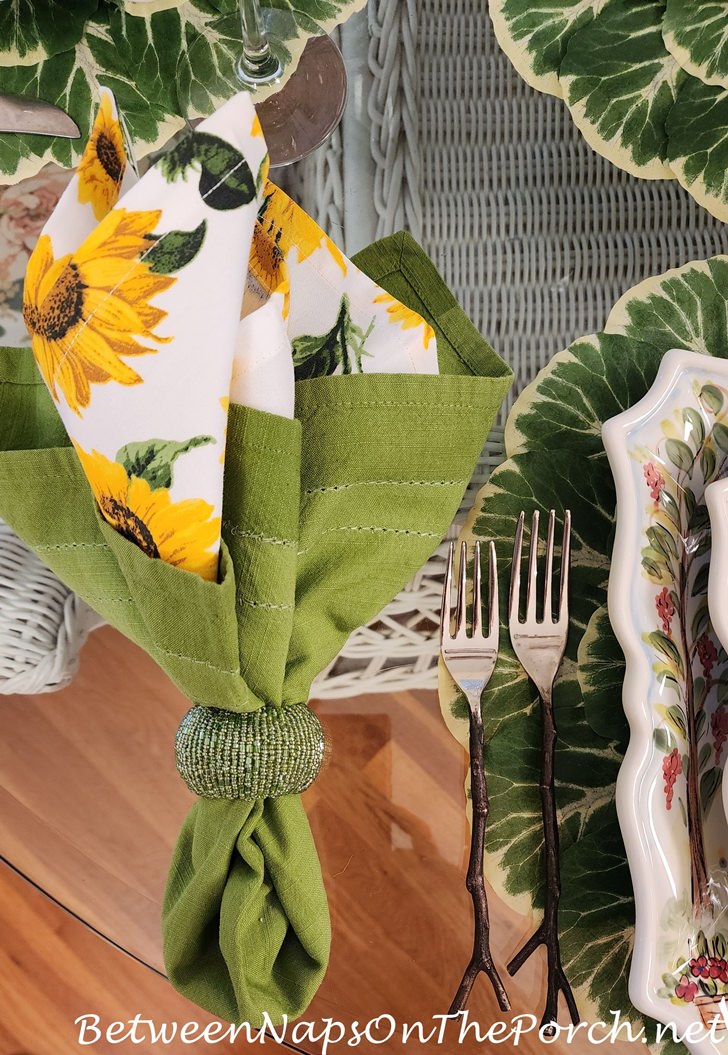 Forgotten now where I found the rooster glassware, but the green wine glasses are from Dollar Tree.
See how dark it looks outside in this picture–that's why I set this table inside. It has rained almost every single day now for weeks and weeks. We have had some crazy storms with strong winds come through recently that left large branches in my and my neighbor's backyards. Fortunately, none appear to have hit the house. There's a gentle rain falling now as I write this–great weather for curling up with a good book or taking a nice, long nap!
Looking forward to the beautiful tables linked for this week's Tablescape Thursday! (If you enjoyed this post, subscribe for email updates when a new post is up here: Subscribe for post updates.)
Tablescape Thursday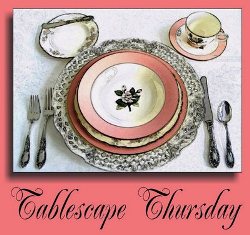 If you are participating in Tablescape Thursday, please be sure to add your permalink below, and not your general blog address. To get your permalink, click on your post name, then copy and paste the address showing in the address bar, into the "url" box when you link up. You'll need to include a link in your post back to the party to link up and participate. That's so visitors to your blog will be able to find the party and the other Tablescape Thursday participants. Please link up table-setting-related posts only for Tablescape Thursday. Please link up table-setting-related posts only for Tablescape Thursday.
You are invited to the Inlinkz link party!
*If a post is sponsored or a product was provided at no charge, it will be stated in post. Some links may be affiliate links and as an Amazon Associate, I may earn from qualifying purchases. *