Got a question for ya. When you're planting a balled and burlapped shrub or tree, do you remove or do anything to the burlap before planting it? If you've always wondered about that, I have the answer once and for all from one of the most respected growers out there.
In the past when I've planted shrubs that were ball and burlap, I've always been told by a well-known, popular nursery with many locations here in the Atlanta area, to leave the burlap on the plant and just loosen/cut away the burlap from the top of the plant before filling in the hole with dirt.
Since I have such a large investment in the 10 balled and burlapped Green Beauty Boxwood shrubs I purchased recently for my front yard landscape, I decided to Google before planting them to see what I could find online.
Several sites said that the burlap being used on plants today isn't as biodegradable as the burlap in year's past. Apparently, some ball and burlap plants are wrapped in a synthetic type burlap that doesn't degrade and rot away like the burlap of yesterday. Ummm.
I decided to call the nursery where I had purchased my shrubs and ask what kind of burlap was used on my boxwood shrubs and if it would rot away, or did I need to remove it. The answer I got was the same one I've always gotten in the past: leave it on the plant, but just loosen and cut it away from the top of the plant.
Since the nursery was giving me conflicting answers to what I had read online, I decided to go straight to the source. I think my plants are from Monrovia so I Googled for their phone number. Unfortunately, they don't appear to have a customer service number listed on their website, at least not one I could find. After some searching around on their site, I was able to find an e-mail for them. I e-mailed Monrovia and asked this question: "Do I need to remove the burlap from my Green Beauty boxwood shrubs before planting?"
The reply came back fairly quickly:
Just to clarify, I e-mailed back and mentioned that my local nursery where I had purchased my plants, told me I only needed to cut away the top part of the burlap. I ended my e-mail by saying I would go ahead and remove all of the burlap.
A reply came quickly and reassured me that this was the correct action to take: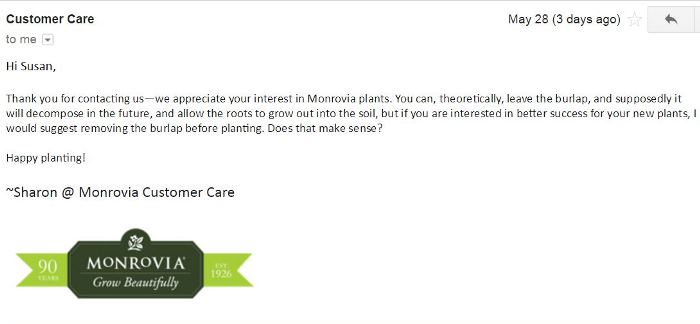 So there you have it, the answer directly from a company that's been in business since 1926 and whose opinion I greatly respect. I've always had good luck with Monrovia plants, so I followed their advice while planting these five Green Beauty boxwood.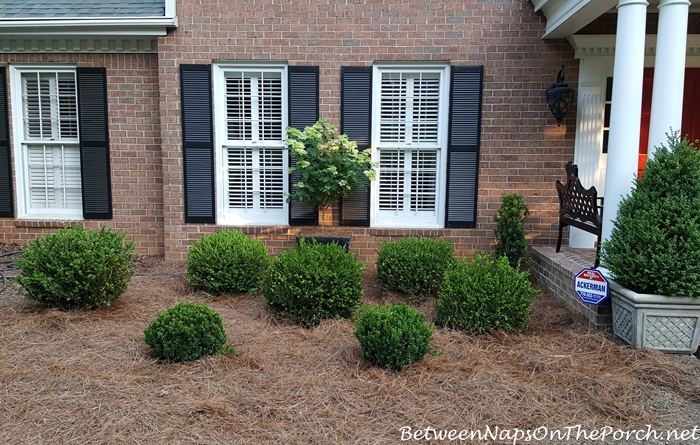 I'll do the same for the remaining five ball and burlap Green Beauty boxwood as I begin planting those this week. Feels good to know I'm going about it the right way. Now if I could just twitch my nose Samantha-style and have them all magically planted, that would be grand! 😉
*If a post is sponsored or a product was provided at no charge, it will be stated in post. Some links may be affiliate links and as an Amazon Associate, I may earn from qualifying purchases. *