Welcome to the 383rd Metamorphosis Monday!
Looking forward to all the wonderful Before and Afters for this Metamorphosis Monday!
Happy Memorial Day to you. This weekend I've been working out front. When I last left you, I had a couple of shrubs in the ground. See them there in the back?
Today, this side looks like this. Yay for progress!
So far I've planted 5 Green Beauty Boxwood, 2 Baby Gem Boxwood, 1 Green Tower Boxwood and potted up a tree-form Limelight Hydrangea. At first I was just going to plant the Green Beauty Boxwood, but I decided to mix up the sizes a bit and added in a couple of Baby Gem Boxwood Globe shrubs toward the front. Their mature height is only 3 feet tall and 3 feet wide. That's a Green Mountain Boxwood in the planter on the right.
About the Limelight Hydrangea at the very back…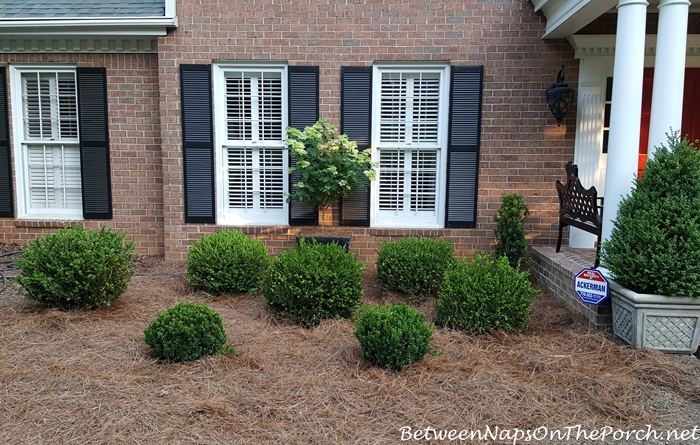 I don't want a lot of color in the front area of my home, I'm going for an understated look, something that feels relaxing and maybe just a little elegant. Last year I purchased a tree form hydrangea to use somewhere here in the front. In the midst of all my planting, I had an idea. Why not place it in a large planter between the windows.
I bought a second hydrangea (the one you see below) and went in search of a REALLY big black pot. I lucked out and found this one at Lowe's. It was tricky finding two of them that weren't damaged. The third Lowe's I checked had two in great condition. You can also find them at Lowe's online. They were on sale, which was nice. They come in different sizes and the ones I purchased are 21.75-in x 23.5-in. Forgot to clean it off before I took photos so ignore the dirt smudges.
The planter gives the hydrangea height (as opposed to planting it in the ground) which I really like there between the windows.
Those hydrangeas should be happy in there for quite as while because they have lots of growing room. I like that I can move them if I ever decide I don't want them there anymore. I don't normally like non-evergreen plants in front of my home, don't want a bare look come winter time. But with all the evergreen boxwoods in place, one hydrangea won't bother me.
See that taller shrub in back on the right?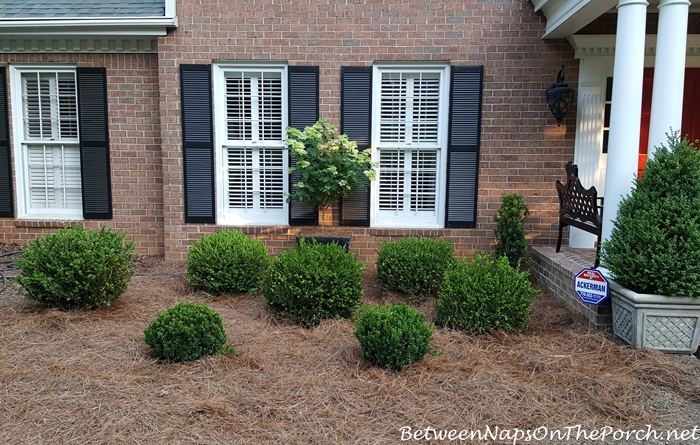 That's a Monrovia Green Tower Boxwood. I wanted something tall and skinny for this corner and the Green Tower Boxwood should be perfect. It grows to be 1-2 feet wide (this one is already about 1 ft wide) and 9 feet tall.
Last night I googled to see how fast it grows and was surprised to read that it can grow as much as 18 inches a year! Mine may not grow that quickly since it's in shade for much of the day in that area. Hopefully it will like the light it does get.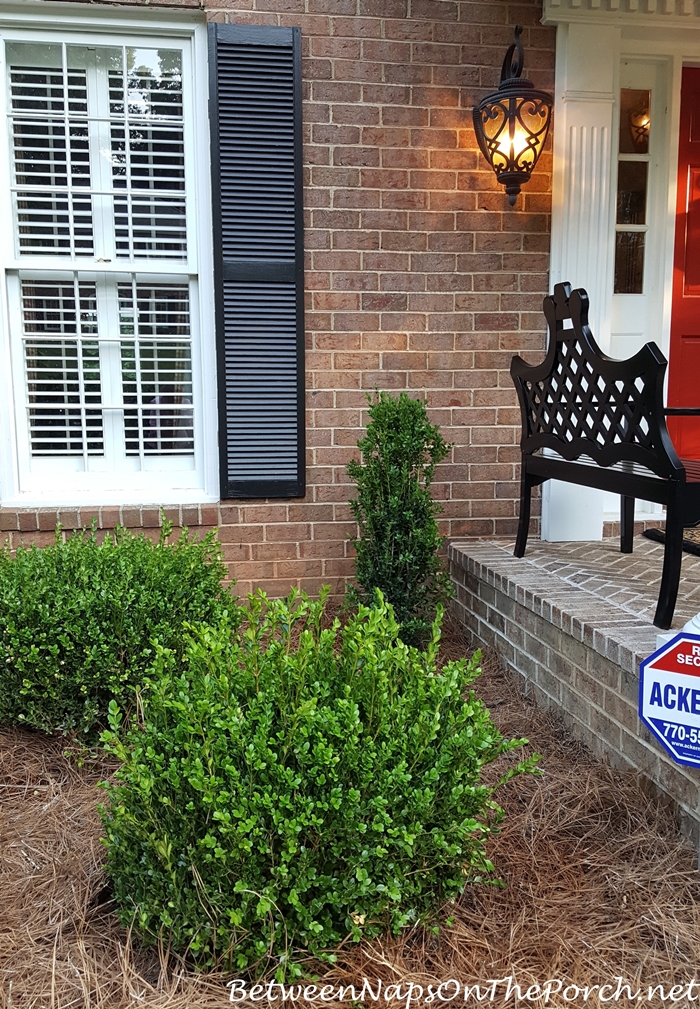 I'm so glad to have this side of the porch completed to this point. I still have additional area over here for planting, so there will be updates in the future, I'm sure.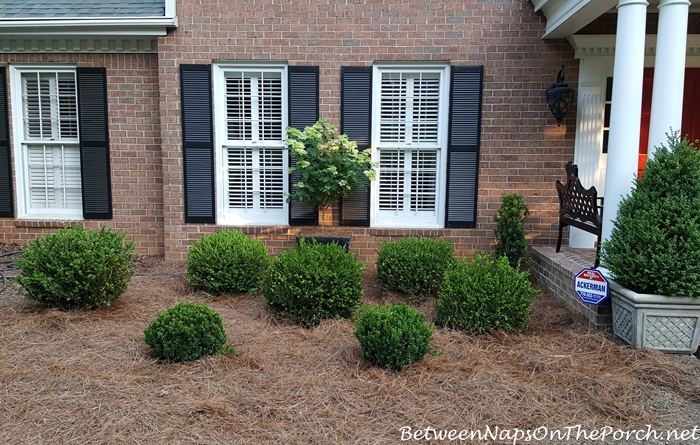 I'm thinking of putting a camellia in this corner where the house attaches to the garage, one of the lower growing camellias like 'Jacks'. If you have a suggestion for this corner, let me know. I could always put in another Green Tower Boxwood to match the one of the other end.
I may take the day off today, to let my muscles recover. After that, it's time to get to work over here on this side. I've saved a fair amount by doing the planting myself. Pike Nurseries quoted me $1,000 to plant just the 10 Green Beauty Boxwood! So far all my shrubs have come from them, except for the Green Mountain boxwood topiaries I purchased a couple of years ago at Lost Mountain Nursery.
As mentioned earlier, I've planted 8 shrubs (5 Green Beauty, 2 Baby Gem, 1 Green Tower) and potted up a hydrangea. I have the same left to do on this side. Imagine what it would have cost if I had let them plant everything!
My lawn care guys quoted much less but I'm enjoying the work and love the overall body workout I'm getting. I sit way too much, so this is good. Achy, but good. Pass me the Advil, please!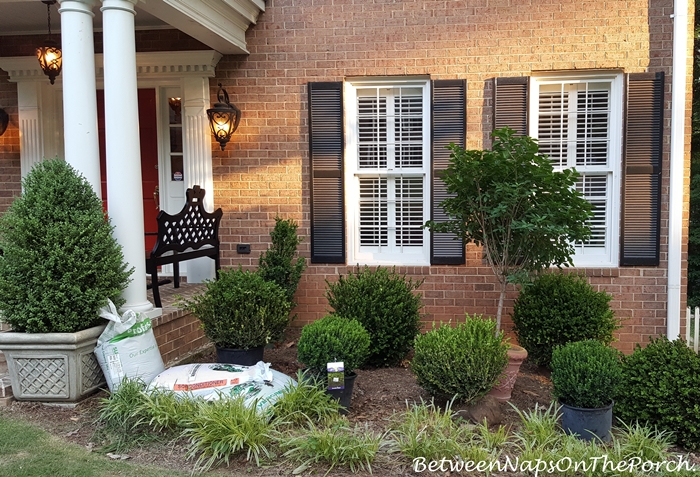 The Limelight Hydrangea I bought last year is on a different blooming schedule from the one I just brought home from the nursery. I guess they'll sync up for next year.
Porch Benches
A couple of folks suggested I move the new porch benches inward a little. Here's how they looked in my previous post.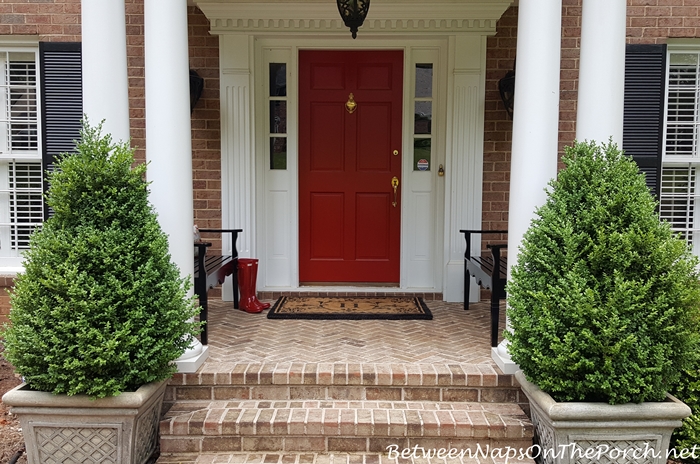 Here's how they look moved inward a couple of inches. Does that look better?
I like that you can see them a bit more from the walkway. They are lined up now with the base of the porch columns and with the grooved column area on either side of the front door. Now I just need a pretty wreath or basket for the front door.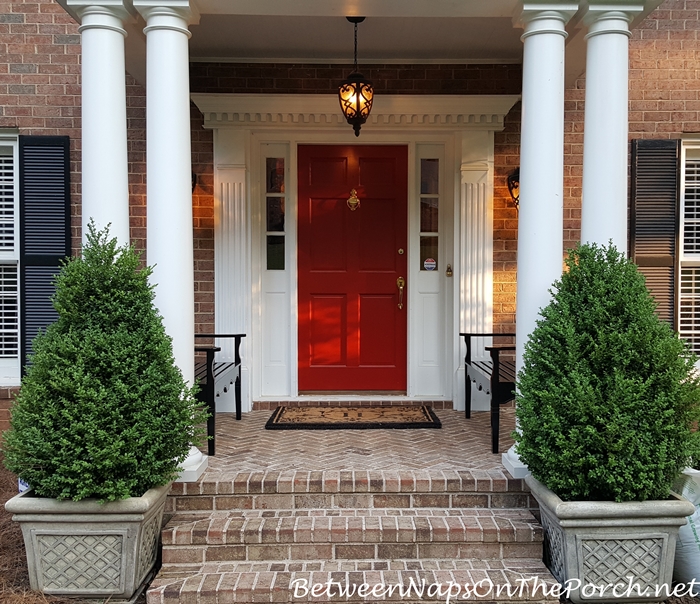 I remembered another pillow I had stashed away and brought it down for a photo today. I can't leave it out here since it's not an outdoor pillow and would fade quickly. I'll be on the look out for a couple of outdoor pillows. I like this lumbar style, it's such a nice shape for a bench. One day the Green Tower Boxwood will be tall enough to show there against the brick wall behind the bench. You can just barely see it under the bench in this photo.
Happy Memorial Day to you and your family! Are you doing any gardening this weekend?
Update: A couple more photos with all the boxwoods planted. So happy to have them all in! 🙂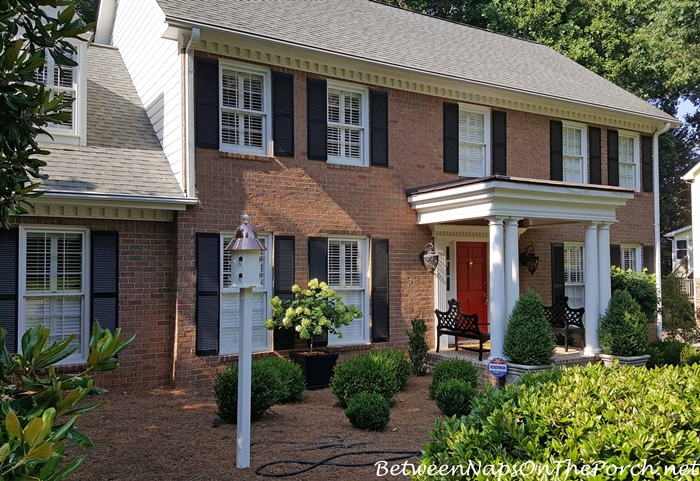 If you are participating in Metamorphosis Monday, please link up using the "permalink" to your MM post and not your general blog address. To get your permalink, click on your post name, then just copy and paste the address that shows up in the address bar at the top of your blog, into the "url" box for InLinkz.
In order to link up, you'll need to include a link in your MM post back to the party so the other participants will have an opportunity to receive visits from your wonderful blog readers.
Please observe these few rules:
Only link up Before and After posts that are home, gardening, crafting, painting, sewing, cooking or DIY related.
Do not link up to the party if you're doing so to promote a website or sell a product.
Do not link up a post that was just linked up last week since readers would have already seen that post.
Please do not link up more than 3 posts per week.
*If a post is sponsored or a product was provided at no charge, it will be stated in post. Some links may be affiliate links and as an Amazon Associate, I may earn from qualifying purchases. *