Welcome to the 525th Metamorphosis Monday!
How was your weekend? Hope you had a great one! It rained here a lot so I mostly stayed inside.
One of the questions I'm often asked in comments is where I store all the dishware you see me using in table settings for Tablescape Thursday. If you've been following BNOTP for a while, you may remember that back during the summer of 2017, I added several cabinets to the garage so I could round up most of my dishes into one area. If you missed that post, you'll find it here: Dish Storage.
I also wrote a follow-up post where I shared how this system has worked. You'll find that follow-up post here: The Great Dish Storage Experiment. Spoiler Alert: It has worked out great!
Today I thought I'd share what didn't make it into the garage storage and why, along with a few tips for displaying the dishes you use every day in a way that's both pretty and functional.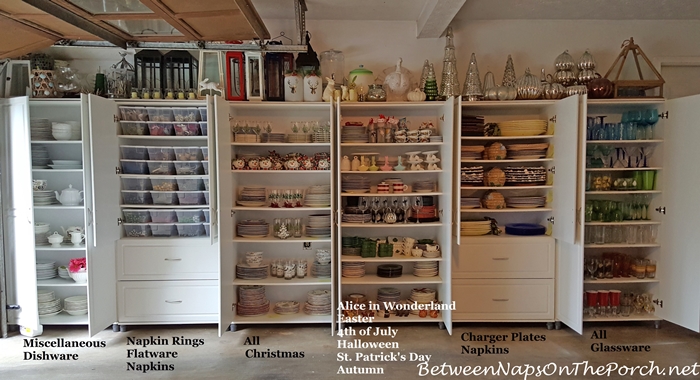 In this photo of my kitchen, notice the long wall of cabinets on the right and those above the small desk on the left. Everything in those cabinets stayed except for several sets of glassware that were moved to a cabinet in the garage.
Creating the storage in the garage freed up a lot of space in the cabinets in my kitchen and laundry room. It also freed up a good bit of space in the "dish closet" in the corner of the breakfast room. That closet isn't visible in this photo, but it can be seen this previous post: Dish Closet.
Adding the garage storage completely cleared out some of the other cabinets in the kitchen, but mostly it just made them a lot less crowded, especially the dish closet mentioned above. The ones that were completely cleared out were the cabinets on the left side of the stove, both top and bottom. Also, I cleared out some of the dishes from the large floor-to-ceiling pantry that's in the far corner (past the refrigerator) on the left.
The only dishes that had not been stored in cabinets before I added the garage storage were my Halloween dishware. Those had been stored with the Halloween decorations under the eves in the upstairs bonus room. Having a lot of storage space was one of the huge attractions of this house when I moved here 28 years ago. So, adding the dish storage in the garage was less about lack of storage inside and much more about pulling everything together in one spot (the garage) where it would be easier to find and more convenient to access.
What Didn't Get Moved
Many, many years ago, before I ever started blogging, I had the center panel cut out of this whole wall of kitchen cabinets. Before I took that bold step, I removed all the doors and experimented around with what I would store there and how it would look.
These cabinets had always contained dishes, so nothing changed about that. I just moved items that were not as pretty like measuring cups, Tupperware, etc… to the lower cabinets, clearing out and donating anything I no longer used. It's amazing how much "stuff" we have in our kitchen cabinets that we haven't used in years! Donate it or have yourself a big spring garage sale. You'll love all the space it frees up for the things you do use every day!
This was the configuration I came up with back in 2001-2002 when I did a mini-kitchen update and had the center panels removed and replaced with glass. It has functioned so well, I've never had to change it other than a little rearranging of the white dishes located between the red and blue. The Blue Willow and the pink/red Copeland Spode have remained just like this for the last 18 years. Wow! I can't believe it's been that long!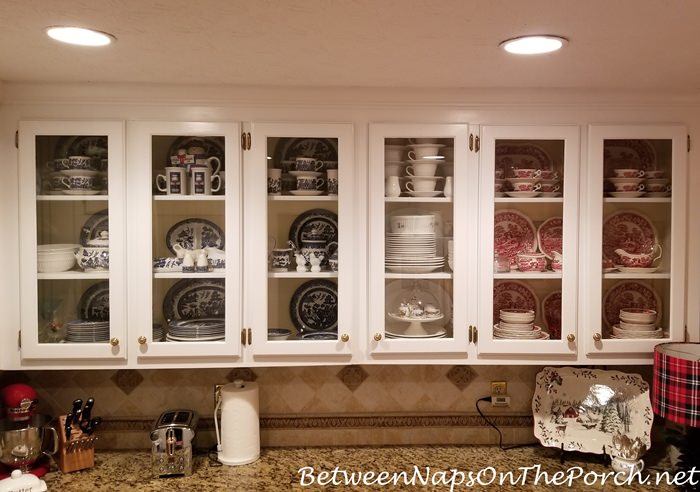 The Blue Willow has been my everyday dishware for a long time. It was collected a few pieces at the time from Publix during a promotion they had where you got a few pieces each time you purchased a certain dollar amount of groceries. Collecting this dishware was one of the smartest things I ever did, though at the time it stretched my grocery budget to do so.
Since I made it my every-day dishware, I placed the dinner plates, salad plates and bowls on the bottom shelf within easy reach. You can't see it very well in this photo, but behind the wooden sections/dividers are two stacks of cereal bowls. I have 12 place setting of this pattern, including 12 dinner plates, 12 salad plates, 12 cereal bowls, 12 soup bowls, 12 cups/saucers and a bunch of serving pieces. Some of the dinner plates and most of the salad plates were in the dishwasher so that's why there aren't as many of those visible in the picture.
You'll notice I placed two of the large platters I collected in this pattern up top across the back since they are not often used. I also placed the coffee cups/saucers on the top shelf since they are rarely used.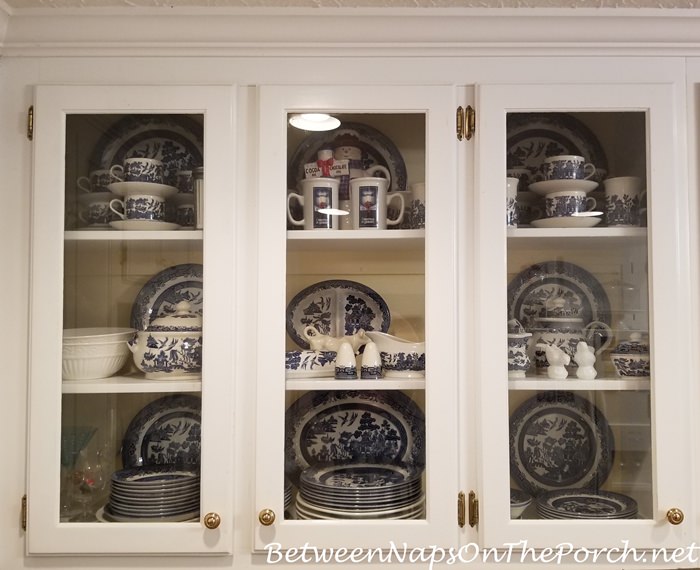 Below on the second shelf from the top, I again placed dinner plates across the back of the cabinet to pretty things up. I need to recenter a few items in line with the cabinets doors. I just noticed over the years a few things have shifted. Funny you never notice these things in real life, only AFTER you take photos! Arggg. Update: Actually the plates are centered, they just don't look it due to the angle of the photo.
On the bottom shelf, I again placed plates standing up across the back. You know those sticky pads you can buy online or in hardware stores to put on the bottom of chairs to keep them from scratching the floor? I bought those in the large size or the long skinny strip-size and placed a one-inch strip onto the bottom of the cabinet to support the plates that are leaning against the back of the cabinet.
Update: These are the type pads I cut to fit in back to support the plates: Sticky Pads.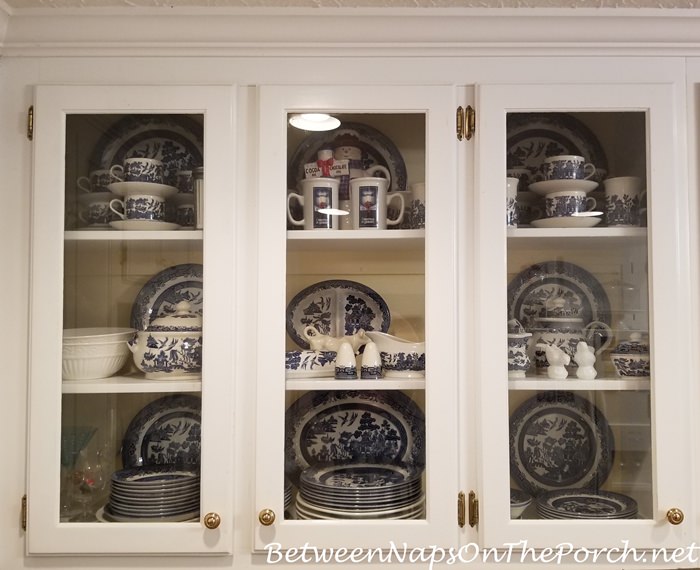 Here's a photo showing how the little sticky strips look. Those aren't visible once you stack your plates in front, although if you want them to be even less visible, you could also use the little clear pads I've seen available in the hardware stores–the kind you place on cabinet doors to keep them from banging shut. Although, I must say, in the 18 years I've had my dish storage designed this way, I've never once noticed these pads because there's always a least one dinner or salad plate left in the cabinet. So though they are there, you don't ever see them.
So all the dishes you see propped against the back of the cabinets are held in place by a little sticky pad. I guess this may not work in places where earthquakes happen a lot, but I've been through two pretty decent earthquakes in the last 10 years here in Georgia and nothing has ever fallen.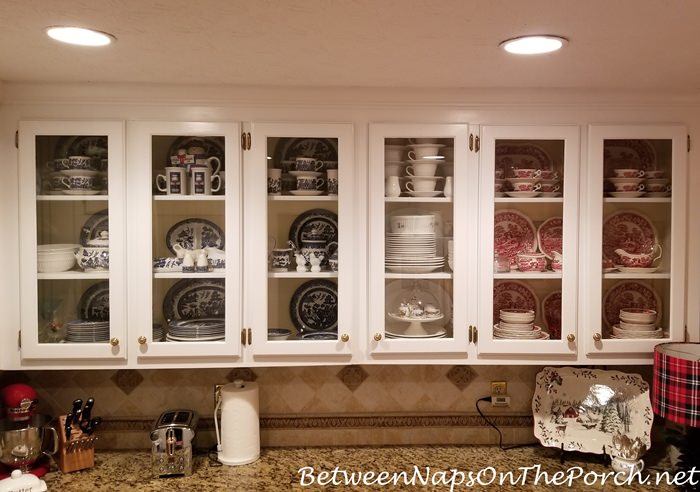 Moving on down the row, I use this white dishware a lot during the summer months. I like having the white in the center of this bank of cabinets to give a bit of division between the Blue Willow and the red Spode Tower pattern. Again, the cups and saucers are at the top since they never get used. If I were desperate for more space, I could box those up and store them in the basement, but since I have the space I've kept them here.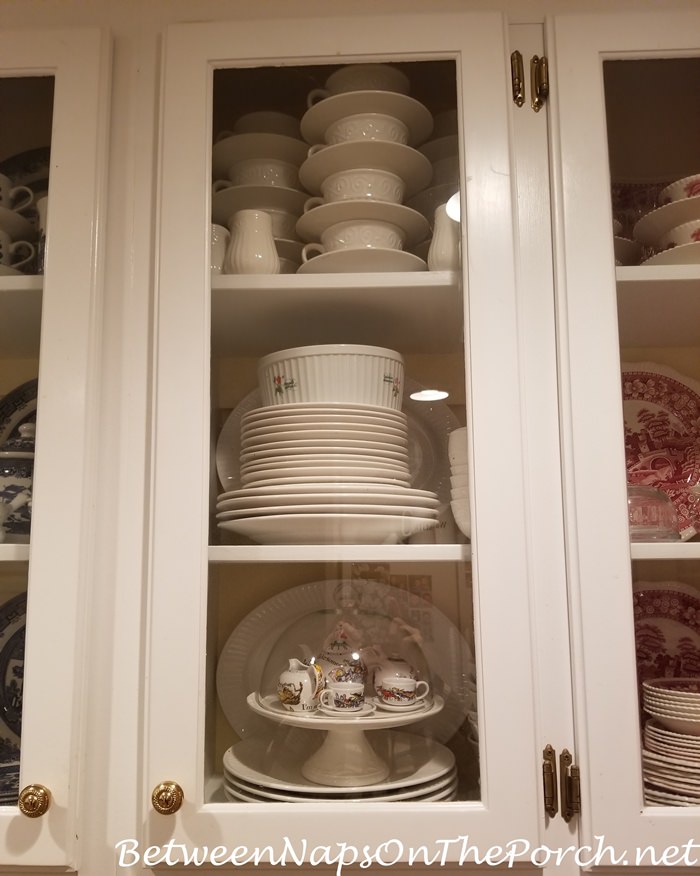 On the far right, you'll find the vintage Spode Tower used in last week's Tablescape Thursday. I love seeing it here in the kitchen since it's such a pretty, colorful pattern. It's also the oldest pattern of dishware that I own. I used to have a fair amount of glassware stored with it inside this cabinet. It was stored in the gaps you see on the top shelf and down the sides. Those were all moved to the garage once I added the garage storage cabinets, making this cabinet less crowded.
See those cabinets on the left there above the desk?
That's where I store another favorite pattern, Villeroy & Boch's Melina. It was my every-day pattern for about 15 years, purchased in Macy's around 30+ years ago. I still use it as my every-day dishware occasionally, so I like keeping it stored here in the kitchen for easy access.
Again, to make this storage visibly pleasing, I placed dinner plates and/or platters across the back with dishes stacked in front. Stored here are 12 dinner plates, 12 salad plates, 12 cereal bowls, 12 cups/saucers and various serving pieces. I didn't purchase the soup bowls but a few years back I saw three on eBay and bought them. I also so have six Herend Rothschild's Bird plates stored here. This cabinet used to also house two sets of glasses down the sides and tucked in the corners here and there. Those glasses are now stored in the garage.
What else didn't make it to the garage?
I kept two of my favorite Christmas dishware patterns here in the dining room china cabinet where they've always lived. Here you'll find Lenox Winter Greetings and Spode Holiday, along with some Waterford stemware.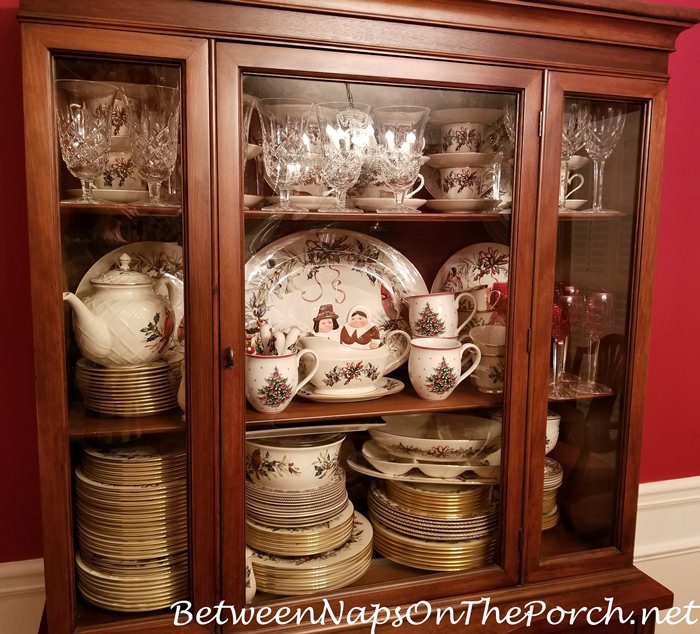 You can't really see it, but across the very back are days 1-6 of the Waterford "12 Days of Christmas" champagne flutes. I still need to collect the other six. Wonder if I could fit them into this cabinet? lol I see a little space up front there on the right.
And those infamous pierced chargers that I get asked about almost every time I use them in a table setting–those are all stored here in the large drawer of my sideboard. To keep them from scratching each other, I have a thick paper towel tucked in between each one and that system works very well. If I used anything thicker, they wouldn't all fit here in this drawer.
Tip: The heavy-duty thicker paper towels work great for separating out large plates and chargers.
All the other chargers are stored outside in one of the cabinets in the garage.
I've outgrown my charger space. I just added these bark-edged chargers (left) and driftwood chargers (right) in the last couple of years. They are quite rustic designs and are fine stored here on top. Once my son and dil are ready for my son's bunkbeds/bedroom furniture that's currently stored here in the garage, maybe I'll add another cabinet to the garage just for charger storage. Maybe. 🙂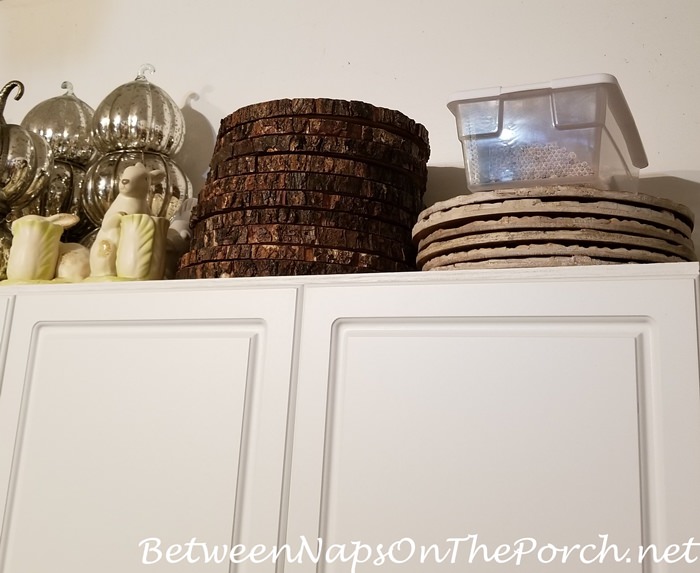 Hope you find this post helpful if you've been thinking about adding some glass-front cabinets to your kitchen. It really is possible to have glass-front cabinets and make that space functional, as well. The glass doors opened up my smallish kitchen so much! I have really enjoyed them and it's one of the best changes I ever made to that space.
Metamorphosis Monday
Metamorphosis Monday is a party that's all about Before and Afters. If you are participating in Met Monday, please link up using the "permalink" to your MM post and not your general blog address. To get your permalink, click on your post name, then just copy and paste the address that shows up in the address bar at the top of your blog, into the "url" box for InLinkz when prompted.
In order to link up, you'll need to include a link in your MM post back to the party so the other participants will have an opportunity to receive visits from your wonderful blog readers.
Feel free to link up Before and After posts that are home, gardening, decorating, crafting, painting, sewing, cooking, fashion, travel or DIY related. Please do not link up to the party if you're only doing so to promote/sell a product.
To those linking up, if you notice a shop or online store linking up to sell products (yes, unfortunately, that happens) please let me know so I can remove their link and block them from participating in future parties. No one wants to visit a link expecting a Before and After, only to find a spam link to an online business/store.
This party has ended, click button below for the links to all who participated.
*If a post is sponsored or a product was provided at no charge, it will be stated in post. Some links may be affiliate links and as an Amazon Associate, I may earn from qualifying purchases. *