Welcome to the 644th Metamorphosis Monday, a blog party sharing fabulous Before and Afters!
It's hard to believe that it's been five years since I completed this little landscape makeover for the front of my home. You may remember I had a small Japanese Maple moved from the front area of my home to another spot in the yard. It's doing great in its new spot, I'll have to take a photo sometime soon to share how well it has done in its new home!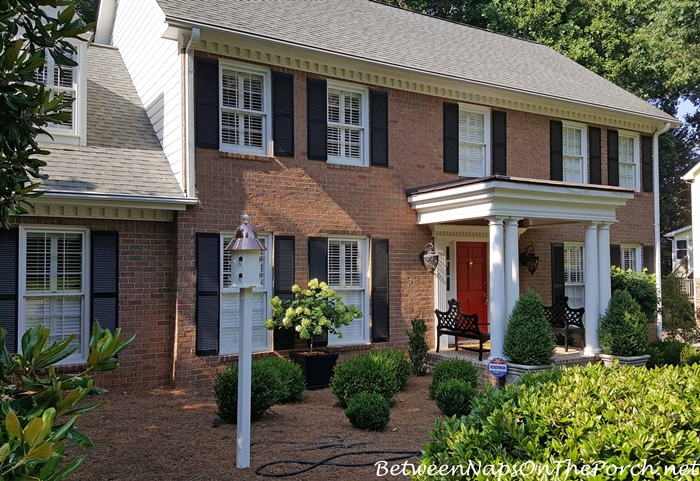 When this photo was taken five years ago, I hadn't yet planted all the Green Beauty Boxwood shrubs into the ground. It took me about a week to get all these shrubs on both sides of the porch into the ground since I was doing this work by myself. (Here's the original post where I shared this process: Landscaping with 4 Varieties of Boxwood Shrubs.)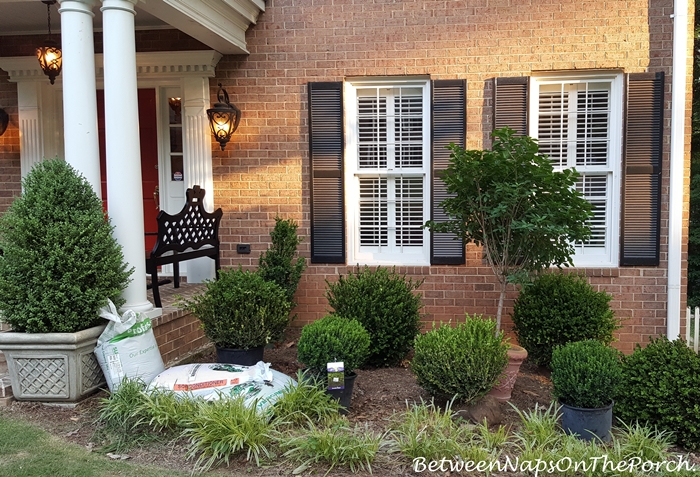 Here's one more photo of how the Green Beauty Boxwoods looked on the left side of the porch in May 2016. The two smaller boxwood shrubs up front are called Baby Gem and they are supposed to remain fairly small.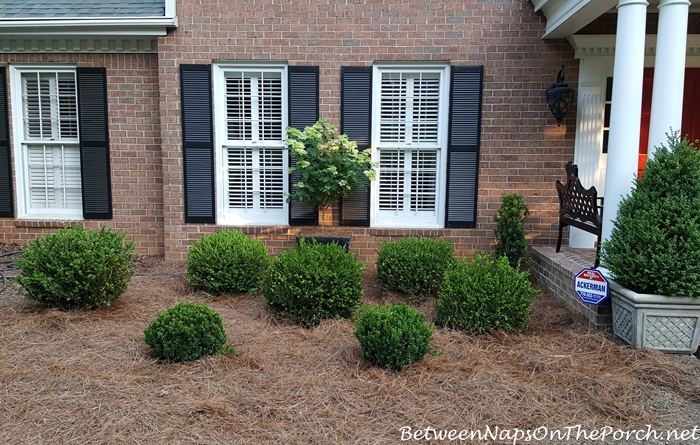 And here's how the Green Mountain Boxwood topiaries looked a few years after I planted them in the planters on either side of the steps leading to the front porch.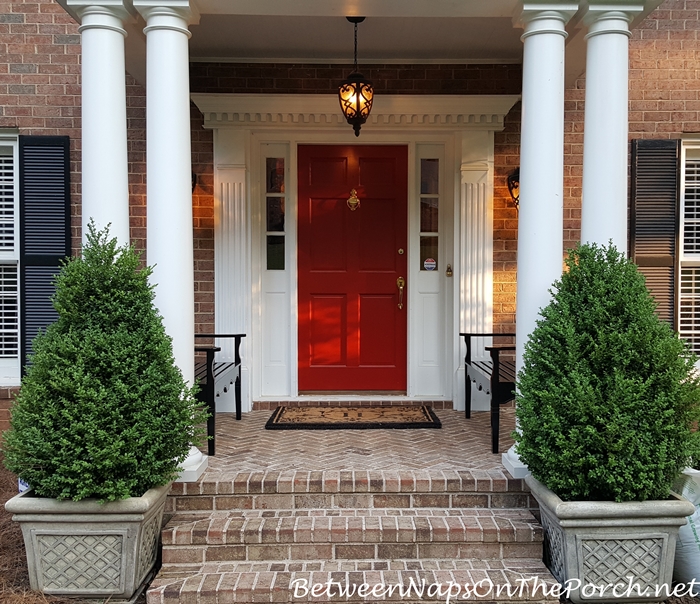 Here's how the Green Beauty Boxwood shrubs look today! Quite the change!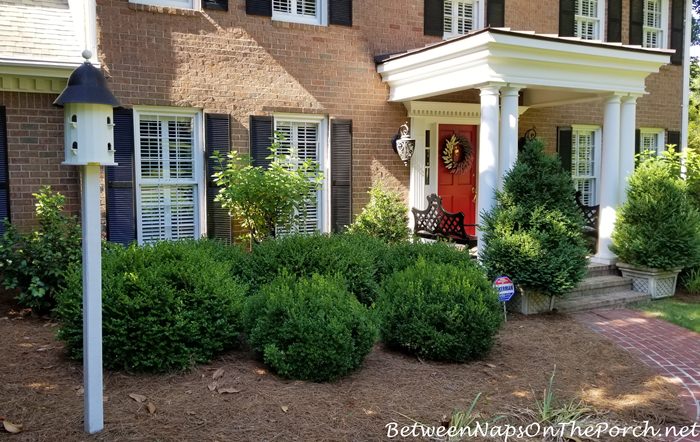 They've been trimmed back once pretty strongly over the past 5 years, I think that was either last summer or the summer before. They definitely are going to need it again before too long.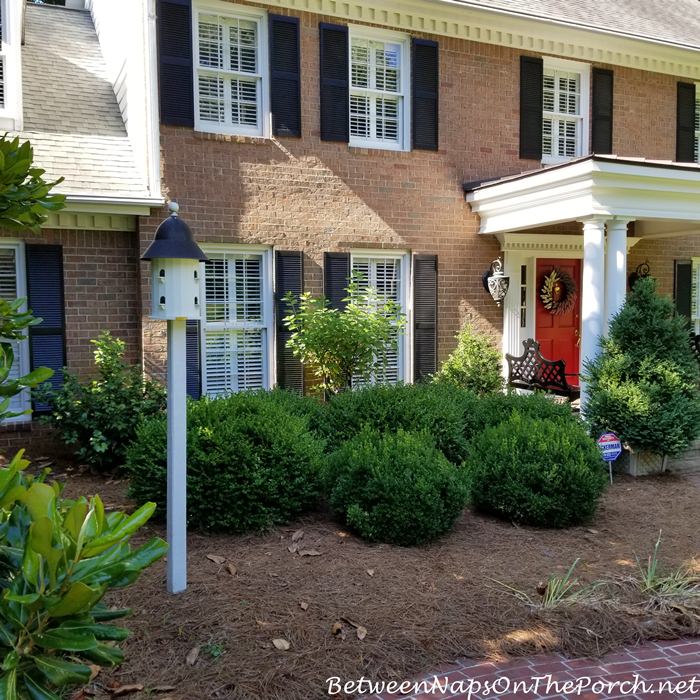 It's hard to show just how enormous these shrubs are now so I tried to sorta squat down for this picture. lol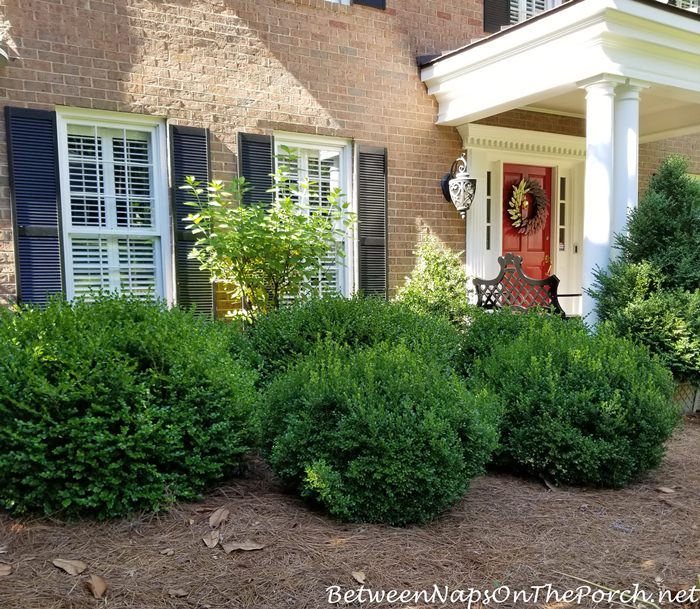 I love how they look, just wish I could freeze them in time and stop them from getting any bigger!
So we went from this…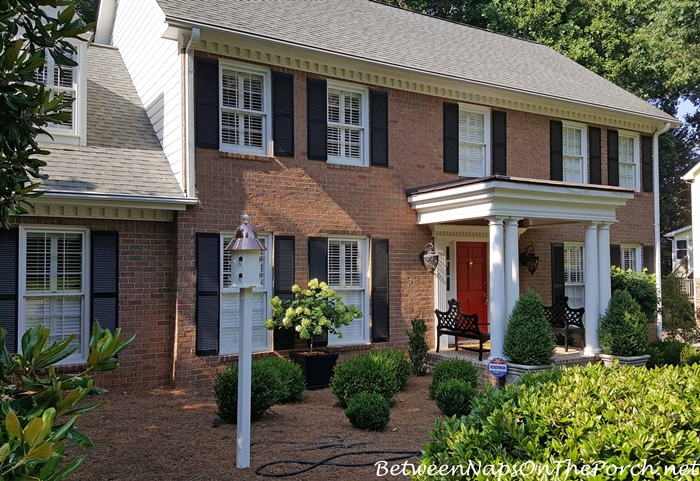 To this! You can barely walk between them now, they are almost all touching! Hard to believe when I look at the photo above! And look at the size of the Green Mountain Boxwood topiaries now!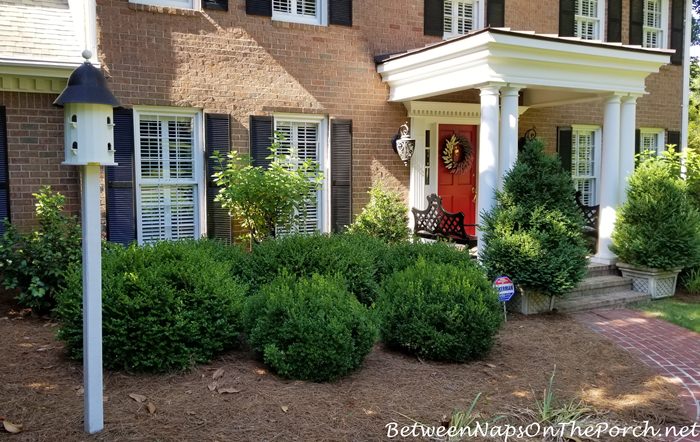 They started out even smaller than this, this is from a few years ago after they had already been in their planters for a while.
They have gotten huge, spilling out of the planters! They need a good trim back, as well.
They have been in these planters for many years. I'm amazed they are still doing so well!
Do you remember the Savannah Hollies I planted on this end of my home back then? You can see four of the hollies in this photo: one here at the end of the house and three more down along the side of my neighbor's driveway. I agonized about how close to plant the one that I placed at the corner of the house. I finally decided, based on info I had read about how big they can get, to place it this distance you see below.
Here's how it looks today! So glad I placed it away from the house as far as I did! The birds LOVE this holly. It's always covered up in red berries, including now, and they love sitting deep in the branches and singing up a storm! I love hearing them each morning since that's my room upstairs to the left in the picture.
The other hollies in the background have really grown, too. The hollies create the view I had hoped for when you're walking down the walkway toward the front porch.
The gardenia shrubs I planted in front of the Savannah holly many years ago are really filling out. They struggled a bit the first few years after I planted them here, but they are looking great now and covered with blossoms this year! They smell so wonderful when I walk near this side of the house! I love their beautiful scent! I need to get outside and weed this whole area while our cooler weather is here in the mornings this week.
The Dharuma Hydrangea at the end of the driveway is doing really well, also. Here's how it looked right after I first planted it near the mailbox–a tiny little thing.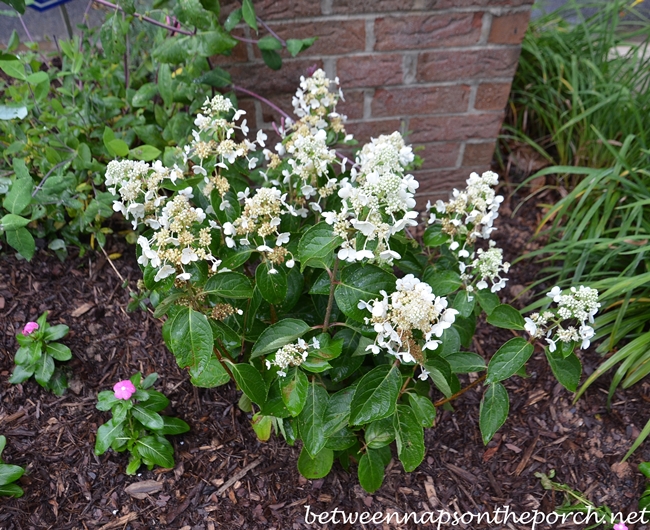 Not anymore! I pretty drastically trimmed it back in early spring because it had gotten so big. I love the size it is now! I really love this hydrangea and how it can take full sun. As you can see, it's just starting to bloom. It will go gangbusters now for a few weeks. Sooo pretty!
I really love how it's hugging the mailbox so you can see it driving down the street from both sides.
Definitely recommend this hydrangea if you have a spot in your yard where you would like a hydrangea that can take full sun.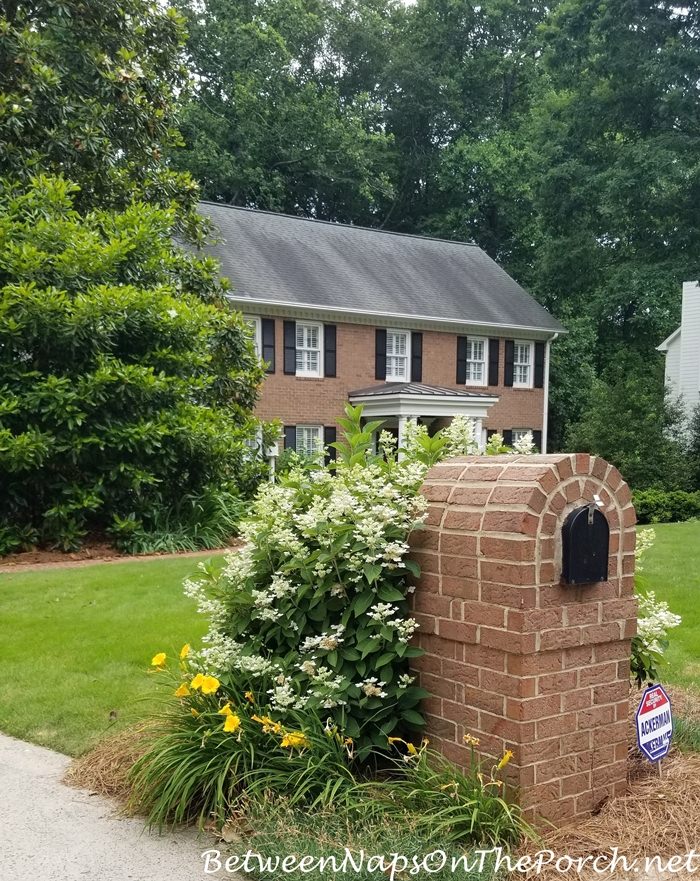 I'll leave you with one more little "metamorphosis" that's taking place in the wreath on my front door. 🙂 I took the wreath down in early spring hoping to avoid this since it happens every year. About a month ago I thought it was probably safe to put it back up. Nope. lol I don't really mind, though. There's always a little mess left on the paint once the babies leave the nest, but I can just clean it off and any leftover smudges are easily hidden by whatever wreath or basket I have hanging on the door at the time.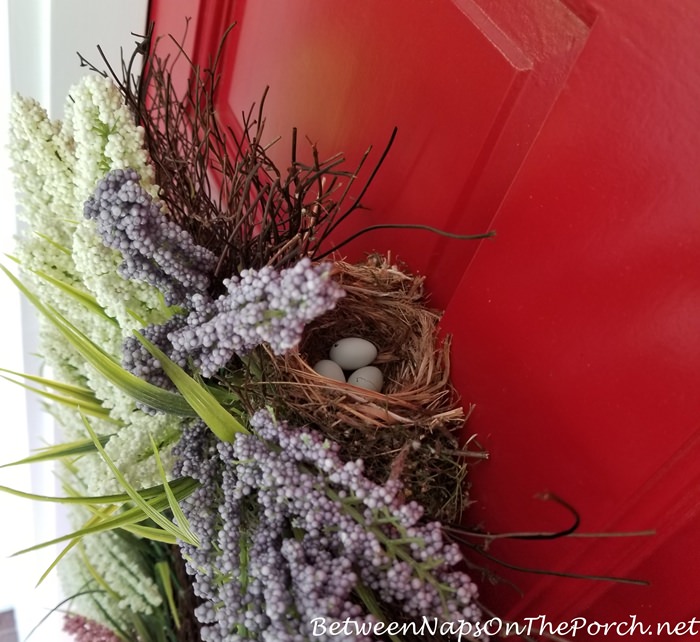 I'm not sure what kind of bird is nesting here. I've only caught a brief glimpse of them flying away (via my Ring doorbell) whenever a package is delivered. I think it may be House Finches. Just before someone steps onto the porch, the Mama bird always flies off the nest but returns just a few seconds later. Not sure why she always leaves. I've been using the garage door to retrieve packages to avoid opening the door.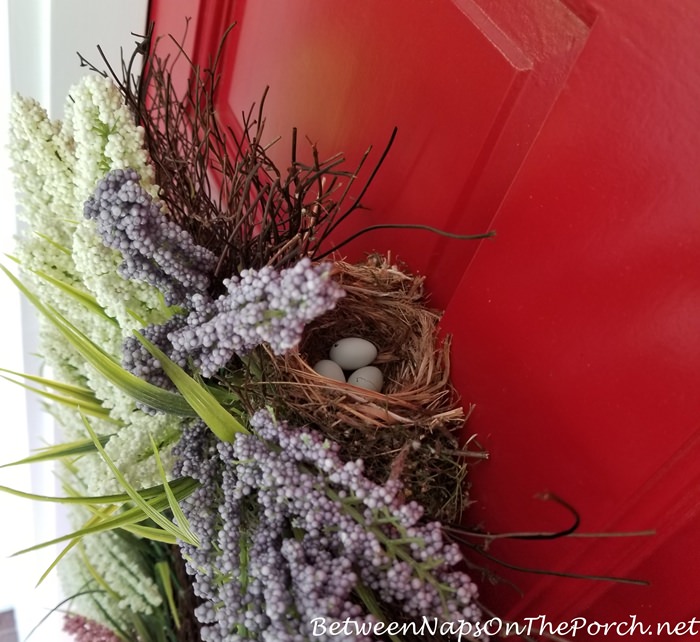 So tell me–what landscaping projects do you have going on this spring? I would love to hear!
Happy Spring and Happy Nesting!
Looking forward to all the great Before and Afters linked for this week's Metamorphosis Monday!
Pssst: Did you know Between Naps On The Porch is on Instagram? You'll find me on Instagram here: Between Naps On The Porch.
Like to know when a new blog post is up and available to read? Subscribe for email updates, it's free and your email will never be shared.
Subscribe for free post updates via email here: Subscribe.
Metamorphosis Monday
Metamorphosis Monday is a party that's all about Before and Afters. Please link up your Before and After projects like DIY projects, room makeovers, craft projects even recipes. Any Before and After is great! Please do not link up Table Settings, save those for our Tablescape Thursday party on Thursday.
If you are participating in Met Monday, please link up using the "permalink" to your MM post and not your general blog address. To get your permalink, click on your post name, then just copy and paste the address that shows up in the address bar at the top of your blog, into the "url" box for InLinkz when prompted.
In order to link up, you'll need to include a link in your MM post back to the party so the other participants will have an opportunity to receive visits from your wonderful blog readers.
This party has ended, click button below for the links to all who participated.
*If a post is sponsored or a product was provided at no charge, it will be stated in post. Some links may be affiliate links and as an Amazon Associate, I may earn from qualifying purchases. *