How about one more Valentine's Day table before we head into Valentine's Day weekend! Maureen recently shared some photos of the beautiful table she has put together this year for Valentine's Day and I'm in love with all the beautiful beaded pieces she's used in her table.
Love the beaded table runner down the center, you'll see a closer photo of it a bit further down in this post. Maureen found her table runner in Pier 1. I really miss shopping in person in Pier 1. Have you shopped their online site, yet? I haven't but I'm sure I will in the future. Wish the stores would reopen one day.
The red glitter heart bowl in the centerpiece and these adorable red bowls at each place setting are from HomeGoods. Maureen shared they are from the brand Ackam. The white dinner plate is Mikasa Antique White. The red stemware is Mikasa, French Countryside.
Notice the pretty lacy edge on the white napkins…so pretty for a Valentine's Day setting! Maureen found those napkins in HomeGoods. I need to visit HG, haven't been there in ages. I always love to look for pretty napkins there and in Marshalls. The red napkins and pretty beaded napkin rings are from Pier 1.
These beaded heart placemats definitely stole my heart! Maureen found those in Pier 1, too. Such a pretty design and so perfect for Valentine's Day! Maureen used one of my flatware designs in this table. I have this flatware and use it all the time in table settings for Valentine's Day, Christmas, and the 4th of July. Maureen found her set in Pier 1. It's also available here: Red Flatware. I really like the chocolate color at that link, would be beautiful in autumn tables.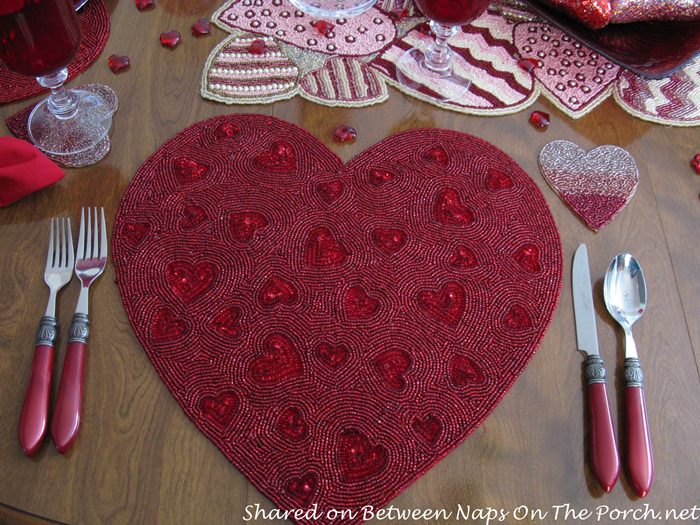 The glitter hearts in this table setting are from Pier 1. Love all the sparkle in this Valentine's Day tablescape! Can you just imagine how beautiful it must be by candlelight in the evening?! ♥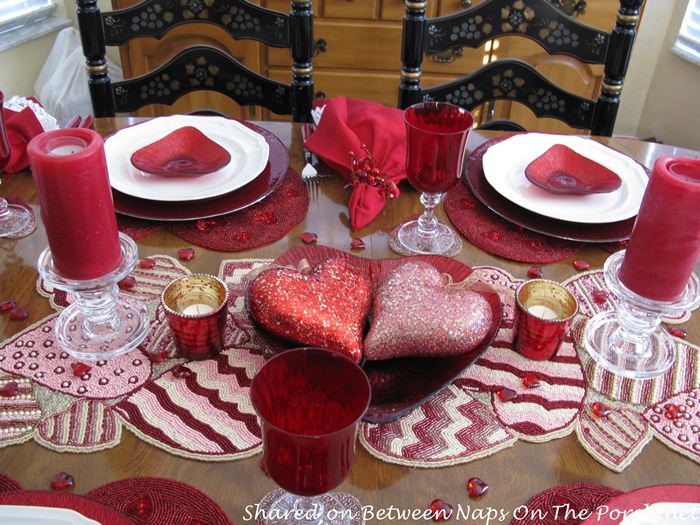 Thanks so much to Maureen for sharing this beautiful Valentine's Day table! You'll find a detailed list of the items she used in this table below. Happy Valentine's Day! ♥
Beaded heart placemats, table runner, and coasters: Pier 1
Red glitter charger plates: Hobby Lobby
White porcelain plates: Mikasa (pattern is "Antique White")
Red goblets: Mikasa (pattern is "French Countryside")
Red-handled flatware: Pier 1
Red glitter heart bowls (small on white plates, large in center of table runner): Home Goods (brand is Ackam)
Large pink and red sequined hearts in centerpiece: Pier 1
Red pillar candles: Pier 1
Clear glass pillar candle holders: Home Goods (these are often available at HG in different heights and are very versatile because on one end they are designed for pillar candles and on the other, for taper candles)
Red mercury votive candle holders (I believe I got these at Michael's.)
Red beaded napkin rings and red hemstitch napkins: Pier 1
White lace-edged napkins: Home Goods
Red heart table "scatter": Hobby Lobby, Michael's, or JoAnn's
*If a post is sponsored or a product was provided at no charge, it will be stated in post. Some links may be affiliate links and as an Amazon Associate, I may earn from qualifying purchases. *