Welcome to the 646th Tablescape Thursday, a blog party sharing beautiful table settings for all occasions!
It was sunny and 70 degrees out on the porch yesterday! Since I stay inside hunkered down this time of year, I discovered it purely by accident when I walked outside to refill all the bird feeders. I was astonished and couldn't pass up the chance to set a table outside. It happens every year, the gift of warm weather in the dead of winter. When it happens, it's fleeting, usually lasting only a day or two.
Meanwhile, in Ohio, my son and grandsons were having a blast sledding. Oh, the difference 500 miles can make!
How about a little Valentine's Day table on this warm February day?
As I was taking pictures, I had to laugh when I noticed the Hot Cocoa sign in the background. In just a day or two, that sign will be totally appropriate for the porch again. (Find a step-by-step tutorial for making the Hot Cocoa sign here: DIY Hot Cocoa Sign.)
If you love "Preppy" style, this table would fit right in since it's a mix of two of my favorite colors: Pink and Green. Love them separately and love them together, too!
It was late in the day as I took these pictures and I loved how the winter light was dancing across the table.
Such a bleak background but very soon those trees will have little green buds all over them.
I almost forget sometimes that I have this silverplate twig flatware since I keep it stored inside bags that protect it from tarnishing. (Bags are available here: Silver Storage Bags.) I think I purchased it from Wayfair, been so long, it's hard to remember. Or, it may have been West Elm.
I try to polish silverplate as little as possible, always worried I'll polish right through to the metal underneath. So I like storing this flatware in protective bags to avoid having to polish it. Less work, too!
The green sheer napkin overlays are from The Magnolia Room in Marietta, Georgia several years ago. It's an antique shop that carries both new and vintage.
This beautiful, pink rimmed china is by International, pattern is Glenwood. I found 27 pieces in an antique shop many years ago and filled in with additional pieces found on eBay. There's almost always some available there. Here's what they currently have listed: International Glenwood.
I love, love, love the sweet gardenia in the center of the plate. The sunlight beautifully lit up the center just as I took this photo. I almost lost my gardenia shrub a few years back during an ice storm, but it has finally bounced back. I'll have to use some of the blooms in a table when it blooms this year. They smell soooo wonderful! One blossom will fill my entire home with its sweet scent. Love it so much!
The chargers are from Horchow online, bought back in 2008 before I ever knew what a blog was. lol They don't have a hallmark and they came in plain brown boxes so have no idea who made them. I have a feeling they were made just for Horchow/Neiman Marcus since they came with no branding.
The floral pattern underneath may be a Homer Laughlin pattern called Georgian. I purchased six, 5-piece place settings of that pattern on e-Bay many, many years ago. The whole set was only $35 so I could not pass that up! I love pairing it with Glenwood in table settings.
Remember the sweet Valentine's Day cards I shared a few days ago?
I used them to create a little Valentine's Day garland. (See that post here: Valentine's Day Craft: Make a Valentine's Day Garland-Banner.)
I had quite a few left over and thought they would be really cute as place cards in this Valentine's Day table setting. Names could be written right across the top with a special note inside.
I kept my centerpiece simple–just a pillar candle surrounded by mercury glass hearts found many years ago, I think in Marshalls. Do you remember this "vase-within-a-vase" idea that I used years ago in a spring/Easter tablescape?
Here's how it looked/worked in a spring/Easter table setting.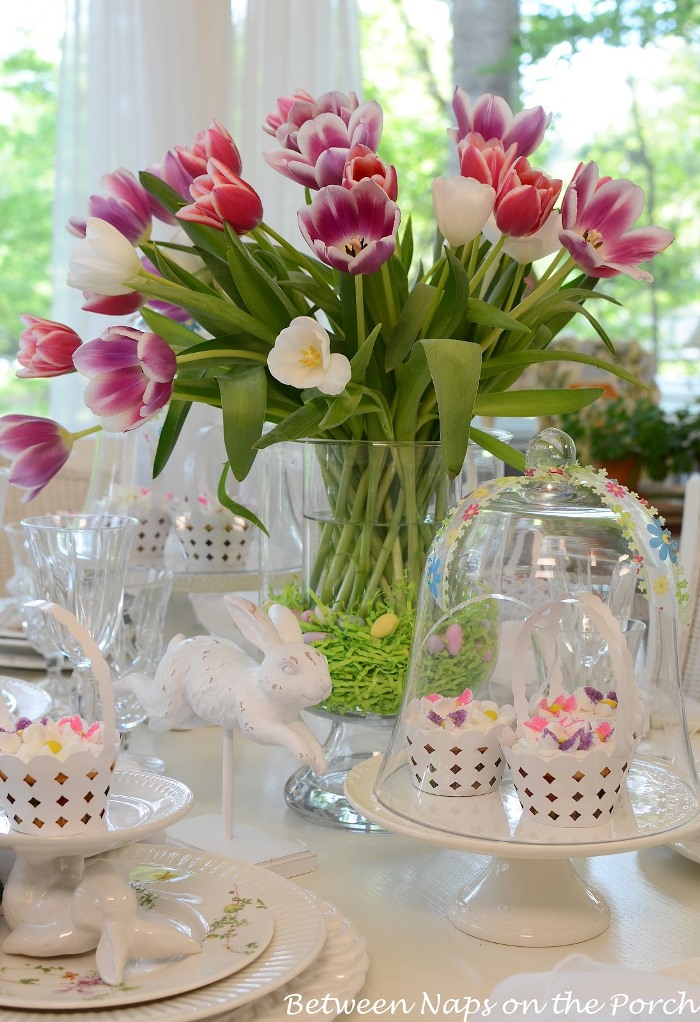 You'll find all the details on how to create a double-vase centerpiece in this previous: Double Vase Hurricane Centerpiece.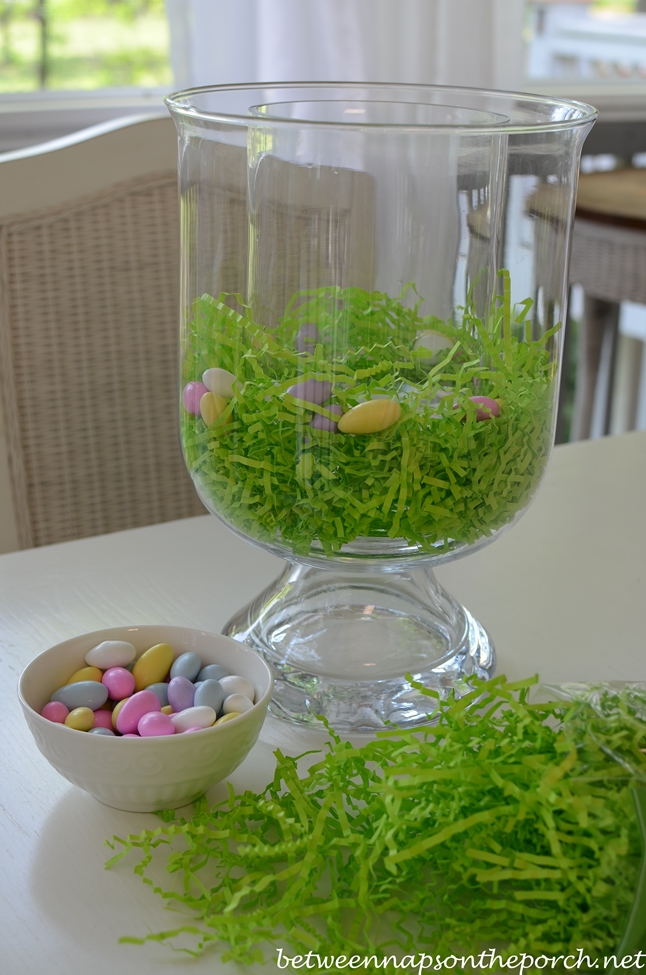 It's really easy to create this type of centerpiece. If I'm remembering correctly, I found both vases in Marshalls.
A birdseye view with the evening sun lighting up our centerpiece.
As it began to get a little darker, I lit the candle in our centerpiece.

I love candlelight, especially for a Valentine's Day table.
I added a couple of more candles on either side.
The Blue Hour was just starting to make its appearance.
Getting even bluer out now.
The last photo I took before calling it a night…
Leyland Cypress Update
On a separate note, remember those little Leyland Cypress trees I planted in October 2014? They grew a lot slower than the first ones I planted many years ago since they don't get as much sun as the original trees did due to the trees in the backyard being so tall now.
But they are now doing what they were planted to do, providing a bit of privacy for my neighbors and for the porch that's two stories up.
Happy Valentine's Day to you and to all your special loved ones. ♥
A few more ideas for Valentine's Day: Decorate a Valentine's Day Feather Tree.
Heart Napkin Fold
Here's a fun, easy-to-make heart napkin fold: Heart Napkin Fold. (Table below can be viewed here: Decorating for Valentine's Day.)
Find all my Valentine's Day tablescapes from years past here: Valentine's Day Table Settings.
♥♥♥ Looking for romantic tables for two? You'll find those here: Romantic Tables for Two! ♥♥♥
Looking forward to all the wonderful table settings linked for this week's Tablescape Thursday!
Did you know Between Naps On The Porch is on Instagram? You'll find me on Instagram here: Between Naps On The Porch.
Like to know when a new blog post is up and available to read? Subscribe for email updates, it's free and your email will never be shared. Subscribe for free post updates via email here: Subscribe for Post Updates.
Tablescape Thursday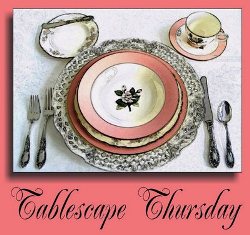 If you are participating in Tablescape Thursday, please be sure to add your permalink below, and not your general blog address. To get your permalink, click on your post name, then copy and paste the address showing in the address bar, into the "url" box when you link up. You'll need to include a link in your post back to the party to link up and participate.
That's so visitors to your blog will be able to find the party and the other Tablescape Thursday participants. Requiring a link back also prevents businesses and scammers from linking up to sell their products. (Yep, that really happens, unfortunately.) If you see a post that's not table setting related, let me know and I'll remove it.
Please, don't add your post name/blog name ALL IN CAPS…it tends to create big spaces between the rows of links.
This party has ended, click button below for the links to all who participated.
*If a post is sponsored or a product was provided at no charge, it will be stated in post. Some links may be affiliate links and as an Amazon Associate, I may earn from qualifying purchases. *