Welcome to the 555th Tablescape Thursday!
How is your week going so far? I hope you are seeing some glorious springtime weather. It has been beautiful here!
I took these photos late in the day. The trees have all leafed out completely now so the porch has become very shady throughout the day. Recently, I gave all the bottles on the bottle tree a good washing. Do they look clean and sparkling there on the deck? I need to add a few new ones to the tree this year…must be on the lookout for pretty bottles this spring.
My magnolia tree is blooming its heart out. My timing was off, though. The flowers seem to be either past their prime or not open yet.
I managed to find one that was open and still looking pretty fresh for our centerpiece.
I wish you could smell these big, beautiful blossoms! The scent always makes me think of lemonade. Do you remember these tall candleholders? I bought those back around 2008 so they were one of the first items I used in a table setting here on the blog. I think I found them in A Classy Flea if I'm remembering correctly. Miss that place…it just closed a few months back.
Years ago someone snarkily asked me in an email if I purchased dishes to use in tablescapes, then returned them once I had posted the table here on the blog. The answer to that would be, No. Occasionally, if I find I'm not using something any longer, I will give it to my son/dil, but I never buy dishware just to use in a post and then return it. That wouldn't be fair to the stores where I shop, not to mention time-consuming.
I took a lot of photos so feel free to just scroll through if you're not really into viewing different angles/views. I know some of you have said you like a lot of photos, so I'm erring on the side of "more is better" in this post.
For this table, I layered cream eyelet napkins over dark green, linen napkins. Both napkins are from Pier 1 several years ago.
The dishware I'm using for this table setting is by Syracuse China, made in the USA. The pattern is Orchard.
I found this china antiquing many years ago and it's still one of my favorite patterns.
Such a pretty pattern, I just love it so much! The pierced chargers are from Horchow online back in 2008.
Drawing a blank right now on the pattern name for this silverplate by Oneida. I purchased this flatware on eBay many, many years ago. I need to look at an earlier post to remember the name but I bet someone reading this post will recognize it.
One of the things that drew me to this flatware, other than the beauty of the pattern, was its gorgeous patina. I can see why patina is so valued in sterling and in silverplate. It is luscious!
The napkin rings say "Friends" on one side and "Family" on the other. They were a find in Pottery Barn years ago.
Do you remember these little birdies? I first used them in a table setting many years ago. If I can find the table, I'll add a photo to this post. They are actually little ornaments purchased from GardenRidge. I love using ornaments as napkin rings, they always add a bit of whimsy to a table setting.
A birds-eye view…
Happy spring, dear Friends!
Looking forward to the beautiful tables shared for this week's Tablescape Thursday!
Pssst: Follow Between Naps on the Porch on Instagram here: Between Naps On The Porch on Instagram and on Facebook here: Between Naps On The Porch on Facebook.
Tablescape Thursday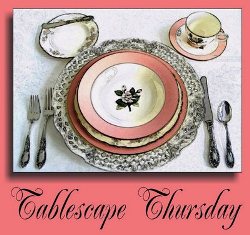 If you are participating in Tablescape Thursday, please be sure to add your permalink below, and not your general blog address. To get your permalink, click on your post name, then copy and paste the address showing in the address bar, into the "url" box when you link up.
You'll need to include a link in your post back to the party to link up and participate. That's so visitors to your blog will be able to find the party and the other Tablescape Thursday participants. Requiring a link back also prevents businesses and scammers from linking up to sell their products. Please let me know if you click on a link that isn't a tablescape or table related so I can remove it.
This party has ended, click button below for the links to all who participated.
*If a post is sponsored or a product was provided at no charge, it will be stated in post. Some links may be affiliate links and as an Amazon Associate, I may earn from qualifying purchases. *