Welcome to the 536th Metamorphosis Monday!
A couple of months ago I was scrolling through Instagram and I came across a spectacular renovation. It was one of the most dramatic "Before and Afters" I can recall and I loved it! This beautiful home is located in Valdosta, Georgia which is very near the border where Georgia meets Florida.
Here's how the home looked prior to its renovation by Wilson Design and Construction.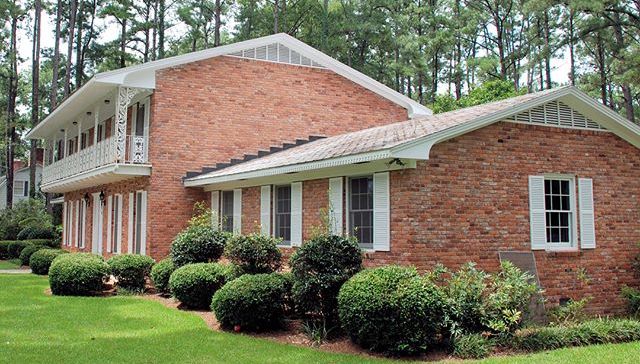 This was the plan that was drawn up for this exterior makeover. Wow! Pretty big change, right?

This exterior renovation required a complete rebuilding of the roof of the home.
It's amazing how changing just the roofline is already completely transforming the feel of this home.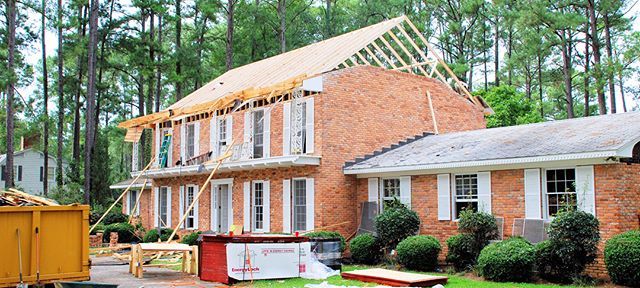 In the photo below, work has begun on this end of the home.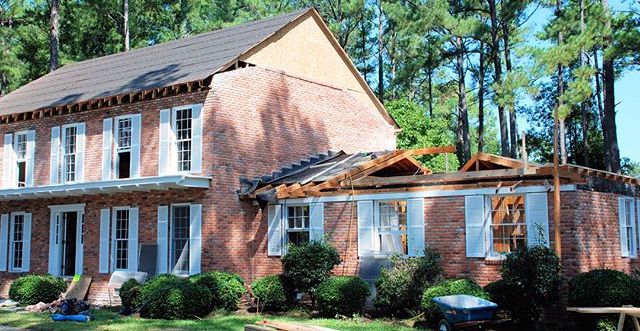 Love how this is looking! On their Instagram page, Wilson Design & Construction said the makeover began around Labor Day and was drawing to completion by Halloween, so this entire exterior renovation took place over a two-month period.
Do you see the huge change that was made in this photo below? I've always wished my home had dormer windows across the top, a la the home in the movie, Home Alone. I love that look!
Umm, I wonder if the dormers are a decorative feature or if they are actually cut into the attic. In the photo above, it looks like the roof is solid across the front, but I have no idea how attic dormer windows are constructed on a home. Since it appears that area was left as attic space, I'm guessing the dormers are an architectural feature and not actually cut into/open to the attic space. What do you think?
Are you ready to see this beautiful transformation?
WOW! Would you even know it was the same home? I think if I went away for a few months, came back and drove by this home, I would think the original home had been torn down and a brand new one built in its place! So beautiful!
I really love how changing the roof line on the right end of the home added so much interest to the exterior. Just love everything about this transformation!
Here's the "Before and After" for comparison. What a jaw-dropping transformation! The home was lovely before, but I do love its new design as a stately Georgian home.
When I saw this view of the front porch, my mouth dropped open for a second. I thought I was staring at my front porch and yard for a moment.
I've always wanted to add a flagpole attachment to my columns, but not sure how well it would work on a round column. This photo below was taken prior to having the Japanese maple transplanted and adding the boxwood shrubs, but amazing how similar the look is, especially with the topiaries.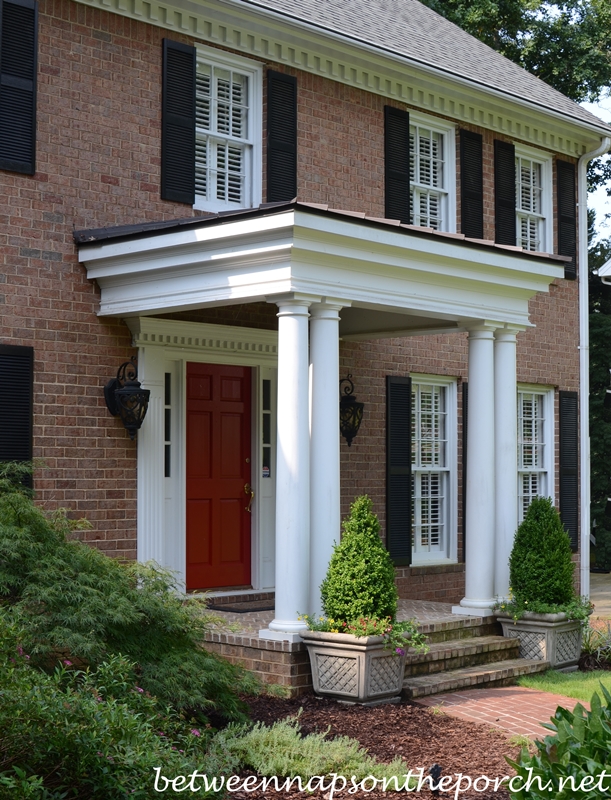 If you would like to follow Wilson Design & Construction on Instagram, you'll find them here: Wilson_Design_Construction. See more of their beautiful renovations and work at their website here: Wilson Design & Construction.
Looking forward to all the awesome Before and Afters linked for this week's Metamorphosis Monday!
Pssst: Subscribe for email notifications when a new post is available at Between Naps On The Porch here: Subscribe.
You'll find Between Naps on the Porch on Instagram here: Between Naps On The Porch on Instagram and on Facebook here: Between Naps On The Porch on Facebook.
Metamorphosis Monday
Metamorphosis Monday is a party that's all about Before and Afters. If you are participating in Met Monday, please link up using the "permalink" to your MM post and not your general blog address. To get your permalink, click on your post name, then just copy and paste the address that shows up in the address bar at the top of your blog, into the "url" box for InLinkz when prompted.
In order to link up, you'll need to include a link in your MM post back to the party so the other participants will have an opportunity to receive visits from your wonderful blog readers.
Feel free to link up Before and After posts that are home, gardening, decorating, crafting, painting, sewing, cooking, fashion, travel or DIY related. Please do not link up to the party if you're only doing so to promote/sell a product.
To those linking up, if you notice a shop or online store linking up to sell products (yes, unfortunately, that happens) please let me know so I can remove their link and block them from participating in future parties. No one wants to visit a link expecting a Before and After, only to find a spam link to an online business/store.
This party has ended, click button below for the links to all who participated.
*If a post is sponsored or a product was provided at no charge, it will be stated in post. Some links may be affiliate links and as an Amazon Associate, I may earn from qualifying purchases. *