Welcome to the 227th Metamorphosis Monday!
Happy Monday! Hope your weekend was wonderful!
Today for Met Monday, I'm sharing a small update out on the porch. I don't often change things out here since I'm pretty happy with it, as is. If I make a change something else usually has to leave.
A while back I made an update to the small oval table under the Summer Breeze sign. You may remember, it got a bigger lamp, one more suited for the size of the table and the room. (Read about the lamp update here: A New Lamp for the Porch. I've been really happy will that Tuesday Morning find and am still keeping my eye out for a lamp better suited for the small chair-side table across the room. I know one will eventually find me, but that's a tale for another day.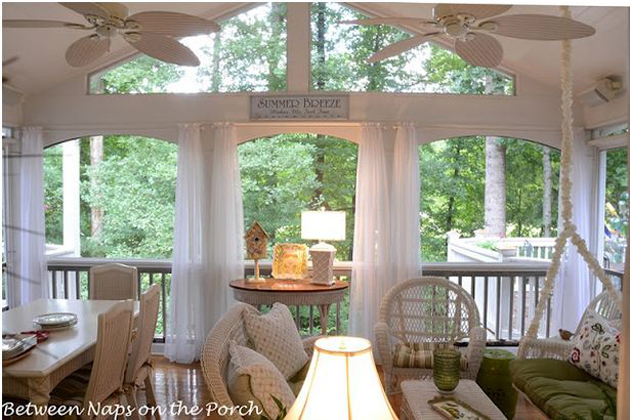 Now, about that little oval table, most days, a mosaic birdhouse and a platter in my fave dishware pattern lives there. (Pic below shows old lamp.) I love that silly little birdhouse so something had to really steal my heart to make me move it off the porch for the summer. Yes, I know change is good, but I do get a little "stuck in my ways" sometimes.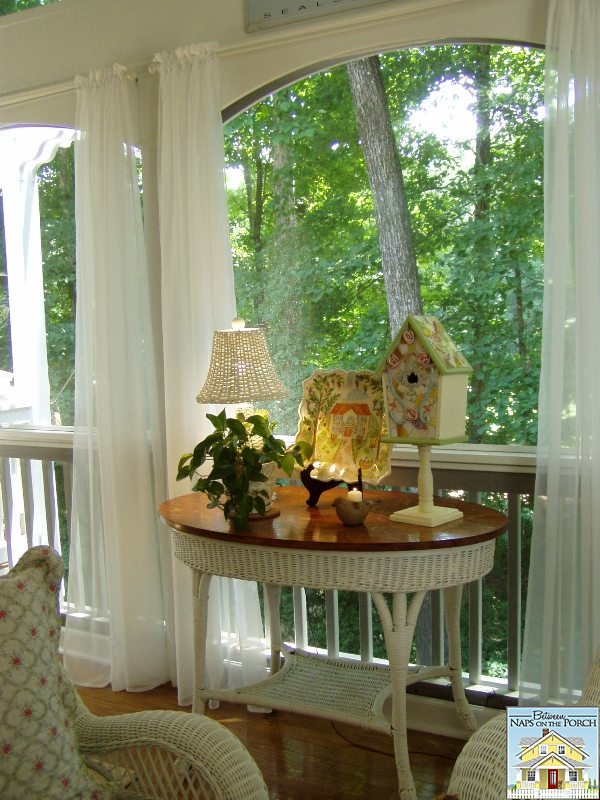 So, here's how this change all got started. A year or so ago, we were talking tabletop greenhouses over on Facebook. Pssst: Come follow BNOTP on Facebook, we have some fun discussions there! Anyway, a dearheart shared this amazing greenhouse she had purchased at Pottery Barn. It was a bit more than I wanted to spend at the time, so I just saved the pic to my computer to think about it for a while. The greenhouse is one of those items that's not available in the PB stores, can only be purchased online. Isn't it beyond cute?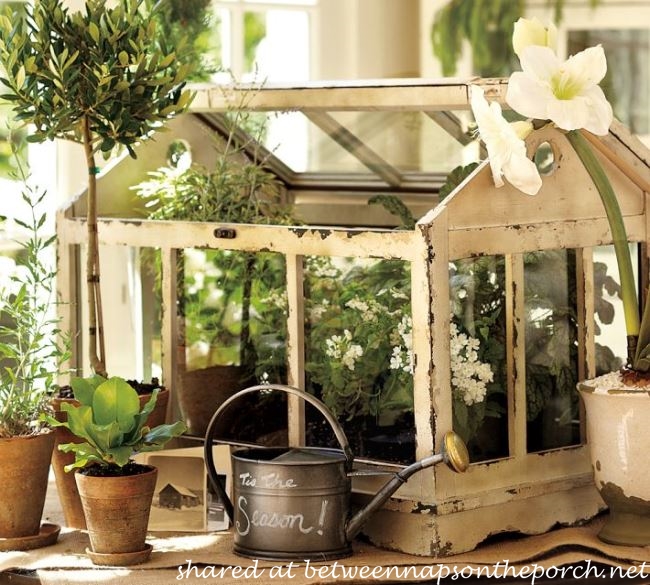 After several months of "can't-get-it-out-of-my-head" syndrome, I broke down and ordered the small one. That was last summer or early fall if I'm remembering correctly. I bought the smaller of the two sizes. It was $129 and more than I really wanted to spend. That meant it had to be an absolutely perfect fit for the porch or it would definitely be going back.
It arrived and even though I ordered the smaller of the two, it was HUGE! You don't realize how big this greenhouse is until you see it. Unfortunately, it overwhelmed the oval table on the porch and was even too wide to use on the dining table in that space. I had plans for making it a centerpiece on the dining table when entertaining, not to eat around but to just place food or plates, etc… around. That would not have been possible, it was just too wide.
Before returning it, I hauled it all over the house trying to find a place to use it. It was just so cute, I hated to return it. I tried it on the coffee table in the upstairs family room, it was too big there, too. Finally I had to face the fact, I just didn't have a good spot for it anywhere. Reluctantly, I returned it to the PB that's about 2 miles from my home. (Pictures above and below from Pottery Barn online.)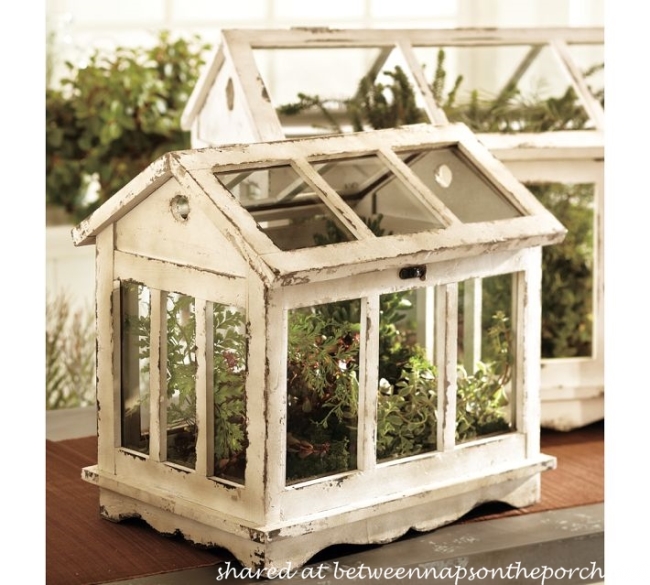 Recently, I stopped in Marshalls to see what fun things they had gotten in for spring. I couldn't believe my eyes, they had greenhouses almost identical to the PB version and they were only $29! They had it in both a dark gray and a soft green color, I ended up going with the green.
The top lifts up (just like the PB greenhouse) for easy access. There are also little doors on the side that open out. The PB greenhouse has one large door that opens on the side. All the glass in both greenhouses is real and not plastic…like that!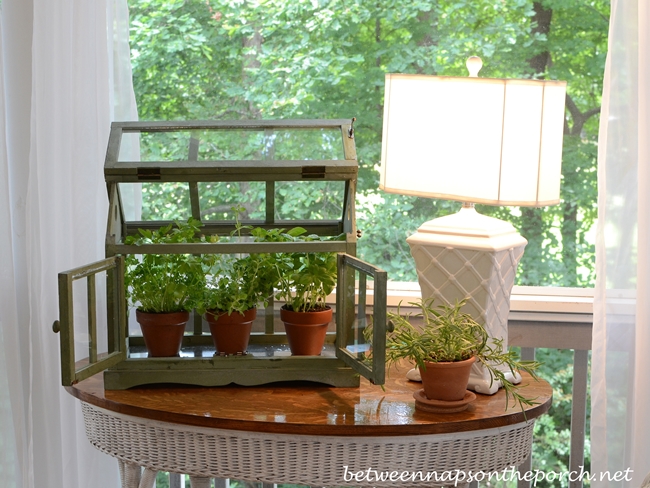 This one is actually 1 1/2 inches longer than the smaller Pottery Barn greenhouse but it's about an inch shorter in height and 2 1/2 inches narrower (less wide) than the PB version. It fit perfectly on the porch dining table, leaving space around for serving platters/dishes during a party and it looks great on the oval table. It also doesn't overwhelm the lamp on that table like the PB greenhouse did.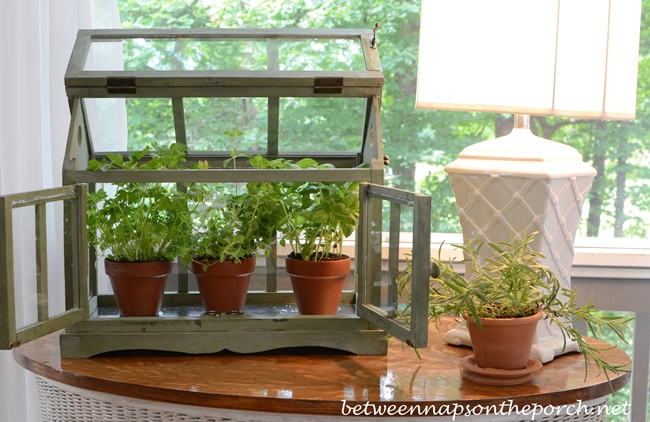 Of course, I couldn't wait to fill it. I initially thought about flowers but herbs just seemed like a better fit for this cutie. Currently, it contains parsley, oregano and basil. Does this mean I actually have to cook now? 😉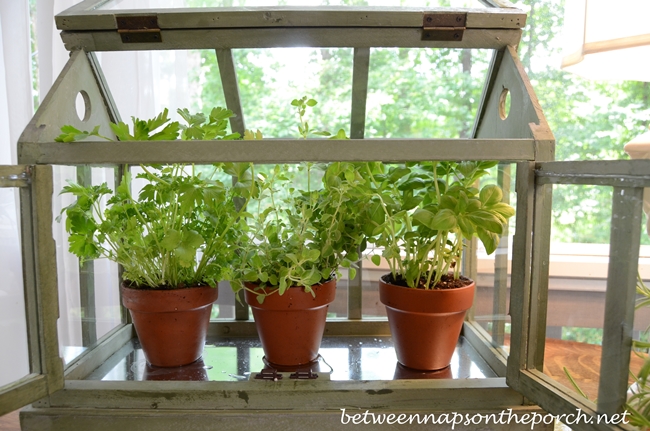 Sidenote: I may look for a little tray to go inside. It has a metal liner on the bottom, but just to be on the safe side, if you buy one, don't place it on a nice table without first determining if it leaks. So far, mine hasn't leaked, but the oval table on the porch has a polyurethane finish over the wood top, so I'm not really worried. This table also gets wet when it rains really hard, another reason for the polyurethane top. Just be careful about placing your greenhouse on a table with a nice finish that wouldn't stand up to water, just in case.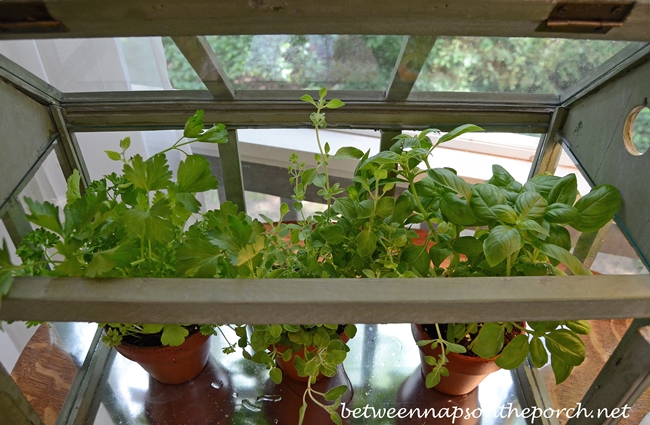 Here's how it looks out on the porch, replacing the mosaic birdhouse and platter for now.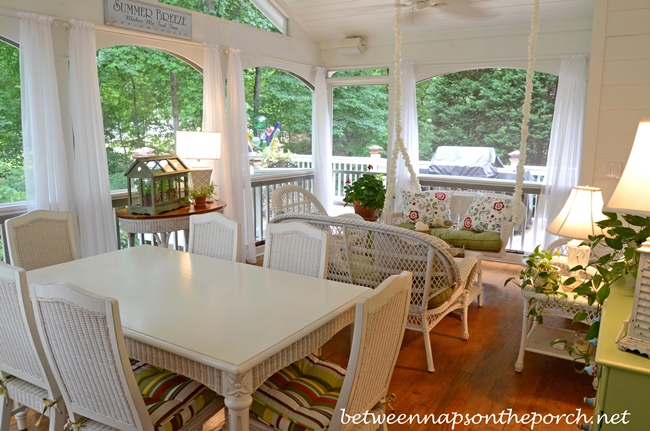 Oh, one more little detail I should mention. It has a little round window/hole on either end, just like the PB greenhouse. It also has the cutest little latch for latching the top when it's closed. Love those small details!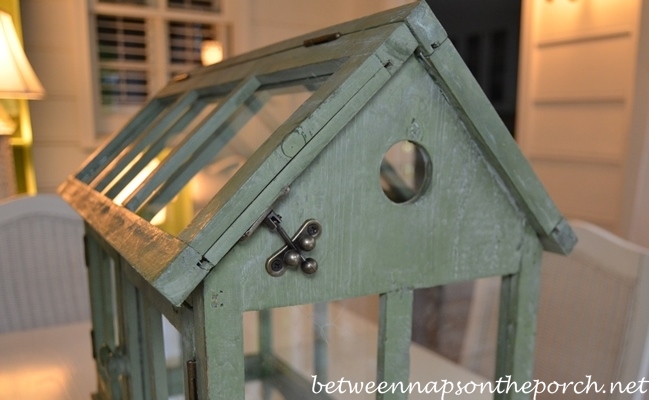 So, if you've been drooling over that adorable greenhouse online at Pottery Barn, here's a pretty nifty replacement for just $29. 🙂 That's a savings of $100! So glad the other one turned out to be too big now. Funny how things work out, right?
Have I mentioned lately how much I love HomeGoods, Marshalls and TJ Max? I think they are all part of the same parent company and I am forever amazed at the awesome deals you can find in those stores. And, no…they have not paid me to say that! 🙂 Just a happy customer sharing the good stuff with you when I find it.
So, that's my little summertime update for zay porch. Looking forward to the Before and Afters posted for this Met Monday!
Metamorphosis Monday: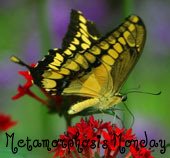 If you are participating in Metamorphosis Monday you will need to link up the "permalink" to your MM post and not your general blog address. To get your permalink, click on your post name, then just copy and paste the address that shows up in the address bar at the top of your blog, into the "url" box for InLinkz.
In order to link up, you'll need to include a link in your MM post back to the party so the other participants will have an opportunity to receive visits from your wonderful blog readers.
Please observe these few rules:
Only link up Before and After posts that are home, gardening, crafting, painting, sewing, cooking, DIY related.
Do not link up if you're doing so to promote a website or product.
Do not link up a post that was just linked last week since a lot of readers will have already seen that post.
Do not type in ALL CAPS. It spreads the links waaaay out.
Let's try something fun today! Please visit the person who linked before you and after you…that way everyone will get some visits.




Welcome! Thanks for coming to the party!
*If a post is sponsored or a product was provided at no charge, it will be stated in post. Some links may be affiliate links and as an Amazon Associate, I may earn from qualifying purchases. *