Welcome to the 529th Metamorphosis Monday!
Back in 2015 when I first started traveling, my very first trip was for a safari in Kenya. In reading about what one should pack for a safari, a hat was always right at the top of the list of recommendations, particularly a Tilley hat.
I found one on Amazon that I really liked. The ribbon around the crown of the hat made it feel more feminine than the other safari-style hats I had seen.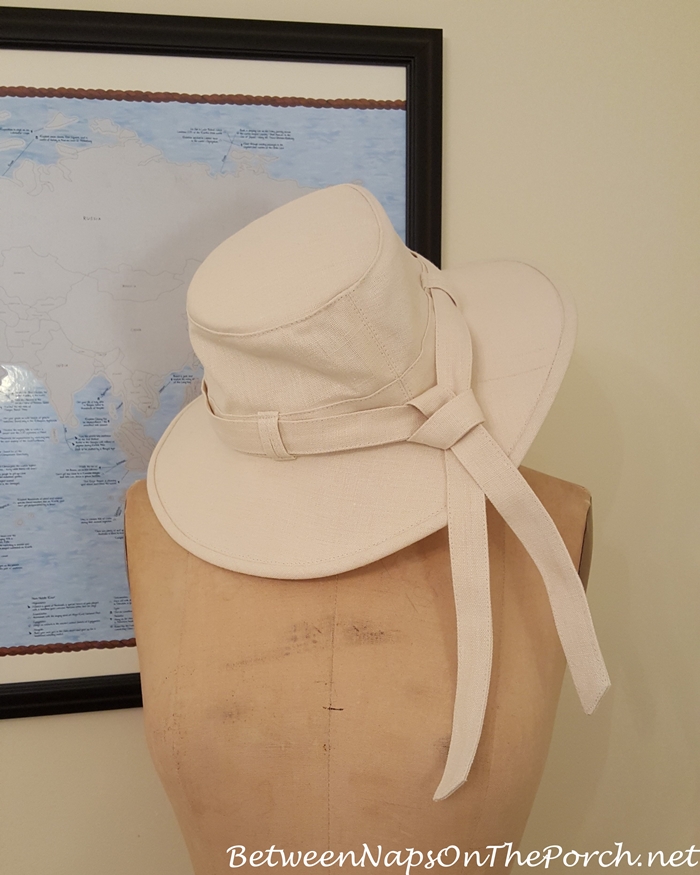 I especially loved how the ribbon could be changed out for a different color when wished. It seemed the perfect hat for a safari! (This hat is still available here: Hat.)
I was so proud of my new hat, I didn't pack it inside my suitcase for fear it would get crushed, that was definitely a newbie mistake. Unfortunately, my brand new hat never made it to Africa. I left it in the overhead bin on an Air France flight after a nice gentleman offered to get my carry-on suitcase down for me. He apparently didn't see the hat and I forgot it was up there until just before boarding my connecting flight to Kenya.
After losing my brand new hat before I'd ever even had a chance to wear it, I decided the next time I traveled with a hat, it was going inside my suitcase. I wasn't going to make that mistake again!
Over the years I've added a few more hats to my little hat wardrobe.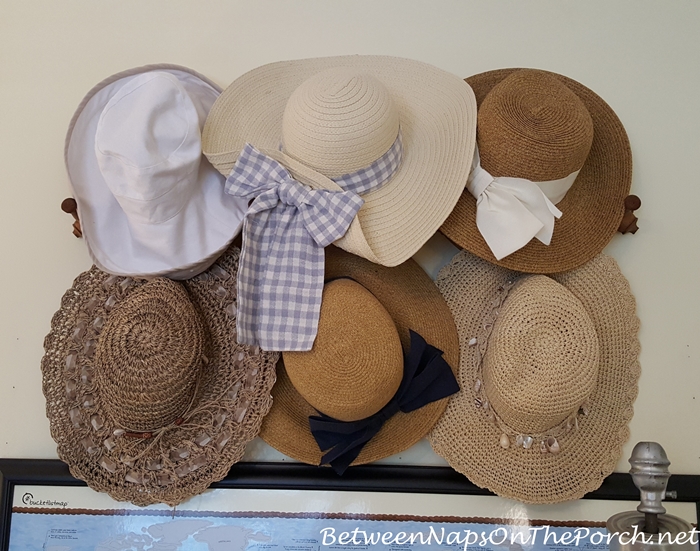 I found a vintage hat rack on Etsy that was just right for storing and displaying them.
I hung it (and the hats) here in the office above my bucket-list travel map. I purposely hung it down low enough that the hats would just slightly overlap onto the map. Travel and hats just seem to go together in my brain. (Travel map can be found here: Travel Map.)
My favorite hat of all the ones I've purchased for travel has been this one. I initially purchased it with a cream bow thinking it would go with any outfit, casual or dressy.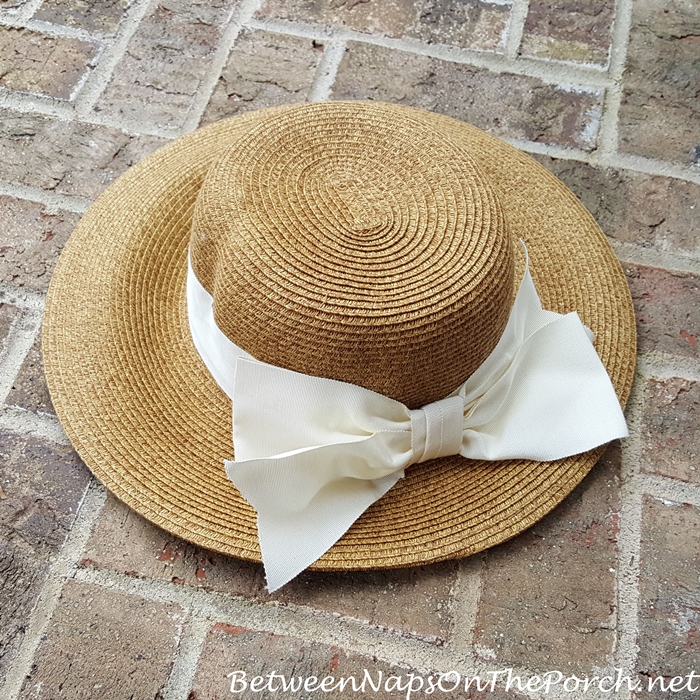 I also really like that it's made right here in the good ole USA.
Later I purchased it again, but with a navy bow.
If you saw my post on Saturday, you know they've just released it with a pink bow! Gasp! I'm hooked on the color pink right now, so I had to order it with the pink ribbon/bow before they were all gone. I have no doubt they will go quickly. (It's available in four colors (Black, Cream, Navy and Pink) here: Hat with Bow.)
How I Pack a Hat When Traveling
Ever since losing my Tilley hat on that fateful Air France flight, my hat goes INSIDE my suitcase when I travel. Hand-carrying it was never a good idea, we have enough to keep up with when traveling without having to worry about a hat!
Though this hat is super durable and can take a good squishing and bounce back, I've found a really good way to pack it that ensures it will make the trip without any damage and can be worn right away upon arrival.
I start by stuffing the crown with socks or underwear. Normally I use underwear since my socks are usually tucked down inside the shoes/boots/sandals I'm taking along to ensure they keep their shape, but for today's demonstration I'm sparing you underwear views and we're going with socks. 😉
Once I have the crown of the hat filled up with underwear or socks (a scarf would work, too…really anything works) I turn the hat right side up and place it in the center of my suitcase.
This is the large suitcase I use on my trips, the one that always gets checked. It has a couple of bars running through the bottom, as many suitcases do. If you would like to further protect your hat, you could place your PJs or some other article of clothing in first for a bit of cushioning underneath, then place your hat on top.
Once I have my hat in the center of my suitcase, I pack my clothes around it. For this demonstration, I'm using sweaters since that was faster than folding up and packing a bunch of summer shirts/slacks.
So in the end when your suitcase is all filled, your hat takes up virtually no space since you have clothing inside the crown and more clothes all around. You can pack clothes right on top since the crown is filled out and won't crush down under the clothes.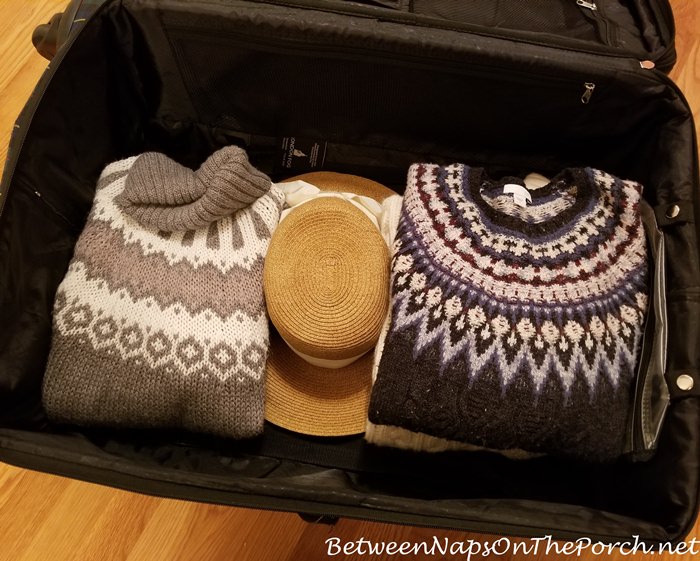 This hat is so travel-friendly, you could probably just lay it on top of all your clothes once you've finished packing, and I think it would still bounce right back to life upon arrival at your destination. But since this method works so well and doesn't take up any space, it's my preferred method for taking along a hat whenever I travel.
Hope you find this helpful for your next trip to a sunny destination! Almost time for a beach trip!
Pssst: You'll find Between Naps on the Porch on Instagram here: Between Naps On The Porch on Instagram and on Facebook here: Between Naps On The Porch on Facebook.
Metamorphosis Monday
Metamorphosis Monday is a party that's all about Before and Afters. If you are participating in Met Monday, please link up using the "permalink" to your MM post and not your general blog address. To get your permalink, click on your post name, then just copy and paste the address that shows up in the address bar at the top of your blog, into the "url" box for InLinkz when prompted.
In order to link up, you'll need to include a link in your MM post back to the party so the other participants will have an opportunity to receive visits from your wonderful blog readers.
Feel free to link up Before and After posts that are home, gardening, decorating, crafting, painting, sewing, cooking, fashion, travel or DIY related. Please do not link up to the party if you're only doing so to promote/sell a product.
To those linking up, if you notice a shop or online store linking up to sell products (yes, unfortunately, that happens) please let me know so I can remove their link and block them from participating in future parties. No one wants to visit a link expecting a Before and After, only to find a spam link to an online business/store.
This party has ended, click button below for the links to all who participated.
*If a post is sponsored or a product was provided at no charge, it will be stated in post. Some links may be affiliate links and as an Amazon Associate, I may earn from qualifying purchases. *