My love for a two-story porch started the day I was on a home tour in Grant Park (Atlanta) and I walked out onto the top porch of this home. I know the trees kind of look like they are obstructing the view but it didn't feel or look that way on the porch. Instead, it felt as if we were in this magical place, high above the world. We could see all the way down the street both ways, as well as across the street. The porch felt private and secluded, yet open.
Remember when you were a kid and you climbed up in a tree. You sat there on your perch watching as everyone walked by underneath, totally unaware you were up there looking down. Yeah, just like that, only a lot more comfortable. 🙂
It left a huge impression on me that day and I've never looked at two-story porches quite the same since.
Right across the street was this beauty with multiple two-story porches. Porches were big during the era these homes were being built in Grant Park. Air conditioning kind of killed the porch but thankfully it's making a comeback.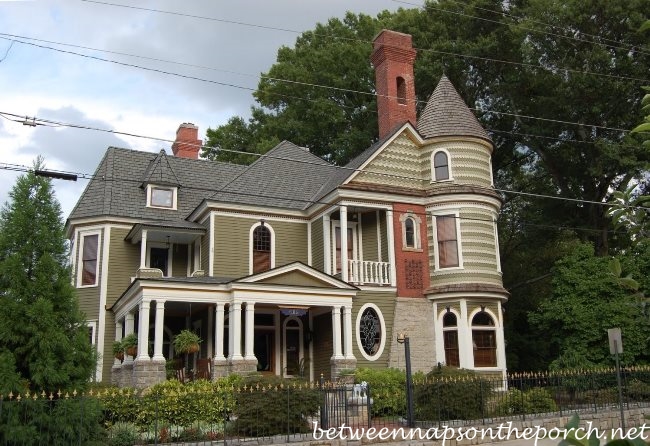 My fave two-story porch on this home was the one on the side. It was on the tour a few years later so we got to see all the porches up close. Again, when we walked out onto the porch it felt secluded and magical, a hidden spot far away from the rest of the world. I seem to keep wanting to escape this world, don't I?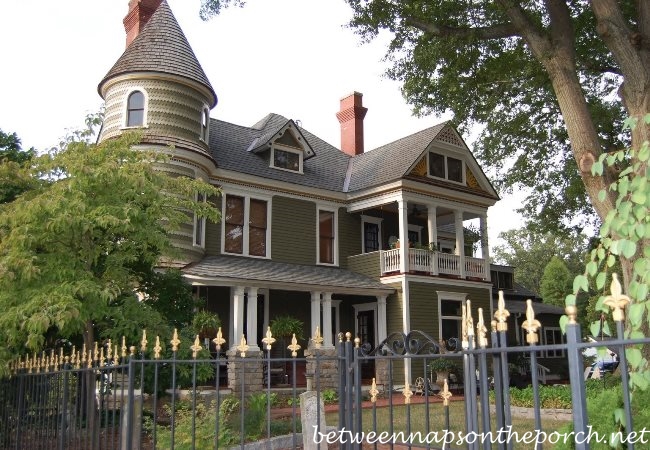 Recently, I posted this amazing makeover for a Metamorphosis Monday. This was the "before" picture.
And this was the beautiful "After." (If you missed that post, you'll find it here: Beautiful Porch & Deck Additions
Seeing this wonderful transformation and that delicious way-up-high porch reignited my passion for two-story porches.
I've snapped a lot of pictures of double-porches over the years. Remember this Greek Revival we toured in Cave Springs, Georgia here: Tour this 1840 Greek Revival
Loved the double-porches on all four sides of Houmas House.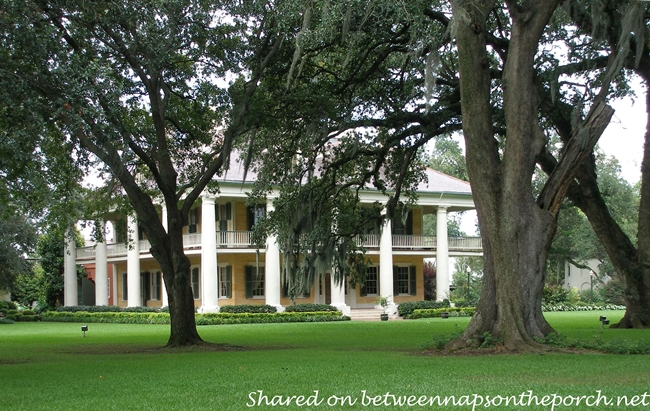 Really pretty when it's all lit up at night. You'll find more pics of Houmas House Plantation here: Houmas House Plantation and Gardens
I haven't shared this picture before. It's a beautiful home I came across on one of my trips down to Macon, Georgia. I pulled over on the side of a busy road just long enough to snap this pic. Look at those French doors on both levels! Imagine throwing them all open for the fresh summer breezes.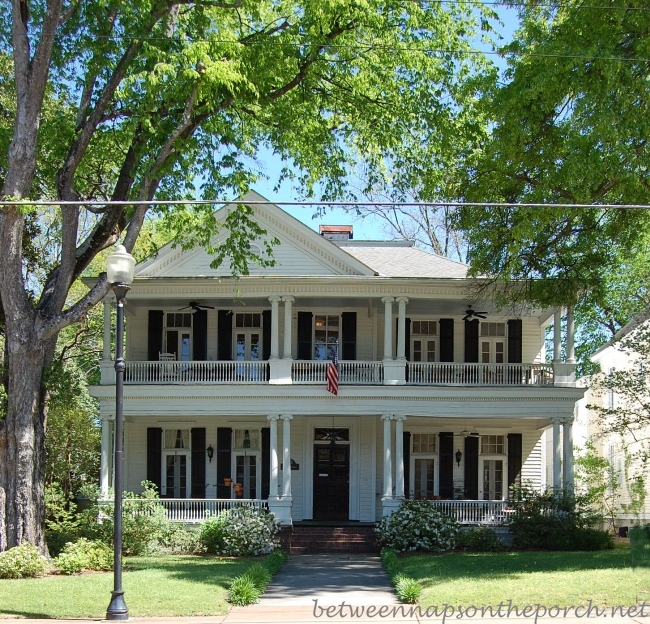 One of my fave houses in Marietta, Mockingbird Hill, has a double porch. Isn't that the cutest name for a house? We saw it on Marietta's Pilgrimage Home Tour in this post: Christmas Historic Home Tour in Marietta, Georgia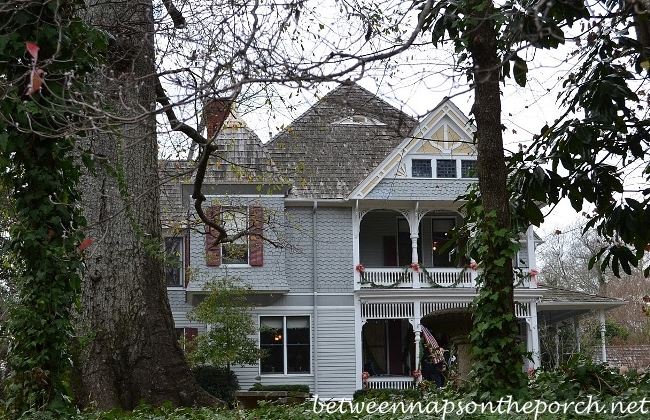 We saw this house with its big double porch on the Savannah tour of homes here: Historic Home Tour, Savannah Georgia Love how they painted the ceiling "haint blue."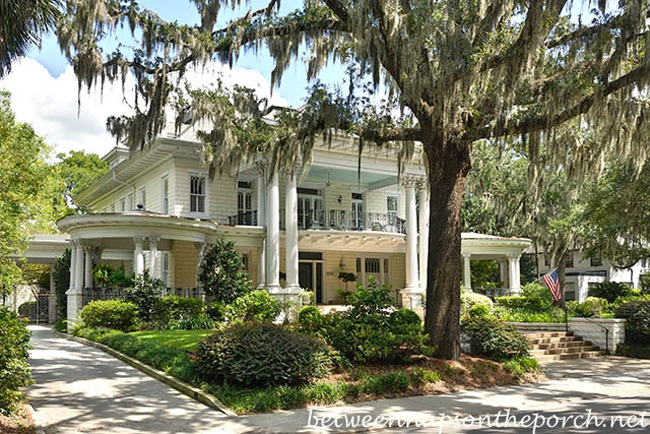 There are lots of homes with two-story porches in the Isle of Hope just outside Savannah, Georgia. The next four homes are all from that tour.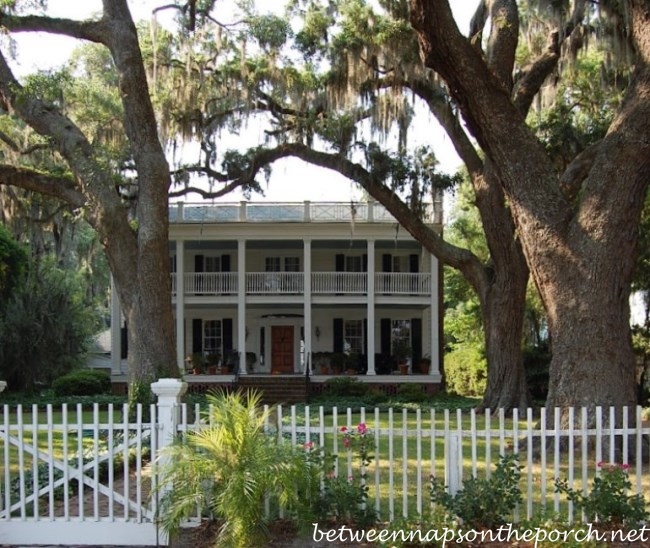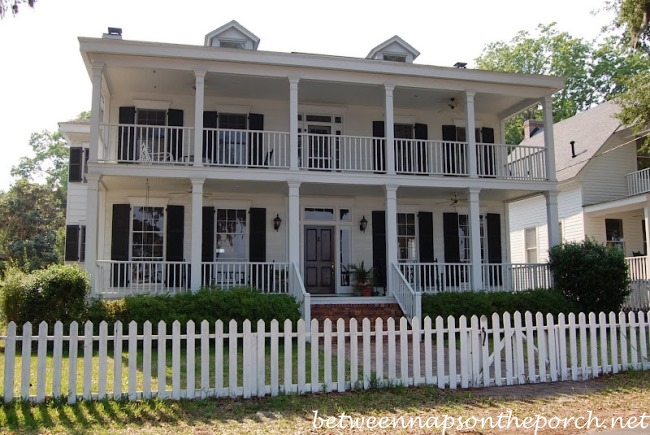 This house has 4 porches and all are on the front where they can catch the breezes from the Isle of Hope harbor across the street. There's an open-air porch, a 2-story porch and a screened in porch below for those days when the bugs are biting. There's an open porch or sundeck area for sunbathing. And there's a front porch where guests can stand out of the rain when visiting. What a great design! You can satisfy all your porch desires with this design.
Remember the movie house tour we took of the movie, The Burbs starring Tom Hanks and Carrie Fischer. This was the house where the main character, Ray (played by Tom) lived. Whenever I see houses with sun decks like the one above in Isle of Hope, I think of Ray's house in The Burbs. Why?
This scene. It would be kind of neat to have a porch like that although I doubt this one meets code with that super low railing.
When I replaced my yucky, old, seen-better-days deck with a screened in porch 5 years ago, I really wanted to create a double screened porch. I don't think it would have cost that much more but I never did pursue that notion. Later, I came across a home on a Georgia Trust ramble that kind of resembled what I had in mind.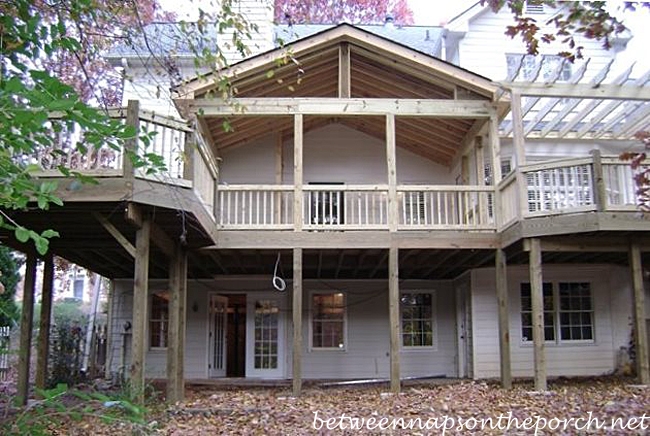 It was on the back of this home, Colonial Heights, a Plantation home in Cave Springs, Georgia. (Tour can be found here: The Georgia Trust Historic Home Tour and Ramble)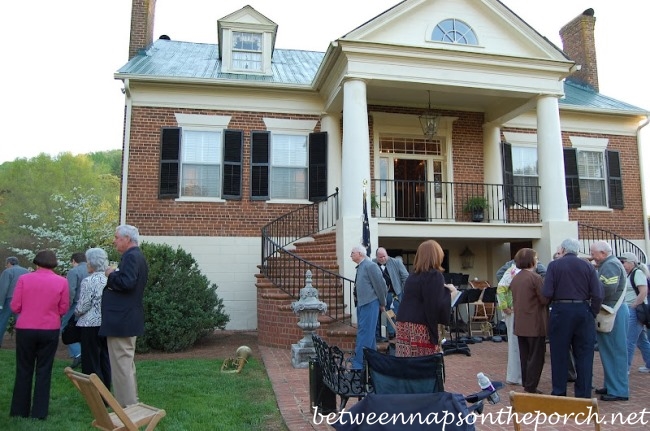 This is the back of Colonial Heights. Neither the lower nor upper porch are screened, but I do love the double porches.
I especially liked the no-maintenance, carefree, brick floor on the lower porch. This is kind of what I had in mind for the lower level of my home, if I had finished out that area. Not sure if I would have screened-in the lower level or not, but it would have been nice for throwing open the French doors on the terrace level.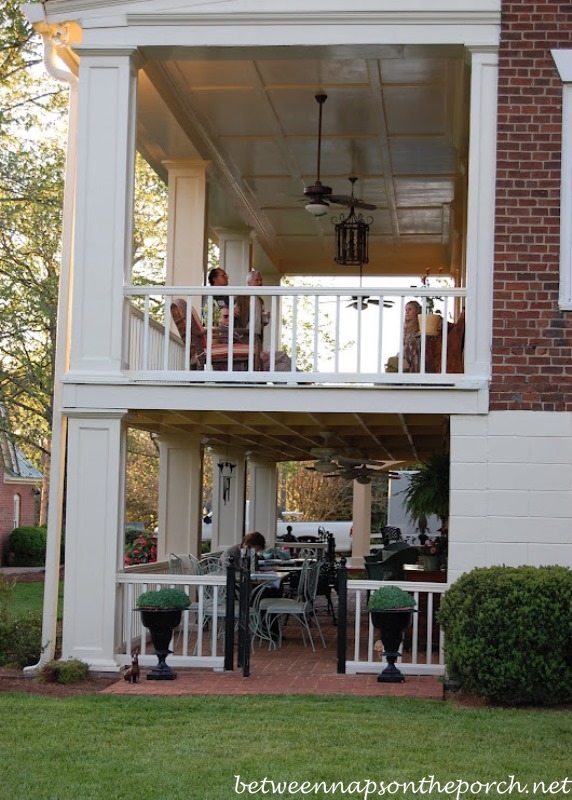 What do you think about double porches or two story porches? Have a memory of being on one that you especially loved?
Pssst: I post almost daily to Instagram. Follow Between Naps on the Porch on Instagram here: Between Naps On The Porch.
Porches shown in this post are from the following home tours:
Houmas House Plantation and Gardens
Christmas Historic Home in Marietta, Georgia
Historic Home Tour in Savannah, Georgia
The Georgia Trust Historic Home Tour and Ramble
*If a post is sponsored or a product was provided at no charge, it will be stated in post. Some links may be affiliate links and as an Amazon Associate, I may earn from qualifying purchases. *