Welcome to the 582nd Tablescape Thursday!
This is the table I'll be setting up for Thanksgiving this year. My grandsons, ages 3 and 5 will be here for Thanksgiving but won't be here for Christmas, so I want to do something fun for them.
They've never really watched the movie, Christmas Vacation, since they aren't quite old enough. They could probably watch it if we skipped past some of the parts where the language is a bit rough. They need a "kiddy" version of that movie that doesn't have any bad words. lol
Even though they haven't seen the movie, I still think they'll enjoy this table setting, especially since they love the moose mugs I gave them either last Christmas or the Christmas before…forgot which. I just ordered two more since the only ones I have here are glass. The two I ordered for them are non-breakable. (Non-breakable version is available here: Moose Mugs.)
For this week's Tablescape Thursday, I set a more traditional Thanksgiving table.
Of course, you know I had to bring out my recently acquired, Mr. Pheasant.
I'm not sure Mr. Turkey is happy about being replaced for Thanksgiving! We'll have to bring him back out next year. lol
In the meantime, Mr. Pheasant is taking center stage in today's table setting. I just noticed he's currently on sale for a shockingly good price! You'll find the sale here: Thanksgiving Pheasant.
The sale makes me want to buy a second one! Two would be so pretty displayed on either end of a long sideboard!
He's surrounded by fresh magnolia leaves from my magnolia tree and nandina berries from the nandina bushes growing in my backyard. Those things grow like weeds, I need to get out there and do some heavy trimming sometime in late winter or early spring
Mr. Pheasant is sporting a berry wreath in autumn colors for today's festivities. He can also be a vase for a beautiful floral arrangement.
I thought about using a tablecloth for today's table, but I love the look of the chargers and other pieces contrasting against the dark wood of the table.
The pumpkin soup tureens are from Pier 1, several years back.
Spode Woodland is my favorite dinnerware for Thanksgiving. The salad plate that came with this china depicts a grouse. I purchased this set many, many years ago in Macy's, then added the turkey salad plates about 6-7 years ago. The flatware is Towle, King Richard.
Just for fun, I pulled out my silverplate duck knife rests. They were purchased on eBay many years ago. Last night I was reading about knife rests and how/when to use them. What I read said that during a particular course of a multi-course dinner, you rest your knife when needed on the edge of your plate. Knife rests are only used between courses.
A knife rest gives you a place to lay your knife as you await the next course, instead of placing it on the table or tablecloth where it could leave a stain. One photo I saw had the knife laying on the knife rests with the dinner fork turned upside and resting across the top of the knife.
This is the dinner plate in the Spode Woodland pattern. I love this Spode pattern so much, I could easily use it all fall and winter and never get tired of it. You'll find this beautiful pattern currently on sale here: Spode Woodland. It's also available here in some of the other Woodland patterns. Spode Woodland. I love them all!
The charger plates are from Horchow online back in 2008. I hadn't started blogging when I purchased those, but was doing a lot of entertaining back then.
Water/tea glass is Waterford and the pattern is Araglin. The ruby hock wine glasses are also, Waterford. I wish I had purchased 12 and not just 6 when bought these because they are no longer being made.
I also brought out my little salt cellars and the tiny Towle King Richard spoons to go with them. I haven't set a table like this in ages. If I were having an actual dinner party right now, I would have added the leaf to the table and used the bread plates that go with this dinnerware. Since I didn't add the leaf, I left them off today since it would have been a bit too cozy.
I couldn't get over these silverplate candle holders. I've been storing them in Hagerty Holloware bags that are supposed to prevent or drastically slow tarnishing, but I expected to find some tarnish when I took them out. Surprisingly, they look great! I didn't have to polish them at all before setting the table. Love that!
I have them in several sizes. I think the size I purchased for the candlesticks was the 9 x 12 size. You'll find them in several sizes here: Hagerty Holloware Bags.
View of the table from the other side of the dining room.
Happy Thanksgiving to you a bit early!
A view with the chandelier turned way down…
Looking forward to all the beautiful tables linked for this week's Tablescape Thursday!
Pssst: Did you know Between Naps On The Porch is on Instagram? I would love to have you follow me on Instagram here: Between Naps On The Porch AND here: Under Moonlight and Magnolias.
Like to know when a new blog post is up and available to read? Subscribe for email updates, it's free and your email will never be shared.
Subscribe here: Subscribe for free post updates via email here: Subscribe.
Tablescape Thursday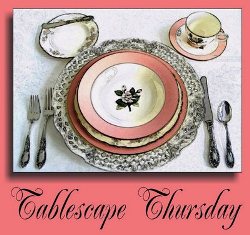 If you are participating in Tablescape Thursday, please be sure to add your permalink below, and not your general blog address. To get your permalink, click on your post name, then copy and paste the address showing in the address bar, into the "url" box when you link up.
You'll need to include a link in your post back to the party to link up and participate. That's so visitors to your blog will be able to find the party and the other Tablescape Thursday participants. Requiring a link back also prevents scammers from linking up to sell their products. Please let me know if you click on a link and find it isn't a tablescape or table related so I can remove it.
This party has ended, click button below for the links to all who participated.
*If a post is sponsored or a product was provided at no charge, it will be stated in post. Some links may be affiliate links and as an Amazon Associate, I may earn from qualifying purchases. *