Welcome to the 476th Tablescape Thursday!
Thanks so much for all the wonderful suggestions yesterday regarding where to shop for a Christmas tree. I am going to check them all out over the next few days. I'll be sure to let you know what tree I end up buying.
All this talk of Christmas trees has me dreaming of Christmas. Years ago, we used to collect Department 56 houses. I still have them all, though I haven't put them out in recent years. Since I haven't been putting them out on display (I really should!) I hadn't planned on adding any new ones to my Snow Village collection.
But then I came across these adorable moose mugs, just like the ones seen in the hilarious Christmas movie, Christmas Vacation. Last Christmas I purchased four for myself and four for my son and his family. This year I added two more to my collection. Moose Mugs are available here: Moose Mugs. You'll find the non-glass version I purchased for my two grandsons here: Moose Mugs.
Then I came across Margo and Todd's house in A Classy Flea for just $10! The fates were conspiring against me, whispering in my ear that I NEEDED to do a Christmas Vacation table setting. I certainly didn't need much of a push since the movie has been a favorite in our family for many years.
We're back in the dining room for this week's table. Red walls just seemed like a great back drop for a Christmas table. I couldn't decide which pictures to leave out, so this post is pretty photo heavy. Hope you enjoy!
These Santa plates purchased in HomeGoods many years ago, have always been a favorite of mine for Christmas. I just love this Santa's sweet face.
Here's a close up from a previous Christmas setting, taken in natural light coming in through the window. ♥ The Santa Plates are hallmarked: CR Christmas Collection "Old Saint Nick."
The dinner plate is by David Carter Brown, pattern is "Christmas Valley." The tartan charger and tartan salad plates are available here: Plaid Charger Plates.
They are the same tartan plaid seen here in my winter bedding available here: Tartan Bedding. I do love this red and green tartan pattern!
The little white specks are from a major snow storm last night. It brought with it a fierce wind that blew the snow right over onto the napkins and flatware. 😉
When creating this table, you don't have to use as much snow as I did. I may have gotten a wee bit carried away! lol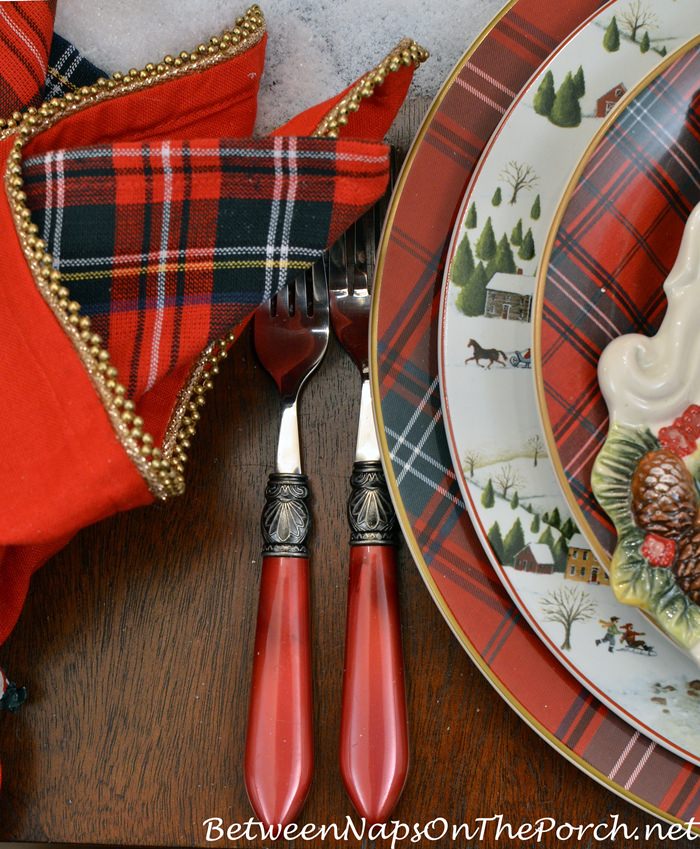 Ho, Ho, Ho! ♪♫
Can't remember where I found these "HO" napkin rings, have had them for many, many years.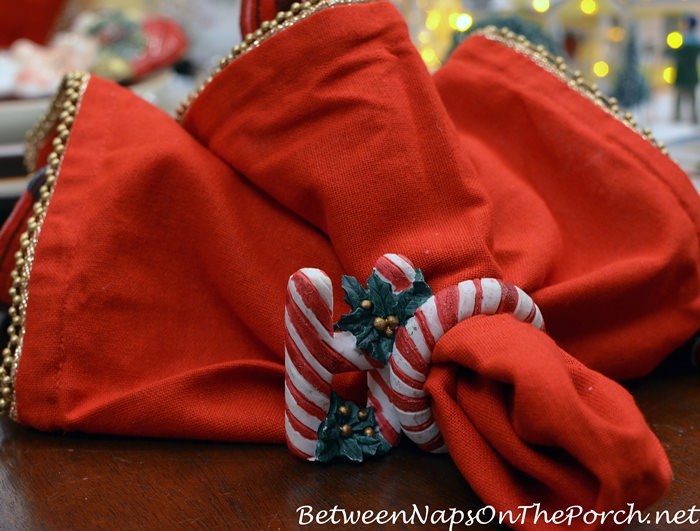 Clark has done it! He's finally succeeded in getting the lights to work and his house is a blazing inferno for Christmas!
Remember that scene in the movie when his power meter is spinning around and around at warp speed, while the rest of city suffers a complete black out?! lol The power company has to throw the emergency switch to their backup power source, all because of Clark's lighting extravaganza! 😉
I hid all the cords with snow. This is the snow I used here: Faux Snow. It's my favorite because it looks so real! Plus it's not wet, so you can use it on wood surfaces. Love that!
I handled the cords the same way I've done in previous tables by leaving a very tiny crack where the two leaves of the table come together, then ran the cords down through the crack where they are plugged into one extension cord that runs out to the outlet behind the sideboard. (See how that's done in this post: Create a Lit Centerpiece for a Table Setting.) I didn't take time to tape that one cord down to the floor, but that's what I would do for a dinner party.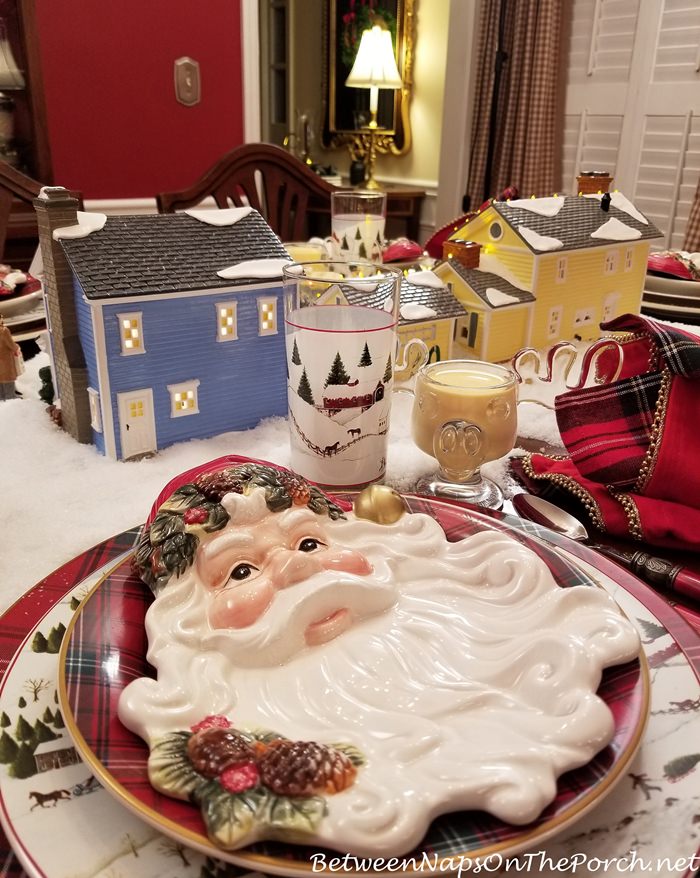 That method also worked great for this Christmas table setting created many years ago: Christmas Table with Dept. 56 Centerpiece.
Santa's view from his sleigh…
The Griswold home is available here: Griswold House. You'll find all the Christmas Vacation lit houses available here: Christmas Vacation Lit Houses. That's where I purchased all the pieces in my collection, except for Margo and Todd's home found last year while antiquing.
Added the woody car last year. I love keeping it on my desk during the Christmas season because it makes me laugh every time I see it. 🙂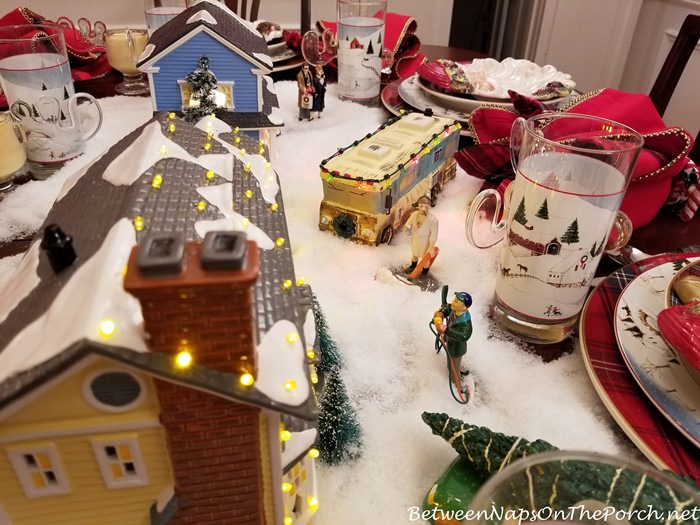 There's Cousin Eddie!
He's at it again, dressed in his bathrobe, beer in hand, emptying his RV's holding tank directly into the sewer in front of Clark's home. Ha!
Margo and Todd have just arrived home from doing a little Christmas shopping, and I don't think they are too thrilled with the smell that's wafting toward their home!
They aren't going to like the little surprise waiting for them in their upstairs bedroom, either!
Clark was a bit careless when he cut down a tree in the yard after their first Christmas tree went up in flames!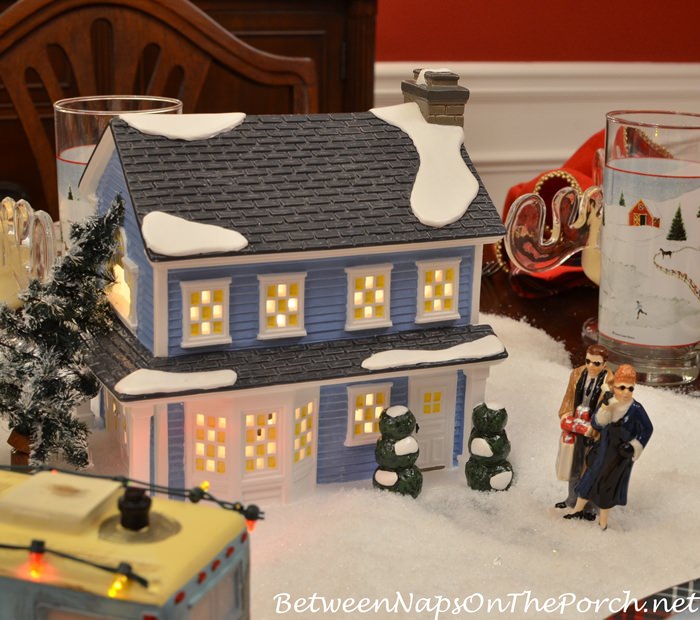 This has to be one of Department 56's best collections! I just love all the lights on Clark's home and Eddie's RV!
The lights have three settings: one where the house is lit inside, another where all the lights on the exterior are lit as well, and a third where the exterior lights are flashing like crazy. 🙂 I also added the garage this year, you can see it there to the right of the house. It's available here: Garage.
Todd and Margo's house lit at night…
Hope you enjoyed this holiday table setting! It was sooo much fun to create! You know I'm never going to grow up–you know that, right? 😉
Looking forward to all the beautiful tables posted for this week's Tablescape Thursday!
Pssst: I post almost daily to Instagram. Follow Between Naps on the Porch on Instagram here: Between Naps On The Porch.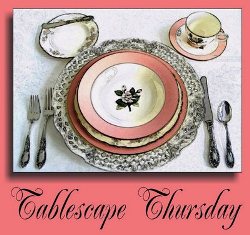 If you are participating in Tablescape Thursday, please be sure to add your permalink below, and not your general blog address.To get your permalink, click on your post name, then copy and paste the address showing in the address bar, into the "url" box when you link up.
You'll need to include a link in your post back to the party to link up and participate. That's so visitors to your blog will be able to find the party and the other Tablescape Thursday participants. Requiring a link back also prevents businesses and scammers from linking up to sell their products. (Yup, that really happens, unfortunately.)
*If a post is sponsored or a product was provided at no charge, it will be stated in post. Some links may be affiliate links and as an Amazon Associate, I may earn from qualifying purchases. *