Welcome to the 753rd Metamorphosis Monday! Have you ever had something annoy you for a long time, then one day that final straw hits and you realize you have to do something to fix it, or at least find something that works better? That's what finally happened to me with these super annoying tape dispensers I've been using for ages. The red one normally lives in the basement and I have another one just like it that I keep in the garage. I use the one in the garage the most, sealing up packages before putting them in the car for a trip to the post office or UPS.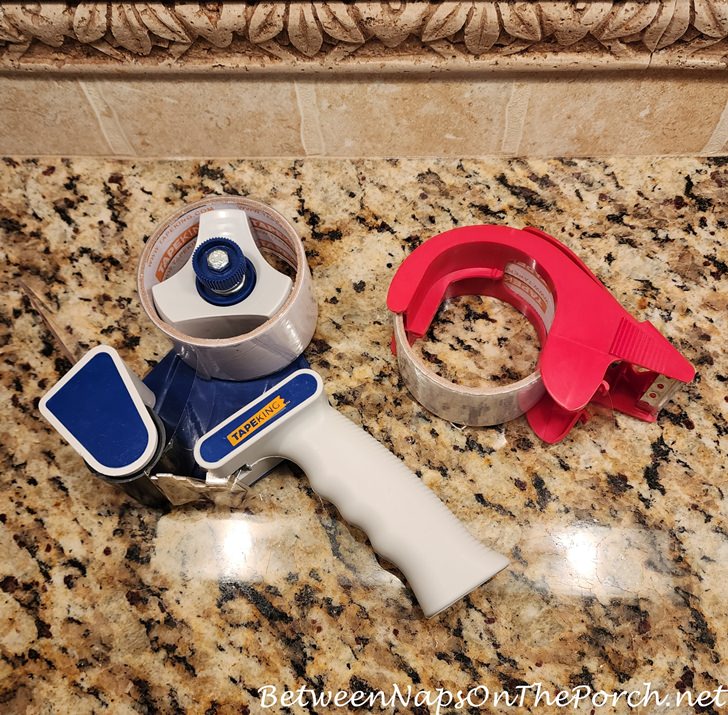 I keep the blue one with the handle in my office, another spot where I often seal up packages for mailing. Both of these dispensers drive me bonkers! Not sure how it happens, but the tape seems to forever be getting loose from the cutting area and sticking back down to itself where it ends up tearing into narrow strips when I try to disengage it. Argggh! Definitely an exercise in frustration!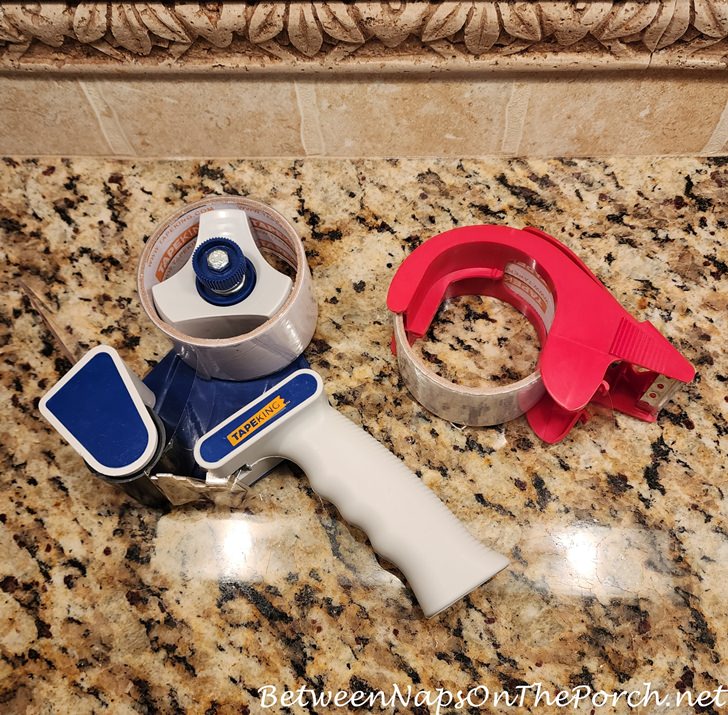 As I was taking these photos, I noticed the tape on this one has managed to stick down to itself again. That means wasted tape the next time I want to use it since I'll have to tear that section off. That's at least better than when it comes entirely loose and I have to try and unstick it from itself on the roll. That is the worst!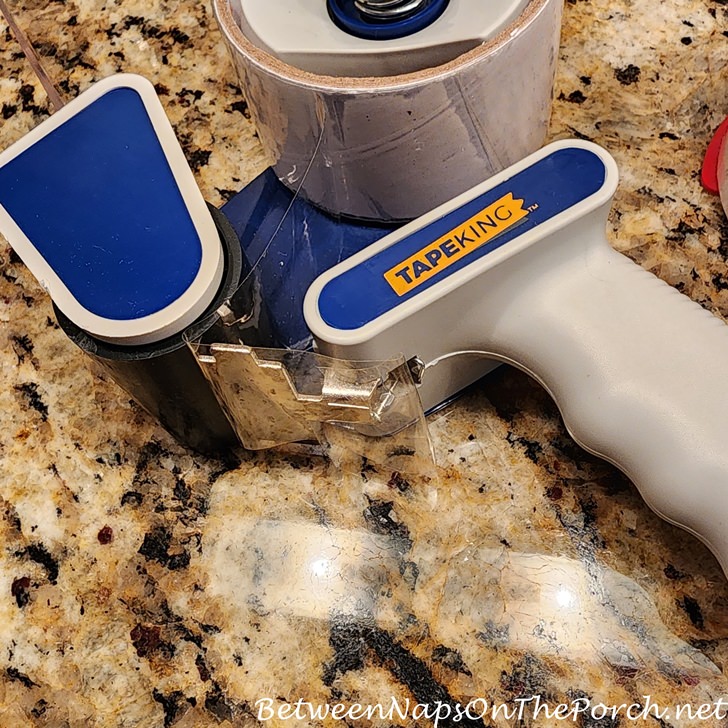 A few weeks ago, I decided to look and see if anyone had made a dispenser for packing tape that functioned more like a normal tape dispenser. I was delighted to find someone had and immediately purchased it. I placed it here in the garage atop my tool chest where I so often need tape for sealing up packages.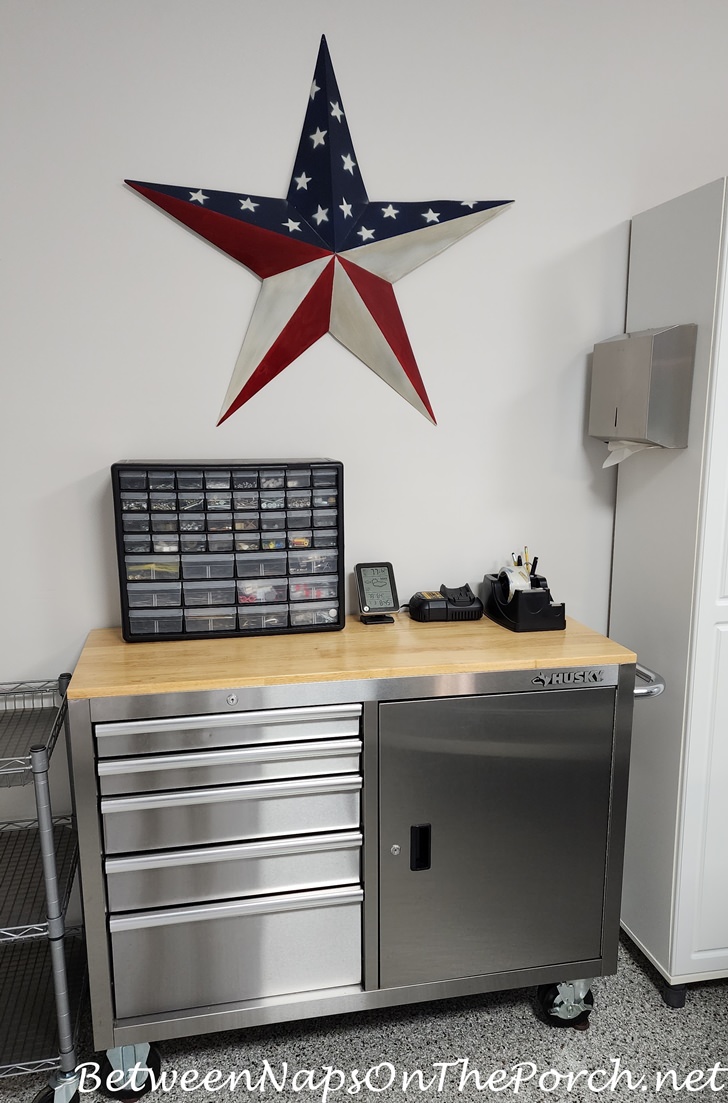 I'm happy to report that it works perfectly! I can't tell you how much better this is than the old dispenser I was using–it's like night and day!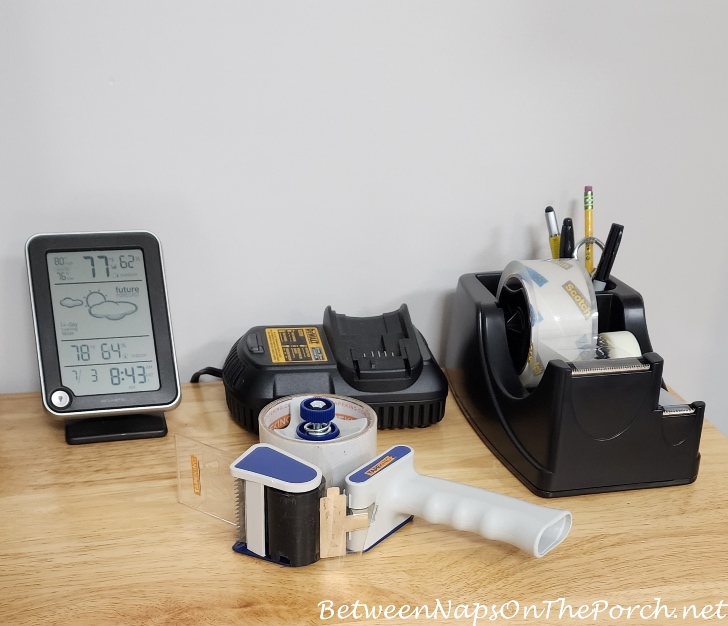 This dispenser is weighted down, so when you pull off a big piece of tape, it doesn't budge. I also really like how it's designed to hold regular-size tape, too. There's a little section toward the back that's perfect for holding scissors or pens and markers for addressing packages. This tape dispenser is available here: Best Tape Dispenser I've Ever Used. This is the tape I purchased to use with it: Heavy Duty Tape.
I LOVED this tape dispenser so much after it arrived, I immediately purchased a second one for the basement. If I can find a good spot for one in my office, I may order a third one–that's how much I love this thing! I could kiss the person who invented it!
Important Tip: When you insert a roll of tape into the dispenser, press firmly down and forward until you hear the little tape wheel (that the tape goes on) snap into place. There's a tiny, white sticker on the dispenser reminding you to do that, but it's sorta hidden and I didn't see it when I first added tape to my dispenser. I discovered it later and it's an important step–the tape dispenser probably won't function as well if the tape isn't locked into place. This was definitely a lifestyle improvement so had to share it! If you are beyond frustrated with the tape dispensers you've been using, you'll find this one available here: Best Tape Dispenser I've Ever Used.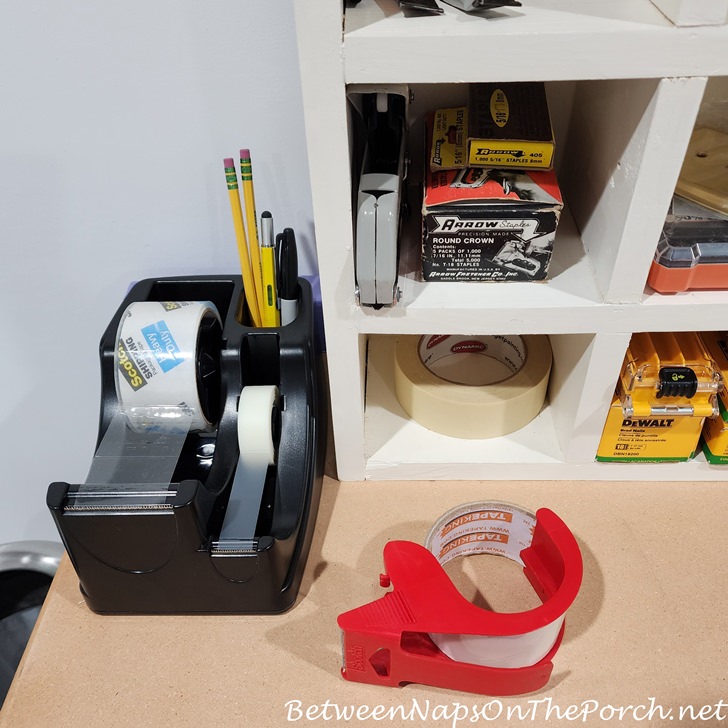 Looking forward to all the great Before and Afters linked for this week's Met Monday! Pssst: Did you know Between Naps On The Porch is on Instagram? You'll find me on Instagram here: Between Naps On The Porch. Like to know when a new blog post is up? Subscribe for email updates (it's free) and your e-mail will never be shared. Subscribe for free post updates here: Subscribe.
Metamorphosis Monday: Metamorphosis Monday is a party that's all about Before and Afters. Please link up your Before and After projects like DIY projects, room makeovers, craft projects even recipes. Please do not link up Table Settings, save those for our Tablescape Thursday party on Thursday. If you are participating in Met Monday, you'll need to link your post to the party using the "permalink" to your MM post and not your general blog address. To get your permalink, click on the name of your post, then copy and paste the address that shows in the address bar at the top of your blog, into the "url" box for InLinkz when prompted. NOTE: Please do not link up more than 3 posts from your blog. In order to link up, you'll need to include a link in your post back to the party so your readers can find the other party participants. When linking up to the party, give the InLinkz system time to find the link in your post to avoid having your link held for moderation/approval. Thanks!
You are invited to the Inlinkz link party!
*If a post is sponsored or a product was provided at no charge, it will be stated in post. Some links may be affiliate links and as an Amazon Associate, I may earn from qualifying purchases. *