Welcome to the 770th Tablescape Thursday! It has been a crazy week around here. The plumber has been here checking to see if I can move my washer connections to another wall in the laundry room for a possible future laundry room renovation, and he's coming back today for a follow-up. The roof cleaning company is also coming back today to touch up a few places that didn't come clean when they were here before. Hopefully, that will finish off the roof-cleaning job for good!
For this week's Tablescape Thursday, with so much going on, including me being away from home for part of the week, I had planned to share some of my previous 4th of July tables. (If you would like to see those for a bit of Independence Day inspiration, you'll find the table settings here: 4th of July Tablescapes and some 4th of July Decor/Craft ideas here: 4th of July Decor/Craft Ideas.)
But then I got another idea! I thought I'd attempt putting together a 4th of July table with items that are all considered "Prime" items at Amazon, thus available for 2-day delivery just in case you are looking for some last-minute inspiration for your 4th of July celebrations. The items I'm sharing are those that are 2-day delivery for my area, but if you're ordering them to use this year, double check to make sure they are available for 2-day delivery in your city/town, too. I've ordered a few of these for myself!
To start off our table, I really like this matte blue stoneware set that's just $67.99 for 12 pieces. I love the color and it would make a great dinnerware for not only the 4th of July, but really any time of year. It's available here: Blue Stoneware with Prime One Day Delivery, and free returns.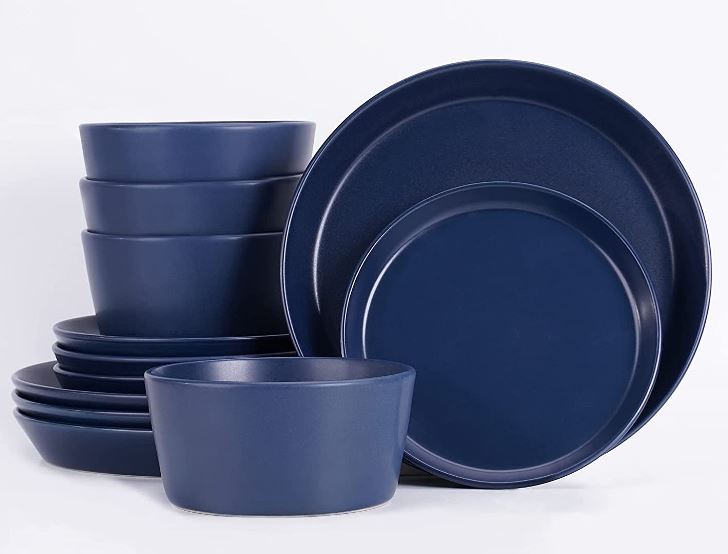 Another great choice that could also be used throughout the year is this beautiful red, white, and blue stoneware set. It's $59.99, but there's a 15% off coupon that will reduce the price to around $51 for the set. You'll find it available here: Red, White, and Blue Stoneware Set.
If you'll be dining outside or around a pool and would prefer something non-breakable, I really like these melamine dinner plates. You'll find them in sets of 6 here: Set of 6 Stars/Stripes Melamine Dinner Plates.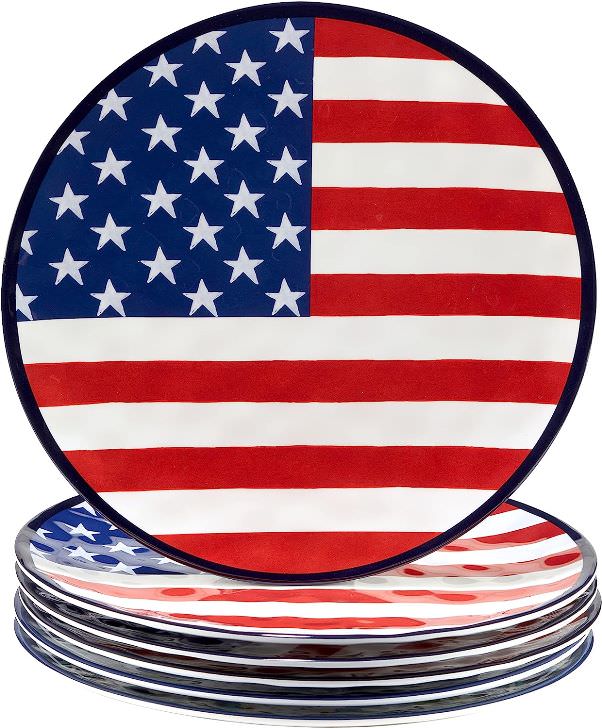 I am so excited about this flatware! Even though I already have striped/patriotic flatware, I need this set! It's super reasonably priced and so dang cute! It's perfect for a 4th of July celebration! I just ordered two sets and opted for the "Overnight" delivery, so it should be here tomorrow morning. The reviews for this set look great, too! You'll find it available here: Patriotic Flatware.
Love this table skirt! This would be especially great for an outdoor event. It's available in sets of two here: Table Skirts.
Need some colorful, patriotic salt and pepper shakers for your table? Love these! You'll find this set available here: Salt and Pepper Shaker. If you're having a big party, you may want to order a few sets.
Lots of napkin choices from which to choose! I really like these and may order a set. These are available here: Red, White, and Blue Striped Napkins.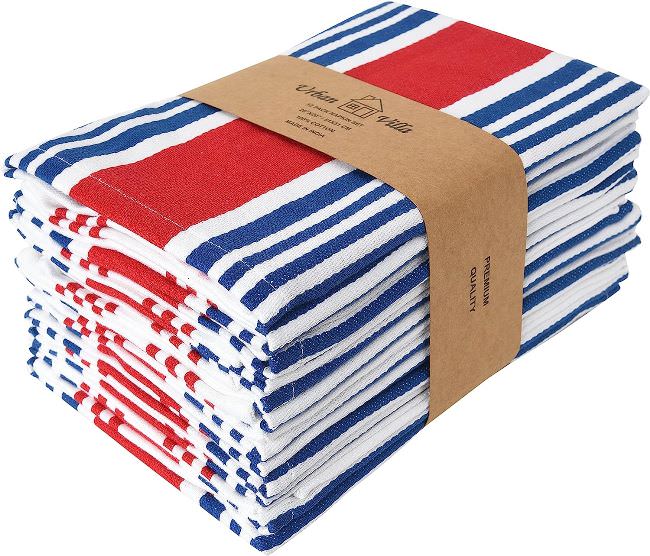 I have these and love them! They are just a bright and colorful as they appear in this photo, too! You'll find them available here: Red, White, and Blue Buffalo Check Napkins.
I just discovered these this year and love the design! You'll find these available here: Stars and Stripes Napkins.
Need a platter for serving up those hamburgers and hotdogs? You'll find this large, 13-inch glass platter on sale here: Serving Platter.
We need a centerpiece for our table. I came across these mason jar decorations and thought how much fun these would be to make! I would love to make some of these to use as votive holders! I love how they don't look perfect but have a hand-crafted feel. If you don't have time to paint mason jars this year, you'll find these available here: 6 Flag Mason Jars for a 4th of July Centerpiece.
A while back I shared some of my fun Nora Fleming serving pieces and the whimsical "minis" I've purchased for the platters over the years.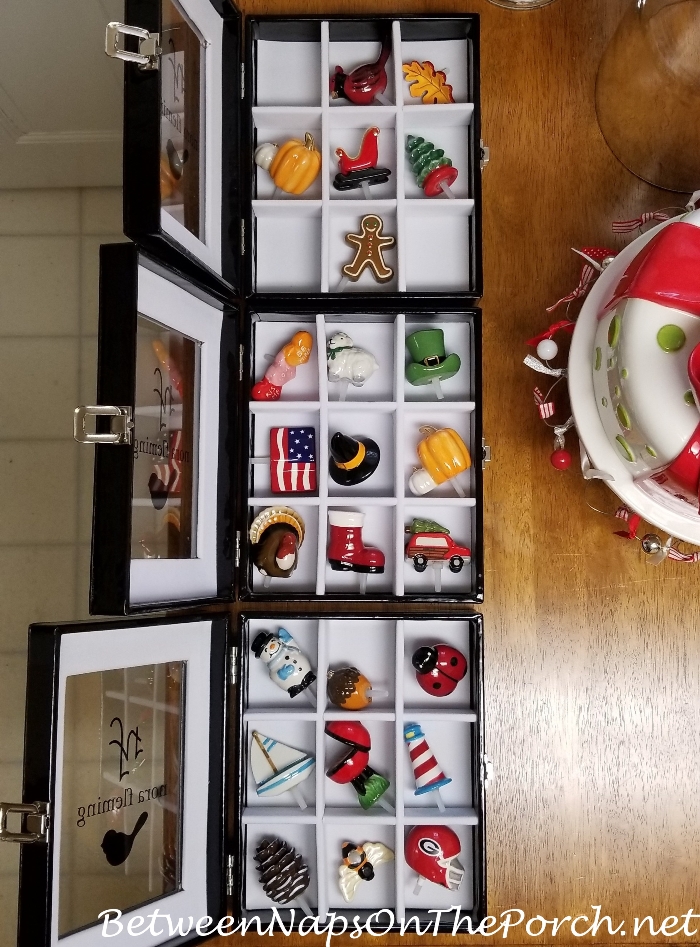 Several years back I purchased this cute "flag" mini for my Nora Fleming cake platter.
If you already have a Nora Fleming service piece or wish to purchase one, you'll find the serving pieces here: Nora Fleming Serving Platters, and the flag minis here: Hand-painted Flag for Nora Fleming Platters. There are so many cute minis–they are addictive to collect. Ha! I just ordered a baseball mitt since my grandson is into baseball these days.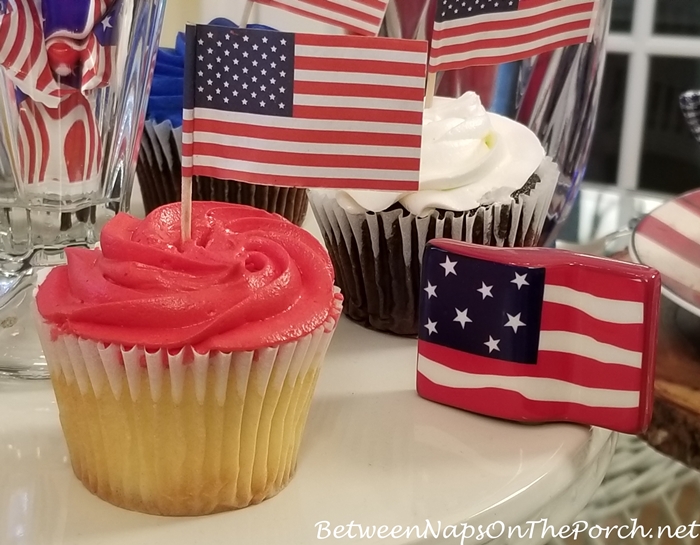 This would probably not be a great option for this year since they most likely wouldn't arrive in time, but the Warren Kimble dinnerware that I so often use for 4th of July tables is currently available "New in Bow" here: Warren Kimble Colonial Dinnerware, New in Box. I think they even have two sets! This dinnerware is no longer being produced, so if you've always wanted a set, that's a great find!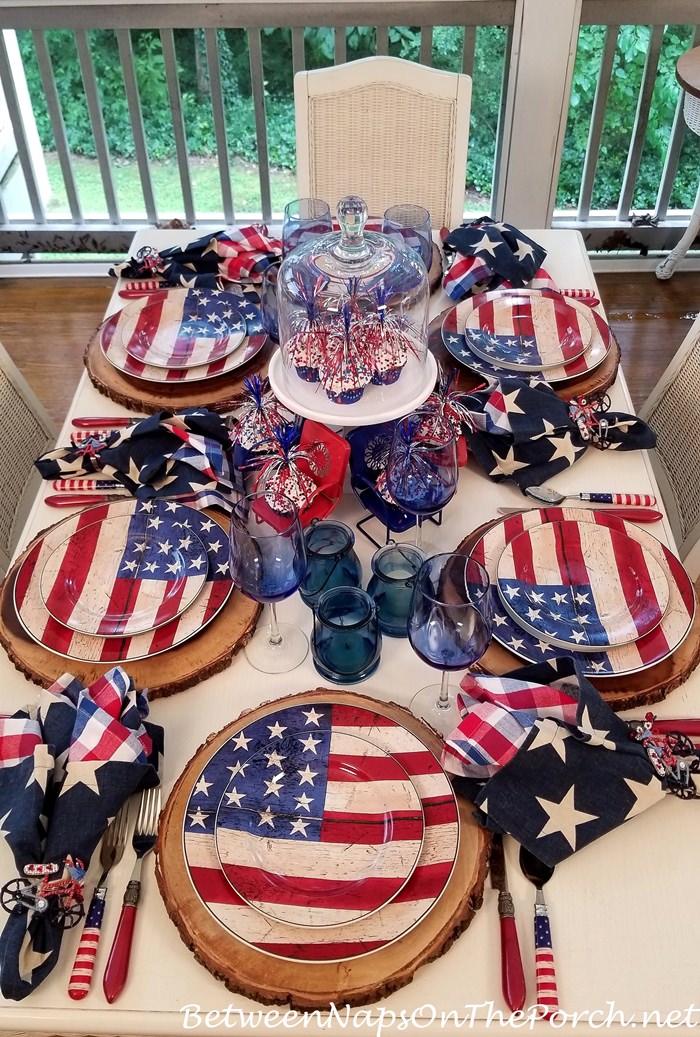 I hope you found these suggestions helpful as you prepare for your 4th of July celebrations! Happy Independence Day to our great country!
Looking forward to the beautiful tables linked for this week's Tablescape Thursday! (If you enjoyed this post, subscribe for email updates when a new post is up here: Subscribe for post updates.)
Tablescape Thursday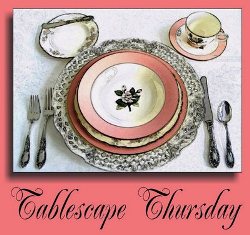 If you are participating in Tablescape Thursday, please be sure to add your permalink below, and not your general blog address. To get your permalink, click on your post name, then copy and paste the address showing in the address bar, into the "url" box when you link up. You'll need to include a link in your post back to the party to link up and participate. That's so visitors to your blog will be able to find the party and the other Tablescape Thursday participants. Please link up table-setting-related posts only for Tablescape Thursday. Please link up table-setting-related posts only for Tablescape Thursday.
You are invited to the Inlinkz link party!
*If a post is sponsored or a product was provided at no charge, it will be stated in post. Some links may be affiliate links and as an Amazon Associate, I may earn from qualifying purchases. *