Welcome to the 527th Metamorphosis Monday!
If they were giving out awards for the most botched furniture deliveries, I have no doubt I would be in the running for first place! So though I don't have a finished project to share, at least I can share a solution I have in mind for a small ongoing problem I've been experiencing.
Just off my master bedroom is a small dressing room. It was originally a bedroom but the previous owners of my home cut a big opening from the master and turned this room into a dressing area/closet space. This room is where my Peloton Cycle lives. (Pssst: If you're thinking of purchasing a Peloton bike, please feel free to use my daughter-in-law, Nancy's, referral code. You'll get $100 to spend in the Peloton Boutique and she'll get the same. Her referral code is: A8NR56.)
I love riding my Peloton cycle but I have one super annoying habit: A few times a month I hop onto the bike, get part-way into a class only to find I've forgotten something I really need like a water bottle or hair tie. When that happens, I have to either click out of the bike or remove my shoes and abandon the class long enough to retrieve whatever I've forgotten. Unfortunately, a class can't be paused once it has started, not even a previously recorded one.
This problem doesn't happen a lot–maybe a couple of times a month, but it's super annoying when it does happen. It wouldn't be so bad if I had carpet in this room, I could keep my cycle shoes on and just click out of the pedals to grab what I need that's normally just a few feet away. But since I have hardwood flooring throughout most of the upstairs, I can't walk while wearing my cycling shoes since they have cleats on the bottom and that would damage the flooring.
I decided to look for a skinny, little table that would fit behind the bike, a place to store extra water bottles, earbuds, hair ties and the other bits and bobs I occasionally need when cycling. In my search for a small table, I came across this cute console/bookcase table. It looked perfect for my needs. I could place extra water bottles on top within easy reach of the bike and keep hair ties and other items (like my wireless earbuds, remotes, etc…) inside the drawer. The shelves beneath would be great for storing the hand towels, biking clothes, etc…
(Console Bookcase is available here: Console Table and here: Console Table.)
The console table measures 39.2 inches wide, 31.5 inches tall and just 11.8 inches deep. That should fit behind the bike with no problem, but I can always move the bike another inch or two out if needed. I don't want to move the bike too far out since I want to be able to reach the table and its contents while on the bike.
Did you notice I leave my shoes attached to the bike? That's something I started a while back when I saw my daughter-in-law doing that on her bike, except I'm doing it for a different reason than why she does it. She leaves her shoes attached because she finds it difficult to click in and out of the pedals. I don't have any problem with clicking in and out, but a few months back it dawned on me that clicking in and out on a daily basis would eventually wear down the cleats or maybe the mechanism that holds the cleats to the pedal, making it necessary to replace them. I've read about that issue on the Peloton Facebook page/forums. Since I don't want to worry with that, I decided to just leave the shoes attached to the pedals.
Leaving them on the bike also solved another minor problem. I'm too short to hop up onto the seat of the bike when I wish to ride. I used to keep a little exercise step thingy under the bike to help me get on, but with the shoes already in place, I don't need that anymore. Now I get on the bike the way I imagine a rider gets on a horse: while standing alongside the bike, I place the foot that's furthermost away from the bike into the shoe/pedal on that side. After that foot is strapped into the shoe, I can easily hike myself up onto the seat. It works perfectly every time! If you ride horses, you'll get what I mean. lol
In anticipation of the arrival of the console table, I purchased this cute, seagrass basket to place on top of the console for holding water. This table will serve a practical function but I still want it to look nice. Normally, I use a refillable water bottle but these will come in handy for those times I've started a class and realize I've forgotten my water bottle.
This basket is the perfect size for a narrow table measuring 12 inches wide and only 5.3 inches in depth. I didn't want a basket that would hang off the front or back of the table. This basket will perfectly hold 8 bottles of my favorite bottled water, Fiji Water. (Basket is available here: Seagrass Basket.)
By the way, I always order my Fiji Water HERE because it's way cheaper than buying it in the store. It truly is the best tasting bottled water I've ever tried. I discovered it driving home on a long trip and I couldn't believe how good it was. It sometimes cost a little more than other bottled water but it's totally worth it for the taste.
The shelves of the console table will come in handy for holding hand towels and possibly some of my workout clothes…will have to see how that looks.
I like to use a hand towel across the handles of the bike, just more comfortable when riding.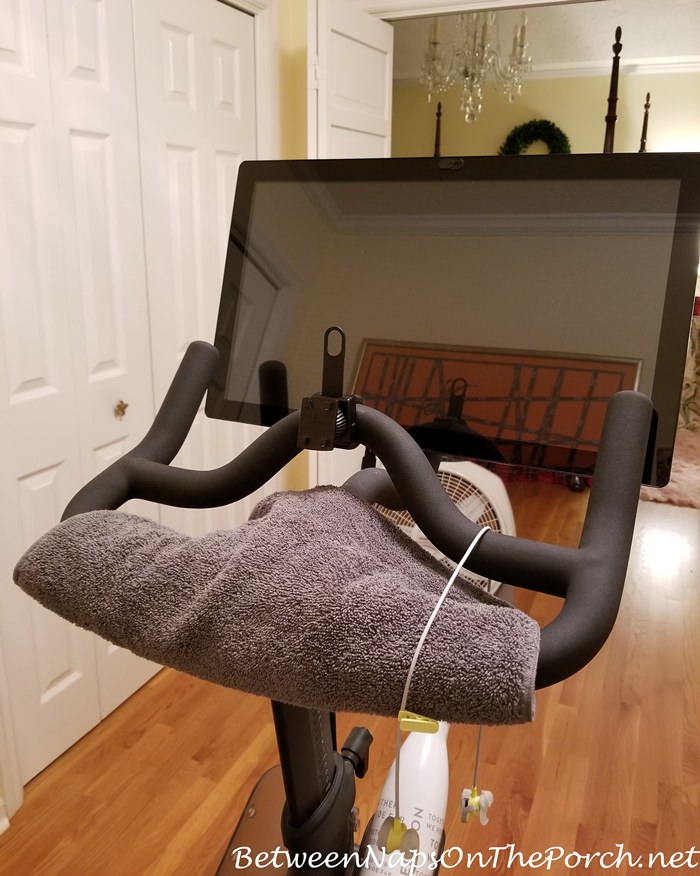 I think the drawer will be the perfect spot for storing small items…
…like hair ties and the remotes for the fan and the fun light I always run when biking to recreate that "cycle studio" atmosphere.
This is the light I use. I just replaced my old one because it periodically went into a strobe effect that bothered my eyes. This one is much better, just fun, bouncy lighting, no strobing. (Party light is available here: Party Light.) Once the table arrives and I get it assembled, the light should be able to sit on top instead of on the floor where I have it now.
So that's the current plan for this room.
Unfortunately, when the console table arrived on Friday, it was damaged. I was hoping it would be okay despite the big gash in the side of the box, but when I opened it on the end and pulled out a shelf, the shelf had a nasty dent in it. I'm not sure if the dent would have ended up on the back side of the table or the front, but I didn't want to drag everything out of the box only to have fit it all back in again if the dent did end up on the front. Besides, I have this odd quirk in my personality where if I purchase something brand new, I actually want it to be undamaged when it arrives. Picky, I know! 😉
This is giving me flashbacks to when I was sitting up all my shelving in the garage.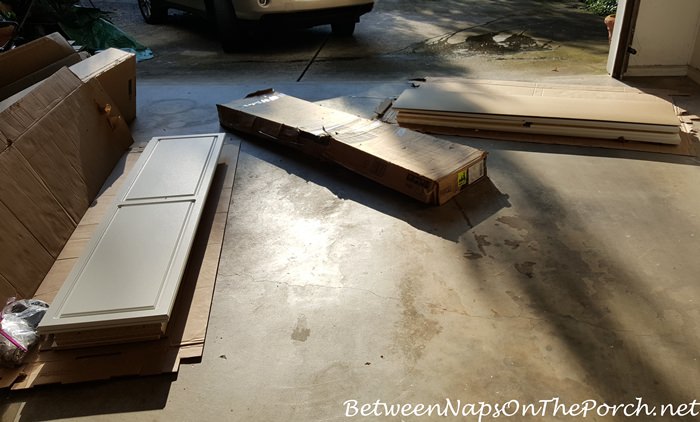 Remember all those dented and damaged shelves I kept finding inside the busted boxes UPS kept delivering when I was adding cabinet storage to my garage? The UPS delivery guy told me they didn't have the proper equipment to move such long, heavy boxes around their facility and that's why the boxes/shelves kept arriving damaged.
I didn't expect the same issue with this console table since it's so much smaller than the cabinets I was having delivered before.
But here I am again, receiving damaged furniture. So what I've done is two things: I reordered the console table from Amazon again AND I also ordered it from Walmart. I'm not sure which will come first. I'm hoping if the Amazon one is delivered damaged again, maybe I can swap out the needed parts between the two Amazon boxes to have one whole console table in the end. That's was what I did when I purchased the little bench for my closet, swapped out the damaged cushion for a good cushion when I reordered. That kept me from having to take the whole bench back apart to return it. (See that post here: Bench for Closet.)
If the Walmart console table arrives first, I will pick it up at the Walmart around the corner where it's being delivered and bring it home in the back of my SUV. You may remember that's how I finally managed to get undamaged cabinets for the garage, by ordering them from Walmart and picking them up myself at the store.
Then I can just open the box in the back of my SUV to remove all the parts for assembly since it will be too heavy to get out by myself. This method worked well last time. Then I can just return the Amazon console. Will keep you posted on how it goes. Hopefully, I'll have a whole console table in place to share very soon.
Again, you'll find this console table available here: Console Table and here: Console Table. Maybe you'll have better luck with your delivery if this table looks like something you could use. It's not "fine" furniture but a cute, inexpensive table/bookcase if you have the need for some extra storage in a tight spot.
Metamorphosis Monday
Metamorphosis Monday is a party that's all about Before and Afters. If you are participating in Met Monday, please link up using the "permalink" to your MM post and not your general blog address. To get your permalink, click on your post name, then just copy and paste the address that shows up in the address bar at the top of your blog, into the "url" box for InLinkz when prompted.
In order to link up, you'll need to include a link in your MM post back to the party so the other participants will have an opportunity to receive visits from your wonderful blog readers.
Feel free to link up Before and After posts that are home, gardening, decorating, crafting, painting, sewing, cooking, fashion, travel or DIY related. Please do not link up to the party if you're only doing so to promote/sell a product.
To those linking up, if you notice a shop or online store linking up to sell products (yes, unfortunately, that happens) please let me know so I can remove their link and block them from participating in future parties. No one wants to visit a link expecting a Before and After, only to find a spam link to an online business/store.
Pssst: If you have any trouble linking up today, please make sure you're using the most up-to-date version of your browser. If updating your browser doesn't help and you are still having problems linking up to the party, please let me know. Thanks!


This party has ended, click button below for the links to all who participated.
*If a post is sponsored or a product was provided at no charge, it will be stated in post. Some links may be affiliate links and as an Amazon Associate, I may earn from qualifying purchases. *