I've been a busy bee the last 48 hours. I don't know what has gotten into me, but I've been going non-stop!
After this Frye tote arrived recently, I decided I wanted to add a bag organizer to it so it would have more support across the bottom whenever I carry heavy items like my laptop. I researched online forever and even contacted Frye. No one makes an organizer for this bag, but I found one that was a pretty close fit and works great!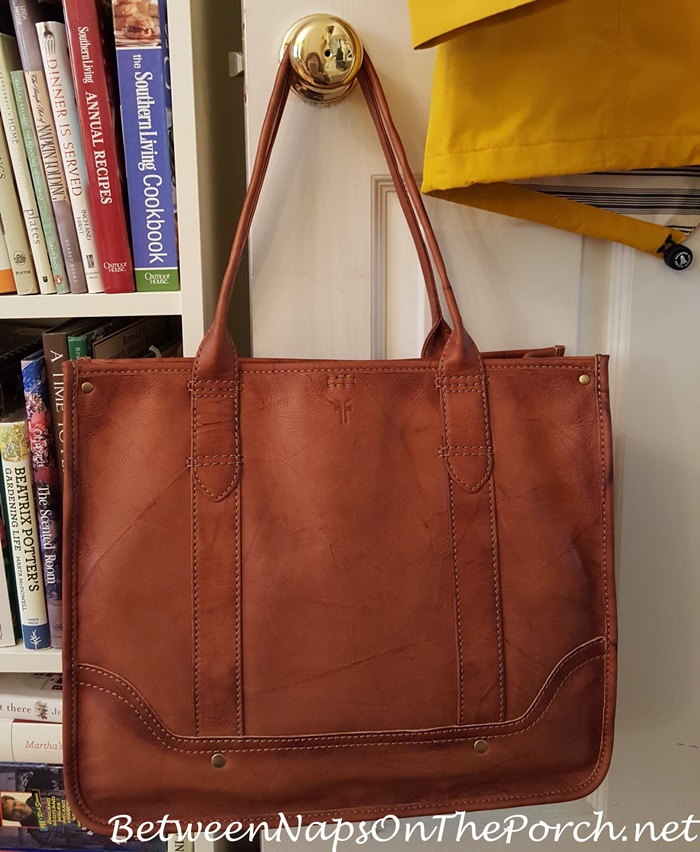 I settled on this one in the X-Large size, but they have them in stock in various sizes. I ordered it in brown so it would coordinate with my bag, but it comes in several colors.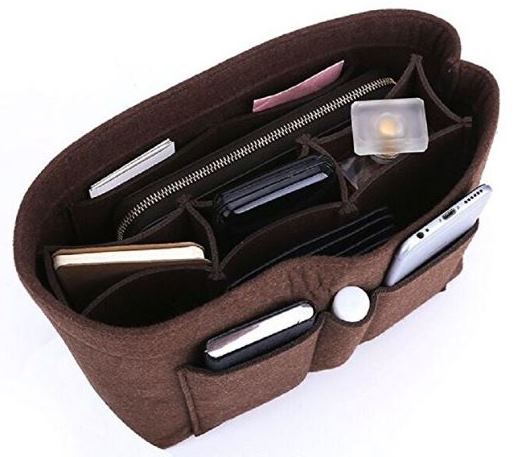 I placed my laptop and iPad in the bag so you could see how those fit. There's a ton of space left over for whatever else I would want to add, and I can still access all the pockets that are part of the bag itself.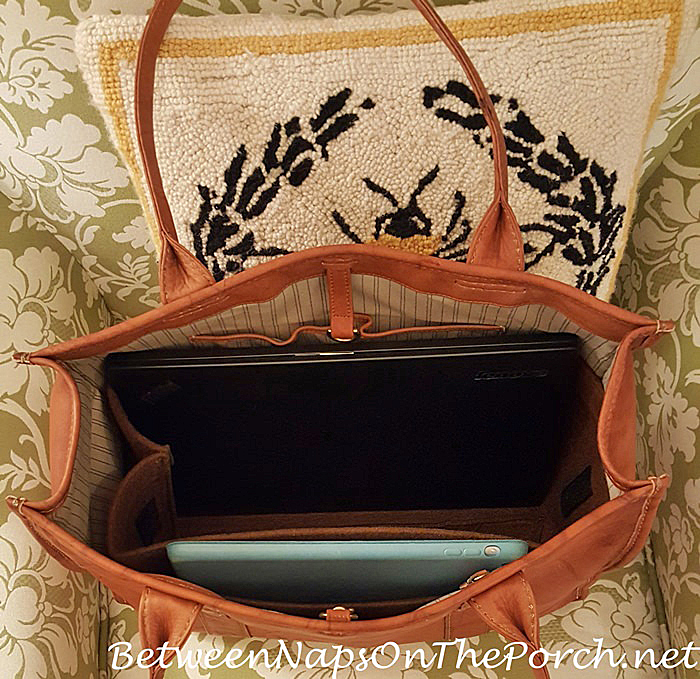 If you have a large tote, consider adding a bag organizer to it. They keep everything from bouncing around inside the bag, help you find what you need quickly and in general, give the bag more structure and support, which is good for the bag itself.
I know it's a bit hard to see down inside my bag. You can see a lot more photos of it here: Bag Organizer. This organizer has pockets all around it. It comes with an insert that divides up the center area if you should want to use that. I wanted to keep the center area open, so that's why you don't see the center insert in place.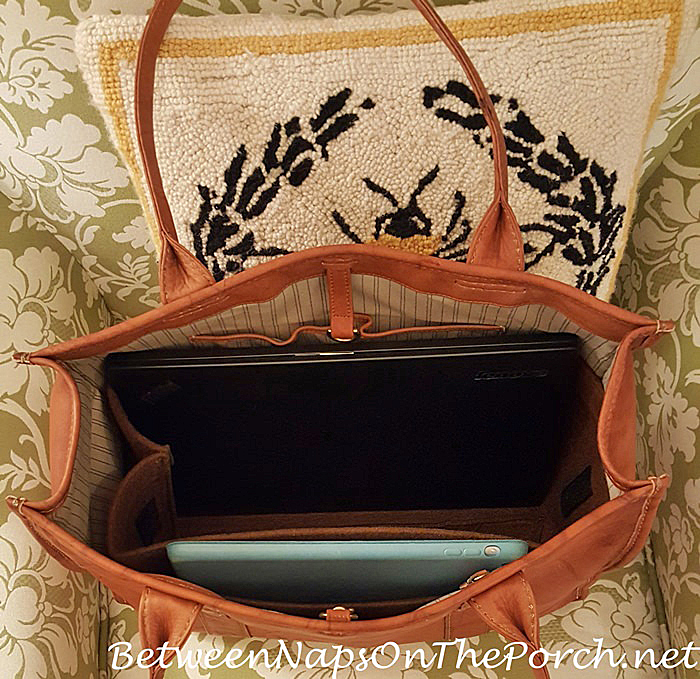 I also purchased this to protect the bag from rain. It's available here: Weatherproof Cream.
Worked on the Dining Set for the Deck
I assembled all the chairs for the new dining set I purchased for the deck. That's the table top leaning against the deck in the background.
It was a fun job while listening to one of The Great Courses (The History of Egypt) on Audible. I would love to see the pyramids and the Nile River in person one day.
Next, I ordered THIS to clean the deck so I can restain it again. I hope to start work on that next week, unless I'm assembling cabinets. More on that in a sec!
Here's where all the cushions for the chairs are right now. I tried one of the chairs (with cushions) and they are very comfortable.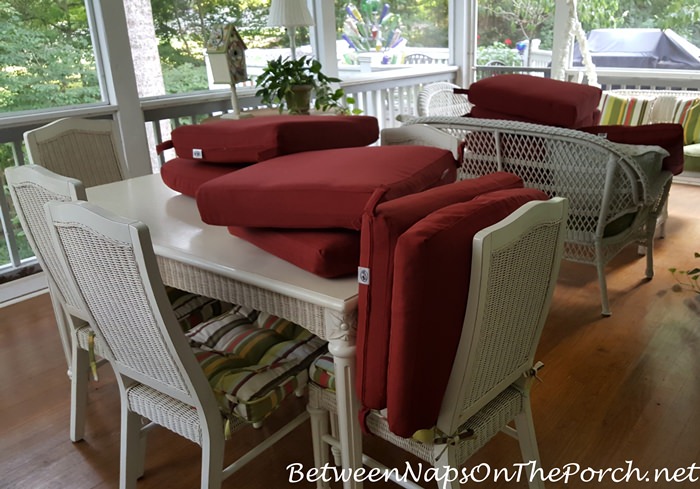 About Those Holes and Ruts
Made some calls and found out the best thing to fill ruts and holes in Zoysia sod is river sand. (Read more about how these happened, HERE) Some folks use play sand but river sand is supposed to be better. There are quite a few of these deep gouges in the yard from the big tree that landed here.
River sand can be a bit tricky to find. The one place that had it near me, doesn't sell it in bags. They told me to bring some buckets and I could fill those.
They forgot to tell me that I was going to have to shovel it all up from their big sand pit myself. It's strictly self-service at this place. Unfortunately, since I didn't know how it all worked, I went dressed in a summer skirt and sandals. I wish you could have seen me out there shoveling sand this morning dressed in a pretty summer skirt and heeled sandals. Ha! I got it done!
The sand was wet from our recent rains, so I couldn't fill the buckets to the top and still lift them up and into the back of my SUV. They were around 40-lbs each filled to this level.
Now I just need to get out there and start filling the holes in the front yard. My lawn guy suggested I also mix in some top soil, although the place where I purchased the sand said their river sand is very loamy, as is. I'll probably still mix in a little top soil.
After the sand digging, I showered and headed to an eye appointment in Atlanta. Once back home…
Repaired the Toilet
Remember the Kohler Highline Classic toilet I purchased for all three of my bathrooms a few years back. Well, turns out the reddish/pinkish "Canister Flush Valve Seal" inside the tank has a tendency to fail after a few years. Mine failed inside one toilet a couple of nights ago, it was just too deteriorated to keep the water inside the tank.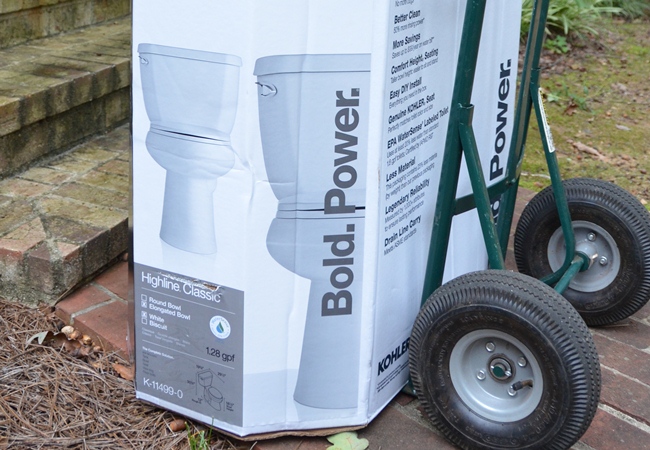 Did a bit of research online and found out this is the new, improved seal for this toilet. It's available here: Yellow Seal. Don't use the red seal again if that's what you find available in your hardware store. It's the YELLOW seal that is the new, improved seal.
I changed out the seal and now it's working better than ever. I had noticed the handle on that toilet was starting to stick a bit even before the seal failed, probably because the seal was so deteriorated it had become gummy and was sticking to the mechanism that raises inside when the toilet is flushed. That part is working great now, too…no more sticking handle. If you have this type of toilet and need to replace it, there are several videos online on YouTube. This was the one I watched: Kohler Toilet Repair.
The biggest tip I can share is that when you unscrew that skinny, black thing in the center of the photo where the white hose is attached (it's called the Aqua Piston) instead of trying to twist it loose by grabbing it at the top, lift the black canister up and unscrew it from the bottom.
The aqua piston is apparently prone to snap/break when twisted at the top, so it's better to loosen it by twisting at the bottom. I learned that trick in the comment section of one of the videos at YouTube, and it works great! It's really easy…did the whole repair in two minutes once I knew the tip on how to take it apart.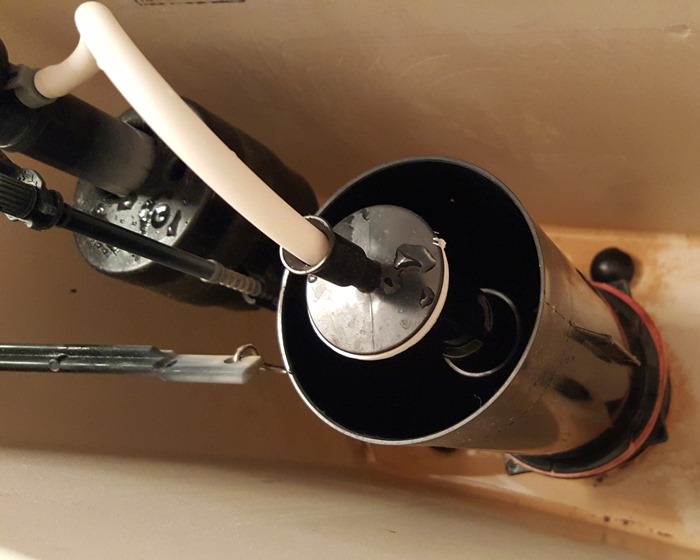 New Cabinet Strategy
I've got a new strategy on getting the rest of these cabinets ordered for the garage. Walmart finally got some more in, so instead of ordering them on Amazon, I ordered them from there. You'll find them here: Cabinets.
They will deliver them to a Walmart near your home for free. Actually, they will deliver the one on the left right to your home for free via UPS, but I'm not going through that again!
I have a Walmart Market about 1/2 mile (if that far) from my home. I'm having them deliver one of the cabinets with the drawers and two of the cabinets without drawers, to that Walmart.
Here's my plan: I'm going to drive there, have them help me open each box to inspect each cabinet, and if they are damaged, I will return them right there on the spot.
If they are okay, I'll have them load one box at the time into my SUV. I'll drive the few blocks home, open the box back up in the back of my SUV and take out each of the pieces one at the time. I'll repeat that process for all three cabinets.
I definitely don't want to get one of these big boxes home and find the cabinet is damaged and have to deal with getting it back in my SUV and back to the store. I'll let you know how this tactic works…hoping all goes well!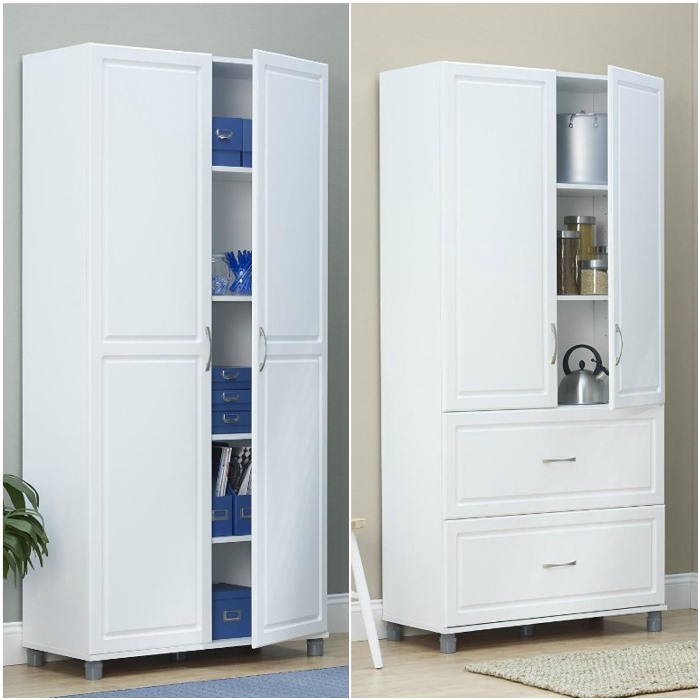 Tablecloth Change
Remember how I had stored all my tablecloths in one of the drawers in the garage cabinets? (See that post here: Storage Cabinets.)
In the wee hours of the morning, I sorted and cleared out my upstairs linen closet and found 7 more tablecloths! Don't know how I missed those the other day! This closet is much larger than it looks in this photo, it's actually 42 inches wide and 18 inches deep.
After I cleared out this closet and donated some things to Goodwill today, I decided to bring the tablecloths back up from the garage and put them back in the closet. I so rarely use a tablecloth, there's no point in letting them take up a drawer (or two!) in the garage cabinets that I could be using for something more important. Now that I've gone through this closet and sorted/donated some things, I had room for the tablecloths all on one shelf.
Humidity Solution
Remember the drawers filled with napkins? Several folks suggested putting something inside the drawers to help with humidity, etc… since these cabinets are in the garage. Fortunately, my garage doesn't get extremely hot, it has a heated/cooled bonus room above it and a heated/cooled laundry room on the south side of it. There's a huge magnolia shading it on the north side so the only sun it ever gets is the early morning son from the east. I guess that's why it never gets extremely hot in the garage.
For example, the other day when it was 94 degrees outside, the thermometer I placed in the garage to check the temperature showed 83 degrees. The hottest it got in the garage that day was 84 degrees. But I like the idea of adding something to the drawers to fight any humidity since it can be muggy here in the south.
Actually, now that I think about it, I've been storing my napkins in a chest-of-drawers from my son's old bedroom for the last 6 years (since I turned his old room in my home office) here in the garage, and they have done fine. So they should continue to do well here.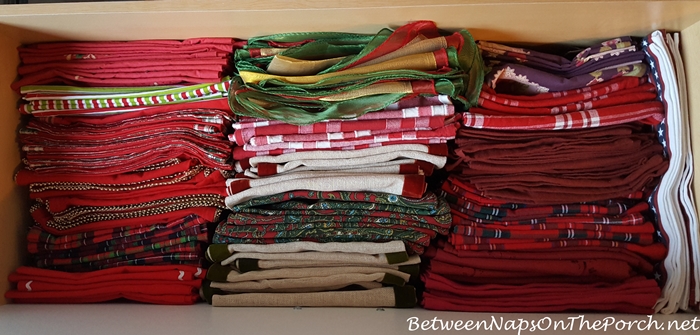 I ordered these and they are perfect for high-humidity type areas. I tossed one in each drawer. I love that they don't have any odor. If you need something to fight dampness or odors from moisture, you'll find these here: Bamboo Charcoal Bag.
Big Sale
Talbots has a huge sale going on right now, 60% off Markdown Accessories and Shoes. They also have sales going on a ton of other things. I ordered this shirt for 1/2 off, HERE.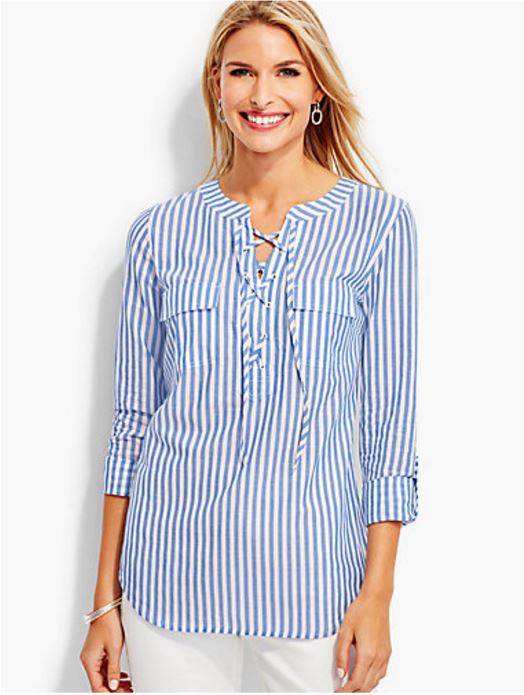 I also ordered this linen one. I love a blue and white striped shirt. I already have this shirt in white and a taupe/tan color and love it. I know linen wrinkles, but it's so comfortable on hot, humid days, I can't resist it for summer. You'll find it here: Linen Shirt.
I've been waiting all summer long for Talbots to stock some white jeggings and they finally did! They aren't part of the sale but I saw a code on the Talbots website earlier today that said you could get 25% off any full price item with the code: SUMMER25. I didn't see that message again later in the day, but I tried it at check out and it worked!
Hope these fit as nicely as my dark blue jeggings from Talbots. You'll find these here: White Jeggings.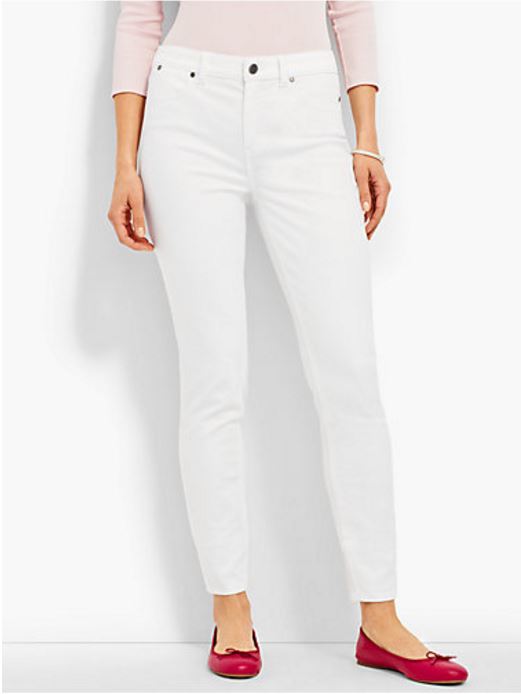 Okay, I'm tired…definitely time for a good night's rest. Looking forward to sharing a wall of tablescaping cabinets with you very soon! Keep your fingers crossed they all arrive in good shape this time. So hoping they do!
*If a post is sponsored or a product was provided at no charge, it will be stated in post. Some links may be affiliate links and as an Amazon Associate, I may earn from qualifying purchases. *