When I order a new book from Amazon, one of the first things I do when it arrives is lift off the dust jacket to see how the book looks underneath. I absolutely love it when a book has a fabulous cover, one that would look wonderful on my bookshelf if one day the dust jacket became damaged or worn.
Some of my favorite covers are those that completely mimic the dust jacket with a cover that's the exact same image. I also love covers that are fabric, just love how they feel. Then there was the book I shared recently, Decorating With White, with a wicker image cover that actually FEELS like real wicker. How they pulled that one off, I'll never know!
Anyone else do this, peek under the dust jacket when shopping in a book store or pull off the dust jacket as soon as a book arrives in the mail to see what's hiding underneath? Sometimes it's a wonderful surprise and nothing you would ever expect.
The book I'm sharing today, The Gardener's Life, was a fun surprise. Not sure what I expected but the bright spring green cover with pretty script lettering on the front and nice bold lettering on the spine was a fun surprise. It pass the cover test because it would look great on a bookshelf, even minus its cover.
In the BNOTP Library: The Gardener's Life: Inspired Plantsmen, Passionate Collectors, and Singular Visions in the World of Gardening

Author: Laurence Sheehan
Hardcover: 240 pages
Book size: 12 x 9.4 x 0.9
3 Things I Like About This Book:
Pictures are wonderful, absolutely wonderful. I so badly want to walk through the partially opened greenhouse door on page 4o, stroll through the fabulous garden on pages 98/99, dive into the garden library on page 102, and curl up in one of the cozy chairs in the beautiful room on pages 118/119!
Plenty of beautiful drool-worthy interiors. All that beauty in the garden can't help but spill over and influence the inside of the gardener's home. This book really encompasses how a love for gardening influences our lives in so many ways.
There's a small resource section in the back with the names and addresses of plantsmen, museums, antique and garden shoppes.
You can read more about, The Gardener's Life: Inspired Plantsmen, Passionate Collectors, and Singular Visions in the World of Gardening
and preview it at Amazon where I normally buy my books, via the picture link below.
You'll find previously featured books from the BNTOP library here: In The BNOTP Library or just click below.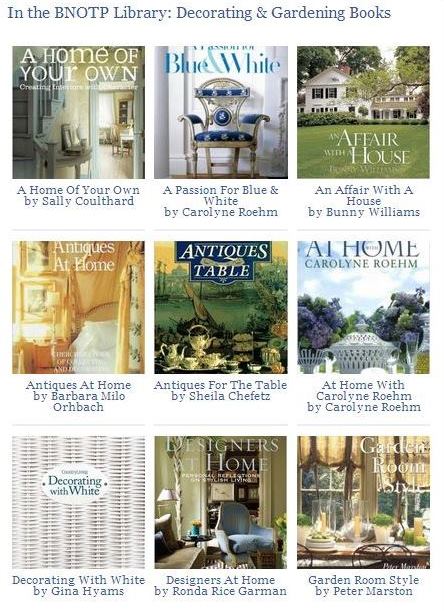 *If a post is sponsored or a product was provided at no charge, it will be stated in post. Some links may be affiliate links and as an Amazon Associate, I may earn from qualifying purchases. *