Welcome to the 738th Metamorphosis Monday! Recently, I mentioned I had purchased The Happy Isles puzzle from the Magic Puzzle Company. I didn't know a lot about their puzzles, or this particular puzzle, when I purchased it, only that there's a bit of a magic trick at the end that reveals a surprise twist to the story of The Happy Isles.
Before we go any further into today's post, if you've purchased this puzzle OR you plan on purchasing this puzzle, there are two things I need to say before you read much further. 1. I don't recommend you put this puzzle together on a puzzle board. However, if you have the exact same Bits and Pieces puzzle board that I have HERE, you can make it work, but it gets a bit tricky toward the end. So it's still probably better if you just do the puzzle on a large table, like a dining room table. A coffee table would probably be too small.
2. Second thing I want you to know is if you plan on buying the puzzle or have purchased it, you may wish to exit this post now and not read any further now that you know the important tip about not doing the puzzle on a puzzle board or a small table. The reason I say that is because I'm going to share some photos of the puzzle assembled (and eventually the surprise ending) so I can show how I dealt with the problem I had since I did do the puzzle on a puzzle board. I will warn you before I share the surprise ending so you can exit out of the post if you plan to do the puzzle.
Okay, you're still reading so that either means you don't plan to buy this puzzle OR, you're okay with seeing photos of the puzzle. Again, I'll warn you before I share the surprise ending so you can exit out of the post if you plan to do the puzzle. So when you first start this puzzle, right away you know it's not going to be your average/normal puzzle. The first clue is there are SOOOO many edge pieces. Why are there so many edge pieces, you'll find yourself wondering as you separate those out from the rest of the pieces. Well, it's because some of the edge pieces are actually used INSIDE the puzzle–like that tall tower of edge pieces you see in the center of the puzzle below. That's not the only place flat-edged pieces end up being used inside the puzzle.
Here's how the puzzle looked once completed, minus the surprise ending. That part was still to come! Sorry about the glare on the puzzle, it's so hard to take good photos in my office in the evening. Okay, so take note of how much space I have around the puzzle–not a lot right? Hold that thought for just a moment.
This puzzle is a lot of fun! It pictures a lot of islands with some pretty interesting and funny scenes and characters. Across the bottom of the puzzle, archeological digs are taking place on two islands.
On one island, you'll find a farm with cows and chickens, along with a Farmer's Market.
There's an island with a volcano and what appear to be scientists performing important tests on an active volcanic eruption. I don't think I'd climb to the top of a volcano during an eruption…how about you? lol Do you think the people enjoying the hot tub, know hot lava is cascading down and headed straight for their cozy hot tub?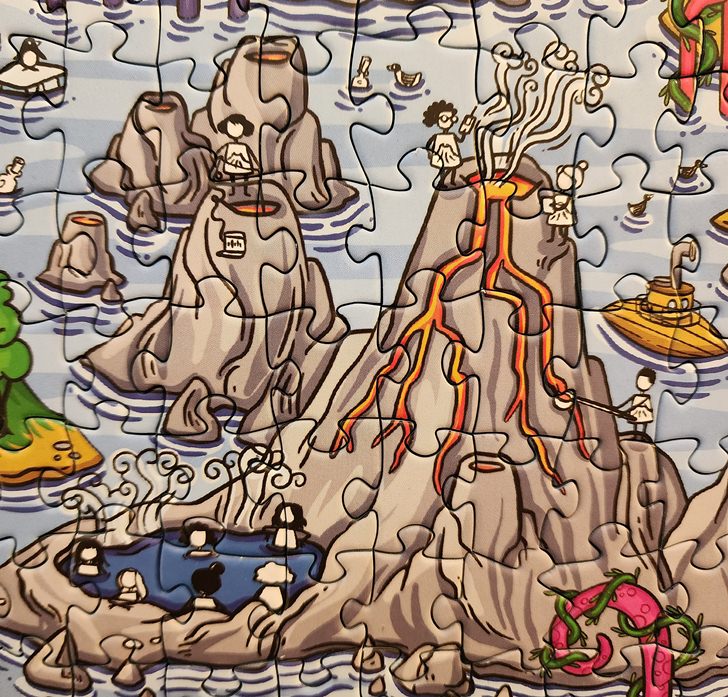 There are so many fun islands, but my favorite was Cat Island. If I ever have to be stranded on an island, I sure hope it's an island filled with cats! Notice the scuba diver waving to us in the background. I watched a video on YouTube where the creators of The Magic Company were interviewed and they shared how they purposely include a lot of fun characters and Easter Eggs throughout all their puzzles to make them extra fun to put together.
If you wish to purchase The Happy Isles puzzle, you'll find it available here: The Happy Isles.
Once the puzzle was complete, it was time to open this envelope. You definitely don't want to open this envelope until you have completed the puzzle or you'll spoil the surprise ending.
They really, really, really try to warn you to NOT open this envelope unless you are positively done assembling the puzzle. Okay, if you plan to buy this puzzle, you may wish to stop reading here, but just remember to assemble the puzzle on a large, smooth table and not on a puzzle board. However, if you're curious as to why it's not a great idea to assemble it on a puzzle board AND you're curious as to how I dealt with the pickle I found myself in because I DID just that, read on.
Here are the instructions I found inside the second brown envelope. They show how you separate out some of the sections of the puzzle where the flat-edged pieces were used inside the puzzle. The process starts by pulling away the section of the puzzle that they've labeled B below. Then you shift the section labeled C over to the left where the B section used to be. Next, you add section B back to the puzzle on the right where C used to be. Yikes!
The above instructions are why it's probably best to assemble this puzzle on a large, flat table–like a dining room table, and not on a puzzle board. My puzzle board is pretty big as you can see in this older photo below, but it's not big enough to start moving big chunks of the puzzle around and past each other. Also, the surface is covered with felt which is designed to hold the pieces in place while the board is in a tilted position. The felt lets you slide pieces or small sections when needed, but I've never tried sliding big chunks of a puzzle around. (Adjustable puzzle board is available here: Puzzle Board.)
Unfortunately, this puzzle isn't one of those puzzles where the pieces fit really tightly together, allowing it to be peeled up in one whole piece to be moved to another location. That's especially true with this puzzle since there are so many internal flat-edged, non-interlocking pieces. Now I understood why those were designed into the puzzle–so the various sections could be moved around.
So here's what I ended up doing to move the sections where they needed to go. The puzzle comes apart in three large sections. To follow the instructions I found inside the brown envelope, I pushed section A (see section labeled "A") up as far as it would go on the puzzle board. Next, I had to find a way to completely remove section B off of the board. Ummm, how to get it off the board in one whole section? I tried using the biggest spatula I had in my kitchen to lift that section and it totally wouldn't work–it just started falling all apart. Next, I tried a large manila envelope and that worked quite well. I slid the envelope up under section B and dragged it off onto a crafting/cutting mat. The manila folder wasn't quite as large as I really needed, but it was big enough that I could use it to slide section B onto the crafting mat–which was the perfect size.
The next part was pretty tricky, too. I needed to slide section C (that large section on the bottom) over to the left side of the puzzle board.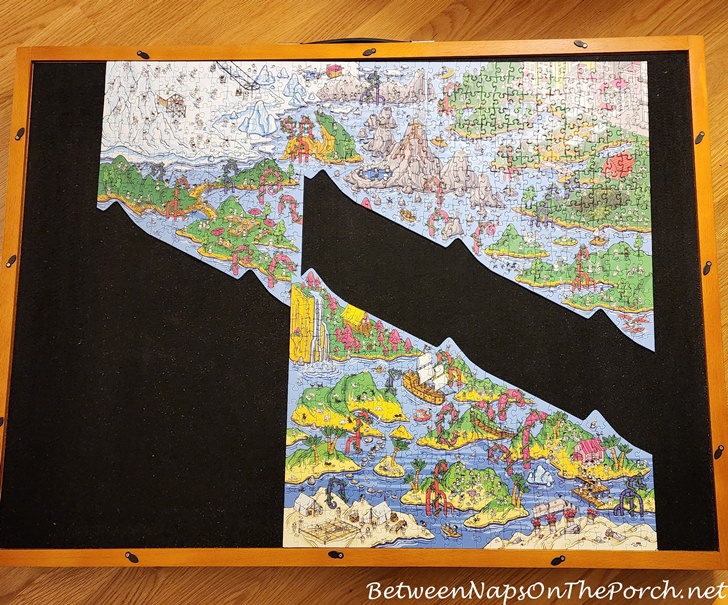 It slid a lot easier than I expected on the felt surface of the puzzle board, but I did have a few pieces fall apart where the bottom and top sections overlapped a small amount.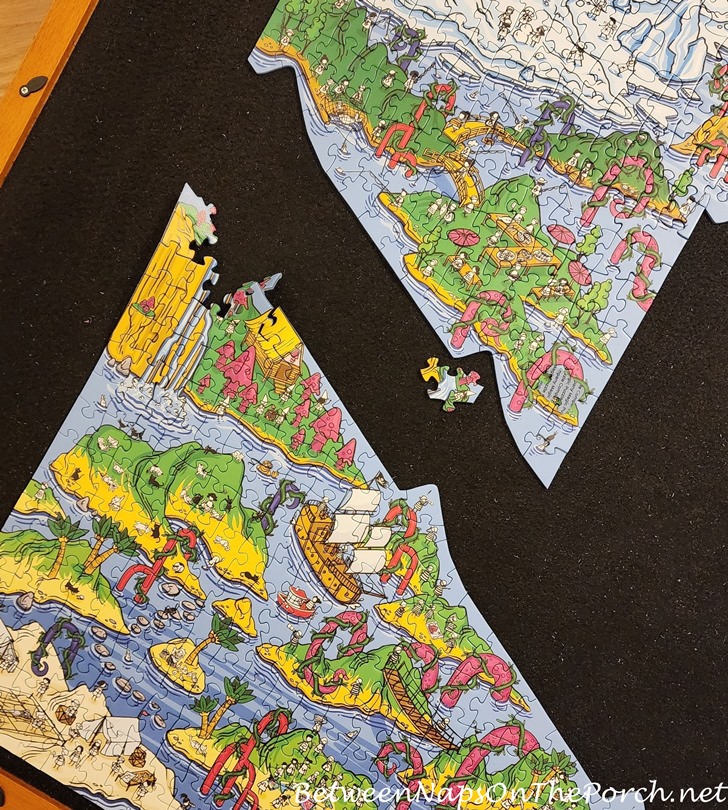 After adding back the few pieces that fell apart, it was time to place section B back where the instructions showed it belonged.
Here's how the puzzle looked after shuffling the sections around. The puzzle was now a few inches wider and a few inches taller with a big hole right in the center.
The instructions that showed how to move the puzzle stated, "Now open the final bag to complete the puzzle and discover the fate of The Happy Isles." Inside the bag I found additional puzzle pieces to fill in the big hole in the center of the puzzle, thus completing the mystery of this magical puzzle. Again, if you plan to buy this puzzle and don't want to spoil the ending, stop reading now. (The Happy Isles puzzle is available here: The Happy Isles.) Otherwise, read on to see what drama unfolded for the inhabitants of The Happy Isles.
This is what I saw as I started assembling those final pieces. Ha!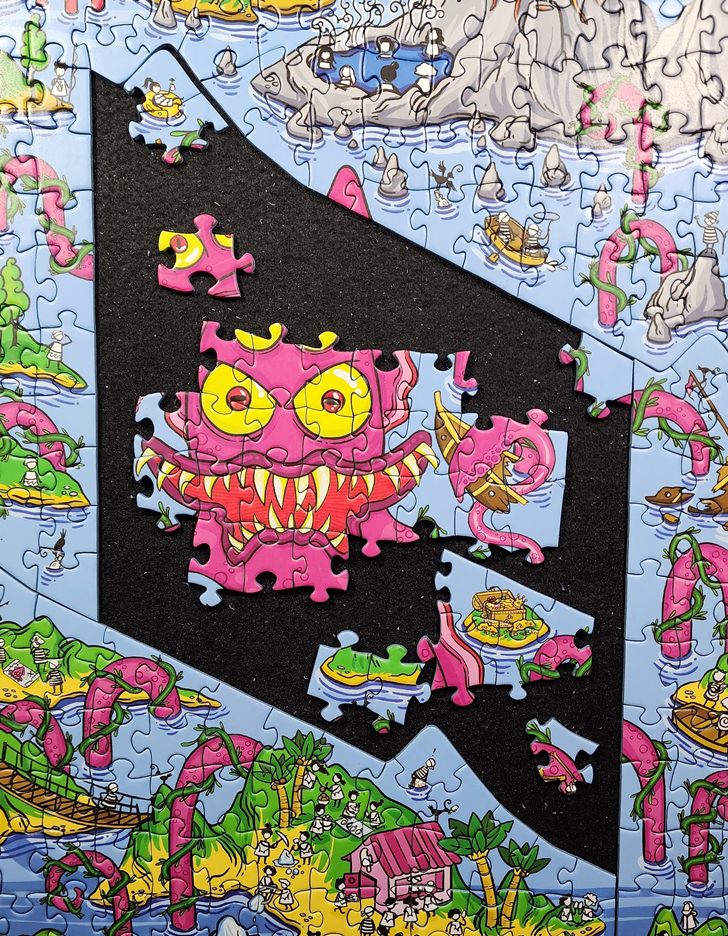 Eeek! An 8-Eyed Sea Monster, with too many legs to count, was wreaking havoc on the inhabitants of The Happy Isles! Such a funny and unexpected ending! Amazingly, in the end, all the sections with the various islands still connect together to create scenes that still make sense. I don't know how they were able to create a design that still makes sense after moving things around, but it does! Genius!
After completing The Happy Isles, I took it apart and put the surprise ending pieces back in their separate envelope, just as I had found them. That way, I can give this puzzle to my grandsons in a couple of years when they are just a bit older than they are now. I enjoyed The Happy Isles puzzle so much, I ordered a second one, The Gnomes' Homes, right away. They are addictive! I love how they include two posters with each of their puzzles so if you're doing the puzzle with another person, you each get your own poster to view while putting it together.
I wonder what the surprise ending will be for this one. Think I should do it again on my puzzle board? I got away with it once! Ha! I have no idea if this puzzle involves moving sections or not, but I really, really like doing puzzles on my puzzle board so I will probably risk doing it that way again. If you're interested in doing this puzzle, you'll find The Gnomes' Homes puzzle here: The Gnomes' Homes.
I just finished this puzzle this evening and it was sooo much fun! The colors are just as beautiful and vibrant as the picture on the box, and it was an easy one to do. I really loved it! I would take a photo of it on my puzzle board but it's dark out now and a photo definitely wouldn't do it justice. I think I'll leave it on my puzzle board here in the office for a few days because I love seeing it. I can hear the crashing of the waves and the high-pitched call of the seagulls. I feel my blood pressure drop each time I view it. Wouldn't you love to stay in this dream house during a beach vacation? (Beach Paradise puzzle is available here: Beach Paradise Puzzle.)
Update: Took a photo this afternoon, just a beautiful puzzle!
Looking forward to all the great Before and Afters linked for this week's Met Monday! Pssst: Did you know Between Naps On The Porch is on Instagram? You'll find me on Instagram here: Between Naps On The Porch. Like to know when a new blog post is up? Subscribe for email updates (it's free) and your e-mail will never be shared. Subscribe for free post updates here: Subscribe.
Metamorphosis Monday: Metamorphosis Monday is a party that's all about Before and Afters. Please link up your Before and After projects like DIY projects, room makeovers, craft projects even recipes. Please do not link up Table Settings, save those for our Tablescape Thursday party on Thursday. If you are participating in Met Monday, you'll need to link your post to the party using the "permalink" to your MM post and not your general blog address. To get your permalink, click on the name of your post, then copy and paste the address that shows in the address bar at the top of your blog, into the "url" box for InLinkz when prompted. NOTE: Please do not link up more than 3 posts from your blog. In order to link up, you'll need to include a link in your post back to the party so visitors to your blog can find the other party participants. When linking up to the party, give the InLinkz system time to find the link in your post to avoid having your link held for moderation/approval. Thanks!
You are invited to the Inlinkz link party!
*If a post is sponsored or a product was provided at no charge, it will be stated in post. Some links may be affiliate links and as an Amazon Associate, I may earn from qualifying purchases. *