My spice organization left a lot to be desired. The only place I have near my stove to store spices is inside this relatively narrow cabinet next to the stove. To try and make it more functional, I have a lot of my spices on a little turntable. It's not a great system because when I need a particular spice, I have to spin it around and around searching for the one that I need. Often, the smaller spice containers that I have stacked atop each other end up falling off, plus I can't even see which spices are stored in the center of the turntable without moving other spices.
While shopping online a few days ago, I saw this awesome shelf system that adjusts to fit pretty much any size cabinet. I decided to give it a try. It's designed so that the shelves can be adjusted for regular spice jars or for the little shorter ones. I like that!
It can also be adjusted to hold all tall spice bottles.
It comes with legs that are of two different heights, so it can be put together to fit almost any size cabinet. The directions that came with it were really detailed, plus I found several videos on YouTube showing exactly how to put it together.
There are several pieces that look like the one below. The narrow pieces on the right easily snap on and off to adjust for the width of a cabinet. It's really a brilliant design!
Here's how it looks inside my cabinet. I love it–it's such an improvement! I can easily store so many more spices inside this cabinet now and I love how easy it is to see each spice without having to move other spices out of the way. This cabinet is only 12-1/2 inches wide and the distance between the shelves is around 11-1/2 inches. The sides of the organizer could easily be pushed a lot farther out if my cabinet was wider, but it works great inside my small cabinet, too. Surprisingly, it will even work inside cabinets more narrow than mine. It's incredibly adjustable.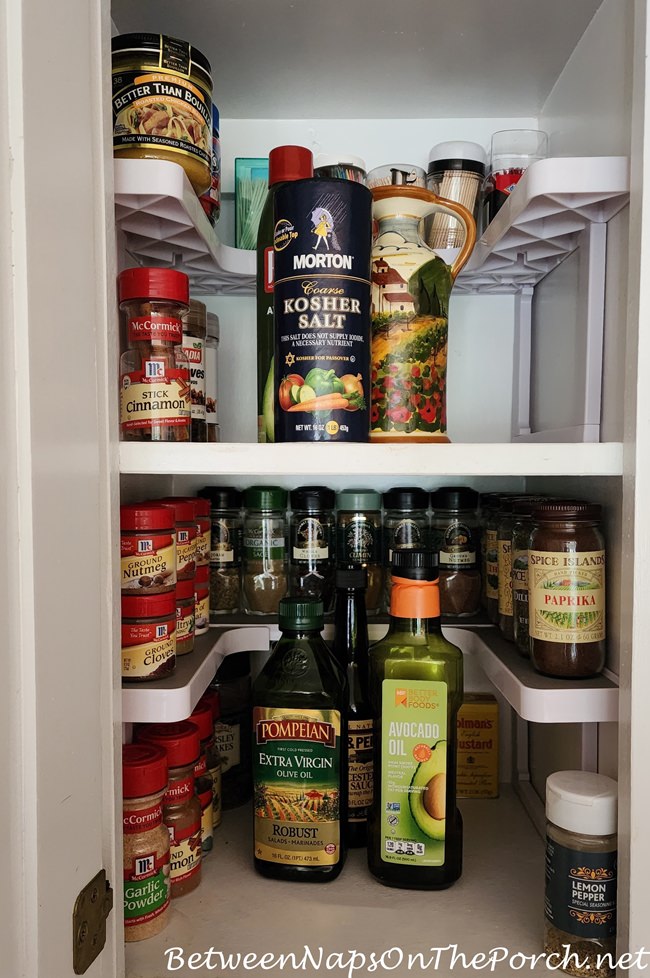 If there's a lot more height between shelves, the sections can hook together for more levels as shown in this picture.
I didn't have that much height between my cabinet shelves so I just placed a rack on each shelf instead of stacking/connecting them on top of each other. Had to share this awesome spice rack/organizer since it definitely exceeded my expectations! It makes me want to buy more spices to fill it up! If you could use something like this for organizing your spices, you'll find this spice organizer here: Spice Organizer for Cabinets.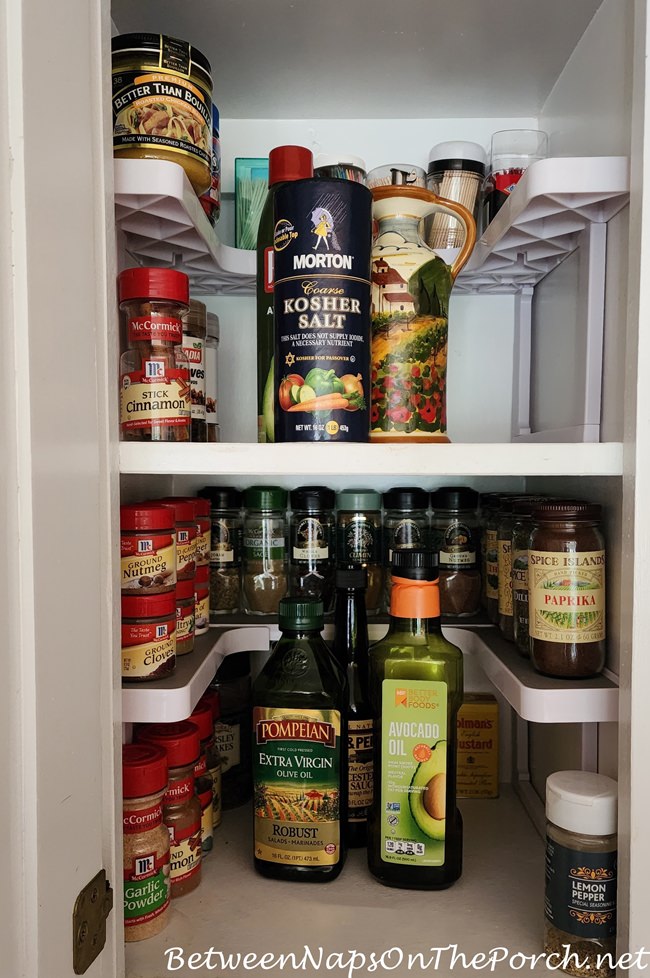 *If a post is sponsored or a product was provided at no charge, it will be stated in post. Some links may be affiliate links and as an Amazon Associate, I may earn from qualifying purchases. *