Yesterday was a non-stop day and I still feel like I have so much left to do. Do you get this way come spring? I want everything spiffied up and organized for spring–and I want it right now! lol
I did too much stuff yesterday to share it all, but thought I'd share a few fun things, as well as a little splurge that arrived mid-day. I spent part of the day trimming off dead branches from the Standard hydrangeas that tried to die while I was in Ireland last August. Apparently, we got virtually no rain the whole time I was gone. Thankfully they didn't die, but I lost a few branches. I'll pamper them this spring and summer and hopefully, they will fill back out again.
I wiped down the table/chairs that were an end-of-season purchase last year. (See that post here: Before & After Deck Makeover.) I can't wait to start sharing a few tablescapes out here for Tablescape Thursday. 😉
This guy wintered over in my garage and he's looking pretty sad. I was tempted to just toss him. but I think I'll fertilize him a bit and see if he'll make a comeback. I have a hard time tossing out a plant unless it's really a goner. I could see a little new growth, so I'm optimistic he'll look better soon. I need to get busy filling some pots for the planter behind the table that I spray painted last year. Still so much to do! Arggg!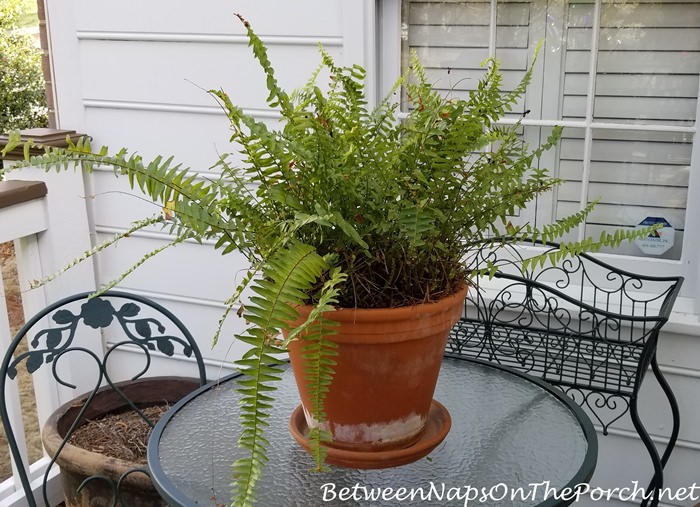 The knockout roses in the two urns on the deck are getting ready to bloom. Love them, but not so much their thorns. lol I was hoping the thorns would discourage the raccoons that visit the feeders at night, but they don't. So now I just bring all the feeders in each night.
Aprilaire Space Gard Air Filter Replacements
Do you have Aprilaire Space Gard Air Filters on your A/C systems? If not, skip this part. I have one on each of my systems and they are a pain in the tush to change. If you have these, you know what I mean…hate feeding all those individual sections of the filter onto the big comb/teeth that holds the filter. It takes FOREVER!
I knew my filters probably needed changing, so a few days ago I looked online to see about ordering them. In the process, I discovered some replacement filters that are available for the original Space Gard filter. (They are available here: Replacement Filters.)
This is one of the filters below. You don't have to deal with threading each little section onto the comb-like you do with the original filter. Instead, you just put this entire cardboard box inside the plastic Space Gard box/case.
I've replaced the downstairs one so far and I'm going to replace the upstairs system in the attic tomorrow. We'll see how these work this summer. The filter material seems a lot thicker than on the previous filter. I hope it doesn't restrict the airflow too much. I saved the large combs that hold the original filters, in case I need to go back to the actual Aprilaire filters the next time. This was certainly faster than the old way!
Okay, enough about filters…back to pretty things. Yesterday I replaced the fall-winter firescreen…
…with the one I use for summer. I found the summer one in a local shop many years ago. Unfortunately, they have long since gone out of business. The fall Cardinal firescreen was a find in A Classy Flea several years ago. I'm probably the only person who uses decorative firescreens, but I love 'em! 🙂
It was so nice out yesterday, I had the door that leads from the living room to the porch, open all day. It will be 77° tomorrow, 78° on Friday and 81° on Saturday, so spring is really here this time! I can't tell you how happy that makes this "always-cold" girl. If you're in one of those places that keeps getting snow, I hope your snow is melting fast and spring comes on with a vengeance! You deserve it after all the late winter weather you've had!
I worked on so many things yesterday, I can't fit them all into one post, but one thing I did was add more lighting to the office. I thought three lamps was pretty sufficient for this room, but then I got an idea.
I was working on a puzzle in the office and wanted more lighting down on the far right of the desk. I stole the lamp you see in the photo below from the upstairs family room…
…and placed it on the end of the desk. Sorry this photo is a bit dark, all the lighting freaked out the camera. I am loving the extra light this has added to the end of the desk and it makes me wonder why I haven't had a lamp there all along!
I knew I'd miss having a lamp on the chest in the upstairs living area, so I searched on eBay (since you can never find beautiful, quality brass candlestick lamps anymore) and lucked out finding an older Baldwin Brass candlestick lamp, minus its shade. The listing said it was in excellent condition with no pitting or tarnish, and it looked perfect. It's also the same height as the one I already have.
Once it arrives, I'll visit David, the owner of Flourish Antiques, for a beautiful shade. He has excellent taste and always has beautiful, traditional shades, or he can order one if needed. If you live in the Atlanta area, I highly recommend him for any lamp repairs, new lamp designs or shades. He has the best eye for designing lamps–love his style! He's in the back of Dupre's Antique Market on the Marietta square.
Another thing I did yesterday was clear aways some space on my office bookshelves. For years I've wanted to put a small lamp on one of the shelves, more for ambiance than actual lighting. I found a cute bunny one that tempted me yesterday, but I'm going to shop a bit more to see what else is out there.
I also ordered a frame for this adorable painting Fifi surprised me with many years ago. It's of one of my little teascapes out on the porch.
You may remember this St. Patrick's Day tea-for-two setting. I've had the painting forever, just finally getting around to putting it in a frame. This is the frame I ordered here: Frame. I think the black color of the frame will set off the other colors and work with the black in the painting. Will share that once it comes…have to find a cute spot to hang it.
Tiffany Blue Treat
Ever since purchasing a Tiffany & Co. travel jewelry box (see that post here: Pearl Earrings for Sensitive Ears and Tiffany & Co. Travel Jewelry Case) I've been eyeing their leather card holders. Though not cheap, they are a lot less expensive than some designer card holders/wallets and I love that infamous Tiffany blue color! I finally broke down and ordered one last week.
I did the exact same thing this time that I did last time when I ordered the jewelry travel case. I placed the order, then wondered if it would really be worth the expense. When it arrived, just like last time, I kept asking myself why I had ever waited! I can't begin to explain how nice the leather and craftsmanship is on all the Tiffany & Co. leather pieces. If you've ever thought about buying any of their leather goods, don't hesitate because you will love it.
Here's how the inside looks. This particular card holder has a lot of storage. I placed the card that I most often use (gives me double points) in the slot on the right side. It's so easy to reach there. I placed my debit and one other card that I occasionally use for Frequent Flyer Points on the other side.
My driver's license and military ID are tucked in the space that's underneath the cards, since I rarely reach for those. There's a nice size pocket that's great for holding a couple of loyalty cards, as well as some cash. If you're in need of a small card case/wallet, I love this one! They've been sold out on the Tiffany website for a while, but my SA found one in a store and had it shipped to me. There's a button at the Tiffany website where you can have them notify you when they are back in stock. They seem to sell out and restock items all the time. To find it at the Tiffany website, just search for Vertical Folded Card Case.
Looking forward to sharing a spring table with you tomorrow for Tablescape Thursday! Happy Spring, dear Friends!
*If a post is sponsored or a product was provided at no charge, it will be stated in post. Some links may be affiliate links and as an Amazon Associate, I may earn from qualifying purchases. *