Yesterday we toured the outside of this beautiful Victorian home belonging to Christy and Don. You may remember the original home was destroyed by fire after a lightning strike. It's really scary to think that lightning can cause such destruction, isn't it?
We'll start our tour here in the entry and a grand entry it is with a beautiful curving staircase. I think it may have been around Christmas when this photo was taken since the mantel is decorated with red Poinsettia. Notice the placement of that gorgeous chest with the lamp and the painting beside it. Isn't that the most perfect vignette! I love how the lamp and painting nestled in so perfectly against the backdrop of the staircase.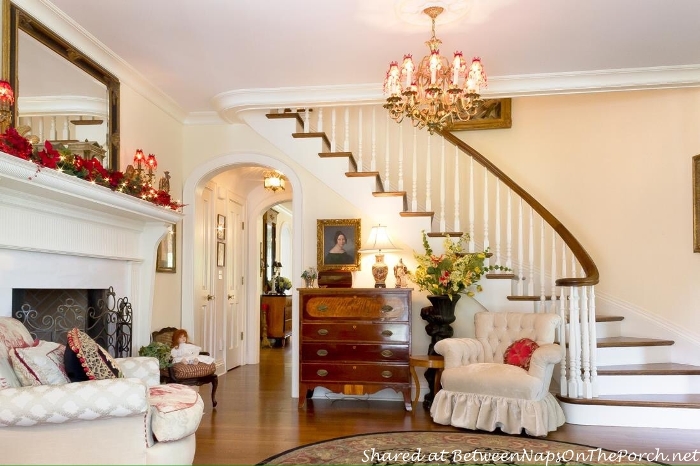 Many, many years ago, I had an opportunity to go into a very old home that was available for purchase in Forsyth, Georgia. It had been badly neglected but was still beautiful with a grand, columned porch. Sadly the porch is gone now. It fell into such disrepair it had to be removed.
As we stepped inside the front door, the very first thing I noticed was a fireplace in the entry. That was the first time I had ever seen a fireplace in an entry/foyer and I was IN LOVE! Suddenly, a vision started playing in my head. I could see it as clearly as if it was happening at that very moment.
In my mind, the house was all decorated for Christmas. There were wreaths on all the windows, the front door was thrown open and guests were pouring in, arriving for our annual Christmas party. They were laughing and happy as a roaring fire greeted them.
Can you see it? A gorgeous crackling fire blazing away and welcoming cold, bundled-up guests as they come in from the cold. I could see them removing their coats and happily accepting the hot drinks I had for them, moving over near the fireplace to warm up.
It's funny how one feature of a house could spark such a daydream in my head, but it did! Ever since that day, I've dreamed of having a home with a fireplace in the entry. It made me so happy to see one in the entry of this wonderful home!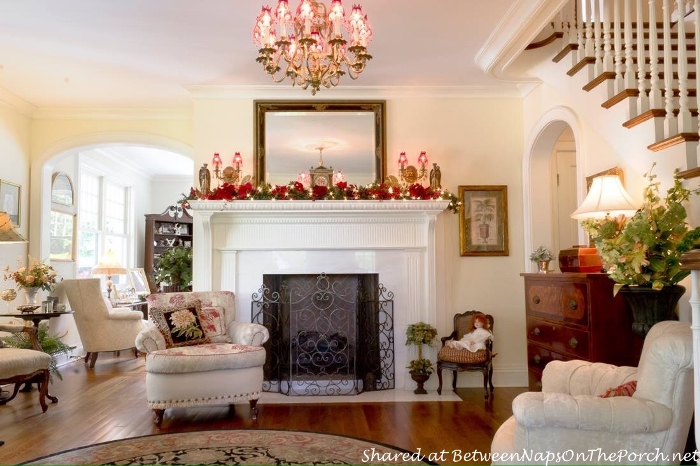 I think this may be the living/family room since I see a TV over the fireplace. You'll notice there's a second stairway coming down into this room.
Here's a bit better view showing the back staircase and the beautiful kitchen that's right off the living room.
Such a gorgeous kitchen! I asked Phyllis, Christy's mom, what type of surface the counters were and she said they are granite. That is one of the most beautiful granites I've ever seen! I love how light it is in color…not dark at all! Notice the beautiful chandeliers!
Bright kitchens are awesome and this one is blessed with tons of natural light.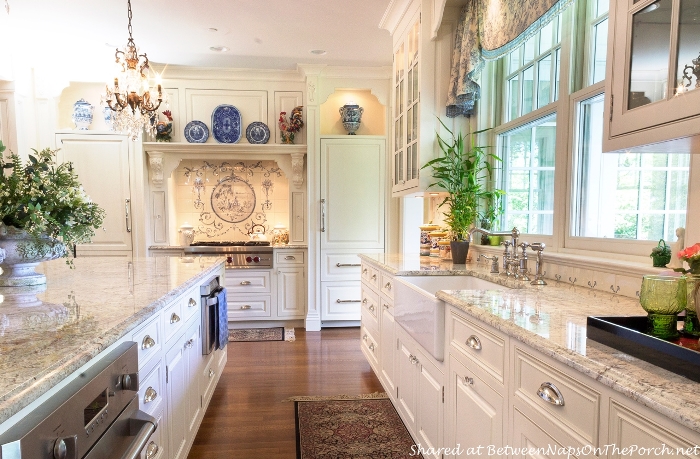 The mural on the tiles over the stove has a toile design/feel. You'll see more beautiful toile designs when we visit the bedrooms upstairs. Toile fabrics and toile decorations usually portray pastoral scenes of the French countryside. In this one they appear to be fishing. Does it look like that to you?
Wow, love the chandelier in the dining room…just gorgeous!
A view looking down from the back staircase… Let's head upstairs now!
The Master bedroom is furnished with wonderful French Country bedding in a gorgeous red color. The bedding is so beautiful against the wood and rattan of the bed!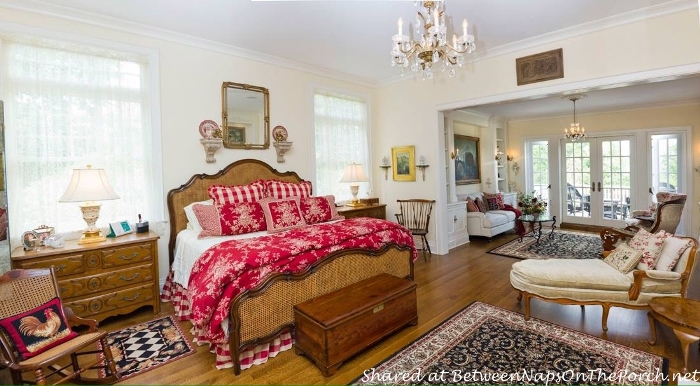 If you love the look of this bedding, it's available for purchase here: French Country Bedding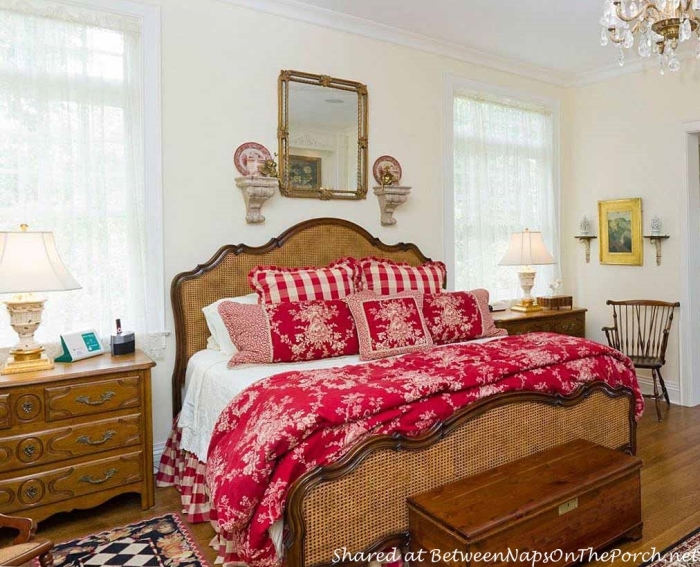 There's a fireplace in the master bedroom…sooo love this!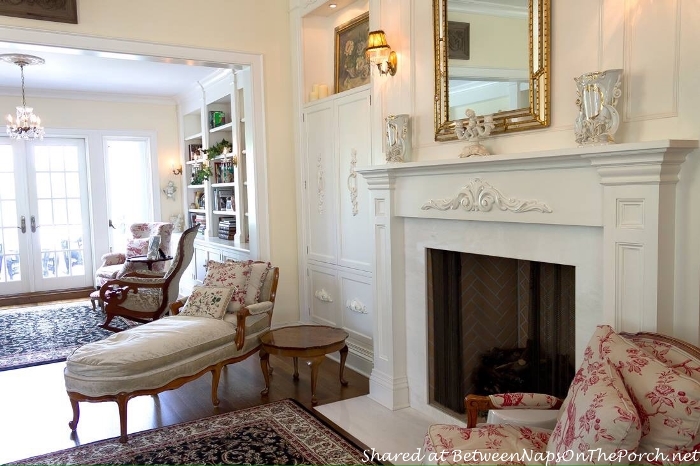 There's a sitting room/library right off the master bedroom. French doors open up to a deck and I bet the view is amazing!
The guest room is stunning with a wonderful brass bed and lovely toile bedding. I love this room!
So many things to love from the beautiful brass bed to the highboy to the toile bed linens. I really like the placement of the chair at the end of the bed. It feels so natural there, a great place to sit for putting on shoes when getting dressed.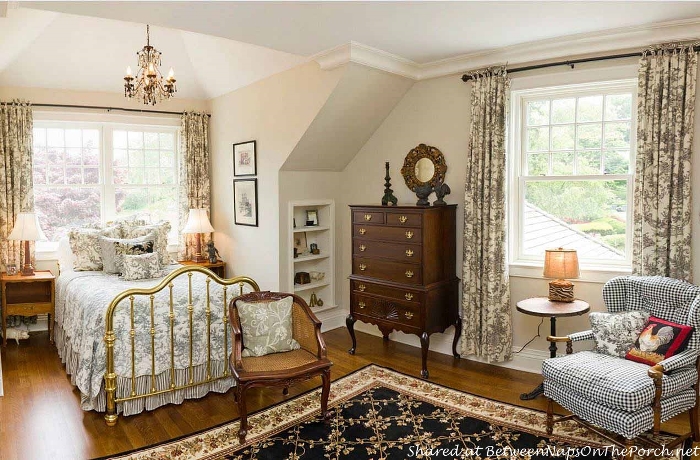 This beautiful toile bedding is available for purchase here: French Country Toile Bedding
This room feels so comfortable, very livable. I think I see a view of the gardens, too.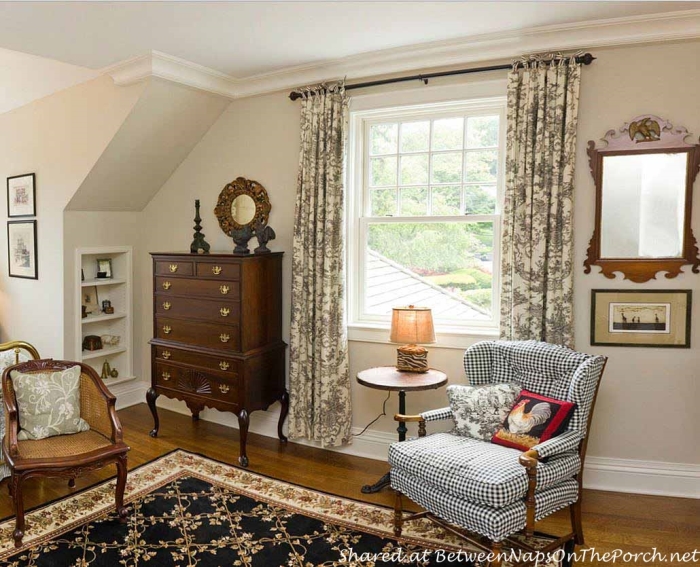 The bathrooms are just as beautiful as the other rooms in the home.
A beautiful marble floor and clawfoot tub…
This photo is a bit blurry but hopefully you can see the pretty sconces.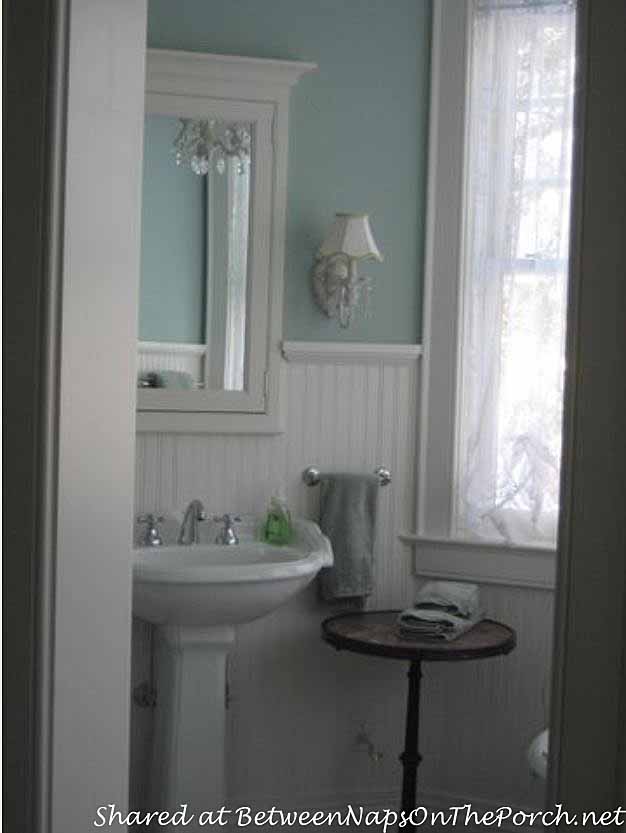 I think this may be the master bath. Love the chandelier…so fun having a chandelier in the master bath! It just makes that room feel as special as all the other rooms in a home. There's a lovely Venetian glass mirror and notice how it's hung atop a larger mirror.
Did you enjoy our tour today of this wonderful Victorian home?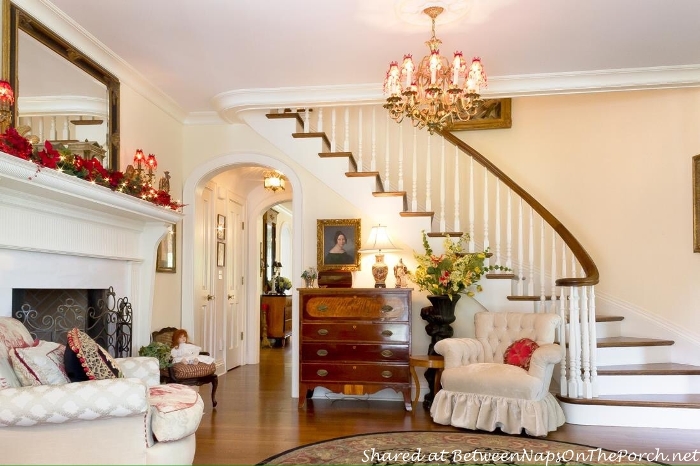 Thanks so much to Phyllis, Christy's Mom, for sharing pictures with me so I could share them with you! It makes me so happy that Christy and Don were able to rebuild their home, truly a testament to the enduring spirit we all possess to come back even stronger when confronted with huge challenges.
Did you have a favorite room?
*If a post is sponsored or a product was provided at no charge, it will be stated in post. Some links may be affiliate links and as an Amazon Associate, I may earn from qualifying purchases. *