It was the title of this book that first caught my eye, but the "Editorial Reviews" and the reviews on Amazon prompted me to take a chance and buy it.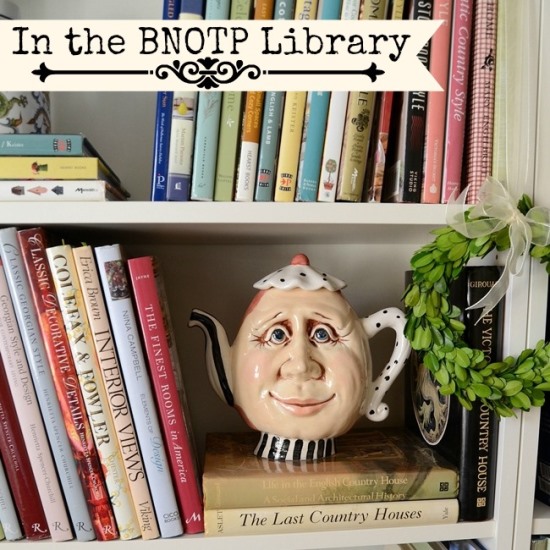 In the BNOTP Library: The Finest Rooms in America
Author: Thomas Jayne

3 Things I Like About This Book:
This is another one of those books that let's us take a peek into the homes of some very famous people. They come from all walks of life and include designer Carolyne Roehm's New York Apartment, Thomas Jefferson's Tea Room at Monticello and the library of author, Mark Twain. We don't tour the whole home, just a single, fabulous, room. As the title indicates, we get a look into 50 different homes, varying from historic/traditional to modern and even rustic. The homes are diverse, but all are interesting, noteworthy and beautiful.
Many of the homes featured in the book have great historical significance, those were my favorite. Lots of great antiques to enjoy! This isn't really a "decorating" book but it may give you ideas you can use in your own home. I loved Kenneth Jay Lane's drawing room. The way he displays his paintings and art is amazing!
This is a book you can pickup and enjoy when you only have a few minutes to spare because the chapters/sections are short with specific information about the home, accompanied by lots of photos with descriptions. Photography is a mix of large and small pictures and is beautiful.
Update: Here's a list of the 50 rooms included in this book:
Tea Room, Monticello
Drawing Room, Miles Brewton House
Large Dining Room, Mount Vernon
Dining Room, Magnolia Mound
Reception Room, Victoria Mansion
Library, Mark Twain House
Dining Room, Kingscote
Chinese Breakfast Room, The Elms
Courtyard, Fenway Court
Golden Step Dining Room, Beauport
Dressing Room, Vizcaya
Living Room, Hollyhock House
Parlor Chamber, Hamilton House
Dining Room Eliel Saarinen House
Chinese Parlour, Winterthur Museum
Morning Room, Bassett Hall
Sala, Casa Amesti
Living Room, Menil House
Living Room, Charles and Ray Eames House
Outdoor Room, Frances Brody House
Dining Room, The Big Bend
Library, Edgewater
Living Room, Randolph Martz and Gene Waddell House
Grand Salon, Thomas Britt Apartment
Library, Stuart and Sue Feld Apartment
Bedroom, Mark and Duane Hampton Apartment
Drawing Room, Kenneth Jay Lane Apartment
Winter Garden, Susan and John Gutfreund Apartment
Living Room, Carolyn Roehm Apartment
Living Room, Candace and Frederick Beinecke Apartment
Living Room, Rose Tarlow House
Living Room, Suzanne Rheinstein House
Studio, Bentley Larosa House
Salon, Frances and Rodney Smith House
Bedroom/Sitting Room, Annette and Oscar De La Renta House
Dining Room, Oceanfront House
Living Room, Kitty Hawks House
Library, Farmhouse
Great Room, Bunny Williams and John Rosselli Barn
Parlor, Oakley Farm
Living Room, Andrew Fisher and Jeffry Weisman Apartment
Bedroom, Alexa Hampton Apartment
Dining Room, Mary Cooper House
Tribeca Studio
Dining Room, Encinal Bluff
Dining Room, Robert Couturier House
Living Room, Tribeca Loft
Sitting Room, Albert Hadley Apartment
You can read more about this book and preview it at Amazon, where I normally buy my books here: The Finest Rooms in America
Pssst: If you would like to be notified of new "In The BNOTP Library" posts, subscribe to have updates delivered to your Inbox HERE or via the gray subscribe box at the end of this post.
You'll find previously featured books from the BNTOP library here: In The BNOTP Library or just click on the collage below.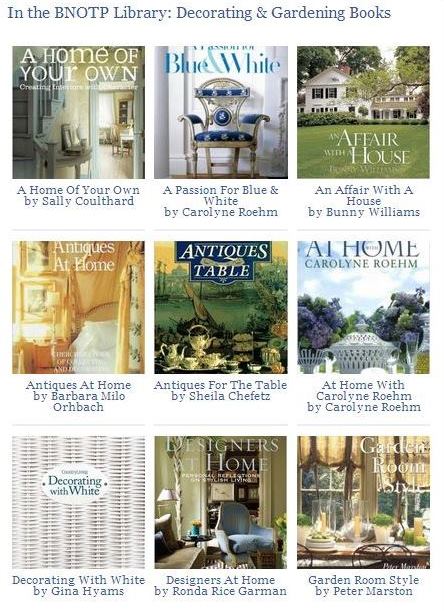 *If a post is sponsored or a product was provided at no charge, it will be stated in post. Some links may be affiliate links and as an Amazon Associate, I may earn from qualifying purchases. *