I love taking you on home tours, especially when I come across a hidden gem and today's home is truly a special home! This historic home known as Thayercrest, is located in Farmington, New Hampshire. It was built in 1915, thus making it almost 100 years old!
I was surprised to read that in its 100 year history it has never been on the market! Isn't that amazing?! It's not often one can buy a 100-year-old home that's only had one owner! And it's in such excellent condition. This is truly one of my all time favorites that I've ever featured here at BNOTP. Get ready for some serious gushing because I love this home!
Of course, as with all homes, it could use a teensy bit of updating here and there, but wallpaper and paint are easy things to change so look beyond that as we take this tour.
One of my favorite things about this home are all the outdoor "rooms" many of which are two-stories up. From this view we see a sun deck off to the left with a porte-cochère and screened-in porch tucked underneath.
There's another two-story, screened porch off on the right above a wonderful sunroom we'll be touring shortly. You are going to love the sunroom! There are more wonderful porches and outdoor spaces in back, as well. See that attic space, we are going up there today, too! I am so excited to share this home…can you tell? 🙂
A beautiful fan-light and sidelights surround the front door.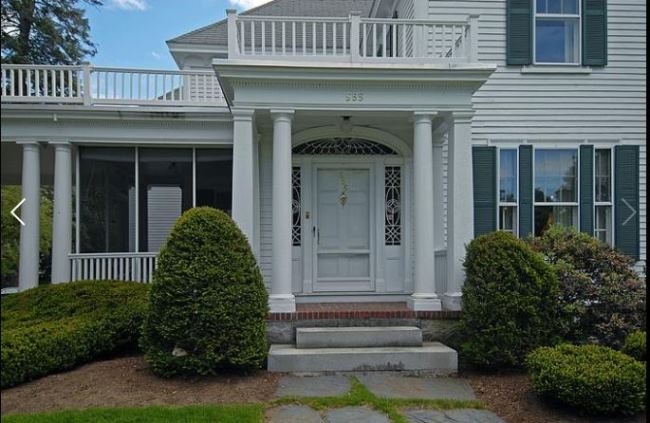 Here's how the fan-light and sidelights look from inside. So pretty! There are even side lights on either side of the door leading out to the screened porch and porte-cochère. So even when guests pull up under the porte-cochère and come in through the porch, they are still entering through a beautiful entrance.
Here's where that side door leads, through a screened area porch on the side of the home that leads to the porte-cochère. I noticed in the listing it says this home has entertained some famous people in the past. Something tells me this entrance came in handy through the years, especially when it was raining.
I love a beautiful, historic mural. I used to drool over the gorgeous Zuber panels I would see in Colonial Homes Magazine back in the day. I'd love to know the history of all the murals we'll be seeing in this home today.
Update: The About page gives additional information about the wallpaper and states that it is original to the home. It's called The Seven Wonders of the World. You can read more about the wallpaper and the history of the home and the Thayer family on the About page HERE.
Beautiful fireplace! I love the brick and hope whoever buys this home doesn't change it or paint over it. I see a small closet tucked behind it, interesting, huh?
More beautiful murals. I hope those will be staying (and don't get painted over) since they are a part of this home's history.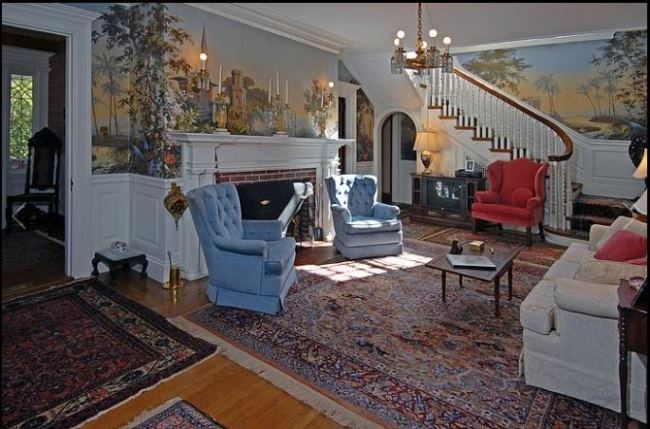 LOVE this staircase with all those fabulous windows . Look at the balusters going up the staircase! I love how they mixed three styles, so beautiful! Let's finish our tour downstairs before heading up.
Gorgeous mahogany paneling here in the dining room and look, a fireplace! Oh, how I love a fireplace in the dining room! We can just see a hint of the sunroom beyond.
So hope whoever buys this home doesn't paint over this gorgeous paneling. There are so many built-in china cabinets in this room…love that! I see a window seat, too! Told you there was going to a lot of gushing, can't help myself! This home just has so many special features you don't see in homes today.
The kitchen could use a bit of updating. It's a large kitchen and could really be made spectacular! If I were buying a home, I'd rather the kitchen not be updated already because that's one room I would want to make my own. I almost never like kitchen renovations I see online so much prefer to find a kitchen "as is" and turn it into my dream kitchen. Can you tell I've thought about this a lot when looking at older homes? 🙂
This butler's pantry blew me away! You can tell this home was built for entertaining and sharing with friends and family.
There's even a second pantry! I wonder if the long drawers are for tablecloths and other linens.
It has a separate laundry room. Love that it has two windows, you normally only see one in laundry rooms today. I wonder what that little alcove space is to the left of the washer? Oh, I bet that was a laundry shoot at some point. What do you think?
Love this cozy library. Do you think that's grass cloth on the walls? I would definitely leave it, if it is. Grass cloth done properly is beautiful in a room where you want a cozy feel.
This home has all my favorite spaces: a library, a butler's pantry, plenty of porches and a big, beautiful sunroom!
I can't tell if the wicker is blue or if it's just the reflections. I'd love to see all the woodwork in this room painted white. There are more windows underneath the shades along the top, I noticed that from outside. Imagine removing the shades and the draperies…all the light that would pour into this space! It's beautiful now but I'd love to see it in white and minus the shades and draperies. I wonder if they would be willing to sell some of the furniture we're seeing on this tour. I love the furniture they have here in the sunroom!
Here's what's above the sunroom, a small screened-in porch. ~~~BIG SIGH~~~
The view from the screened porch above the sunroom. Are you dying yet? Is this not a fabulous home? 🙂
Okay, let's go upstairs and check out the bedrooms. This home has five bedrooms. It's hard to see but the staircase turns to the left and continues on up. I wonder where that little hall under the arched doorway leads. I love a house that has little side halls that lead to different areas. Absolutely love!
Here's where the staircase ultimately leads if you turn left and continue up. It takes you to this beautiful landing.
From here we can see the little arched doorway again that we passed coming up the stairs. I'm still dying to know where that goes! Love all the natural light pouring in through the Palladian window. Okay, let's check out some of the bedrooms!
Such a romantic space. I could definitely sleep here in this wonderful room! You can tell this home was last decorated when wallpaper was popular, so as you're touring it imagine it without the paper. I think the rooms would feel much larger minus the paper, too.
The bathroom appears to have been updated at some point. I love it. The only thing I might change would be the wallpaper.
Another bedroom…the bedrooms have wallpaper but again that's easy to change. Can you tell I'm already decorating it in my mind? I bet the views are beautiful out those windows.
Another bedroom…
And another bedroom…some goregous furniture throughout this lovely home! Though so many of the rooms have single beds, most appear large enough for a double or maybe even a queen bed.
I wonder if every bedroom has its own fireplace? Maybe some have been covered up over the years…that does happen.
Another wonderful bedroom and this one has a porch to enjoy!
This may be the master bedroom because…
…it has a large adjoining bath. A little updating and this would be a wonderful master bath.
How often do you get the luxury of a bay window in a bath? Love that!
I'm not sure where this room is in the home. Wonder if this is where the little arched doorway would have taken us? Are you already in love with this home as much as I am? And we haven't even seen that cute attic, yet!
Look at this adorable attic space! Windows on two sides and love that slanted ceiling! Even the flooring is beautiful here! I bet this was a favorite play space for the kids growing up here. This room has sooo much personality!
Why don't we have wonderful attic spaces like this today?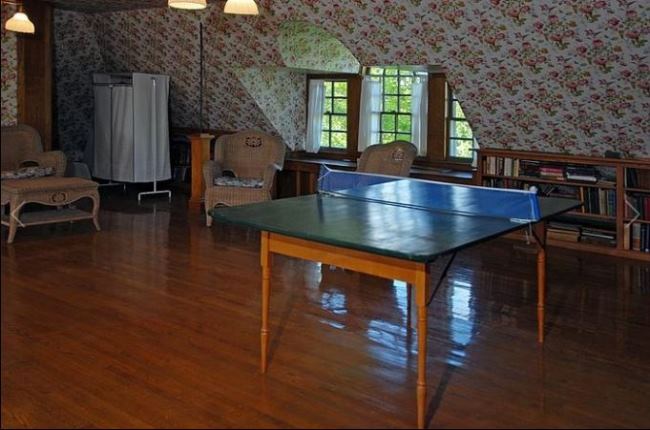 Let's go outside and check out the back of the home. Will it be as beautiful as the front?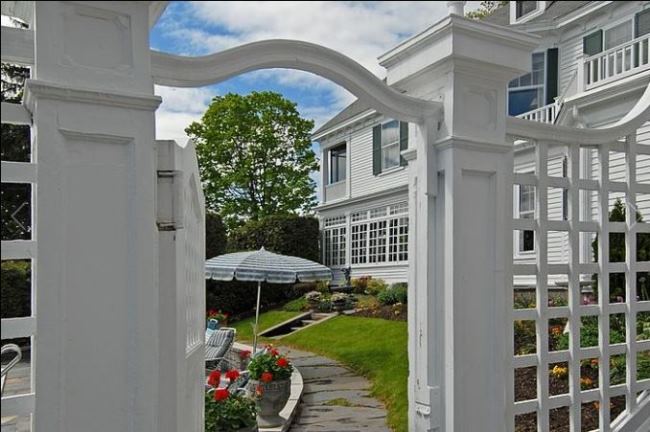 That would be a, YES! 🙂
I see even more porches! You can see the bay window in the master bath, the dormer windows down one side of the attic room, and the little side porch (far left end) that was off of the master bedroom.
See the porch that's off the back of the right end of the home.
Here's the view from that porch. I love that all the lattice-work or whatever you would call that beautiful woodwork around the porch. I love how it fits perfectly with the pool fencing and love how they did the fencing around the pool. It actually adds to the beauty of this space instead of detracting from it as fences often do. So many wonderful takeaways from the design of this wonderful home!
Did you love this home as much as I did? If you would love to see BIG, BEAUTIFUL photos that fill your whole screen or a video tour of the home, check out the listing HERE where these pictures were found. Exterior photos, video and the website for Thayercrest were created by Link Moser.
If you enjoyed this tour, please feel free to share it. Happy weekend, dear Friends!
*If a post is sponsored or a product was provided at no charge, it will be stated in post. Some links may be affiliate links and as an Amazon Associate, I may earn from qualifying purchases. *