Pssst: Postcards From The Porch, the BNOTP newsletter will be going out tomorrow. If you aren't currently subscribed, you can subscribe HERE (it's free) or via the subscribe box at the end of this post.
Touring Nottoway Plantation
Back in May of this year, I spent an entire week in Louisiana and Mississippi touring 13+ plantation homes. I've never taken a whole week for the sole purpose of touring historic homes so this was a real treat.
One of the homes we toured was Nottoway Plantation located at 30970 Hwy. 405 on the Mississippi River Road, 2 miles north of White Castle, Louisiana. Nottoway is said to be the South's largest remaining antebellum mansion and with 53,000 square feet of living space, it is huge!. It has 64 rooms, 7 staircases and 5 galleries and 365 openings, which I guess is referring to windows and doors.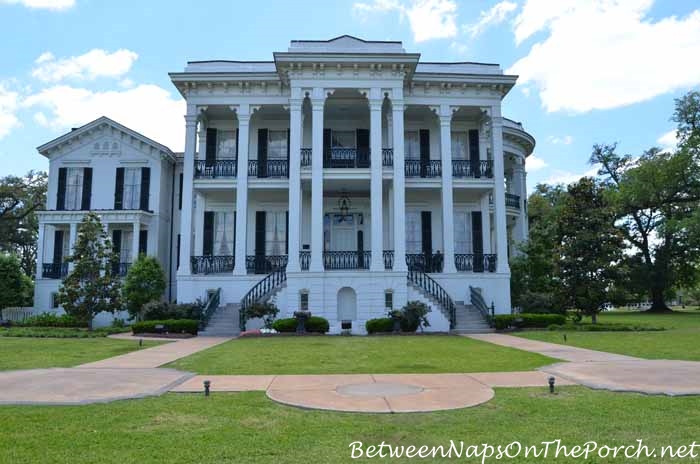 Before we proceed with out tour, I should mention, this post has a gazillion pictures! I could have split the tour over two posts but I dislike doing that because it's always nice to tour a house in full in one setting. So enjoy whatever part of this tour you have time for, then come back later for the rest when you have the time.
Nottoway was built in 1859 by John Hampden Randolph in the Greek Revival and Italianate style at a cost of $80,000. He is pictured below with his wife Emily and two of their eleven children.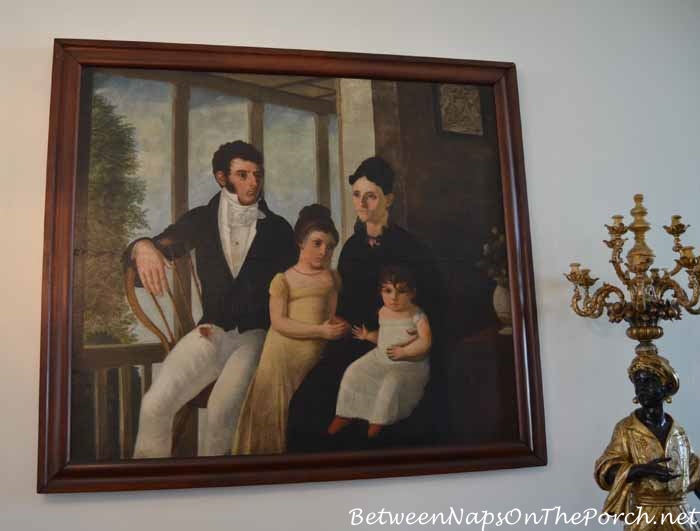 The first room we entered was the ballroom and it totally threw me for a loop. It was so different from any room I've ever seen in any home, especially compared to the other plantation homes we toured that week. It was all white, even the furniture, draperies and floors were white! The only thing not white was the gold (gold leaf?) on the mirrors and the trim of the sofa. Elegant, and a little spooky.
Per Wikipedia, this was Mr. Randolph's favorite room and he had the whole room painted white to "show off the natural beauty of all of the women, especially his seven daughters."
(Picture below is from the Nottoway Plantation website.)
A beautiful view of the fireplace and the exquisite moldings.
The ceiling medallions of today don't even compare, do they?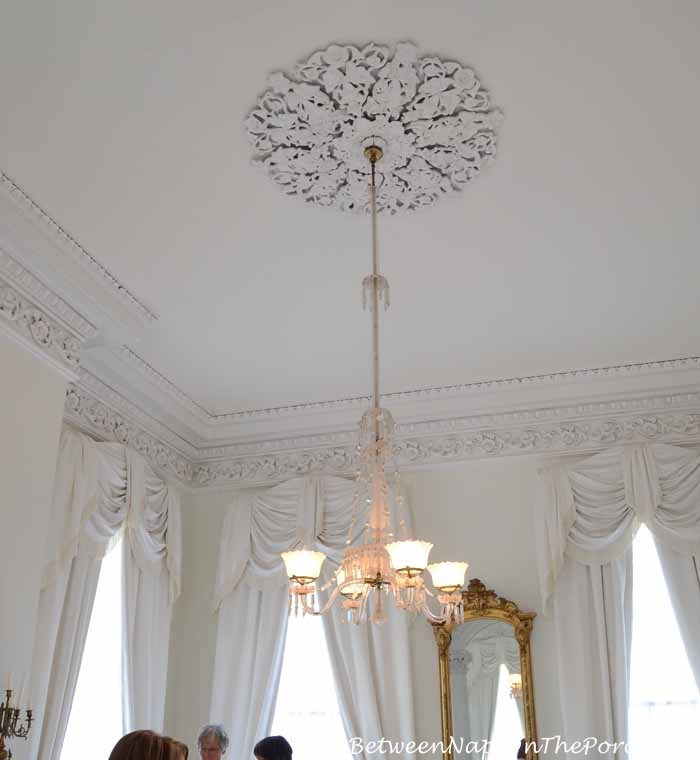 The ballroom showcases Corinthian columns and hand-cast archways.
This long mirror was there to help the ladies check on their dresses and ball gowns. They had to make sure their ankles and hoops weren't showing beneath their skirts. Showing your ankles back then was a huge no-no! Can you just imagine if they could see how we dress today?! They would probably faint right on the spot!
One article I found online said the floors in the ballroom were originally white tile. I wonder if it became damaged over the years and was replaced with wood. Definitely looks like painted wood now.
Absolutely gorgeous mirror!
Another mirror in the ballroom… I forgot to take a picture of the other fireplace, the one you see reflected in the mirror with the portrait of Mrs. Randolph above it. I didn't know this at the time but have since read, when you're in the room and walking around, Mrs. Randolph's eyes appear to follow you. Yikes!
This was the Mr. Randolph's study. The green color of the drapes, walls and fabric on the sofa is so pretty contrasting with the rich beauty of the wood/furniture pieces. The drapes remind me of that scene in Gone With The Wind when out of desperation, Scarlett sews a dress from her green velvet drapes. Remember that?
(Picture below from Nottoway Website.)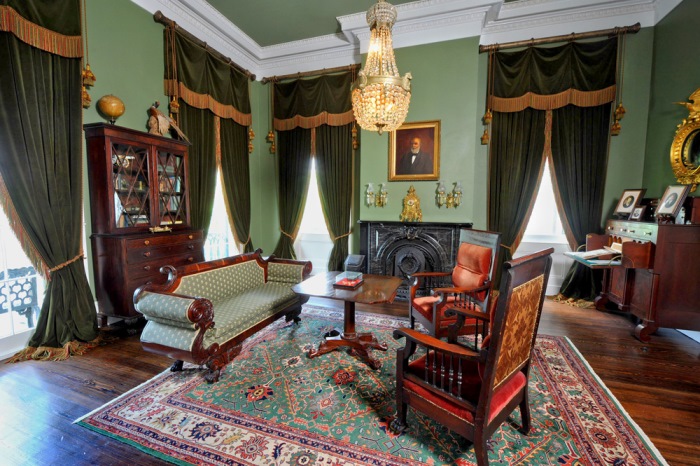 Green velvet must have been a popular fabric for drapes back then. And dresses. 🙂
Via
A dark, masculine-feeling marble fireplace, perfect for a gentlemen's study.
Beautiful Federal mirror! There are so many gorgeous mirrors in Nottoway. I wonder if the little balls on this particular mirror have a significance? There are 13 on a lot of Federal mirrors, representing the original 13 colonies. This mirror has 32 if I counted correctly.
This was probably where Mr. Randolph ran the business affairs of the plantation.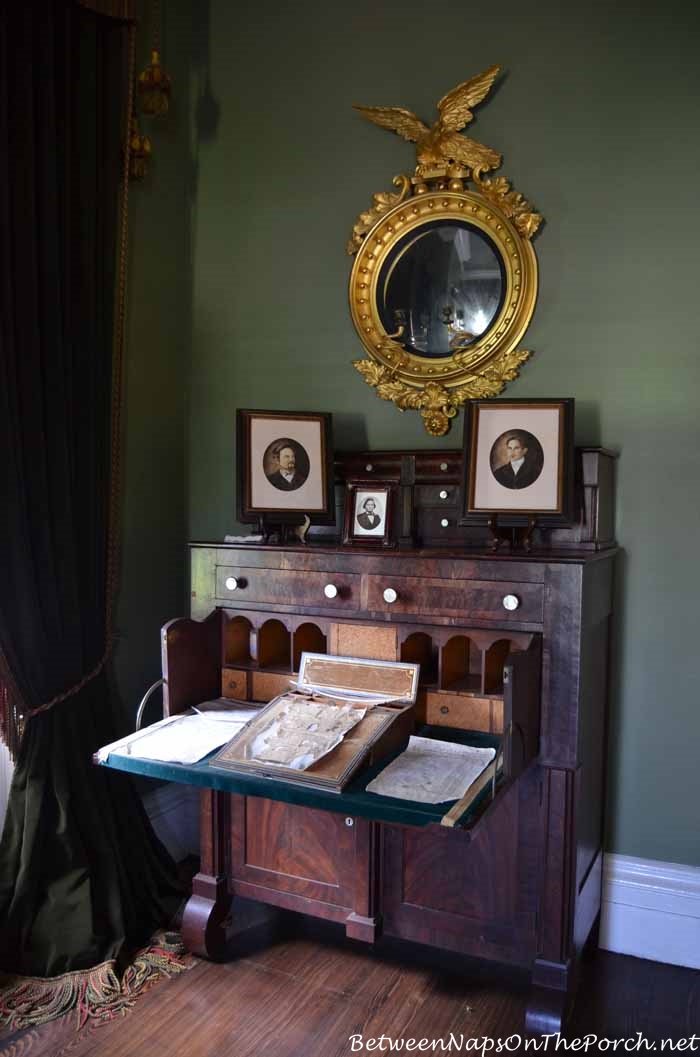 Visiting Nottoway Plantation is such an amazing experience, not just for the home but for the antiques throughout. Any antiques specialist out there? If you recognize a piece, leave a comment letting me and I'll add that info to this post. I think this could be in the Empire style.
I think this is Empire, too. It always makes me sad when I see gorgeous pieces like this being painted over. I love the look of painted furniture but adore the rich patina of gorgeous mahogany and walnut pieces. I even like it when old furniture has a few scratches and dents. I see those and dream about its past lives and the folks who enjoyed and loved it before me.
A last glance into the Gentlemen's Study as we leave the room.
The dining room is breathtakingly beautiful! It makes me want to go bold and paint one of my yellow rooms a bright yellow! (Picture below from Nottoway Website.)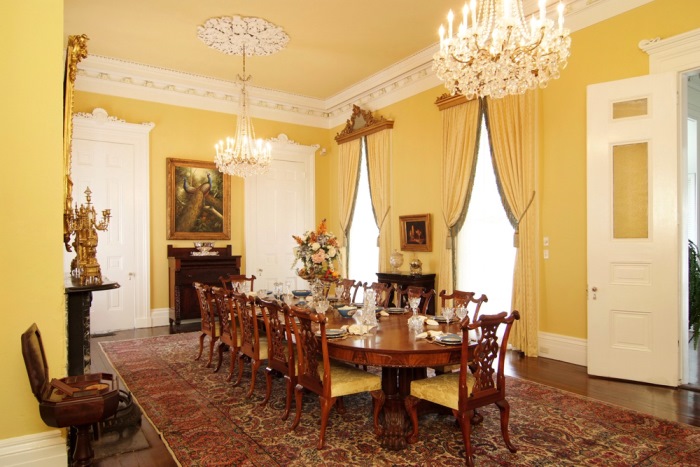 The table was set the day we visited.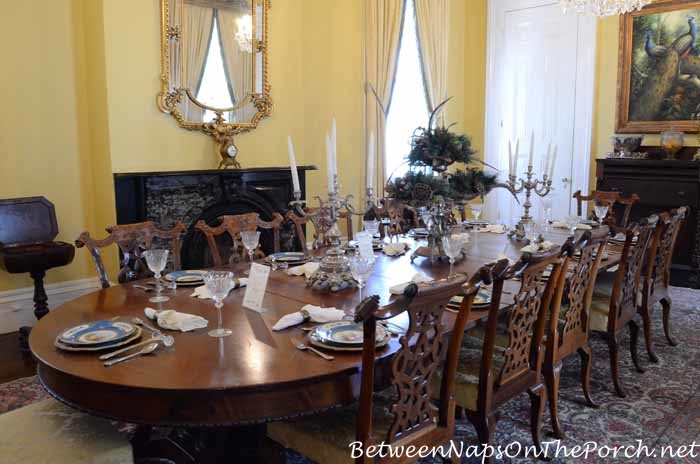 Let's move a bit closer and take a look at the china.
So pretty! The plates are all hand-painted, each with a different scene.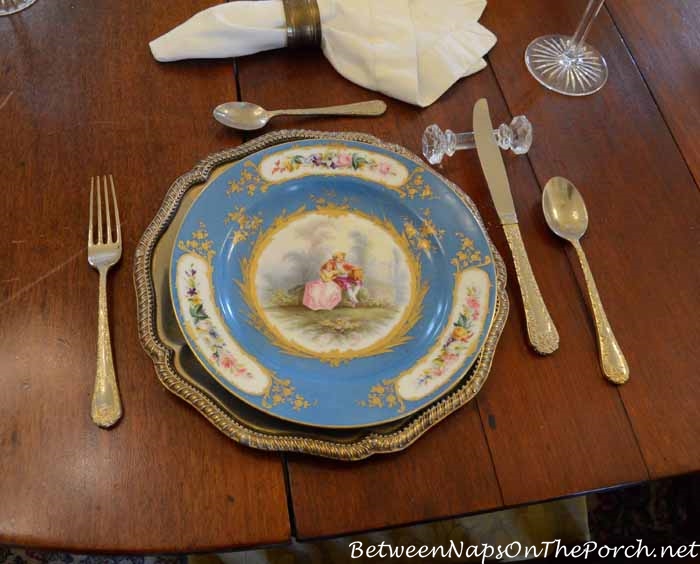 The sideboard…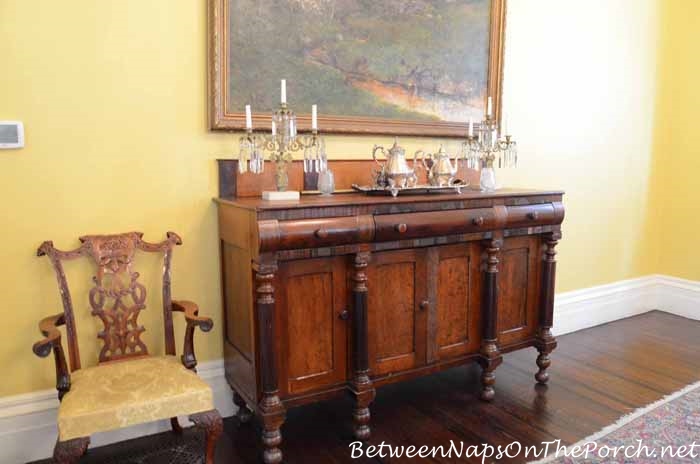 Another gorgeous mirror here in the dining room!
Nottoway Plantation has a music room. I can just imagine all the children in here taking their music lessons. I wonder if the boys took lessons or if that was only for the girls? (Picture below from Nottoway Plantation website.)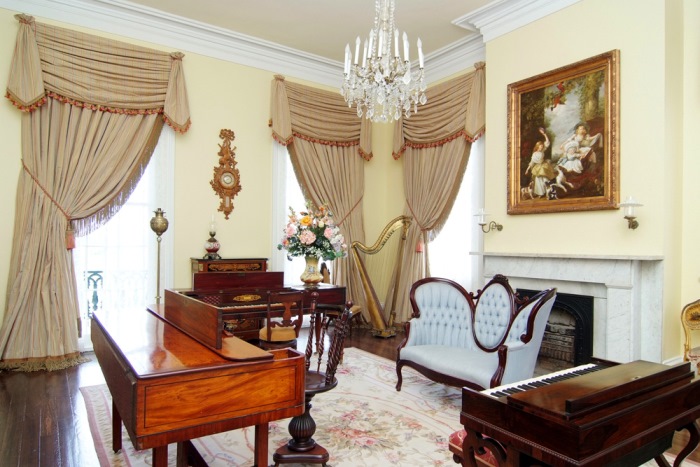 I snapped a quick picture of this chair. I think the guide said they were often stuffed with Spanish moss and sometimes horse hair. I wonder how they got the bugs that live in Spanish moss out of it first.
I always drool over the chandeliers on these historic home tours.
The harpe in the music room…
This was a cabinet designed especially for storing sheet music. It's amazing to think how old this piece is and it still looks great!
This was the master bedroom where Mrs. Randolph was known to stow away items of value in a secret hiding place. She hid them in one of the bedposts at the end of the bed.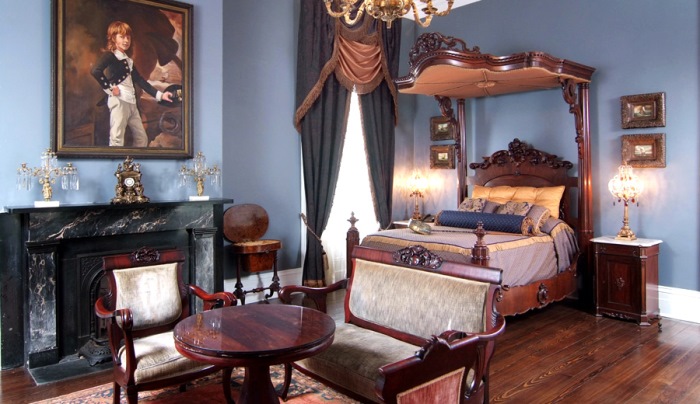 Such a beautiful tester bed!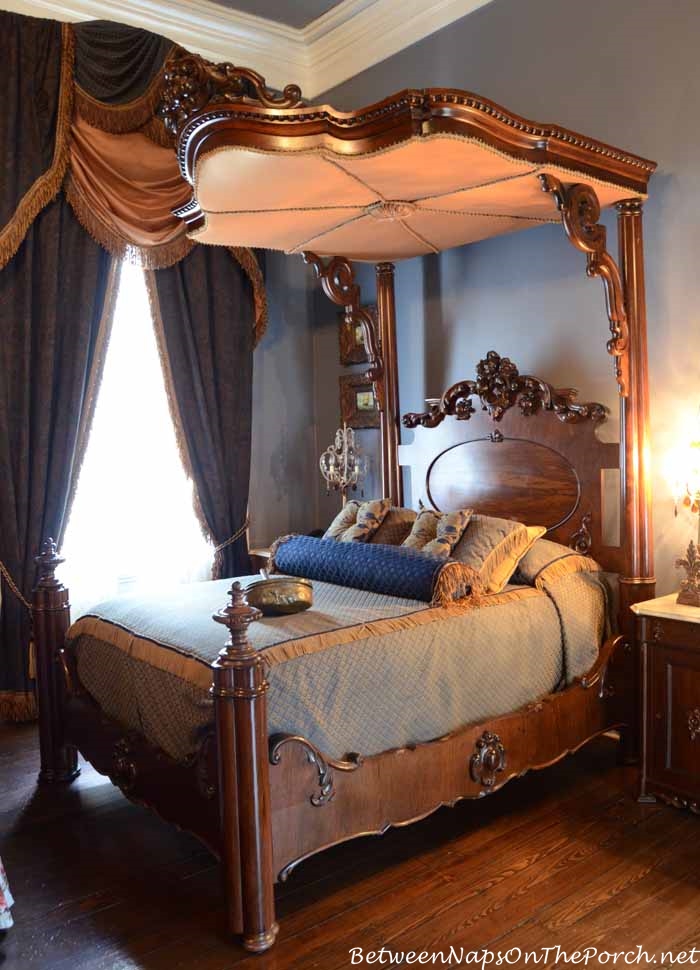 Beautiful antiques all throughout the home!
This was a sweet little room. I'm guessing it belonged to one of the children.
We didn't get to tour all of the bedrooms but we did tour this one. (Picture below from Nottaway Plantation website.)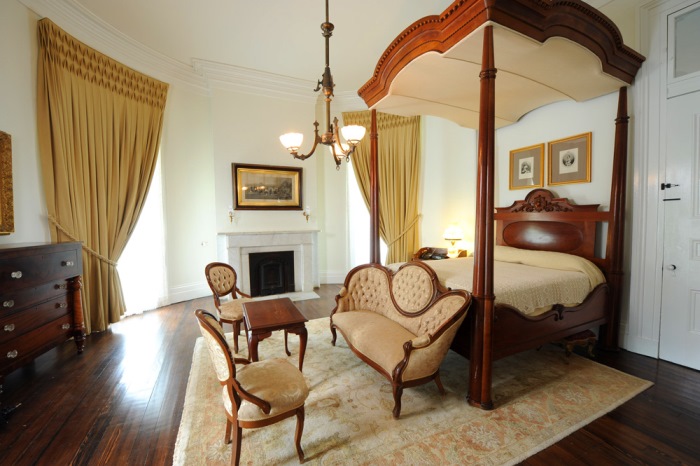 Another full-tester bed.
Look at the carved details on the headboard!
We didn't get to tour the next two bedrooms pictured below but I thought you might enjoy seeing them.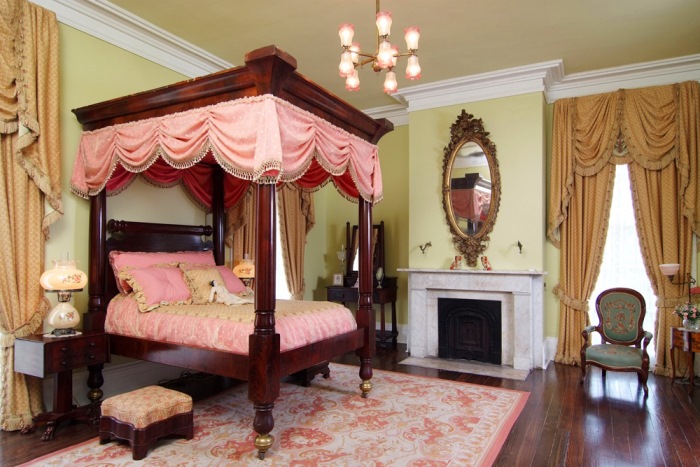 Photos above and below are from the Nottoway Plantation website.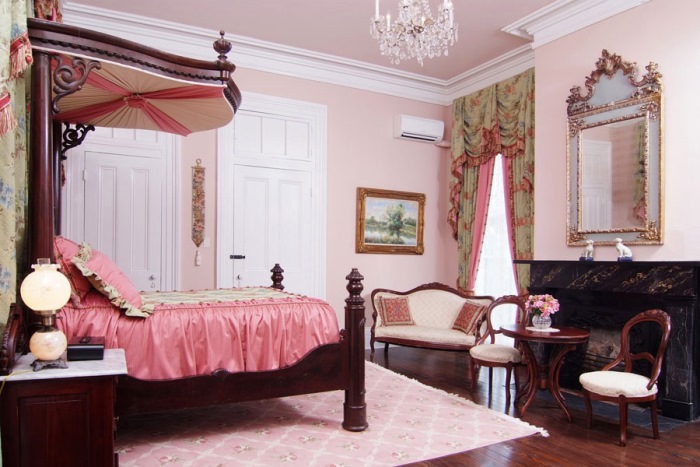 I snapped this photo as we walked out on the back porch/gallery area. You can see the "boy's wing" from here.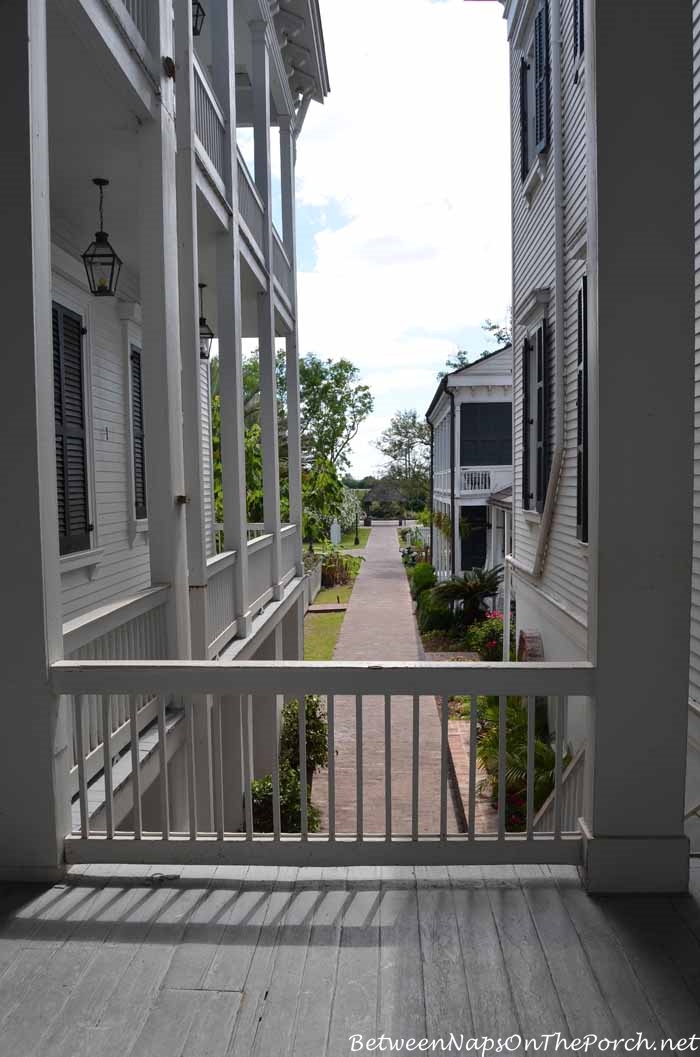 Another view of the boy's wing from the Nottoway Plantation site. It was pretty common back then to have the boys sleep in a different part of the home. Glad that custom died. I can't imagine having my son sleeping in a different building or wing at night…I'd never get any sleep for worrying.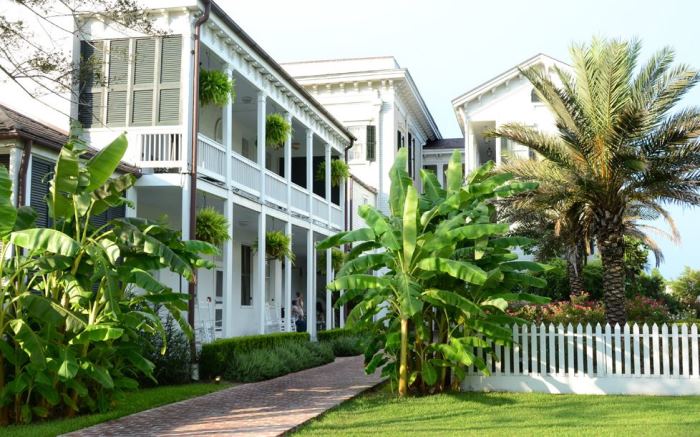 At one point in the tour, we stepped out onto one of the upper porches or galleries. The windows go right down to the floor so you can walk right through them.
This was our view from the upper gallery along the front of Nottoway. Nottoway Plantation originally sat on 400 acres of highland and 620 acres of swampland. It was completely surrounded by sugarcane fields and oak trees when the Randolph's lived here. See that body of water? Shockingly, that's the Mississippi River flowing only 200 feet away from the front door of Nottoway Plantation.
I wonder how far away it was from the river before the Levee was built. I also wonder how many times it has spilled over the levee. Looks like it wouldn't take much to do that, doesn't it? I remember on one of our tours, probably the one we took of San Franciso Plantation, they mentioned that the course of the river had been changed at some point in history, bringing it much closer to many of the plantation homes. I find that fascinating…that a whole river can be rerouted!
We'll end our tour with a couple of photos from the Nottoway Plantation website showing Nottoway at night.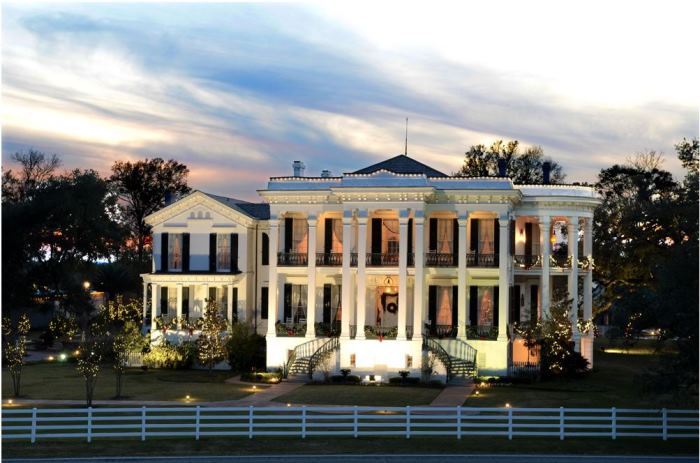 Hope you enjoyed the tour. If you're ever in the area, stop by and see it in person. It's open all throughout the year and is available for special events. I noticed at their website, they have a "murder mystery dinner theater" on Halloween night. Bet that will be a lot of fun!
Enjoy touring historic plantation homes in Louisiana? You'll find many more linked here: Plantation Homes in Louisiana
Tour Oak Alley here: Oak Alley Plantation
Tour Laura Plantation, A Creole Plantation in Vacherie, Louisiana here: Laura Plantation
*If a post is sponsored or a product was provided at no charge, it will be stated in post. Some links may be affiliate links and as an Amazon Associate, I may earn from qualifying purchases. *