How about a weekend stroll? Did you bring your water? How about a sweater, it's chilly out today.
Actually, I think I took these photos on a warm, summer day but just never got around to sharing them with you. Often when I'm visiting family in Ohio, on the weekends we will walk to nearby restaurants for dinner. The view along the way is always wonderful because we pass by so many beautiful, old homes like this one with the wonderful front porch. Love the garden!
Love the little balcony on the front of this home. Beautiful landscaping too!
This is one of my favorite homes in the area. I actually took this photo during a drive in the area. Look at those window boxes! Sooo beautiful!
Have you ever had windowboxes with live plants on your home? I love how they look! Knowing me, I'd forget to water them!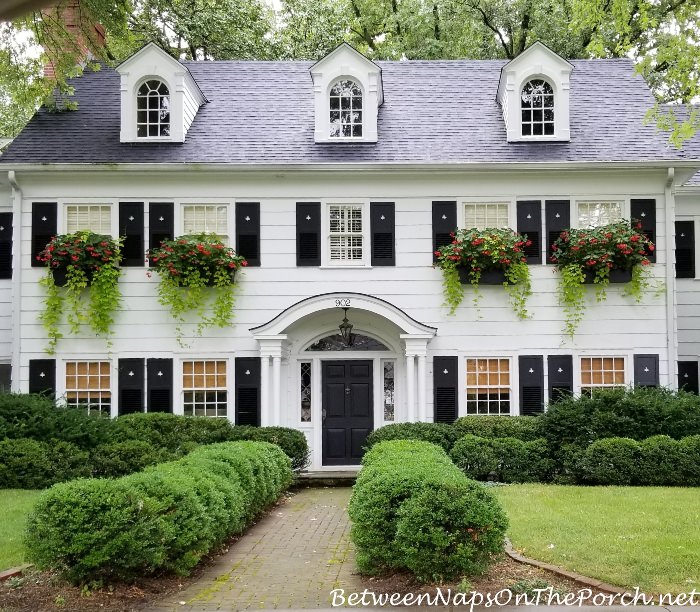 Okay, we're back to walking now. This is another favorite we often pass en route to dinner.
Victorian homes always have so much personality and curb appeal. I wonder if that's a seating area there at the top of the turret? I love how it's open and not closed in. What a wonderful spot that would be to sit, read, and catch the breezes.
Another pretty Victorian…
I love it when older homes have dormers across the front. I always wonder if there are rooms behind them or if they were originally added for symmetry and interest to the attic area. In any case, I love how they look!
This home looks newer, wonder if was built later.
Some of the neighborhoods we walk through have small front yards but have large back yards that go very far back. This house had a beautiful front yard, as well. Love the big front porch!
Another beautiful traditional home. The homes in the historical neighborhoods in Ohio remind me very much of the homes in our historical neighborhoods here in Georgia.
We often see Tudor-style homes on our walks. I love this one and how it incorporates brick into the exterior design. Pretty stonework, too!
This autumn weather is perfect right now for a neighborhood stroll today and a bit of house spotting. Happy Weekend!
*If a post is sponsored or a product was provided at no charge, it will be stated in post. Some links may be affiliate links and as an Amazon Associate, I may earn from qualifying purchases. *