I love garden art and the delightful whimsy it adds to a garden. During the summer, I love to visit the garden centers in my area to see what new things they have in. I came across these fun pieces in one of the local Pike Nurseries a few years back.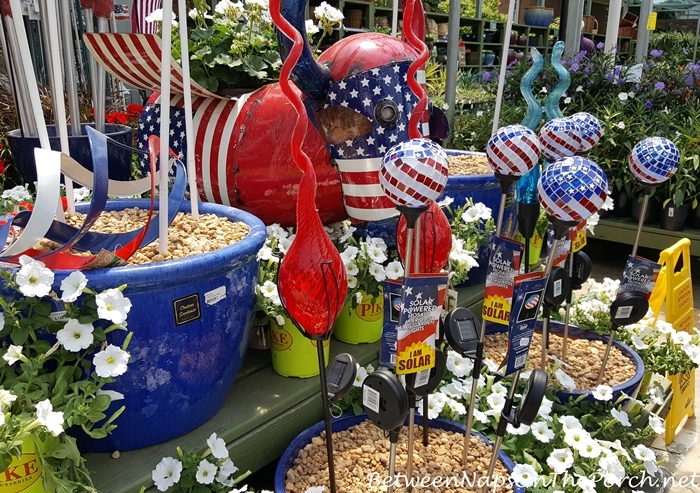 These colorful cows were so funny! I could see a mini herd of three gathered in one part of the garden.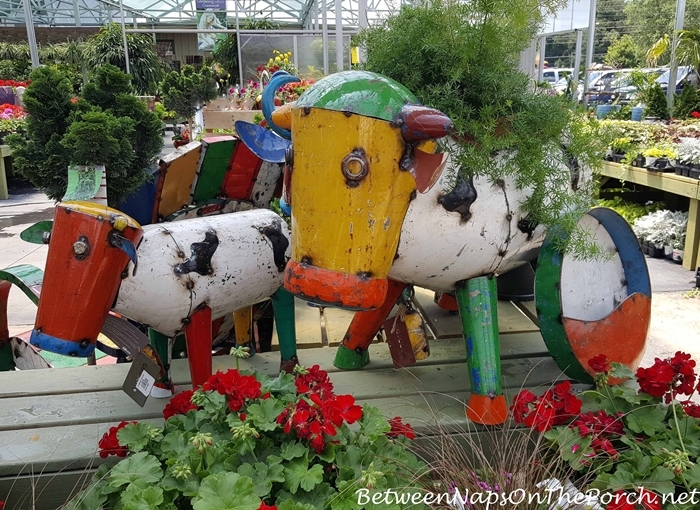 This whimsical pink sofa/bench was outside an antique shop/garden center many summers ago. Sadly, the shop is no longer there. I used to love visiting it when it was still in business. Once the world returns to normal and I'm back home, one of the first things I plan on doing is going antiquing. I haven't done that in years and I really miss it.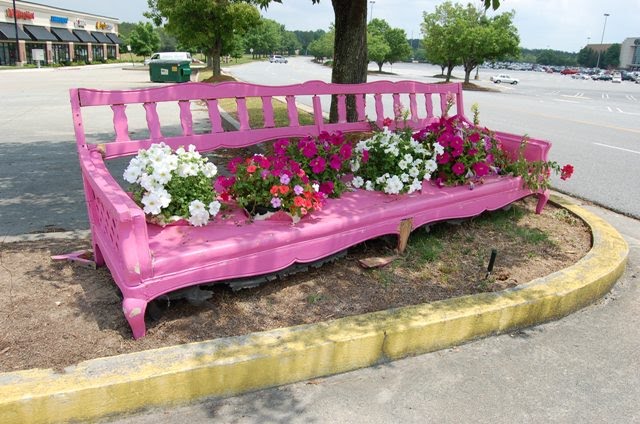 I saw this guy hard at work watering the garden during a tour of Arthur Blank's garden one year. Mr. Blank was one of the co-founders of The Home Depot and his home was included in the Garden for Connoisseurs Tour that year.
I added this bit of whimsy to my front garden many years ago. I purchased this garden art ball in my local Wild Birds Unlimited and took this photo shortly after placing it in the garden. It was beautiful for a few weeks, then one day I looked down and was dismayed to see it badly chipped all over. Big chunks were missing and it looked terrible. A week or so before we had a tornado with hail come through and I guess the hail caused the damage. It looked so bad, I had to discard it. I guess you can't put out pretty garden balls where you occasionally get hail.
I came across this wonderful bottle tree in one of my favorite decorating books, Southern Style, many years ago. I loved how it looked and could never get it out of my mind. (Southern Style is available here: Southern Style.)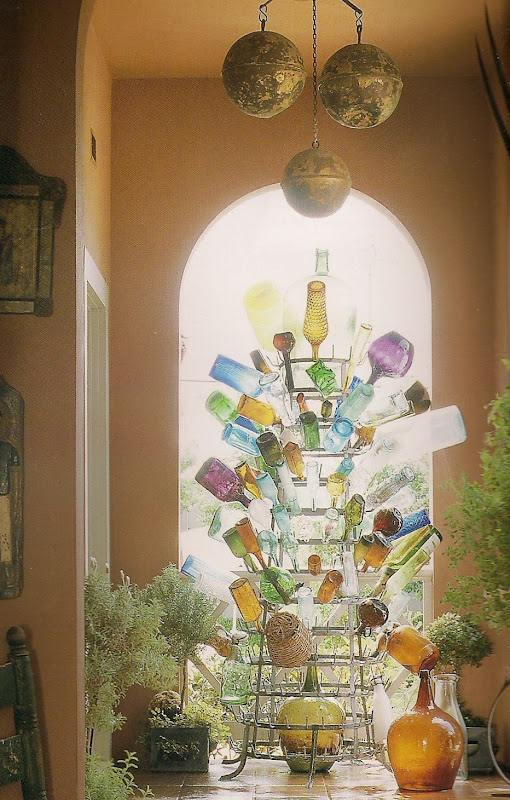 One day while shopping in the Ballad Designs Outlet in Atlanta, I came across some black, metal bottle trees. They were drastically reduced to $60. I think the original price was around $300, or something like that. I purchased one and told my friend, Jan, about them. She immediately purchased one for her garden, too. This is how her bottle tree looked in her garden.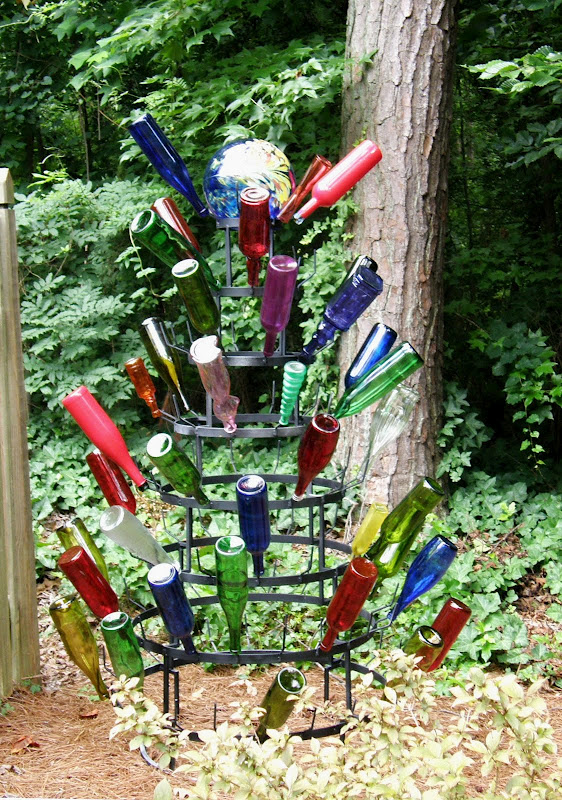 Here's mine on my deck a few months ago right after a short-lived snow-storm…my favorite kind of snow-storm. lol I just repainted it a few years back…see more of that in this post: Bottle Tree Makeover. The photo below is from where I posted it on Instagram here: Between Naps On The Porch on Instagram.
So this is what prompted today's post about whimsical garden art: A few days ago I loaded a couple of things into my SUV that my son had been meaning to take to the landfill, but had not had the time. When I arrived at the building where you unload your car, this is what I saw outside. Ummm. What are those things around the perimeter or the building?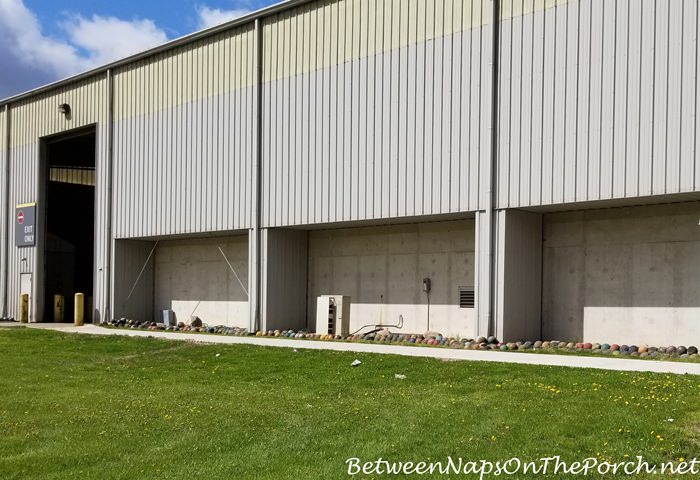 At first I wasn't sure what I was seeing, then I realized what it was: Bowling Balls!
They had landscaped all around the building as far as you could see with old, abandoned bowling balls.
Cool way to recycle them…turn them into garden art and mulch at the same time.
I wonder if the inspiration for using the bowling balls came from the beautiful gazing balls or art balls you sometimes see in gardens. Or, maybe it was from decorative balls like these I saw floating during a tour of the Atlanta Botanical Gardens. (Take the tour here: Tour the Atlanta Botanical Gardens.)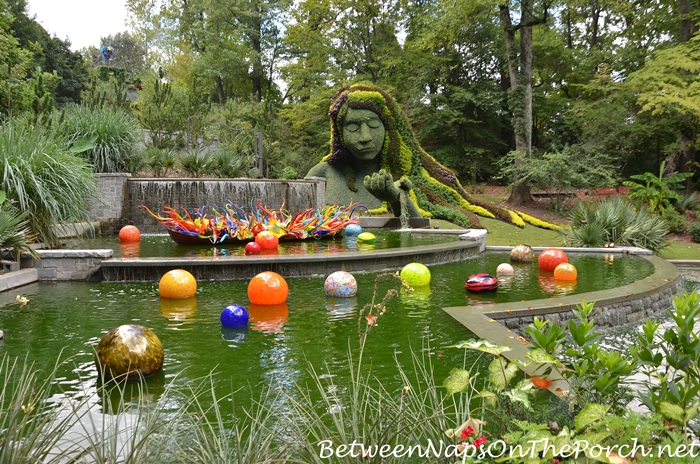 Recently during a visit to Home Depot to buy some much-needed household items, I ventured into the garden shop which was virtually empty. As I walked around the almost empty outdoor area, I kept wondering where all the annuals were. Turns out the planting time here in this part of Ohio is after Mother's Day. In Georgia, you can plant annuals any time after April 15th. This area of Ohio runs about a month behind my zone back home.
Anyway, I picked up two pretty planters because I was craving, literally CRAVING something of beauty in the midst of all the chaos we are experiencing right now. These were in plastic temporary pots so I purchased two slightly larger planters and transplanted the whole thing in one big swoop, adding in potting soil as needed to fill it in.
When I purchased them, a few of the daffodils were in bloom and I could just see the Hyacinths coming up out of the dirt. Wow, are they gorgeous now!
The tulips were a complete surprise! They weren't even peeking out of the dirt when I bought the planters, so I was delighted when they showed up a few days ago. These planters (minus the pots) were around $14 each f I'm remembering correctly. That's a steal for all the joy they've brought!
I've been bringing them inside on the "freeze warning" nights but soon those will be all in the past and they can stay outside for good. Once everything is done blooming, I'll transplant them all into the garden and hopefully, they will reappear next year.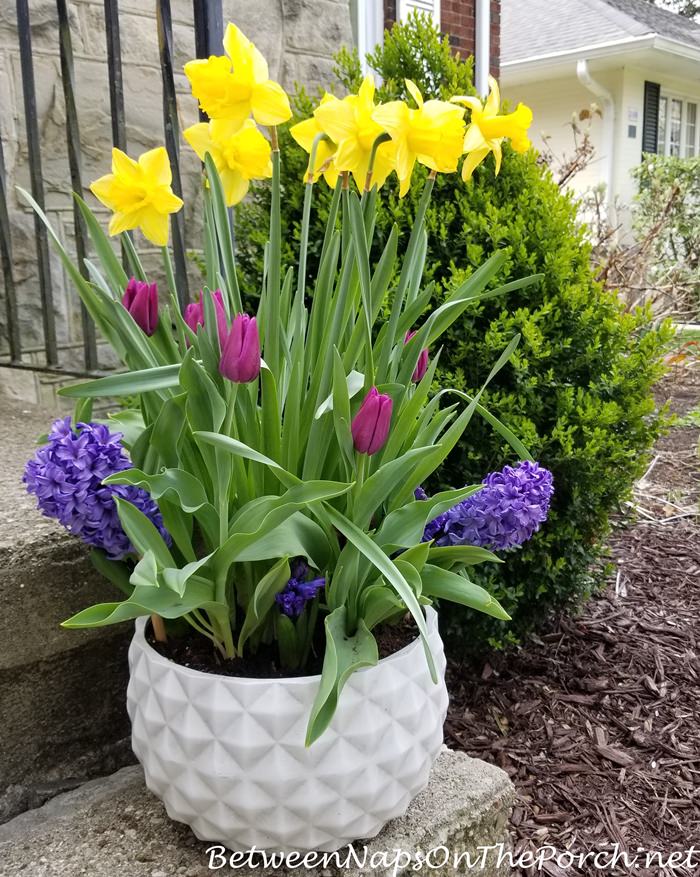 I hope this post brings you a bit of garden happiness. There's nothing like playing in the garden with beautiful flowers to lift the spirits. Have you been playing outside this spring, or is it still a bit too cold in your area?
*If a post is sponsored or a product was provided at no charge, it will be stated in post. Some links may be affiliate links and as an Amazon Associate, I may earn from qualifying purchases. *