Welcome to the 585th Metamorphosis Monday!
Hope everyone had a great weekend! I have an exciting, pretty "Before and After" to share today, actually a couple of Before and Afters! You may remember a while back I purchased this small desk to use when visiting my son, daughter-in-love and grandchildren. In the past, I always brought along my laptop. Combined with an exterior monitor, this set up worked quite well for 2-3 week visits.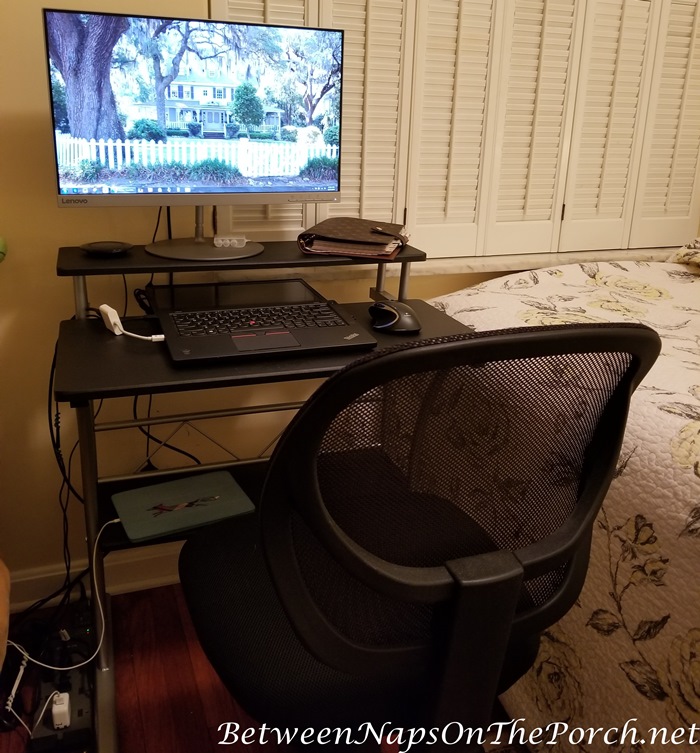 When I came up this time, I wasn't sure how long I'd be here since I'm helping homeschool and care for my grandsons while my son and daughter-in-law work during the day. Since I had a feeling this visit would be longer than normal, I brought up my main computer with me this time. Before leaving home, I hurriedly shopped online for a desk that would support a CPU Tower and double monitors.
At home, I'm used to working with two monitors. When traveling, I find it very slow and somewhat frustrating trying to work with just a single monitor. Double monitors will spoil you quickly!
The new desk was definitely working better for me than the smaller one. I gave the smaller desk to my daughter-in-love, Nancy. Though the larger desk was working much better, there were a few things about it that I wished were different.
I prefer a deeper desk because I like to rest my arms on my desk while typing. That wasn't really possible on the new desk below since it's fairly shallow. There's just enough room on the surface of the desk for a keyboard. I have been mainly using the pull-out tray for my keyboard, but again, the tray is fairly shallow so there's nowhere to rest your arms while typing.
Also, I wasn't thrilled that my speakers ended up partially hidden behind the monitors, although that was a minor issue. The main issue was the desk not being quite as deep as I would have liked.
During the time I was working from this desk…
…Nancy was working from my previous smaller desk. She quickly discovered that she needed more desk space for writing/taking notes, etc.. so she started shopping online for a desk that better suited her needs. I looked online to see if I could find one that she would like better and ironically we both found the exact same desk.
I emailed her a link to the desk I found and she replied back that it was the same desk she had just ordered. After her desk arrived, I realized it was much better suited for my needs, as well, so I ended up ordering it, too. So how about a reveal? 🙂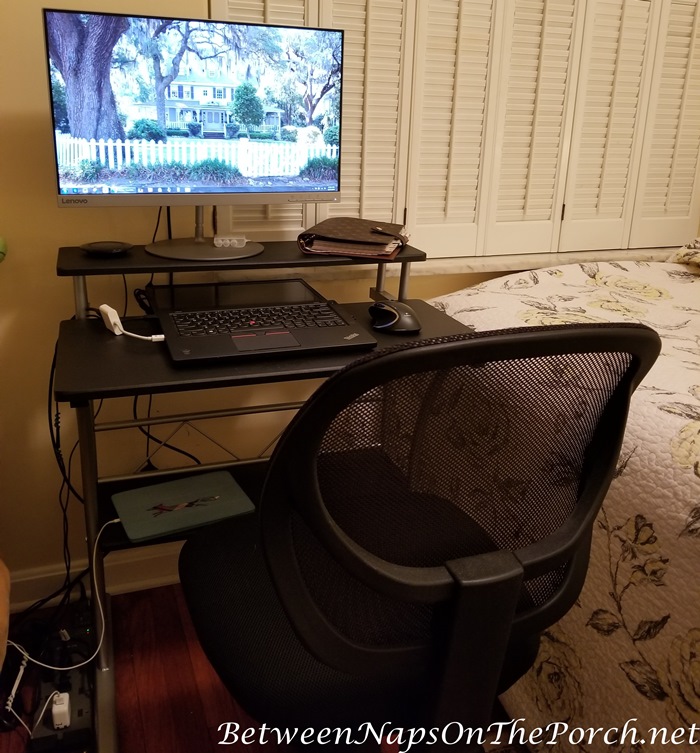 My son and daughter-in-law live in an adorable 1920's home with dormer windows in all the bedrooms. If you've been reading BNOTP for a while, you know I have a thing for dormer windows! I think they add so much character to a home from the outside and I love the personality they give to a room.
Nancy tucked her new desk into one of the two dormer windows in the master bedroom and it was a perfect fit. Of course, a lot of measuring took place before it was ordered so she was pretty sure it would be a great fit.
Look at all that surface space! This desk is nice and deep with lots of room for taking notes/writing.
I looked online and found desk pads for the two of us. I ordered two desk pads, one in green and one in pink, the two colors I thought Nancy and I would like best. Nancy loved the pink one as I thought she would, so that's the one she chose for her desk.
When the keyboard is pushed forward, there's plenty of room for resting your arms. Yes!
If you're in need of a protective desk mat that also works great as a mouse pad, you'll find the one Nancy has here: Desk Mat.
Her desk mat is actually two-sided so it can be used with either side up. The other side is a pretty silver color. It's also available in a black/silver combo and a black/yellow combo.
Nancy liked my phone holder so much, she added one to her desk in a blue color that turned out to be an exact match to the color of the walls here in the master bedroom. Amazing how well it matches! It comes in 5 different colors.
Here's how it looks when a phone is resting against it. If you could use one of these in your home, you'll find it here: Phone Stand, Eyeglass Pen Holder.
Nancy's beautiful desk is available here: White Desk.
So how is this desk working for me in the guest room?
It's working great! I'm IN-LOVE! ♥ Hard to see in this photo below but the little area that's on either side of the shelf holding the monitors works great for holding my Bose Speakers. If you need desk speakers, very much recommend these available here: Bose Speakers.
You can see the green mat I chose for my desk in the photo below. I love this soft shade of green and I love how it's working to protect the surface of the desk. As a bonus, it works great as a mouse pad, too.
The drawers on this desk are so roomy! Nancy and I both store our laptops inside one of the drawers.
The other drawer in my desk holds my iPad and earphones with space left over.
The desk also has two smaller drawers that hold an amazing amount because they are so deep.
In one I have tape stored and there's still plenty of room left for other items.
If you need a great tape dispenser, the one I just purchased for my desk is the best deal I've come across. It's heavy so it doesn't budge when you pull a piece of tape and it comes with 6 rolls of tape. You'll find it here: Tape Dispenser with Tape.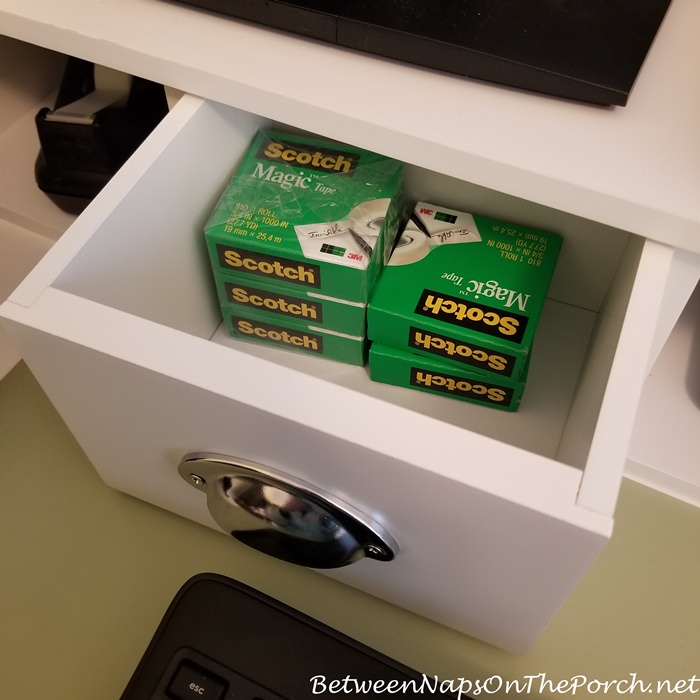 The other drawer holds post-it notes, a pink measuring tape, batteries and the little mini desk vacuum that I've shared here at the blog before. I like mine at home so much, I ordered another one to use on my desk here. You'll find this cute, little vacuum available here: Mini Vacuum.
I love how nice and deep the desk surface is on this desk, plenty of room to rest your arms while typing and plenty of space to write/work. If you like the look of the desk Nancy and I are both using and loving, you'll find it available here: White Desk.
If you are in need of a protective desk mat for your desk, you'll find the one I have here: Desk Mat. It comes in a bunch of different colors including a pretty blue color that makes me think of Tiffany Blue.
My CPU tower is resting on this pretty multi-media stand I purchased here: Stand. It's working great and I love how invisible it is under the desk.
I'm a little obsessed with these ocean, beachy looking coasters I purchased to use on my desk.
Here's a better picture showing how pretty they are. They are available here: Beachy Coasters. I may not be able to go to the beach right now, but at least I can have a little bit of it here on my desk. Ha!
Some things to know: This is by far the most fun I've ever had putting furniture together! First of all, this desk came in pristine condition. As you know, I've had so many issues in the past with furniture arriving damaged and poorly packaged. Both desks arrived beautifully packaged/protected.
Assembling them was so much fun because the instructions were excellent! I put the four drawers together for each desk sitting at the dining room table listening to a book on Audible. I'm thrilled with this desk–from the packaging to the assembly process to how beautiful it looks and how well it functions. Highly, highly recommend it! Again, you'll find it available here: White Desk.
Hope you enjoyed these two Before and Afters! Looking forward to all the wonderful Before and Afters linked for this week's Met Monday!
Pssst: Did you know Between Naps On The Porch is on Instagram? You'll find me on Instagram here: Between Naps On The Porch.
Like to know when a new blog post is up and available to read? Subscribe for email updates, it's free and your email will never be shared.
Subscribe here: Subscribe for free post updates via email here: Subscribe.
Metamorphosis Monday
Metamorphosis Monday is a party that's all about Before and Afters. If you are participating in Met Monday, please link up using the "permalink" to your MM post and not your general blog address. To get your permalink, click on your post name, then just copy and paste the address that shows up in the address bar at the top of your blog, into the "url" box for InLinkz when prompted.
In order to link up, you'll need to include a link in your MM post back to the party so the other participants will have an opportunity to receive visits from your wonderful blog readers.
This party has ended, click button below for the links to all who participated.
*If a post is sponsored or a product was provided at no charge, it will be stated in post. Some links may be affiliate links and as an Amazon Associate, I may earn from qualifying purchases. *