Within walking distance of my son's home is a home with the most amazing display of daffodils that I've ever seen. It's one of those homes were people stop, gawk and take photos. It's gorgeous this time of year!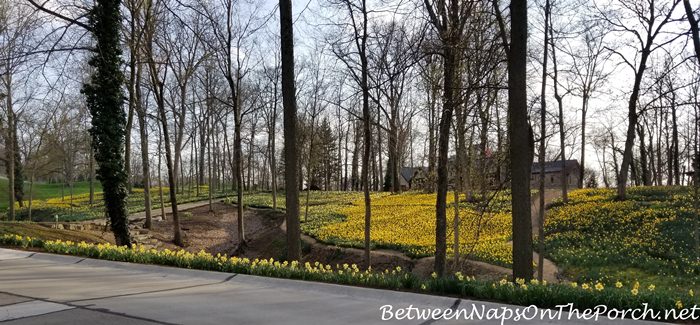 I would love to know how long ago the daffodils were planted and how many were planted at that time. They stretch all across the property, you can see them there on the other side of the driveway in the background of this photo. When I took these photos, some still weren't in bloom. I think I'll take a walk today (or a drive since it's freezing out) and see if the rest have opened up now. I hope they didn't get hurt in our below freezing temps last night. Daffodils are so hardy, I bet they did fine.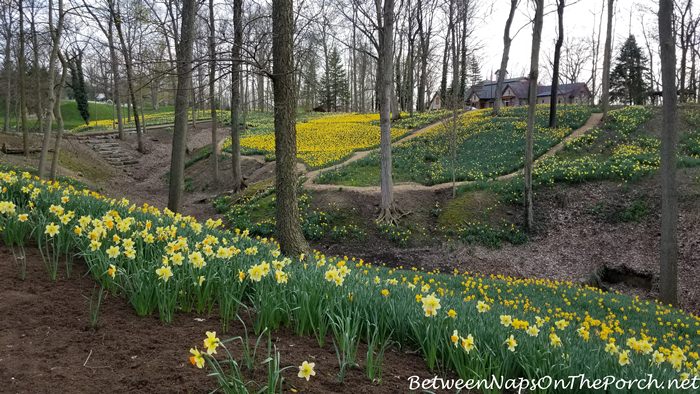 I'm sure some of this magnificent display is via naturalization, but you would have to start out with a heck-of-a-lot of daffodils to get this effect.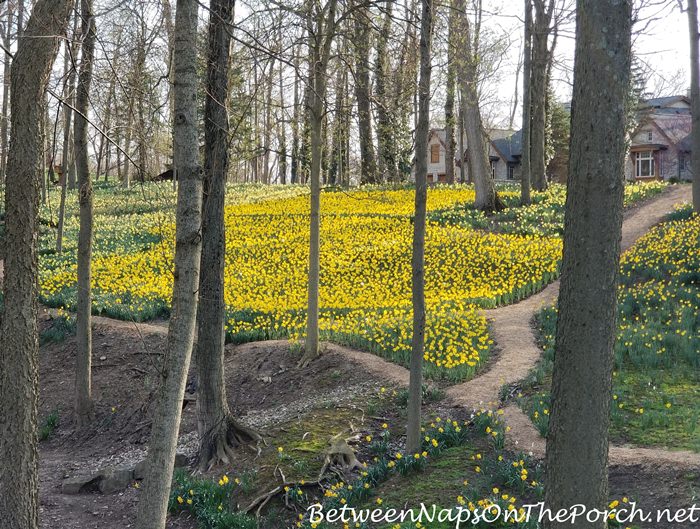 If more have opened up, I'll share another photo in a future post. Soooo beautiful!
Do you have a home in your area with a mass planting of daffodils or spring flowers? What a wonderful gift to the neighbors and the surrounding community!
Ruth's Easter Tree
You may remember from previous posts that my friend, Marie, decorates a tree for Easter each year.
Ruth, a BNOTP reader, also decorates a tree for spring and Easter!
Depending on where you live, it may still be cold outside, but this is a great way to welcome spring into your home no matter the temps.
A few close-ups of Ruth's tree…
Beautiful hand-painted egg…
I love this little bunny family out for a drive.
I wonder if they are headed over to the daffodil house to see all the beautiful daffodils in bloom?! 🙂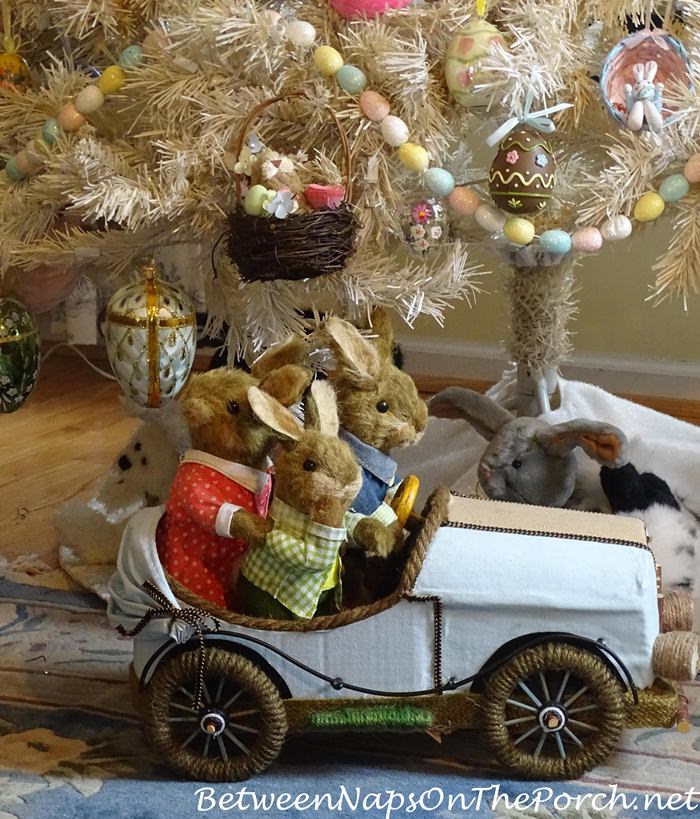 Amy's Front Porch Decorated for Spring
Recently Amy, a BNOTP reader, shared how she had decorated her front porch for spring. I love the checked bunny on the front door!
Amy said, "On the front door is a bunny I bought off of Etsy a couple of years ago. I just wanted something other than a wreath for a change. And I just fell in love with him. He reminds me of Mackenzie Childs cookware 😀and he gives my front door a pop of color!
Amy shared, "The distressed chair, in robin egg blue, was a thrift store find for $20. I loved the color for spring so I left it that way. I just knocked the bottom out of the chair and turned it into a planter. The egg wreath matched perfectly and I've had that for years. I found the bunny this year at Homegoods. And just tied some spare ribbon I had around his neck."
I love that soft robin's egg blue color so much! The chair planter is so unique, love that idea!
A pretty geranium for the wicker table…
About this pretty display, Amy said, "The wicker piece is also a thrift store find. I use it on the front porch all spring and summer and change out the flowers and display other things on it. This bunny also came from Homegoods this year. I love him because his color is so unique. He's kind of a green color."
Thanks so much to Ruth and Amy for sharing their spring/Easter decor! So nice to see how others are decorating for spring. The best way I know to keep our spirits up during these uncertain times is to surround ourselves with the beauty of nature and spring. It definitely has a healing effect on my heart.
See you tomorrow for Tablescape Thursday!
*If a post is sponsored or a product was provided at no charge, it will be stated in post. Some links may be affiliate links and as an Amazon Associate, I may earn from qualifying purchases. *