Welcome to the 487th Metamorphosis Monday!
For this week's Met Monday, I have more of a "Before and Middle" than a "Before and After." See the bottle tree that's out on the deck in this photo below? (View this beach-themed table setting here: Beach-themed Tablescape.)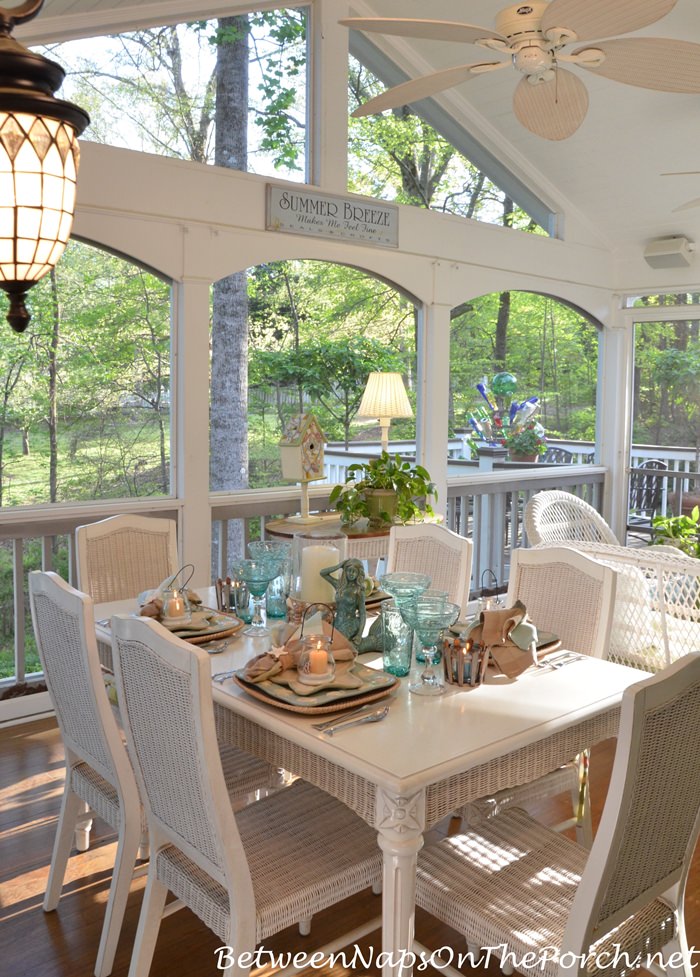 I love bottle trees, love their folklore and whimsy. If you've never heard of bottle trees, they have an interesting history. Some folks say they date all the way back to Africa.
Back in the day, folks who were superstitious believed if any evil spirits came around their home, if they had a bottle tree in their yard, the bad spirits would be lured into the beautiful bottles and become trapped there, vanishing once the daylight arrived and the sun shone down upon the bottles. Love that!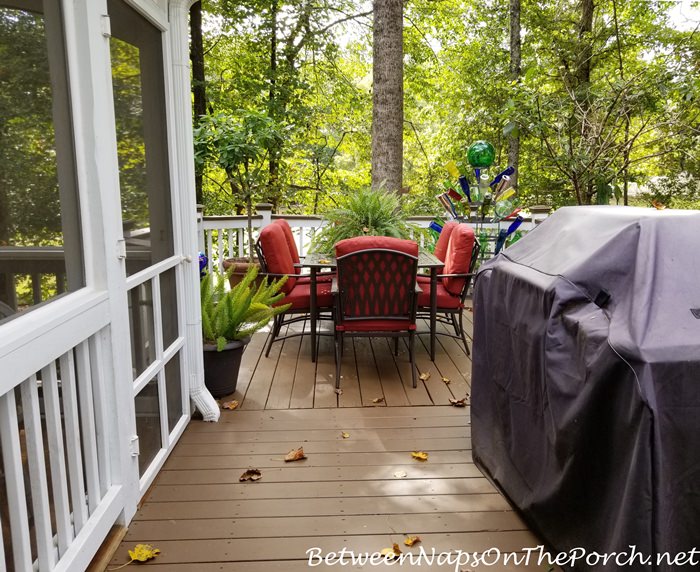 Though I don't really believe in roaming evil spirits (shhh, don't tell the evil spirits I said that!) I love the folklore, the history and the whimsical look of a bottle tree. Often they are placed out in the garden but since my deck is a full story up, I placed mine here on the deck so I could see and enjoy it year around.
This is how the deck looked last year right after I had the deck pressure washed and the top rails painted brown.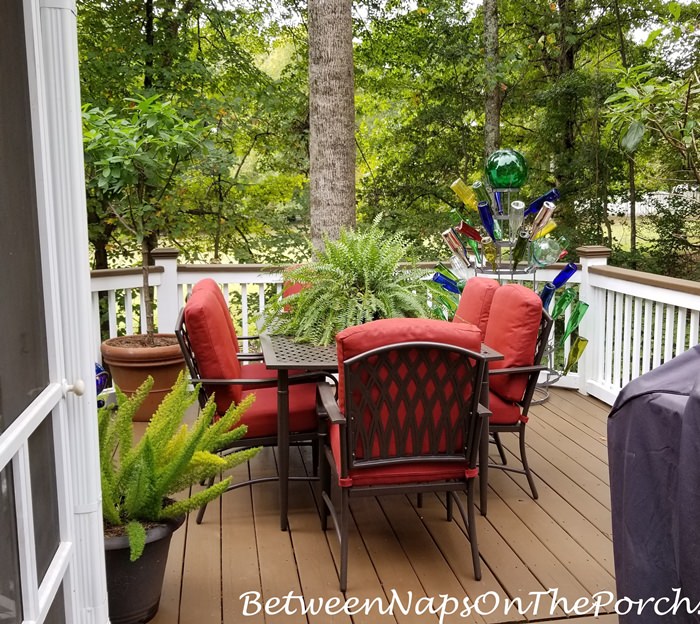 I spent much of yesterday out on the deck cleaning the bottle tree and trying to decide if I should move it, and where. (Ignore the big orange bucket…I had two buckets out on the deck yesterday, one with soapy water for washing bottles, the other with clear, rinse water.)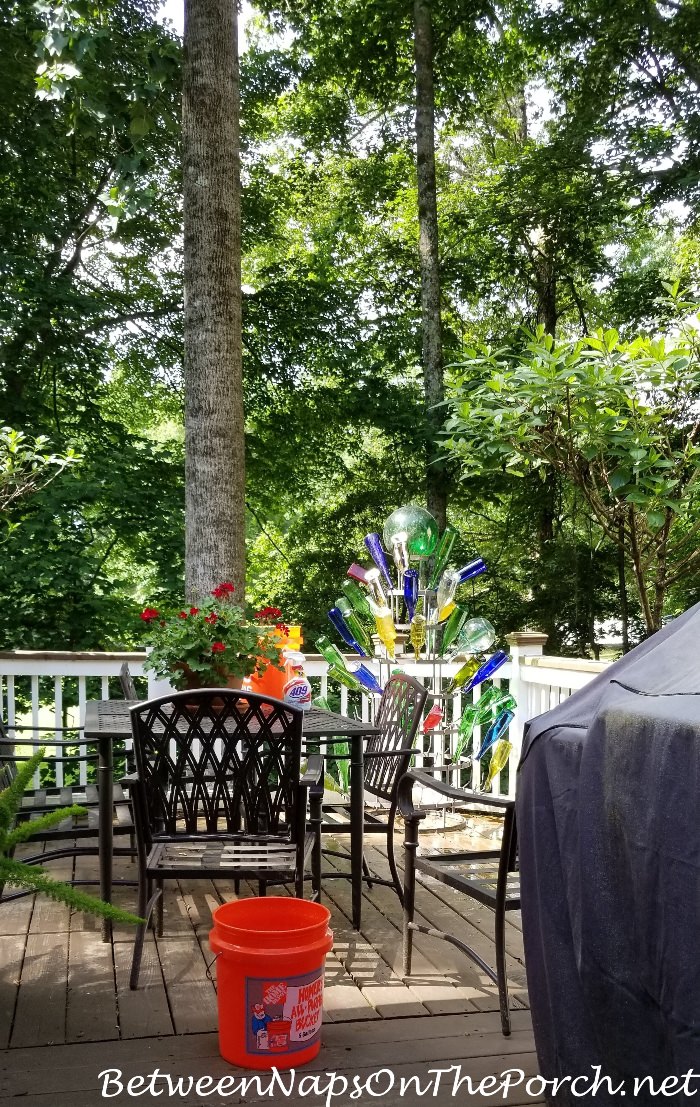 I so enjoy having the bottle tree here on the deck, but this massive tree overhead…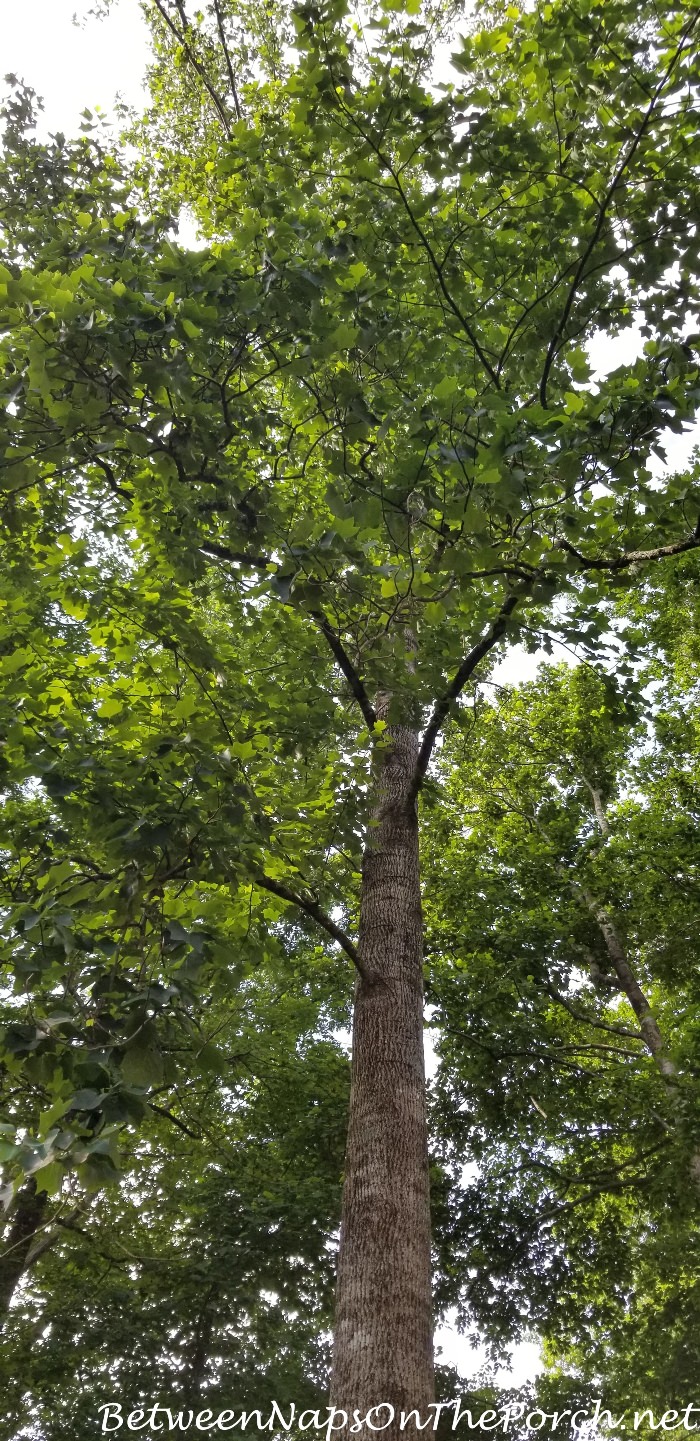 …does this to it thoughout the year, mostly in the spring. It always takes a good bit of scrubbing to get the bottles clean again.
It's amazing how well the tree stuff sticks to the surface of the bottles. I think most of it is sticky tree pollen.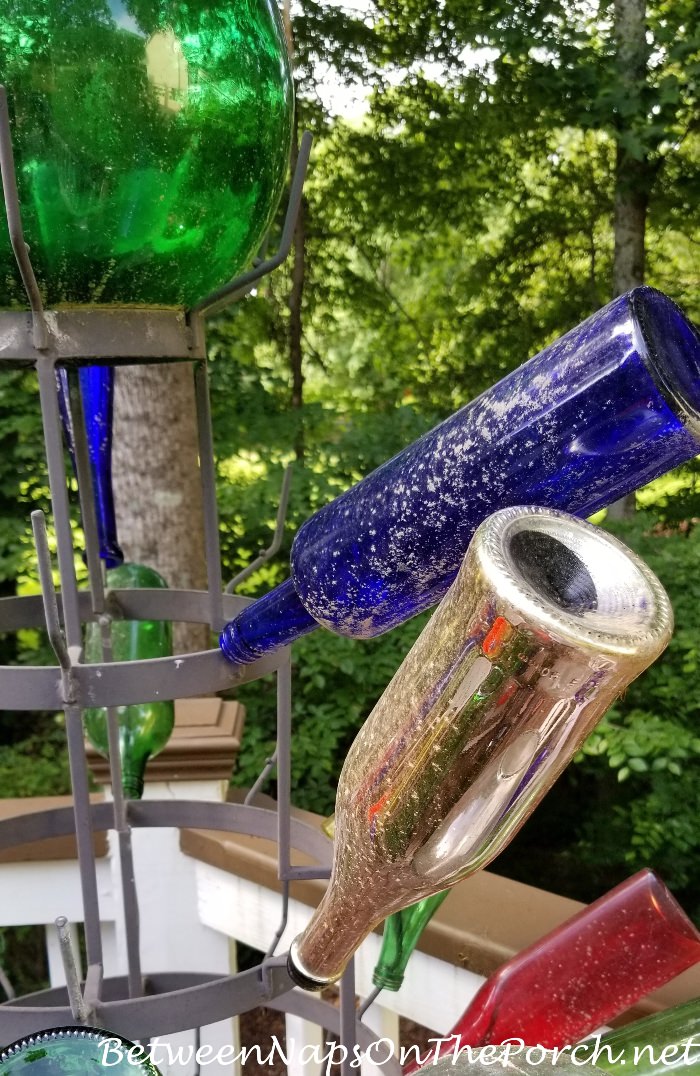 Ater doing some morning weeding, I scrubbed down all the bottles yesterday while listening to a book on Audible. It's looking like it may rain today, but if it doesn't rain, I hope to wash down the deck either today or tomorrow. So ignore the dirty decking, that's just stuck on pollen and tree gunk.
In an effort to keep the bottles clean a bit longer, I pulled the bottle tree out of its corner where it's completely under the big tree, and over to the other side of the deck where the grill lives. I basically swapped its position with one of the standard hydrangeas on the deck.
The poor hydrangeas almost croaked from lack of watering when I was in Ireland last August for two weeks. They had made a fine recovery this spring, but then I left to visit family for a few weeks and apparently we got very little rain during that time. I have great timing. 🙁 They didn't die, but they lost A LOT of leaves. They are recovering again and I have no plans to go anywhere for a while, so hopefully, they will get a chance to fully recover this summer.
Since I moved the bottle tree over to where a hydrangea used to be, I turned the table horizontally to allow for more space to walk by it. So now the table is in a horizontal position on the deck, instead of a vertical one.
And there's the bottle tree, tucked into the corner near the grill. It's time to add more bottles. As some bottles fade out in color, I remove/recycle them. The tree is starting to look a little sparse since I removed quite a few this past winter.
Update: You'll find plenty of colored bottles available on Amazon for bottle trees (like THESE) but not sure if they are painted glass that may fade, or colored glass that will keep its color.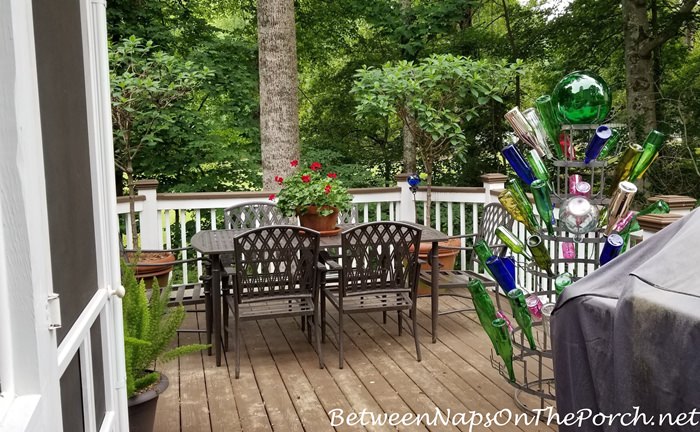 I think this summer I'll remove all the bottles, give the tree a light sanding and a good painting. I'm starting to notice a little rust in some places. It's been out here on the deck for a lot of years and has held up well, but its time for a makeover.
Do you see the little pink bottles scattered around the tree? I found those in Old Time Pottery yesterday for $1.49 each. I have a feeling they will fade out pretty easily, but they were inexpensive so thought I'd give them a try.
The blue and green wine bottles never fade because the glass IS that color, it's not just a painted on color. It's really hard to find glass bottles where the color is IN the glass and not just painted ON the glass. My goal has been to cover the tree in the colors I prefer in my garden: blue, green, yellow, pink and purple, but a couple of red bottles have snuck in over the years.
So that's the plan this week: Clean the deck, find more bottles for the bottle tree and probably repaint the tree base. It was never black, has always been sort of a grayish color, but I'll shoot for black when I repaint it, I think.
Do you have a bottle tree somewhere in your landscape? Is it tucked under the trees like mine? If so, how often do you find it needs cleaning?
I'll leave you with this image of a beautiful bottle tree from one of my favorite books, Southern Style. This was the bottle tree that convinced me I needed a bottle tree in my landscape. I love how its silhouetted here in an arched window on the porch. I bet it stays a lot cleaner and the bottles don't fade as much, too. Perfect spot for a bottle tree!
If you love classic design, I can't recommend this book enough. You'll find it available here: Southern Style. Definitely one of my favorites!
Looking forward to all the great Before and Afters for this week's Metamorphosis Monday!
I post almost daily on Instagram. Follow Between Naps on the Porch on Instagram here: Between Naps On The Porch. If you enjoyed this post, subscribe for free email updates when a new post is up here: Subscribe for post updates.
Metamorphosis Monday
Metamorphosis Monday is a party that's all about Before and Afters. If you are participating in Met Monday, please link up using the "permalink" to your MM post and not your general blog address. To get your permalink, click on your post name, then just copy and paste the address that shows up in the address bar at the top of your blog, into the "url" box for InLinkz.
In order to link up, you'll need to include a link in your MM post back to the party so the other participants will have an opportunity to receive visits from your wonderful blog readers.
Please observe these few rules:
Please link up Before and After posts that are home, gardening, decorating, crafting, painting, sewing, cooking, fashion or DIY related.
Be sure to include a link back to the party in your post, so your readers will be able to find and visit the other bloggers who are participating.
Do not link up to the party if you're only doing so to promote or sell a product.
To those who are linking up: If you notice a shop or online store linking up to sell products (yes, unfortunately, that does happen) please let me know so I can remove their link and block them from participating in future parties. No one wants to click a link expecting a Before and After, only to find a spam link to an online business/store.

*If a post is sponsored or a product was provided at no charge, it will be stated in post. Some links may be affiliate links and as an Amazon Associate, I may earn from qualifying purchases. *