It's been a few days since I shared a book from my library. I'm still working on the logistics of setting up a separate "subscribe or sign-up" for the BNOTP Library posts. So, look for that soon. I'll make a big announcement on the blog and try to remember to mention it several times so if you enjoy the decor, gardening and entertaining book-post-reviews, you'll still receive those when they are published here on the blog.
One little feature I've added recently to the book posts is I've started creating a few subcategories. So if you like books on English Design, when I feature a book about English Design, you can click on the category link at the end of the post and it will bring up all the books I've featured that fall into that category.
Today's book is another one where we get to go inside the home of the designer (my favorite kind!) so I created a category for those since I've featured so many of those now. So when you get to the end of today's post, look for something that looks like this:
Those are the categories this particular book is filed under. If you click on the category "Designers or Designer's Homes", it will bring up just the books I've featured that fit that description. Cool, huh? 🙂
I've also created subcategories for Beach Houses/Beach Decor, Gardening, Porches/Outdoor Spaces, Table Setting/Dishware/Entertaining and English Design. So far those are the type books of which I've featured so many, they deserved their own subcategory.
So if you really enjoy a particular type book, scroll down to the end of the post and click on that subcategory to see the other books I've featured in that same subject matter.
If you would like to see ALL the books I've featured so far, just click on the category BNOTP Library that's at the top of the blog underneath the little white picket fence and flowers.
The book I'm sharing today is one I purchased a couple of years ago on Amazon and it introduced me to the world of William Yeoward, a wonderfully talented designer.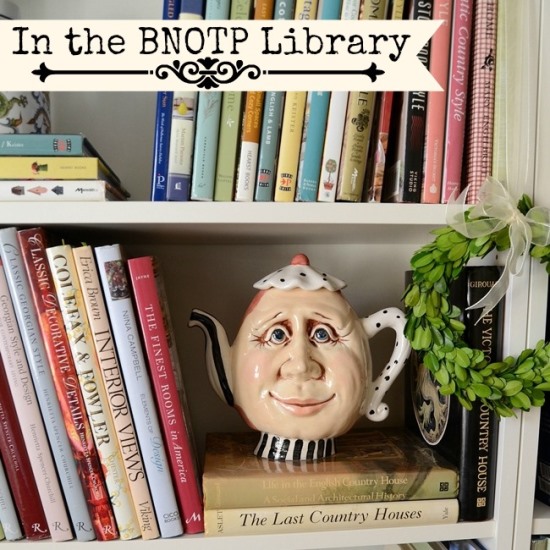 In the BNOTP Library: William Yeoward at Home: Elegant Living in Town and Country

Author: William Yeoward
Hardcover: 176 pages
Book Size: 0.9 x 9.5 x 11.5
3 Things I Like About This Book:
I should just write one sentence here: "This book is about William Yeoward's own home." Period. Done. You don't need to know anything else. 🙂 You know my thoughts already on books about designer's home…they are ALWAYS the best books. This book is no exception.
William Yeoward is one of the very few designers who I feel I could just give the keys to my home and say, "Do what you like" and I would love everything he did. Bunny Williams is another one. Once you look through this book, you'll know exactly what I mean. The rooms feel real and wrap their arms around you in the coziest embrace…you never want to leave them. He is also the master at creating gorgeous displays on bookshelves, tabletops and china cabinets/hutches.
William Yeoward is known for his exquisite table settings and talent for graceful entertaining. I'll be sure to feature two of his other books I have soon, one on entertaining and the other one on table settings. Such a talented man! This book covers a bit of everything, showcasing William Yeoward's beautiful home, his gardens (they are stunning) and his table settings.
You can read more about this book, William Yeoward at Home: Elegant Living in Town and Country
at Amazon where I normally buy my books, via the picture link below.
You'll find previously featured books from the BNTOP library here: In The BNOTP Library or just click on the collage below.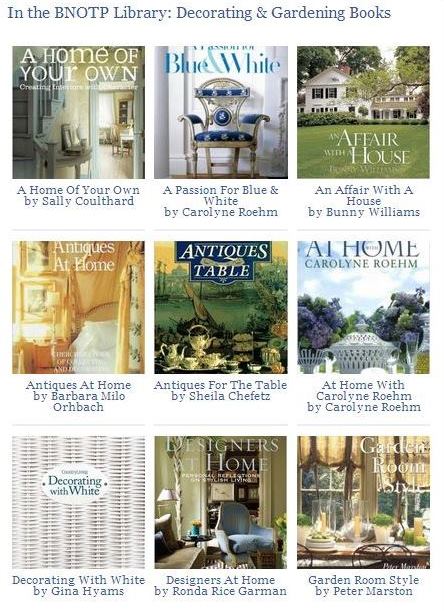 *If a post is sponsored or a product was provided at no charge, it will be stated in post. Some links may be affiliate links and as an Amazon Associate, I may earn from qualifying purchases. *