If you've been reading BNOTP for a while, you know I love collecting books about decorating and gardening. In the last few years, I've also purchased a few books on designer fashion, another topic I sometimes enjoy. I don't buy a lot of fashion books but recently I saw one online that I'd heard about. It sounded really cute so I decided to order it.
This book is a bit unusual because it's a pop-up book and from one of my favorite brands/designers, Hermes. It sounded adorable in the description and when I saw it was just $35, I decided to add it to my small fashion book collection.
The book is supposed to celebrate the theme, "Let's Play." Every year Hermes chooses a different theme for the year and Let's Play was their theme in 2018, the year this book was first released.
My book arrived yesterday and I was both surprised and delighted by how it was packaged. Look at all that padding! Hermes doesn't do anything halfway, you would have thought I had purchased an expensive handbag, as nice as my book was packaged! I wish the books I order online always came this well-protected. The box had also been shipped in a waterproof bag.
The last few items I've ordered from Hermes have come in boxes with this cute image/message in the lid of the box. Bienvenue chez Hemes translates to: Welcome to Hermes. The image depicted is that of the Hermes flagship store in Paris. You can see the famous rooftop garden in the image. If I ever make it to Paris and visit the flagship store, I would love to see the garden in person.
Underneath all the padding I found this beautifully wrapped orange box. I don't know what it is about these orange boxes but they have a way of making the heart pound just a little bit faster, even when you know it's just a book inside. lol
The white envelope on the outside contained info about how an item can be returned, if needed. Shipping is always free both ways. The back was designed like an envelope and held the receipt.
I gently pulled that famous Hermes Bolduc ribbon and inside I found this. Have you ever ordered anything from Hermes? They are renowned for the crisp, white tissue paper you find inside all their packages. I've heard it described as looking as if it has been ironed because it's always so crisp, clean and wrinkle-free. It makes you feel like you're the first person who has ever touched the item inside. I thought about this as I lifted the lid and saw the first layer of paper.
Hermes packages always include two layers of tissue paper. That extra layer has a way of building the anticipation, especially when there's a handbag hiding underneath. No handbags today, though. Drat! 😉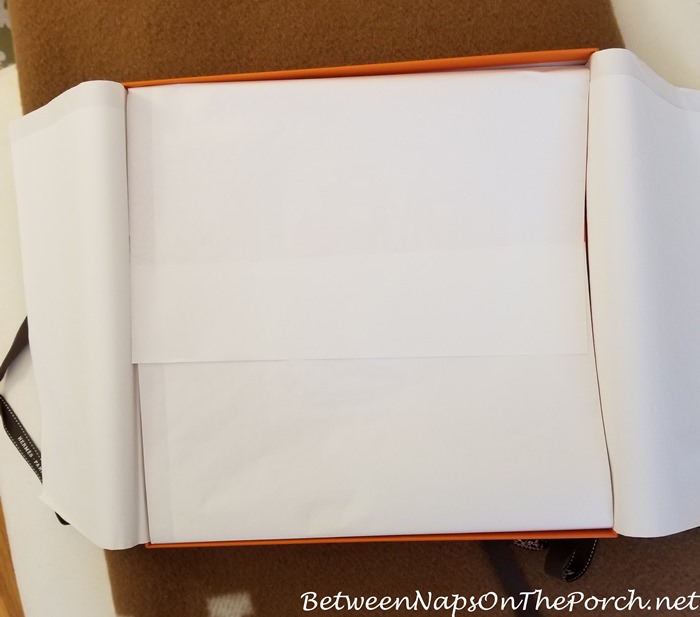 I'm not sure what I was expecting but the book was a bit bigger than I had anticipated. It was shrinkwrapped (yet, more protection) and padded all around.
I turned it over and this was on the back on the shrinkwrap covering. Wow, I couldn't wait to see all the pop-ups!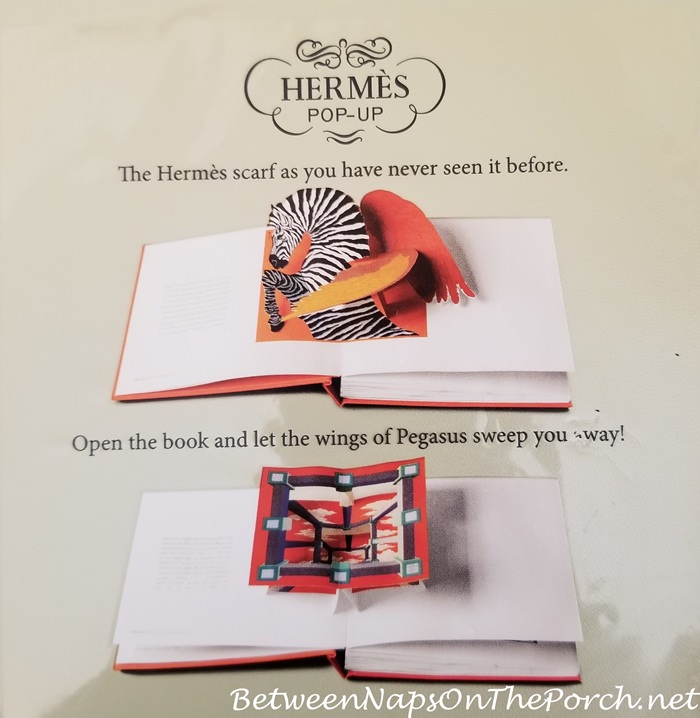 Here's how the book looked once the shrink-wrap was removed. The image on the front of the book depicts (in orange) one of Hermes's most popular and iconic scarf designs: Brides de Gala. Brides de Gala is French for Gala Bridles. Hermes originally began in Paris in 1837 as a harness and bridle maker and the book features quite a few of Hermes's most famous scarf designs in 3-D form. Or is it considered 4-D when it's a pop-up?
This was the very first pop-up in the book. Love this design, it's from their Zebra Pegasus scarf.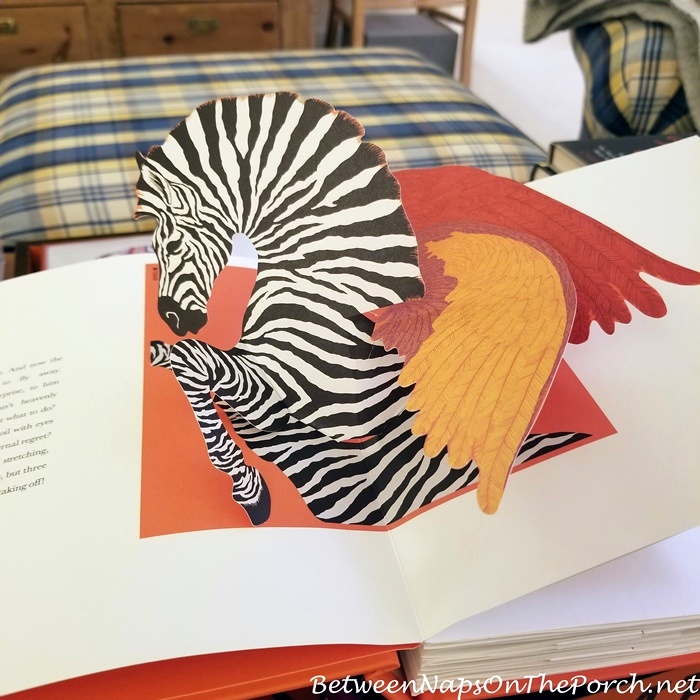 I actually have this scarf in the nano version, which is just a very small scarf for tying on bags and such.
There are so many fun pages inside the book. This one has a pull tab. When pushed in, it depicts the scarf, Le Grand Prix du Faubourg which is a sort of fantasy scene on the street in front of the flagship Paris store. I love this scarf and almost purchased it a few years back. It came in many colorways, as do all their scarves.
When the tab is pulled out, another scarf appears! This is the Le Potager Extraordinaire scarf which translates in English to, The Extraordinay Vegetable Garden.
Some of the pages have pop-ups that spin and some slide. This is one of my favorites from the book but it's not translating well in this flat photo. The scarf is titled The Pony Express and it's a wonderful image with the horse and rider jutting right out into space. I could share many more pages but I don't want to ruin all the surprises in case you are interested in adding this book to your collection at some point.
If you love art and fashion and could use a little whimsical pick-me-up during this time we all home a lot more than we would like to be, check out this cute book. There are around 11 "pop-ups" if you count both scarves on the sliding tab page. You'll find this book available at the Hermes website here: Hermes Pop-Up Book. Update: It appears the book is currently only available in French. Hopefully, they'll get the English version back in stock soon.
Only Hermes can make you feel this spoiled when buying a book online. If you have a blacklight flashlight at home, don't forget to check out their secret hidden logo on the box when it arrives.
(This is the flashlight I recently ordered for recharging the stars on the ceiling of my bedroom: Black Light Flashlight. I like that it comes with protective glasses.)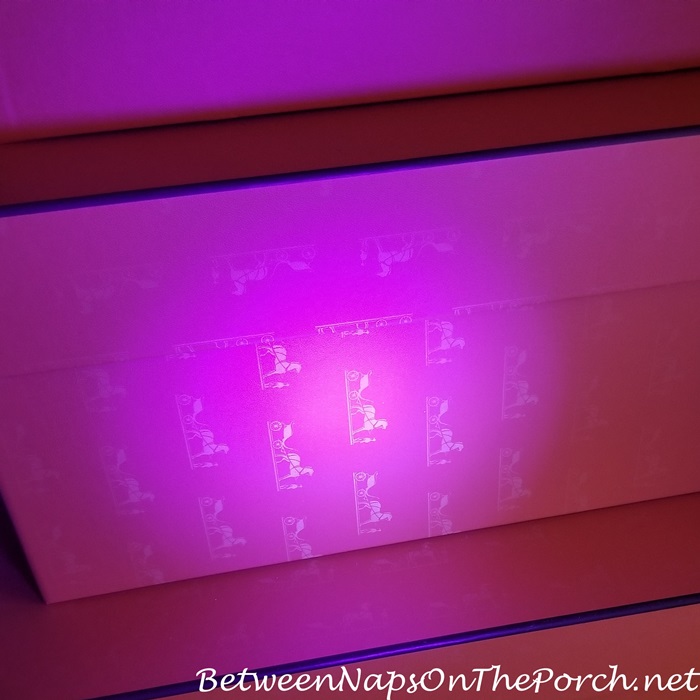 See you tomorrow for Tablescape Thursday!
*If a post is sponsored or a product was provided at no charge, it will be stated in post. Some links may be affiliate links and as an Amazon Associate, I may earn from qualifying purchases. *