Recently, I was invited to a small dinner party, a gathering of friends. I was asked to bring dessert, specifically the Cranberry Trifle I made for this past Christmas. You'll find the recipe for the Cranberry Trifle here: Yummy Cranberry Trifle. You'll find a post about the Christmas dinner party here: Christmas Dinner Party
Guess what I discovered? You can't find fresh cranberries in February. The guys at my local Publix said, "They aren't in season right now" to which I replied, half the stuff in the produce department isn't in season right now. 😉 Next I tried Kroger, same answer, no cranberries. I didn't try Harry's or Whole Foods since time was running out. Instead, I pulled out a tried and true recipe I haven't made in ages, my Devil's Food Toffee Trifle.
Here's a handy little picture in case you would like to pin this recipe for future reference.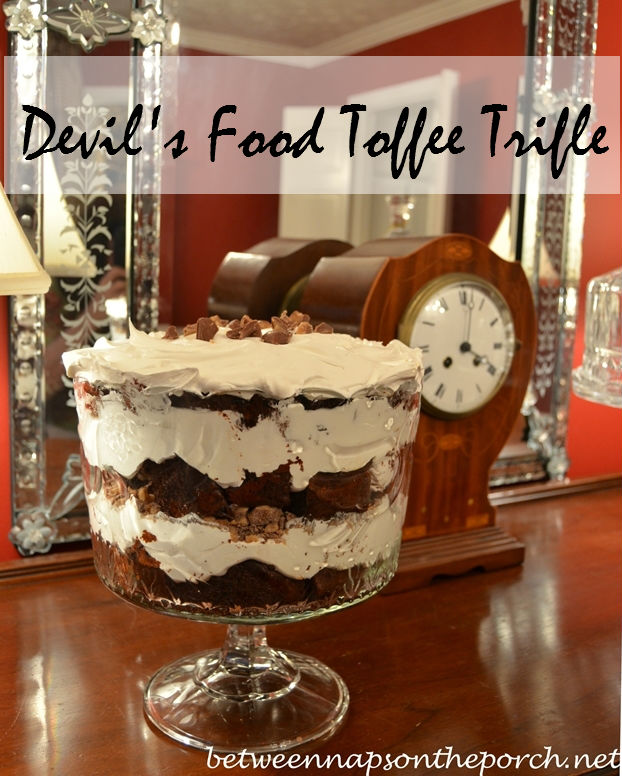 I took lots of pics while making the trifle which was really overkill because this is the easiest trifle in the world to make. Actually, I'm not sure there is a hard-to-make trifle, which is probably one reason I love making them so much. It doesn't hurt that they look beautiful and you're guests will think you fussed all day? 🙂 Pssst: You'll find a printable copy of this recipe at the end of this post.
To make this trifle, you'll need a coffee-flavored liqueur. I always use Kahlúa which unfortunately you can't see very well since it's hidden behind the cake box below. You'll need a Devil's food cake mix, I always use Duncan Hines. You'll need 2 small bags of toffee bars (I use Heath candy bars) and a couple of the family-sized whipped topping. You could probably get by with just 1 bag of Heath bars but I like a lot of toffee in my Devil's Food Toffee Trifle so I usually use approximately 1 1/2 bags.
To make the cake for the trifle, you'll need 3 eggs, 1/3 cup vegetable oil and 1 cup water. Just follow the directions on the back of the box to make the cake. I always make it in a 13 x 9 inch pan but you could make it in regular cake pans if you prefer.
Start by making your cake. This can be done a couple of days in advance, if you like. If I'm having a party and know I'll be rushed,, I love being able to make some of the food/dessert in advance. Just feels good knowing you've got one thing done early.
After the cake is done and completely cooled, cut it up into squares.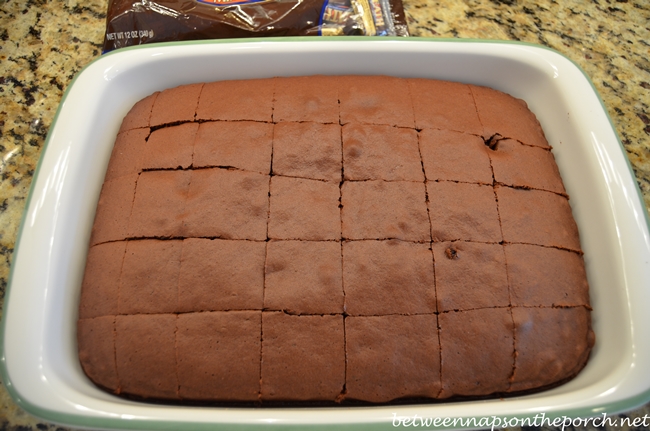 Drizzle your Kahlúa all over the cake. I spread the slices apart a bit as I'm doing that to make sure the Kahlúa gets down inside and doesn't just run off around the edges. This should be done 5-6 hours in advance so the Kahlúa has time to really soak in. I usually do it the night before I plan to assemble the trifle.
While watching TV, I unwrapped all the Heath bars from the two small bags I had purchased. If you can find them, you can use 8-10 full size candy bars. I can never locate those and always end up using the small ones.
I normally crunch up the Heath bars in my large Cuisinart, which really works best and is faster. This time I used the smaller one and did it in 2-3 batches.
Tip: I always break the small bars in half and use kitchen shears to cut them up a bit more before tossing them into my mini-Cuisinart. It just makes it a bit easier. Even if you're using a full size Cuisinart, I'd still at least break them in half before tossing them in. You don't want to pulverize your toffee. So I crunch it up for a while, then open the Cuisinart, dump it out, pull out the larger pieces that didn't chop up that well and toss them back in for another go. If you just chop and chop the first time around until everything is chopped up, you may end up with powdered toffee instead of nice, small pieces.
So, my recommendation is to stop when it's looking pretty chopped up, dump it out into a bowl and pull out the larger pieces and run those through again. The larger chunks will soften up once they are inside the trifle for a while, so don't worry that you're leaving some bigger pieces. You want your guests to know they are eating the toffee when they come across it, so leave lots of small pieces/chunks of toffee when chopping.
Assemble Your Trifle:
To assemble your trifle, place a layer (1/3rd of the cake) in the bottom of your trifle bowl.
Add a generous amount of whipped topping on top. I've always used whipped topping in this recipe and not real whipped cream. I love whipped cream and prefer it for many desserts but since this one has the whipped topping layered in between, I'm just not sure it would hold up as it should.
If you do decide to try real whipped cream, don't put the last layer (the top layer) of whipped cream on too far in advance. Whipped cream can look a little funny if it's been there too long, it looks better when it's really fresh. That's another reason I just go with the whipped topping for this recipe. The whipped topping tastes great and you can make it several hours before the party.
Next add a layer of the chopped up Heath bar.
As you can see below, I use a pretty heavy layer of the toffee.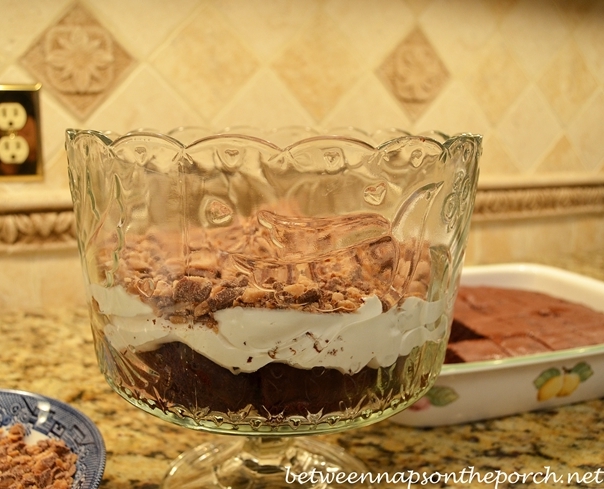 Repeat the layers again: 1/3rd of the cake followed by whipped topping followed by another layer of toffee (Heath bar). You'll notice I have about 1/3 of the cake still left in the pan.
For your final layer, add the last of the Devil's Food cake on top.
Cover the last of the cake with a nice layer of whipped topping.
Take a few of your left over Heath Bars, break them in half and cut up a few smaller pieces with your kitchen shears. Sprinkle these larger pieces over the top of the trifle. You could cover the whole top if you like. I just placed a little in the center.
Store your trifle in the refrigerator until it's ready to be served. It's best to not assemble your trifle more than 3-4 hours before you plan to serve it so the Heath Bar inside will not dissolve down too much. When I'm having a party and plan to serve this trifle, I usually bake the cake 1-2 two days in advance and store it in the refrigerator. The day before the party I cup the cake in squares as mentioned earlier in this recipe and I drizzle the Kahlúa over the cake and recover it. Also, you can crunch up your Heath Bar the day before the party, too. Then the day of the party, about 3-4 hours before the party is set to start, assemble your trifle and place it back into the refrigerator. It only takes about 20 minutes (if that long) to assemble the trifle the day of the party because you've already done the prep work in advance.
Make copies of your recipe because your guests will want to know how it's made. Enjoy!
Here are two more Trifle recipes to enjoy.
Peach Bourbon Trifle, Made with Fresh Peaches
Cranberry Trifle, Great for the Holidays
Print Recipe
Yummy Devil's Food Toffee Trifle
This trifle is super easy to make but looks like you fussed all day. Your guests will want to know what's in it so print out some extra copies of the recipe to share.
Ingredients
Duncan Hines Devil's Food Cake Mix

1

cup

Kahlua

coffee-flavored, rum-based liqueur

1-2

bags of small Heath candy bars

or 8 large Heath bars

2

family size whipped topping

For the Cake Mix you'll need:

3

eggs

1/3

cup

vegetable oil

1

cup

water
Instructions
Bake Devil's Food cake in a 9 x 13 inch pan the day before you plan to serve the trifle.

After cake has cooled, cut it into squares about 1 1/2 to 2 inches square.

Leaving cake (sliced up) in the pan, pour Kahlua all over the top of the cake, getting the liqueur down in-between the slices.

Cover with plastic wrap and put in refrigerator overnight.

Next day, 2-4 hours before serving time, assemble trifle in a large bowl or trifle dish as follows.

Layer of cake (one third of cake)

Layer of whipped topping

Layer of Heath bar (I layer it on pretty heavily)

Repeat above layers twice more but only put a light sprinkling of Heath Bar on the top when completing the last layer. I always mound up the last layer of whipped topping, it just looks pretty.
Notes
Tip: Break the toffee bars up with your fingers and use kitchen shears to break up some of the larger pieces before chopping it up in a food processor. That way you won't have to over-chop the toffee to get it crunched up into small, bite-size chunks. The toffee softens up inside the trifle and it's nice to come across it while eating the trifle.
*If a post is sponsored or a product was provided at no charge, it will be stated in post. Some links may be affiliate links and as an Amazon Associate, I may earn from qualifying purchases. *